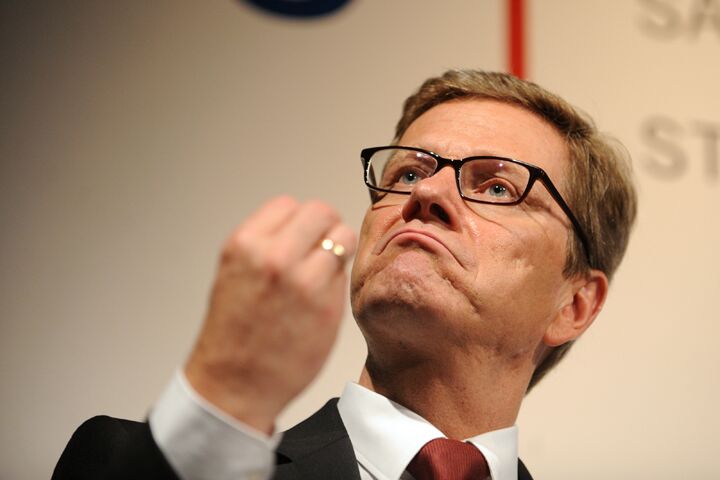 Report: 10 EU Nations Call for Economic and Political Union, and a European Army
Euro crisis is a 'wake-up call' for closer integration.
In order to solve the euro crisis and survive in the modern world, European Union nations need to give up more powers, forge a political union and create new institutions like a European Army, 10 EU foreign ministers said in a report presented to EU officials on June 19.
Several of the finance ministers also called for the creation of what has been termed a "super-president" as a single figurehead for the union.
Sometimes called the "Berlin Group" or "Berlin Club," the group began meeting at the suggestion of German Foreign Minister Guido Westerwelle to reinvigorate European integration.
"We take the current crisis to be a wake-up call," its interim report said. "Time for far-reaching reforms is short …. What we are ultimately talking about is making the European Union and the euro irreversible."
To combat the euro crisis, the report says the EU must overcome a "fundamental flaw—monetary union without economic union." Europe should "look into the possibility of a stronger role for European institutions regarding national budgets." More decisions need to be taken at the European level, it says, and a nation's power to veto these decisions needs to be cut back.
But the recommendations go beyond the current crisis. "New political and economic global players are gaining more influence," said the report. "In dealing with these new powerhouses, we Europeans will only be able to uphold our values and pursue our interests effectively if we pool our strengths much more, both internally and in dealings with the outside world."
In the long term, this means a "European Defense Policy," which could include a "European Army" for some nations, the report said. When it comes to defense policy, "most foreign ministers feel that we should be more ambitious," says the report.
In the shorter term, the European External Action Service (eeas)—the EU's diplomatic, intelligence and military unit—must "be strengthened more." The EU also needs "a more dynamic Common Security and Defense Policy, stronger eeas planning and command capabilities for civil-military operations, more pooling and sharing."
The report also says, "We should also aim for a common seat in international organizations," presumably referring to the EU's longstanding goal of gaining a seat on the UN Security Council.
The group plans to continue meeting, focusing especially on how to make Europe "a global player."
The 10 foreign ministers endorsing the report are from Germany, Austria, Belgium, Denmark, Italy, Luxembourg, the Netherlands, Poland, Portugal and Spain. French representatives also attended some of the meetings.
These are some of the most influential nations in the EU. Watch for their recommendations to be acted on quickly, as the euro crisis forces eurozone nations closer together.