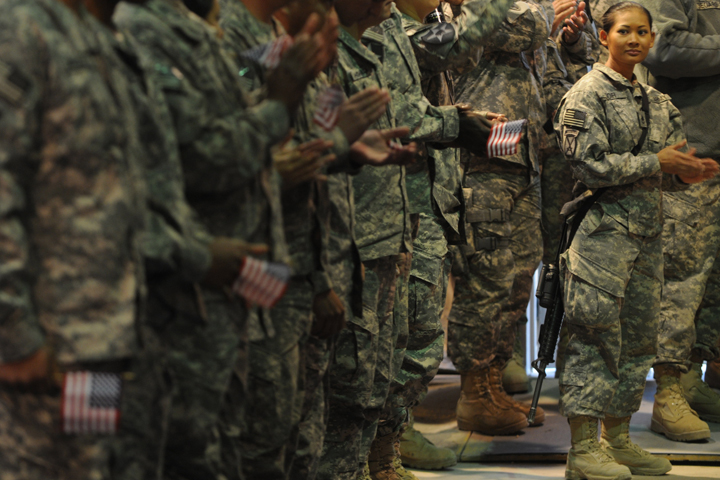 Sisters to Get New Jobs With the 'Band of Brothers'
Female soldiers are moving into new jobs in what were once all-male units.
Before 2001, America's military women seldom saw ground combat.
The policy change announced in early 2012 is being tested in nine brigades, including the 4th Brigade at Fort Campbell. The 4th Brigade's roots go back to the 506 Parachute Infantry Regiment, known for its World War ii heroics popularized by books and a tv miniseries called Band of Brothers.
The new policy eases the restrictions that kept women off the battlefield, opening up thousands of jobs to female soldiers.
"Col. Val Keaveny Jr., commander of the 4th Brigade Combat Team that is among units piloting the change, told the Associated Press that for the last decade it has been common to have women temporarily attached to the combat units and serving alongside them.
"Women have served in our army since the Revolutionary War, and they have done phenomenal work and continue to do so today," she said. "There is great talent and now we can have it in the headquarters of infantry, armory and cavalry.
"Under the new policy, female officers and non-commissioned officers will be assigned to combat units below the brigade level. The change will open up about 14,000 new jobs for women in the military. Yet, the Associated Press states that there are still more than 250,000 jobs that remain closed to women.
"The new jobs within combat battalions are in personnel, intelligence, logistics, signal corps, medical and chaplaincy. The army is also opening jobs that were once entirely closed to women, such as mechanics for tanks and artillery, and rocket launcher crew members."
The Trumpet has been watching the trend to open up more military jobs to women for over a decade. "The single most transformative change in the United States military over the past century—particularly the past generation—has been the massive expansion of the woman's role," we wrote six years ago. "Has this helped the effectiveness of America's forces? The official line is yes—or, at least, that it certainly hasn't hurt. Whether or not you believe that, the metamorphosis of America's all-male warrior military into an almost completely sex-integrated force has only occurred because of a lot of buried facts, wishful thinking, duplicity, doublespeak and deliberate deceit.
"Studies show that the majority of Americans believe that, while women serving in support functions is fine, they should not be placed in combat situations. That popular idea runs directly contrary to the doctrine of an aggressive minority of lobbyists and politicians, who have been trying to push women into combat for over 30 years. Whether or not the American public realizes it, that minority has essentially won its war."
As this world grows ever closer to world war, it is good to take an honest view of this subject. Read our article "The Vanishing 'Man of War.'"