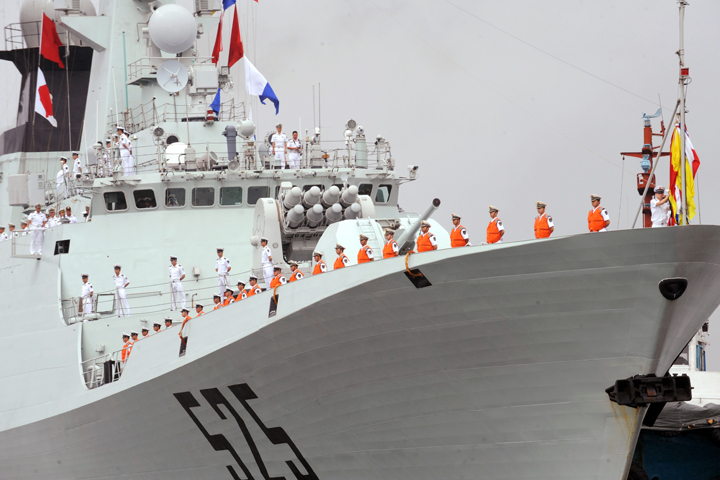 China's Power on Display in Standoff With Philippines
China's state-run PLA Daily published a commentary on May 10 with a title that could scarcely have been more provocative: Don't Attempt to Take Away Half an Inch of China's Territory. The article warned the Philippines and the world against mistaking "China's kindness for weakness."
"Anyone's attempt to take away China's sovereignty over Huangyan Island will not be allowed by the Chinese government, people and armed forces," the commentary said.
The tirade was prompted by a standoff between China and the Philippines that began on April 10 when a Philippine warship accused Chinese fishermen of illegal entry and poaching in Philippine waters and attempted to arrest them. The attempt was blocked by the arrival of two Chinese government vessels, which ordered the Philippine ship to leave the shoal. The Philippine ship refused to back down, saying the Huangyan territory lies within Philippine waters.
On May 17, a group of Filipino protesters, headed by a retired military officer, set sail to Huangyan Island to plant the Philippine flag on the shoal in defiance of China. Likewise, Philippine Foreign Secretary Albert del Rosario called on Filipinos "to unite and make a patriotic stand to defend what belongs to the Philippines—even if it would entail sacrifice."
But Philippine President Benigno Aquino iii has taken a different stance, saying the Philippines does not have the resources to fight China. "Even in boxing, they are 1.3 billion, we are 95 million," he said. He forbade the protesters from planting the Philippine flag on Huangyan.
Why would Aquino refuse to stand up to Beijing's belligerency? The United Nations Convention on the Law of the Sea says there's no question that Huangyan is Philippine territory. A country's exclusive economic zone, it says, is 230 miles from its coastline. Huangyan is 140 miles from the Philippine coast, and 542 miles from the nearest part of China.
Furthermore, doesn't the 1951 Mutual Defense Treaty between Manila and Washington guarantee that the U.S. has the Philippines' back?
The trouble for Manila is that China is its third-largest importer. China is also the world's number one energy consumer, so even if the Philippines managed to keep Beijing away from Huangyan's undersea riches, ultimately it would need to negotiate with China to sell them. The Philippines relies on Beijing to help it finance new mines; it needs Chinese tourists to fill its casinos; and it depends on China for myriad other market matters. The Philippines' economic dependence on China makes it difficult for Manila to do anything but bend to Beijing's demands.
As far as the U.S.-Philippine defense treaty goes, the U.S. told Manila in June of 2011 that it may not always be willing to support the Philippines. Two weeks ago, in a meeting with Philippine officials, U.S. Secretary of State Hillary Clinton took a similar stance, saying the U.S. will not take any sides in the Huangyan conflict.
It's true that Manila has recently sought to reaffirm military ties with Washington, holding joint military drills in the very waters that are disputed. Such measures buy Manila time and allow it to appease local nationalists in the short term. But Beijing will not respond well to saber-rattling, and time will reveal the U.S.'s Asian activities to be just that.
There has been much talk of a U.S. military tilt toward East Asia—in part to help justify Washington's withdrawals from the Middle East and Europe. But if America's new focus truly is on Asia, it would not shy away from taking the side of one of its oldest Asian allies in this dispute.
Since it has law on its side, the Philippines asked China to bring the dispute to an international court. "The whole world knows that China has myriad more ships and aircraft than the Philippines. At day's end, however, we hope to demonstrate that international law would be the great equalizer," said del Rosario.
In a move revealing how little regard China has for international law (and how weak such laws are), Beijing ignored the proposal and reiterated its demand for the Philippines to withdraw its ships from Huangyan. Beijing also told its citizens that they are not safe in the Philippines, and halved the number of flights from China to the Philippines. China's leadership is in transition, and its rulers will do all they can to avoid appearing weak on sovereignty. Beijing has not yet brandished its power, but that doesn't mean it won't. And, as Aquino said, the Philippines—without U.S. backing—does not have the resources to fight China.
As China's economic heft and military might continue to grow, and as American will fades, watch for Beijing's belligerent behavior to simultaneously increase. The Philippines and other Asian nations will be compelled to abandon the sinking U.S. ship. This shift will lead to the establishment of a colossal Asian power bloc, and—ultimately—to the most hope-filled event in history! To understand more, read Russia and China in Prophecy.