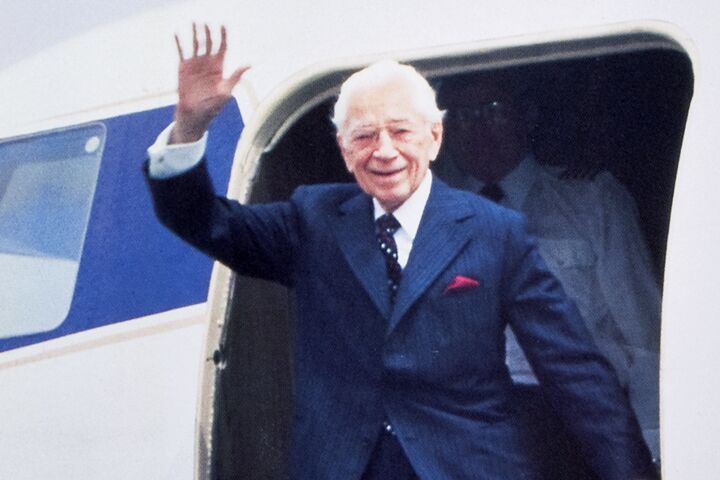 Visit to Denmark by Ambassador for World Peace
Speaker of Danish Parliament asked Herbert W. Armstrong to meet with Queen Margrethe II.
Arriving at Copenhagen International airport 4:30 a.m., Tuesday, Oct. 11, 1983, Herbert W. Armstrong rested in advance of his meeting with the speaker of the Danish Parliament.
As a longtime member of the Socialist Democratic party, House Speaker Svend Jakobsen served his country in government office beginning in 1973, the very same year the country entered the European Union.
Mr. Jakobsen held the posts of minister for housing, taxes, fisheries, environment and finance. This experience led to his 1981 parliamentary election as speaker of the Folketing, or "people's thing."
The November 7 Worldwide News reported that following his 1983 meeting, "The speaker was impressed with Mr. Armstrong and said he would like to personally take the pastor general to see Queen Margrethe ii of Denmark when Mr. Armstrong returns to that country."
Born in the royal palace, just one week after Nazi Germany invaded Denmark, the queen was the eldest child of Prince Frederik and Princess Ingrid. Her grandparents King Christian x and Queen Alexandrine, ruled the Kingdom of Denmark and Iceland, of which Margarethe ii was princess until Icelandic independence in 1944.
In 1972, her father, King Frederik ix, unexpectedly died from illness, thrusting the princess into the role of queen, the first since Margaret i, queen of Scandinavian countries from 1375 to 1412.
An illustration of her respect for longtime House Speaker Jakobsen was evidenced during 1988 when, as a coalition government struggled to be established, the queen appointed Jakobsen chief negotiator. The Associated Press reported, "Normally the chief negotiator, called 'the royal investigator,' is the person most likely to become prime minister."
The respect and rapport Svend Jakobsen enjoyed with the sovereign was further evidenced in his offer to personally take Mr. Armstrong to meet the monarch.
Mr. Jakobsen remained in the post as speaker of the house until January 1989. Eleven months later, the Berlin Wall would fall, uniting Germany and rapidly propelling Europe toward its seventh and final prophesied resurrection of the medieval Holy Roman Empire, as prophesied in such biblical books as Daniel, chapters 2 and 8, and Revelation, chapters 13 and 17. Since that time he has been active in European Union affairs in its drive toward a superstate.
Currently, Jakobsen serves in the European Commission as the head of the Unit for Internal Audit Capability. His office is based at EU headquarters in Brussels, Belgium.
Perhaps Commissioner Jakobsen may recall that 1983 visit to Copenhagen by the globally respected white-haired patriarch, declaring the way of peace for Danes and all Europeans. Mr. Armstrong died before being able to take advantage of the EU commissioner's invitation when, as speaker of the Danish Parliament, he offered to introduce him to Queen Margarethe.
In his book The United States and Britain in Prophecy, Mr. Armstrong recounted the flight from Assyrian invasion and subsequent traveling way-marks of the ancient Israelite tribe of Dan, from which the Danes are descended. In this work, read by multiple millions worldwide, he additionally highlighted the prophesied rise and dominance of Germany over Europe.
As our regular readers are aware, for over 20 years we have warned and encouraged them to watch for a powerhouse Germany to continue calling the shots over the apparent slow-motion train wreck that the eurozone has become; to watch for Germany to soon head a powerful bloc of 10 leading European powers; and to watch for that powerful European empire to have the stamp of both Rome and Berlin etched deeply into its core.
Now it is laid bare for all to see!
Gone is the old Franco-German balance of power in Europe. We now see a singular entrenched power realizing the greatest fear of one of its architects, Otto von Habsburg, as it "runs away with too much influence." Removed are the checks and balances required to keep freedom. Before our very eyes we now see prophecy realized as declared by Mr. Armstrong to Denmark's parliamentary speaker.
Today, following in the footsteps of that venerable "ambassador for world peace without portfolio," Herbert Armstrong, is Trumpet founder and editor in chief Gerald Flurry. For over two decades this watchman has heralded the domination of a united Europe by a single great power—Germany.
We encourage you to watch Mr. Flurry each week for his presentation of the Key of David program and, by doing so, join an increasing audience counting down God's biblical prophecies to the very imminent return of Jesus Christ!