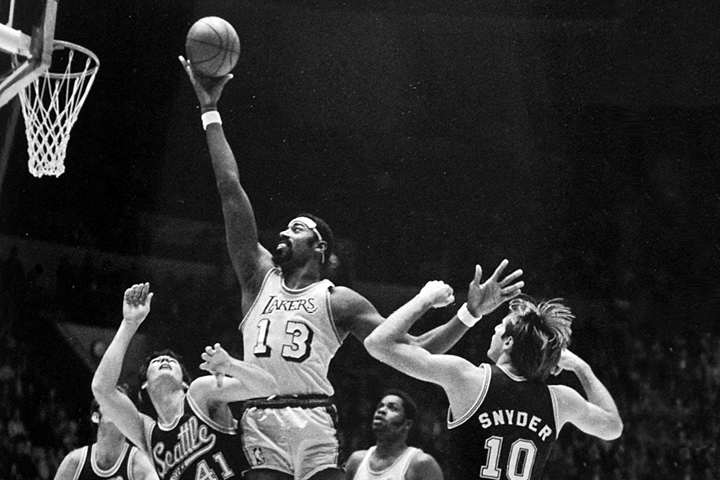 Herbert W. Armstrong's Message of World Peace for the LA Lakers
Why he so often watched greats like Jerry West, Elgin Baylor and Wilt Chamberlain
Last week in Los Angeles, watched by a packed crowd and worldwide viewing audience, Lakers' Metta World Peace struck Oklahoma City Thunder's James Harden in the head, resulting in a concussion and the super-sub's abrupt departure from the game.
Fox News reported, "World Peace claimed the contact was an accidental, overzealous celebration of a dunk." On-court officials ejected him from the game and the incident has resulted in the National Basketball League suspending World Peace for seven games ahead of the season play-offs.
The drama reminded me of a recent visit to Pasadena, California, and interview with Mel Olinger, longtime personal chauffeur for internationally recognized ambassador for world peace Herbert W. Armstrong.
As founder and chancellor of Ambassador College, Mr. Armstrong led in the establishment of a robust intramural sports program. "He was faithful in going to intramural games," recalled his driver. "He particularly enjoyed watching basketball as a form of relaxation and refreshment."
Mr. Olinger, who drove Mr. Armstrong from February 1970 through to his death in January 1986, recalls his purchase of season passes to Lakers home games during the era of the early-to-mid-'70s.
He recalled, "Fairly often and in different seasons, I would drive him downtown Los Angeles." During this time it was Mr. Armstrong's regular practice to take with him a faculty associate who had qualifications in sports fitness and acted as director of Imperial Schools, which Mr. Armstrong also established, serving grades K through 12. This faculty assistant "helped Mr. Armstrong as a personal fitness trainer, also with diet and physical routine," Mr. Olinger said.
Occasionally the directors of the Ambassador College athletics department would accompany him. At the time, these men were the "big three in sports" instruction at the Pasadena college.
Mr. Armstrong particularly liked to watch the likes of Jerry West, Elgin Baylor and Wilt Chamberlain, and wanted "seats close to the floor, five to seven rows from the court."
Mr. Olinger remembers Mr. Armstrong always "wore a sport coat and tie. This was on Sundays when he would go into the office before game time. Then after driving to the Lakers games, we'd go to a place called Monty's for a steak sandwich."
On the drive back home to Pasadena, "Games would be discussed, however, I don't recall any time when he didn't refer back to God and His Word and/or the spiritual principle. He often quoted the Apostle Paul and the passage that bodily exercise profits a little" (1 Timothy 4:8).
Mr. Olinger recalled his boss's morning routine. The pair would meet for coffee, "then he'd walk the campus and go and play the piano at the auditorium and then walk back home, shower, change and then I'd drive him to the office."
After Ambassador College's founding in 1947, as its chancellor Mr. Armstrong instituted the practice of male students assembling on the tennis court for daily calisthenics before classes. From this small beginning, other sporting and athletic activities gradually were added to the curriculum.
Mr. Olinger noted that, "After the Lakers moved from the Forum, Mr. Armstrong stopped going to the games." His travels worldwide in fulfillment of Matthew 24:14, preaching the gospel of the Kingdom as a witness to all nations, would take more and more of his time and energy.
In his closing days of an action-packed 93 years of life, penning his final written work, Mystery of the Ages, Mr. Armstrong identified the very character of the Godhead. "Their way of life produced perfect peace, cooperation, happiness, accomplishment. This way of life became a law. Law is a code of conduct, or relationship, between two or more."
This was Herbert W. Armstrong's inspired message of world peace. He used to employ a sports analogy in describing God's way of life. "One might call the rules of a sports contest the 'law' of the game. The presence of law requires a penalty for infraction. There can be no law without a penalty for its violation."
Mystery of the Ages is a core textbook at Herbert W. Armstrong College, which is located just north of the Oklahoma City Thunder stadium in Edmond. It was named in Mr. Armstrong's memory by its founder and chancellor, Gerald Flurry. Akin to his predecessor, Gerald Flurry is also a basketball enthusiast who has worked to establish a balanced intramural sports program at the college whose participants practice God's loving spiritual principle of give—outflowing love and concern one toward the other.
Like Mr. Armstrong, Mr. Flurry is faithful in visiting college intramural games and, when possible, even watches the Oklahoma City Thunder in action.
Perhaps the Lakers and Thunder and their fans remember their March 24, 2009, game in Oklahoma City when Gerald Flurry authorized the delivery of a special gift to them.
Prior to the game, assembled at center court, the Young Ambassadors of Herbert W. Armstrong College performed the national anthem before a capacity crowd and worldwide broadcast audience.
The happy smiles and melodic harmony rendered by these students gave testament to the teaching of the eternal principle expounded by Jesus Christ Himself in Acts 20:35: "It is more blessed to give than to receive."