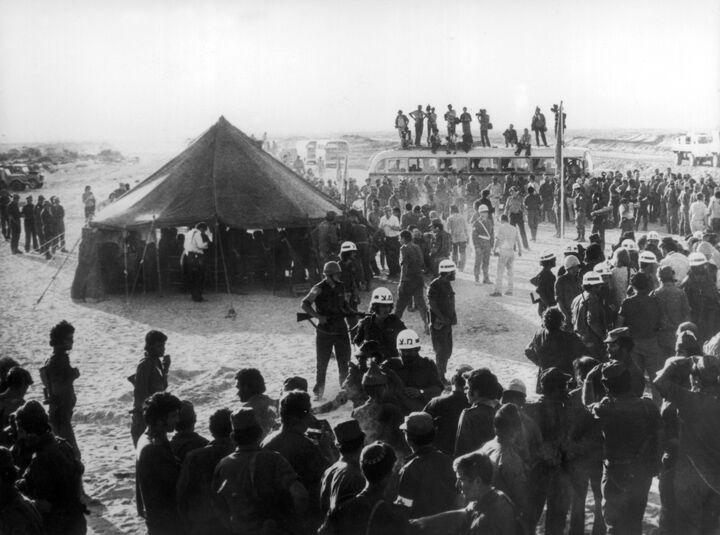 Herbert Armstrong Plays Hide-and-Seek With Henry Kissinger
Almost 40 years ago, the U.S. secretary of state and the ambassador for peace (without portfolio) both shuttled between Cairo and Jerusalem on the day the Separation of Forces was signed.
Students of history would recall the year of 1973. Within that 12-month span, four world governments were overthrown. Afghanistan, Chile, Thailand and Greece. The Trumpet has already reported on Herbert Armstrong's contact with Afghan, Chilean and Thai leaders just before government overthrow by military coup. Then came the Yom Kippur War between the Egyptians and Arabs opposing Israel.
It was amid this geopolitical storm that Mr. Armstrong intrigued co-workers on Jan. 27, 1974, writing, "… I want to tell you of my 'playing hide-and-seek' with Secretary of State Dr. Henry Kissinger as the Separation of Forces was finally signed."
The morning of January 18, Mr. Armstrong flew in the Gulfstream ii, accompanied by various Japanese dignitaries, to Aswan Dam, located across from the Nile River. Meanwhile, the U.S. secretary of state was traveling between Aswan and Jerusalem brokering a peace agreement between Israel and Egypt. Egyptian president, and close friend of Mr. Armstrong, Anwar Sadat, was lodging temporarily at his winter palace, where his meetings with Henry Kissinger were conducted.
"Our plane let down on the Aswan landing strip about 10:30 in the morning. The Air Force 707, labeled 'The United States of America'—one of President Nixon's two 'Air Force One' planes—was being used by Dr. Kissinger and was due there. As we taxied to a stop, a brightly uniformed honor guard marched briskly to our airplane entrance and lined up six on each side, in a salute position, as we debarked from our plane. It's possible they thought I was Dr. Kissinger" (ibid).
In the afternoon, Mr. Armstrong departed and Air Force One, having arrived shortly after Mr. Armstrong's Gufstream jet, sat motionless on the airport tarmac. Mr. Armstrong then made another stopover in Cairo to provide his Japanese guests the opportunity to view the stupendous 3,000-year-old Luxor and Karnak temples.
He recounted their experience at this juncture of their trip (ibid):
At first, the airport officials refused us any transportation, except by public bus, because Secretary of State Kissinger was due to stop there. But then, the governor came and apologized and offered us his private car. As we were returning back to the airport, Secretary Kissinger's motorcade met and sped past us. In front were about six motorcycle soldiers in brilliant uniforms. Followed by a car with siren wide open, then some six or eight limousines. We saw Dr. Kissinger in the third one, and former ambassador to Saigon, Ellsworth Bunker, whom I know, in the car behind. The motorcade sped by at about 50-miles per hour. We continued on to the airport, and taxied past the Air Force 707 on the way to the runway.The next day, while I was visiting with the prime minister, he was handed a note saying Mr. Sadat had just arrived from Damascus. That evening, about dark, we took off from Cairo and flew direct to Tel Aviv. It created quite a sensation at the airport, when they learned we had flown direct from Cairo. "NO ONE ever does that, but Kissinger!" they exclaimed. "Yes," I said, "Kissinger and US!"
That same evening, Mr. Armstrong had a private dinner with an Israeli official. He was keen to ascertain the Israeli reaction to the historic Mideast peace agreement. "Our official friend asked urgently, 'What is the general reaction in Cairo over it?' 'Jubilation!' we replied. 'What is the reaction here in Israel?' 'Jubilation,' he replied. Well, that was better than war!"
The Separation of Forces agreement stated, "Egypt and Israel will scrupulously observe the ceasefire on land, sea, and air called for by the UN Security Council and will refrain from the time of the signing of this document from all military or paramilitary actions against each other."
Almost 40 years on, that agreement between Egypt and Israel is about to be tested. The recent ousting of Egyptian President Hosni Mubarak and the "democratic" installation of the pro-Iranian Muslim Brotherhood underscore the death of the three-decade interlude of the Camp David Accords.
In his booklet Jerusalem in Prophecy, Gerald Flurry recounts the dilemma currently facing the country: "The citizen of Israel stares out his window at his nation, a tear in his eye and a knot in his stomach. He knows Israel is in trouble." Our editor in chief has visited the cities of Judah numerous times and, like Mr. Armstrong did, is developing warm friendships and working relationships with key government, educational, media and archeological officials.
He continues, "It is true that for the whole of its mere six decades of existence, the country has existed without peace. But as this Jewish citizen watches Palestinian teenagers and Israeli soldiers tussling in the streets, as the multilingual shouting and popping of gunfire fills his ears, he knows that today the situation is worse than it has ever been. He fears Israel is changed forever."
God declares through the clear light of Bible prophecy that the very peace process in which Israel has been long engaged, under the pressure and at the behest of old and new enemies, along with its few avowed allies, is a national "wound" (Hosea 5:13). As a descendant of the very line of King David, Gerald Flurry, through the message of the Trumpet, Key of David and Armstrong International Cultural Foundation, seeks to remind its citizens of the Prophet Isaiah's message to get their minds onto their true heritage and "Behold your God" (Isaiah 40:9).
Mr. Armstrong concluded his Jan. 27, 1974, letter to co-workers, "How thankful we should be to have been called to have a part in it—proclaiming this glorious good news of coming world peace, and eternal salvation to the world. Never was your generous part in it more needed! Thank you for it. I need your earnest and urgent prayers."
A quarter of a century has elapsed since numerous comments were made in eulogies by world leaders at the time of Herbert Armstrong's death expressing the hope that the legacy and work of Mr. Armstrong be continued. Should we not be very thankful for Gerald Flurry and his faithful assistant, the late John Amos, for their boldness, dogged faith and courage in standing up to those who sought to destroy that legacy when they faced Mr. Armstrong's opponents down, just four years after his death? They stepped out in faith to continue a work in the spirit of Mr. Armstrong's legacy. This website is but one powerful witness that that legacy lives on.
Request Malachi's Message for a recounting of those events that led to Mr. Armstrong's legacy being passed from the original institution to which it was gifted, to the entity that sponsors the Trumpet magazine today.
For 22 years, our editor in chief has battled opposition from offshoots of the church that Herbert Armstrong once led. Request our book Raising the Ruins to understand more of the titanic six-year legal battle that ensued from the main antagonist. The resultant victory enables you to daily enjoy and partake of the bountiful fruits of Mr. Armstrong's writings in the spirit of his perpetuated legacy.
What more can you do in support of spreading the great gospel message of hope that is now being prophesied again to a world held captive in mass ignorance of its future? The time is fast approaching for the liberation of society from this ignorance by the returning Jesus Christ. The time for you to act to gain the knowledge of that which leads to this great event is fast running out. Consider your course of action carefully—go to God, pray for guidance, and act in faith.
Visit Armstrong Auditorium's website featuring the exclusive premiere exhibit of "Seals of Jeremiah's Captors Discovered." From January 16 to October 16, some of the most significant archeological artifacts ever discovered in Jerusalem are on display in America's newest and finest performance arts home.
To read more articles by this author, click here.