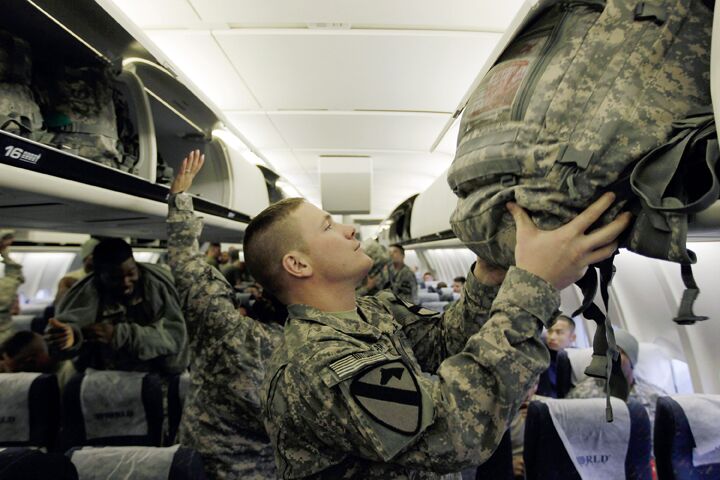 The Ramifications of the U.S. Drawdown in Europe
As the United States slashes its security forces in Europe, EU nations are preparing to fill the void by multiplying their own military might.
Early this month, President Obama outlined a 10-year defense plan to reduce U.S. military spending by $487 billion, which will include slashing the total number of troops by half a million. Days later, Defense Secretary Leon Panetta specified the military's plan for its European presence, saying Washington will withdraw two of its four brigades from the Continent.
The number of U.S. troops stationed in Europe peaked during the Cold War at 277,342. At present, America has around 40,000 soldiers there, and the withdrawal of the two heavy armor brigades will decrease the U.S. presence to 30,000 troops.
Both of the brigades slated to be removed will be pulled out of Germany, which will leave Europe with one cavalry brigade in Germany and one airborne brigade in Italy.
Already, European nations have significant military might. Germany, Italy and France remain among the world's top 10 defense spenders; the combined number of EU nations' military personnel exceeds the number in U.S. forces; and EU nations spend more on defense than Russia and China combined.
But two obstacles have prevented Europe's strategic significance from matching its high-spending figures and troop numbers.
First, Europe has grown accustomed to depending on the U.S. for security. Some analysts viewed last year's war in Libya as an indication that Europe is beginning to take responsibility for its own environs, but, in fact, the campaign was overwhelmingly reliant on American military, intelligence, and technical power. European Union nations were not even able to supply enough of their own munitions to see the conflict through.
The second obstacle preventing the EU from realizing its military potential has been the reluctance of Europe's separate nations to pool their military resources together. Individual EU countries tend to use their defense sectors only to boost national industry and employment, and efforts at cooperation among the nations have faltered because of political interference. Back in 2004, the European Union established the European Defense Agency to build military coordination among EU states, but it has had little success because of such interference.
The U.S. drawdown in Europe works toward the removal of both of these obstacles.
Europe will be weaned from its military dependence on the U.S. as Washington's ability and willingness to defend Europe rapidly erodes. Charles Kupchan, a senior fellow at the Council on Foreign Relations, said the overall message from the U.S.'s decision to withdraw more troops is that "Europe is going to need to start taking more care of its own defense, that they won't be able to call on the U.S. in the same way as the past."
Nick Witney, a former head of the European Defense Agency, said, "Europe is going to have to grow up and learn to take responsibility for its own security, without Uncle Sam to prod and cajole."
The U.S. pullback from Europe is also making the solution to the second obstacle obvious to more and more onlookers.
The U.S. drawdown is telling us that "we have to do our job," said European Defense Agency Chief Executive Claude-France Arnould. "We should go full speed ahead with pooling and sharing."
"It's always been obvious what needs to be done—taking a more collective approach to Europe's security," said Kupchan.
The United States has defined security in Europe for many decades, but it is increasingly urging the nations of the EU to take charge of their own defense. European nations can see that the U.S. is now a bankrupt nation with a broken will, and they are preparing to fill the void Washington is leaving by multiplying their own forces and pooling them together. Bible prophecy reveals that the end result of Europe's military pooling and multiplying will be a German-led force so powerful it will eclipse the armies of Hitler, Napoleon and even Charlemagne.