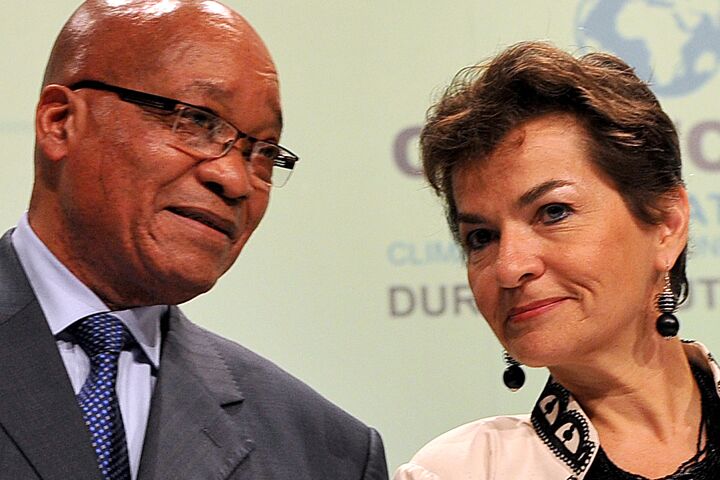 Climate Change Looms for South Africa!
Recalling Herbert Armstrong's witness and work to the rainbow nation
Recently, world attention gravitated to South Africa, where the 2011 United Nations Climate Change Conference was held. Delegates and dignitaries from around the world heard South African President Jacob Zuma hopefully declare: "Given the urgency, governments need to strive to find solutions here in Durban. Change and solutions are always possible, and Durban must take us many steps forward towards a solution that saves tomorrow today."
Little did the president know that plans have long been under way for real "change and solutions," not only to today's climate challenges but to save mankind from itself and usher in a fare brighter World Tomorrow!
Some of South Africa's leaders who preceded Mr. Zuma in office had been acquainted with a special man and a message he brought originated by the very Creator of the four seasons that influence global climate.
Jesus Christ prophesied in Matthew 24:14, "And this gospel of the kingdom shall be preached in all the world for a witness unto all nations; and then shall the end come." That good news of a better day ahead for today's climatically disturbed world certainly reached South Africa during the 20th century. Climate change for the better was just one aspect of the wonderful World Tomorrow heralded by Herbert W. Armstrong.
Honored and beloved by world leaders as an ambassador for world peace, Mr. Armstrong believed in the urgency of proclaiming that very witness of the plain truth about the "World Tomorrow" to all nations. Plans were already under way in 1952 for the gospel message to reach South Africa via radio. Soon after, it did, via the powerful Radio Ceylon.
By early 1955, the message was additionally broadcasting from within South Africa, nationwide. Fruit was being born. By mid-1956, the challenge of establishing Church congregations was under way and Mr. Armstrong was eager to see the work expanded and a branch office established.
"A great intensive nationwide survey [has] just been completed in South Africa to determine the popularity of various programs," Mr. Armstrong wrote. "In the nation South Africa is a Network of stations—-all government operated, and permitting no religious programs except those sponsored by the government. We had been forced to go on Radio Lourenco-Marques, just outside the border of South Africa. And this comprehensive survey of listening habits in South Africa [has] disclosed the astounding fact that The World Tomorrow has more listeners in South Africa than all of the Network stations inside of South Africa, combined! It is simply overwhelming!" (co-worker letter, Aug. 23, 1956). God had a work to do in one of the nations gifted to the descendents of the patriarch Joseph, South Africa.
At the time, Ambassador College was expanding, opening a campus in Bricket Wood, England, to prepare young men and women from around the world, including South Africa, to aid the growing work. By 1960, international ministers were being sent to baptize new converts. Expansion from twice-weekly broadcasts to six days per week opened up. By 1962, response was so strong that an office was to open in Johannesburg. Double-page ads were drafted in an effort to reach the country's 140,000 subscribers of Reader's Digest. On March 23, 1963, the first Church service was conducted with 33 in attendance. By 1964, the office was busy serving the influx of responses and Ambassador College graduating students were being sent in as ministry to serve the nation's growing spiritual needs.
By 1970, the branch office was expanded. By 1972, advertising of the gospel message had generated a new estimated national Plain Truth readership of a quarter million people, surpassing Time magazine's hold on South African readers.
By late 1975, Herbert Armstrong was eager to begin personal appearance campaigns. The following year, he returned to South Africa to conduct those campaigns. After a press conference with newspaper, radio and tv reporters, he was interviewed for a prime-time television program airing that night. "This is my first visit to South Africa," he wrote from Johannesburg. "Here in South Africa I have a very heavy schedule. I will be speaking constantly before such businessmen's groups as Rotary, Kiwanis, Lions, etc.—before our local churches and with public campaigns in Cape Town, Durban and here in Johannesburg" (ibid, May 28, 1976).
Mr. Armstrong was already well known to key political elites in South Africa, as evidenced by his meeting with the mayor of Edenvale, the chairman of the South Africa Foundation, and the president of the nation's largest bank. He also had a 30-minute meeting with Prime Minister John Vorster and over an hour with the former President of South Africa J.J. Fouche. "I was actually astonished when nearly every official, or person of importance (including the president), mentioned being a Plain Truth reader, most of them for years. The Plain Truth circulation in South Africa is currently 100,000" (ibid, June 28, 1976).
His highly eventful and impacting trip to South Africa ended with three public appearance campaigns. At the campaigns in Durban and Cape Town there was standing room only. Violent riots exploded in Johannesburg before his final two-night lectures to audiences in that city, but attendance remained strong. Reflecting on the trip, he wrote, "Those audiences heard the true gospel of the Kingdom of God which the world has not heard for 1900 years" (ibid).
Mr. Armstrong returned months later, visiting office staff, members and ministers. During a lunch meeting with Owen Williams, dual president of the Black Tennis Association, Mr. Armstrong discussed the possibility of the Ambassador Foundation assisting underprivileged and promising players to develop and enjoy tennis.
During the latter trip, Mr. Armstrong shuttled from South Africa to South West Africa (Namibia), at the invitation of its leaders, to speak to them about God's government and Kingdom. He also visited the emerging elite of Transkei in the southeast, proclaiming the message of Matthew 24:14 to them during their quest for what would be 20 years of independence.
By 1980, regular church attendance had reached over 1,800, with 12 full-time ministers serving 14 churches and 16 outlying Bible study groups. Plain Truth subscription was nearing 100,000 and weekly radio continued along with advertising.
Recollecting the growth of God's work and gospel witness to the country, Mr. Armstrong wrote co-workers: "Our real success is counted by the number reached with the message—which is really an announcement of the coming Kingdom of God. We never try to talk people into conversion or membership! They must come to us! No other church on Earth does this as Christ did and sent His apostles out to do!" (ibid, Jan. 23, 1980).
Today, South Africa faces challenges on all sides. Though still the richest nation in Africa, many of the blessings it once enjoyed when the nation was still possessed by the descendents of the ancient patriarch Abraham have given way to violence, poverty, political division and the plague of aids (Deuteronomy 28).
Yet, God has not left South Africa helpless. A branch office of the work as initiated by Herbert Armstrong has been operative in the nation since 1993 under the banner of the Philadelphia Church of God. Online broadcasting of the Key of David and Trumpet Daily programs drops the sweet dew of truth on this beautiful country. People loyally dedicated to the perpetuation of the legacy of Herbert Armstrong continue in the tradition of supporting a work publicizing the good news of the coming Kingdom of God, yet with an added sense of urgency, knowing that "the night is far spent" and the day of Jesus Christ's return is advancing ever so quickly. The gospel message now has a powerful warning message attached to it, especially for those who once heard it, then forgot! (Revelation 10:11; 11:1-2).
Should South Africa ever have a prime minister and president subscribe to the Trumpet magazine, as some of those holding these offices during Herbert Armstrong's lifetime once did, they would read the same loving message of the gospel of the Kingdom of God as was once proclaimed by Mr. Armstrong within their nation's borders. Any meeting with our current editor in chief would yield the same very gospel witness, yet in amplified form, in the spirit of God's end-time commission to "prophesy again" (Revelation 10:11). A message of a coming global climate change that will usher in utopian peace and prosperity for all!
To read more articles by this author, click here.