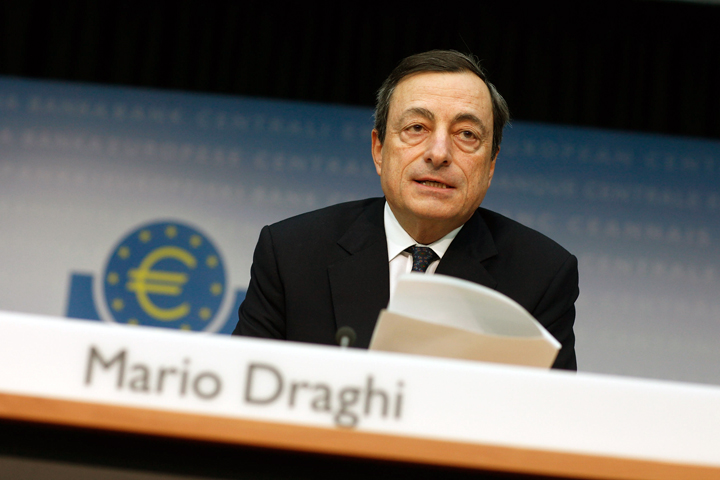 Europe—Dragon Comes Out Swinging
The new president of the European Central Bank has lost no time making his mark.
Mario Draghi came out of the gate swinging a powerful punch during his first meeting with EU officials as the European Central Bank's (ecb's) new president. He immediately moved to enact a change in eurozone interest rates (something his predecessor, Claude Trichet, had refused to do), dropping the EU benchmark rate by 25 basis points to 1.25 percent, and also cutting marginal lending rates to 2 percent and the deposit rate to 0.5 percent.
This was the latest shocker in a volatile week for financial markets in Europe, the effects of which continue to ripple around the globe. But this time, after receiving a battering from confusing signals coming out of Greece, the markets reacted positively.
Such a strong start by the Jesuit-trained Italian banker indicates that he may well prove to be a more activist chief of Europe's most influential bank than Frenchman Claude Trichet proved to be. With market experts of the opinion that only the ecb can now really help mend the euro crisis, Draghi is under the spotlight.
At a press conference called on the eve of the G-2O meeting in Cannes, Draghi reinforced the need for fiscal consolidation in Europe:
Turning to fiscal policies, all euro area governments need to show their inflexible determination to fully honor their own individual sovereign signature as a key element in ensuring financial stability in the euro area as a whole. The Governing Council takes note of the fiscal commitments expressed in the Euro Summit statement of Oct. 26, 2011, and urges all governments to implement fully and as quickly as possible the measures necessary to achieve fiscal consolidation …. The governments of countries under joint EU-imf adjustment programs and those of countries that are particularly vulnerable should stand ready to take any additional measures that become necessary.
There is more than a hint here that, under Draghi, the ecb will be putting its weight behind continuing to reduce the sovereignty of EU member nations by exerting more centralized control. The reference to measures for those "countries that are particularly vulnerable" appears to be a veiled threat of further intervention by EU technocrats in the budgets and taxation policies of Club Med nations.
Will the new ecb head live up to his name? As we have noted, Mario is a take on Mars, the pagan god of war. The name Draghi is simply a version of dragon. Will Mario Draghi prove to be a warlike dragon as Europe's chief central banker?
Germany holds the whip hand as paymaster of Europe. The Vatican released its own plan for centralized global governance just a week before Draghi took office in Frankfurt. As the imperialist agenda of both Berlin and Rome takes on new impetus amid the present euro crisis, this committed Roman Catholic banker would seem well placed to play diplomatic financial games between the two.
We ought to note also that a prime beneficiary of Draghi's interest rate cut is his own embattled Italy, head over heels in debt and facing extreme austerity measures by diktat from Berlin/Brussels.
There's no doubt that with the ecb having now a direct line to Rome, we shall see the Vatican take on a role of increasing influence in the financial and economic affairs of Europe. Bible prophecy says so (Revelation 13).
Day by day now we see the acceleration of events leading to the strengthening of the power of Berlin and Rome in Europe. Things are playing out on the European continent exactly as portrayed in Bible prophecy, even as they have been since the sixth resurrection of the Holy Roman Empire gave way to the genesis of the seventh at the close of World War ii.
The only difference is the sheer pace of the fulfillment of Bible prophecy for our day. One now has to watch daily, even hourly, to keep up with it, for the evidence is that we are living through the last prophetic hour of the period which the Bible refers to as a time of "no more delay" (Revelation 10:6, Revised Standard Version).
In the context of that which is now happening so speedily in Europe, we ought not forget its origins (Revelation 13:2, 4). Mario Draghi's name may have interesting connotations. Yet, in all reality, it's a power greater than man that has influenced this resurrection of the Holy Roman Empire from its beginnings! And it will take a power far greater than that to finally destroy it, and bring the peace and stability to this world that it has always longed for.