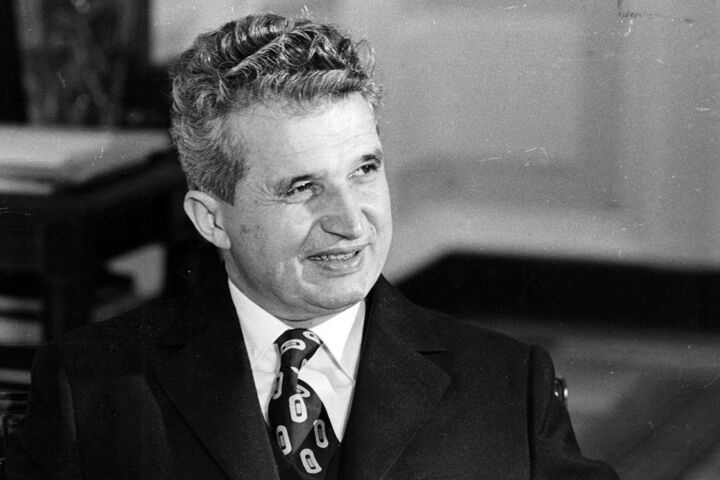 Message of Hope for Romania
The wonderful purpose behind Herbert Armstrong's visit to Bucharest
"For the first time in my life, I am en route to a Communist country, behind the 'Iron Curtain.' I am going to Bucharest, Romania, as a guest of the country, at the personal invitation of President Nicolae Ceausescu. I am looking forward to this visit with considerable interest, since I have never been in a Communist country before," wrote Herbert Armstrong on Oct. 27, 1971 (co-worker letter).
This visit took place under dramatically different global conditions than those extant today. Eastern Europe was Soviet property, Romania had Communist neighbors Bulgaria, Yugoslavia, Hungary, Ukraine and Moldova wrapped around it as a cloak of protection, and the country boasted the trade gem of the Danube Delta and key port access to the Black Sea.
Communist Romania
After Soviet troops left Romania, the country began to explore independent policies under the new leadership of Ceausescu. It was the only Warsaw Pact nation not to take part in the Soviet-led invasion of Czechoslovakia in 1968. Furthermore, it was the only Communist state to maintain a diplomatic relationship with Israel following the Six Day War of 1967. Romania also retained warm relations with crucial Arab countries, which permitted it to be a player in the Israel-Egypt peace process by acting as intermediary during a visit of Egypt's Anwar Sadat to Israel.
During that decade, this red state established economic and diplomatic relations with the Federal Republic of Germany. These overtures enticed U.S. President Nixon to accept an invitation to visit the country on his much-publicized 1969 trip to Bucharest.
Romania's foreign debt significantly increased between 1977 and 1981 positioning the country at odds with international financial organizations. The president eventually initiated a project of total reimbursement of the foreign debt by the end of the 1980s but in so doing imposed policies that impoverished citizens and exhausted the country's economy.
Shortly thereafter, Romania saw the return of European-style democracy in 1989 with the removal of the Communist Party leader amid demonstrations sparked by the treatment of a dissident Hungarian priest. Months later, amid a closed-door trial by the captors, the ex-president, along with his wife, Elena, was shot by firing squad. At the time, the White House had stated it was "regrettable" the trial had not been conducted in public.
Romania's Royal Roots
Romania's former King Mihai i recently spoke before parliament, which was both significant and symbolic. Celebrations marking his 90th birthday are planned across the country.
The former monarch is a descendant of the German Hohenzollern dynasty which emerged in the Middle Ages and later became emperors of Brandenburg-Prussia and Imperial Germany. Today, their majestic family castle sits atop a mountain just 30 miles south of Stuttgart.
The kings of Prussia retained their title of electors of Brandenburg until the dissolution of the Holy Roman Empire in 1806. Both Prussian and German sovereignties were lost in 1918, at the end of World War i. One line remained Catholic in faith in Germany, while the other moved into Romania and followed the Orthodox religion.
Born in 1921, Mihai i reigned for two short periods, 1927 to 1930 as a child and 1940 to 1947 as a young adult. During his second reign, war was raging in Europe. Marshal Ion Antonescu had joined Hitler and the axis powers in an effort to resurrect the Holy Roman Empire. Mihai is credited with staging a coup and having the Nazi-sympathizing Antonescu arrested. Romania then briefly sided with the Allies, but the end of the century's second round of war in Europe marked the rise of communism and the plunging of Romania into satellite status in the emboldened Soviet Union. Mihai was forced to abdicate and exiled to Switzerland.
"The last 20 years have brought democracy, freedom and a beginning of prosperity," he told lawmakers during his historic address last Tuesday. He added that "demagogy, selfishness and attempts to cling to power" ought not have their place today in Romanian society.
Mihai's 90 years of life is being celebrated not only by his countrymen but also by several crowned heads and members of European royalty who attended a special concert and dinner in the former king's honor. Spain's queen, grand duke of Luxembourg, king of Sweden, princess of Jordan and ex-king of Bulgaria were highlighted on the guest list. It's important to note that these royal families invited Herbert Armstrong to visit during the period of 1967 to 1985 when he was meeting more world leaders and dignitaries than any other man alive.
Germany's Romania
After casting off its Communist cloak and enduring a decade of post-revolution economic problems, extensive reforms fostered economic recovery and the country joined the EU on Jan. 1, 2007. Romania was the first country of Central and Eastern Europe to have official relations with the European Community.
Today, we live in a world, as our editor in chief recently wrote, where the world's greatest danger is Germany domineering Europe again.
Obviously, Romania's economic prosperity and security are inexorably tied to Germany's. Europe's financier sees Romania's potential as the ninth-largest country of the EU, seventh-largest in population, with capital Bucharest the sixth-largest city in Europe.
Business Exchange reports that "Romania's economy is among the fastest growing in the European Union. Romania is the 11th-largest economy in the EU, by total nominal gdp, and the eighth-largest based on purchase power."
According to Culturaldiplomacy.org, "The German-Romanian Chamber of Industry and Commerce in Bucharest, which was opened in September 2002, promotes bilateral economic relations between the two countries and represents all the major trade-fair companies in Romania. In addition, German business clubs in Bucharest, Sibiu, Brasov, Timisoara, Arad and Cluj-Napoca provide different platforms for the representatives of the German private sector in Romania to exchange and create new business opportunities. In 2008, Romanian exports to Germany, mainly finished products, in particular textiles and clothing from contract processing as well as electrical goods, amounted to about €5.55 billion."
In addition, this month the European Parliament adopted a resolution permitting Romanians to work freely throughout the eurozone.
Earlier in the year the International Monetary Fund had projected a 3.8 percent growth rate for the country, but after the recent financial meltdown in Europe this projection was reduced to 1.1 percent growth for 2011. Still, the evident point is that Romania is experiencing economic growth, and any such Euro-state doing so will attract the attention of and ultimate governance by the zone's headmaster—Germany.
Look for greater economic, military and religious cooperation between Berlin and Bucharest. Last week's crisis talks over the fate of Europe resulted in the Continent's most powerful member garnering even greater powers of influence and sovereignty. Europe's banks' "haircut" in the form of 50 percent reduction in Greece's debt places a flimsy band-aid on a festering, malignant euro-wound. Europe now shifts into two speeds, with the fiscal majority handing power over to Germany and its stronger economic partners in the north as they rule over the financially infirm in the south and east (Daniel 8:9).
Warning From the Past
Romania received God's gospel message in person late in 1971. At that time, Herbert Armstrong was continuing to sound the warning as a witness, which he had done from 1934 onward, that a resurgent dominant Germany would rise from the ashes of its defeat in World Wars i and ii to again domineer over Europe in its efforts to revive the medieval Holy Roman Empire a seventh and final time. Mr. Armstrong looked to the clear light of Bible prophecy and declared that message by all means possible at his disposal. The fact that he was invited behind the Iron Curtain by a sitting Communist Party leader underscores the miraculous open doors God provided this man of eloquence, tact and diplomacy, a true ambassador of a far better kingdom to come.
By the time of his death, Herbert Armstrong had visited various Communist countries in Europe and become the first church leader to visit China. Even those whose minds were closed to God's family vision saw something different in this most unique of men. The wonderful purpose behind his acceptance of Romania's invitation was to witness to that country's leadership of the gospel message of Christ heralding His return and establishment of His Kingdom over all national dogmas and doctrines (Matthew 24:14). The good news for Romania is that very soon it will forever break the shackles of domination by a Communist bloc or Holy Roman Empire, and rejoice under the loving government of God (Isaiah 2:2-4; Micah 4:1-3).
Request your free copy of The Rising Beast by Gerald Flurry and click over to the Key of David program to view his recent episode titled "The Fourth Reich" to grasp the significance of today's events surrounding Romania and its regional neighbors. It is so shocking that the nations of this world would be paralyzed with fear if they truly understood!