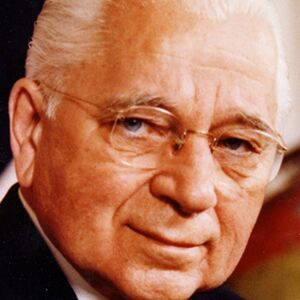 A Warm Friend of Israel
Remembering a genuine legacy of peacemaking in the troubled Middle East
He had no political party, no royal office, no government commission. He possessed no personal fortune, nor was he backed by any state or corporate interest. Yet he met personally with dozens of heads of state: prime ministers, presidents, kings, emperors, princes and princesses, and many other leaders of government and industry. And though he also rubbed shoulders with Nobel Prize winners, artists, singers and athletes, he spent much of his time among the middle class, the lower class, and the tragically impoverished. He teamed up with other leaders in science and education to improve the lives of millions. A prolific author, educator, philanthropist and minister, he taught the true causes of the problems facing humanity and their ultimate solutions.
People called him an ambassador without portfolio with a commission for peace. His name was Herbert W. Armstrong.
Leaders across the globe respected his message, extended him personal invitations, and collaborated with him. Several became his close friends. Mr. Armstrong sometimes traveled 300 days out of the year. But of all the places he visited, his greatest passion was for Jerusalem.
As a devoted student and teacher of the Bible, Mr. Armstrong believed in the glorious future of the Holy City. He flew to the new nation of Israel more frequently than anywhere else; during one four-year period, he returned about 50 times.
In the autumn of 1968, Ambassador College officials took interest in an archaeological project in Israel. It was one of the most significant digs ever undertaken in Jerusalem: an excavation near the Western Wall in the Old City, recently won in the 1967 Arab-Israeli War. It was being conducted by Prof. Benjamin Mazar, director of the Israel Exploration Society and former president of Hebrew University. Deeply impressed with Professor Mazar's excavation, Mr. Armstrong wanted to support it.
Mr. Armstrong was invited to meet with Professor Mazar and Israeli leaders in a private room of the Knesset. There, Tourism Minister Moshe Kol, a signer of the 1948 Declaration of Independence, proposed "a partnership with Israel" that he called "an iron bridge that can never be broken" between the school Mr. Armstrong founded, Ambassador College, and Hebrew University. Soon afterward, Mazar visited Ambassador College in California and Texas. In their time together, Mr. Armstrong and Professor Mazar had developed mutual trust. Though the archaeologist had turned down three other major American universities seeking involvement in his project, Mazar now offered Ambassador College a 50/50 joint participation.
On Dec. 1, 1968, the president of Israel, Zalman Shazar, became the first head of state to meet with Mr. Armstrong. When asked if he wanted to put the relationship in a formal legal contract, Mr. Armstrong responded, "My word is good, and I believe yours is too, without any legal entanglements." It was the beginning of a beautiful relationship that would last the rest of Mr. Armstrong's life.
Each summer, scores of Ambassador students excitedly packed up and flew to Israel to volunteer on the excavation, a massive site on the southern wall of the Temple Mount. The "big dig," as it became known, would continue for a decade, and hundreds of Ambassador students, praised as the excavation's most enthusiastic laborers, would have the opportunity to touch those ancient stones.
The mutual respect between Mr. Armstrong and Professor Mazar grew. The two friends could often be seen walking arm-in-arm visiting the site, or relaxing at Dr. Mazar's home in Jerusalem, and the professor visited Ambassador College on a number of occasions. In connection with the dig, the two men also delivered a joint lecture in Japan to Tokyo's leading educators and scientists. Professor Mazar viewed his friend as "cosmopolitan in the best sense of the word, humanitarian and a sponsor of eternal, universal ideas." After Mr. Armstrong's death, he wrote, "During the years of our association with him, all of us developed the highest regard for his wonderful personality and qualities. His deep devotion to the ideals of peace and justice in the spirit of the biblical prophets was appreciated by his friends in Israel. … His name will always be attached to this most important undertaking carried out in Jerusalem."
In addition to support of archaeology, the "iron bridge" partnership had a second goal: to bring the children of Jerusalem—Jew, Muslim and others—together to learn the way of peace. To further that goal, Mr. Armstrong's Ambassador International Cultural Foundation supported Jerusalem's International Cultural Center for Youth. The concept of the iccy had been born in the mind of Moshe Kol after the War of Independence in 1948-49, and it was founded in the spring of 1960 with U.S. First Lady Eleanor Roosevelt. Mr. Armstrong supported the work of the iccy and the dream of seeing children of all nations and ethnicities living and playing and growing together in the way of peace. The iccy named the square at the entrance of its building in Jerusalem the Herbert W. Armstrong Square. Visitors to the upscale German Colony today can still see the stone plaque at the edge of the square.
Later, in connection with the same dream of peace for the children of Jerusalem and the world, Mr. Armstrong responded to a request from Jerusalem Mayor Teddy Kollek, who hoped to develop a beautiful park in downtown Jerusalem. The Ambassador Foundation helped fund the construction of Liberty Bell Park, specifically the children's playground at its northern entrance. Thus, Mr. Armstrong's name was stamped on two great symbols of hope for the future of the children of Jerusalem.
Mr. Armstrong's contributions did not go unnoticed by those who sat in the gates of Jerusalem. In fact, following his first meeting in the Knesset in 1968 to his death in 1986, Mr. Armstrong was welcomed by every prime minister and president of Israel for the rest of his life, including prime ministers Golda Meir, Yitzak Rabin, Menachem Begin and Shimon Peres, and presidents Ephraim Katzir, Yitzhak Navon and Chaim Herzog. These meetings and relationships went deeper than a simple handshake and photo opportunity. Israeli leaders valued the work, the counsel and the friendship of Herbert Armstrong.
On Nov. 3, 1980, Prime Minister Menachem Begin was in a meeting with a group of officials in Tel Aviv. An aide passed him a message, and he arose from his chair and recessed the meeting. He walked out and got in his car, and his motorcade drove the hour-long route to Jerusalem. He had learned that Mr. Armstrong was visiting Jerusalem. The prime minister hurried to his executive office, where he received Mr. Armstrong, accompanied by Mayor Kollek and a couple of others. When someone mentioned that he had interrupted his meeting and made the special drive, the prime minister explained, "Mr. Armstrong, I would get out of bed at 2 in the morning to see you." The meeting ended in an affectionate bear hug. Afterward, Begin drove back to Tel Aviv and resumed his meeting—after a 2½-hour recess.
Mr. Armstrong met with Israeli President Yitzhak Navon a number of times in Jerusalem. In December 1978, Mr. Navon hosted a special tribute dinner for Mr. Armstrong at his presidential palace to celebrate Mr. Armstrong's 10 years of partnership with Israel. As Mr. Armstrong aged into his 90s, he continued to meet with Israel's leaders. During President Herzog's term, Mr. Armstrong was awarded the Medal of the Knesset by Speaker Menachem Savidor in October 1983. The award was accompanied by this citation: "To the Hon. Mr. Herbert Armstrong. In appreciation of his true friendship for the land and people of Israel and his magnanimous gestures which aid and strengthen the spiritual and moral tents of our common culture."
Accompanying Mr. Armstrong on most of these visits with Israeli leaders was a man who sat in the gate of Jerusalem perhaps longer than anyone else: his friend Teddy Kollek. Called the greatest builder of Jerusalem since Herod the Great, Mayor Kollek strived to beautify the city for all of its inhabitants, Jew, Muslim and Christian. Mayor Kollek was reelected five times, and he counted Mr. Armstrong as a close friend through almost his entire public career.
When Mr. Armstrong visited Jerusalem, Mr. Kollek went far beyond his duty as mayor: He viewed Mr. Armstrong as more than just another foreign dignitary—he treated him as a valued friend and confidant. The two men developed a strong bond that sprung from their mutual love for Jerusalem, a love that was proven in the work they did together for the city. Mayor Kollek visited Ambassador College in California in 1971, and less than two weeks later, Mr. Armstrong was at Hebrew University in Jerusalem. He and other representatives of the Ambassador International Cultural Foundation were conferring with the university's Institute of Urban and Regional Studies, with which they were in a joint participation city-planning project. The goal: to plan the Jerusalem of the future.
On one occasion, Mr. Kollek presented Mr. Armstrong with a silver and gold sculpture of David defeating Goliath. "All your life, you have been a fighter of giant lies, and of giant untruths," he said. "And as you regard yourself a descendant of David, and rightly so, here in the City of David, we would like to present you with this symbolic sculpture." Mr. Armstrong replied by saying that Jerusalem was destined to become "the greatest city in the world and in fact in the whole universe. This city is someday going to be the capital of the universe, because this city is going to exist forever." The two men's mutual aspirations for the future of Jerusalem knitted their brotherhood ever closer. This was highlighted in a conversation over lunch in Jerusalem in 1983. Since it was election day, Mr. Armstrong led a toast for the reelection of Mayor Kollek. The mayor responded from his chair, "Jerusalem at this time does not have a prophet—you [Mr. Armstrong] will have to be our prophet." Mr. Armstrong responded saying he planned to spend the next thousand years in Jerusalem, to which Mr. Kollek quipped, "And I'll be happy to be mayor!"
At Mr. Armstrong's death in 1986, Mr. Kollek sent the following condolences: "It is with great sorrow that we learned the passing of President Herbert Armstrong. One could only be deeply impressed by his vast efforts to promote understanding and peace among peoples. His good deeds were felt in many corners of the world. In Jerusalem his care and concern can be seen in the many projects he undertook: the archaeological excavations uncovering the history of millennia, the children's playground and activities he helped sponsor, the dedicated work of the Ambassador College students. His visits to Jerusalem were always very special and I was privileged to share these with him. He helped foster the goals we set to ensure the future of Jerusalem, King David's city."
Shortly before Mr. Kollek's death, he wrote that he held high regard for this "special man and his mission for peace." In 2004, he said, "There have been very few people that I have known that I so enjoyed speaking with and so greatly admired and valued their counsel." Mr. Armstrong felt the same way about his very close friend.
Though he met with the greats of the world from Asia to Africa to Europe and beyond, Herbert W. Armstrong's greatest affection was for one tiny, new country at the heart of the world. He loved Israel, and Israel loved him back.
Today, though those who Mr. Armstrong entrusted with the Ambassador Foundation, Ambassador College, the Plain Truth and the Worldwide Church of God rejected his legacy and closed all the humanitarian and cultural activities down, the Armstrong International Cultural Foundation is working to keep that work alive. We have continued to support Liberty Bell Park. We have formed a strong bond with Benjamin Mazar's granddaughter, Dr. Eilat Mazar. We have sent several groups of students from Herbert W. Armstrong College to help with the exciting archeological excavations that she is undertaking in Jerusalem. Foundation chairman Gerald Flurry and staff regularly travel to Jerusalem to personally investigate progress on the foundation's activities in the eternal city. The foundation will host an archaeological exhibit at its headquarters in Edmond, Oklahoma, this year that will feature artifacts from 10th-century Jerusalem.
In several other ways—from performing arts, to youth camps, to publishing, to broadcasting, to participation in projects in the Holy Land—the Armstrong Foundation and the Philadelphia Church of God continue to raise up the legacy of a remarkable man—an unofficial ambassador for world peace, a great educator, a close acquaintance of world leaders, and a warm friend to Israel.