'This Circle of Horror and River of Tears'
An escalation in violence sends a chilling message to Israel.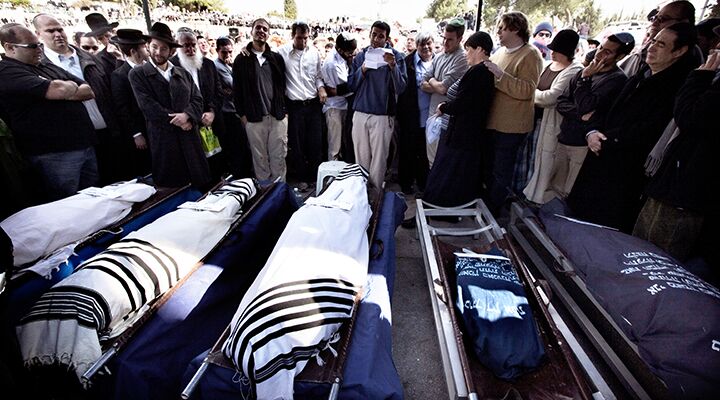 'This Circle of Horror and River of Tears'
An escalation in violence sends a chilling message to Israel.
What kind of sick mind would brutally murder women, children and infants in their own home with a knife? And what kind of sick people would celebrate it?
These are questions Israel and the world need to be asking after the March 11 murder of five members of a Jewish family living in the Israeli town of Itamar.
Against the backdrop of a region in turmoil, with protests and revolutions toppling one government after another, in March Israel was thrust into the middle of the maelstrom. The Itamar massacre, bad as it was, actually served as an ominous warning of more to come. Soon after, Hamas resumed launching rockets at southern Israel. Then, on March 23, a bomb exploded at a Jerusalem bus stop, killing a British woman and injuring more than 30 others—the first time in nearly seven years that the city was hit by a bomb.
Added together, these attacks represent a deliberate escalation of violence against Israel.
And looming larger than ever before, behind the scenes, is the Islamic Republic of Iran. From the very beginning of the region-wide turmoil that started in December, Iran has been covertly working to first destabilize, and then dominate, the entire Middle East.
With this in mind, what a perfect time this is for it to provoke another conflict with the Jewish state.
Nightmare in Itamar
The facts of the Itamar murders are appalling and nauseating. That Friday evening, just after the Sabbath began, terrorists jumped an Israeli security fence to enter the West Bank town. They broke into a home there, apparently chosen at random, and found Udi Fogel, age 36, sleeping in bed holding his 3-month-old daughter, Hadas.
They slit both of their throats.
When Udi's wife, Ruth, emerged from the bathroom, they stabbed her to death.
They then moved through the house and found a bedroom with two of the Fogels' sons: Yoav, age 11, was reading in bed and Elad, age 3, was sleeping. They slashed Yoav's throat and stabbed Elad twice through the heart.
Apparently the terrorists didn't see two more Fogel boys—Roi, 6 years old, sleeping on the living room couch, and Yishai, just 2 years old, asleep in another bedroom. They fled the house without harming them.
The Fogels' 12-year-old daughter, Tamar, was at a youth event with some friends. When she came home two hours later, she found the door locked. She woke up Roi by calling through the living room window. When he let her in and she went to the bedrooms, she saw the blood-soaked horror and ran from the house screaming.
The incident stunned the entire nation. At the Fogels' funeral just two days later, the cemetery in Jerusalem was filled with thousands of Jewish mourners.
In his heartfelt address, Rabbi Yisrael Meir Lau spoke to Tamar directly: "In one cruel hour, you have become a little mother. You are now the mother of little Roi and Yishai, and you are only 12 years old."
He also addressed a nation stricken with grief. "We've made it 63 years, we've declared a state and won independence and founded a glorious army," Lau said, "and still this circle of horror and river of tears is flowing, and we stand helpless with a feeling that is impossible to put into words."
This tragedy received scant attention amid coverage of the tsunami that hit Japan the very same day, along with a dizzying torrent of other earthshaking news. But it uniquely highlighted the savagery of the Middle East conflict and the insurmountable odds stacked against the Jewish state.
More disturbingly, when one looks at the biblical prophecies of what awaits Israel in the time ahead, the Itamar murders are, sadly, only a foretaste of what is coming upon the whole nation.
"We stand helpless" is about to prove to be a sickening understatement.
Celebrating and Seeking Death
Who would commit such an incomprehensibly barbaric act?
The al-Aqsa Martyrs Brigade claimed responsibility. This is the terrorist wing of Fatah. (Some members of the group later retracted this claim.)
Fatah is the political party of Mahmoud Abbas. Abbas is chairman of the Palestinian Authority and supposed partner in the "peace process" with Israel.
Abbas responded to the butchery by denying that the PA incites violence against Israel.
This claim is ridiculous, undermined by mounds of proof. The very day of the Fogels' funeral, Fatah officials named a town square in Ramallah after a woman terrorist who led a 1978 attack that killed 37 Israelis. Just two months before, Abbas himself awarded $2,000 to the family of a terrorist who tried to kill Israeli soldiers. He said in December, "We have frankly said, and always will say, if there is an independent Palestinian state with Jerusalem as its capital, we won't agree to the presence of one Israeli in it."
Meanwhile, the other major force in Palestinian politics, Hamas, celebrated the Fogels' murders by handing out candy and sweets on the streets of Gaza. One resident described the slayings as "a natural response to the harm settlers inflict on the Palestinian residents in the West Bank." Murdering children and infants—to these Palestinians, this is a "natural response" to housing construction.
Hamas spoke on its website about the homicides—but what it posted in English differed markedly from what it posted in Arabic. Its terse English statement denied any connection to the attack, and even suggested that Palestinians may not have carried it out. In Arabic, however, the message was more eloquent, openly praising the "Palestinian mujahid" ("holy" warrior) for being "able to break into the usurper (settlement) of 'Itamar' south of Nablus in the occupied (West) Bank" and stab "five Zionist usurpers." Zionist usurpers, that is, like 3-year-old Elad and 3-month-old Hadas.
Al Mutarjim, who translated this Arabic-language statement into English, noted that the post received dozens of comments, all of which applauded the murders. A sample: "Allah is great, to Allah be the praise. The separate factions of the resistance should change their tactics, and rely more heavily on individual operations, which cannot be detected and thwarted by the lackeys of the authorities, rather than forming cells. They should devise new methods for combat by knife, strangulation, breaking necks, poison, and every method which is not known by your enemy."
Another read: "Allah is great, and to Allah be the praise. May you prosper, o mujahid. May Allah preserve you, and remove the eyes of the Jews and their agents far from you."
These are the people that Israel is apparently meant to appease by engaging them in the "peace process" and offering concessions to their leaders. People who glory in the massacre of Jewish babies.
Circle of horror, indeed.
Israel's Wound
These events are only the latest bits on a mountain of macabre evidence showing the utter folly of the Jews ever trying to negotiate their way to a peaceful coexistence with the Palestinians—a people saturated in hatred and hostility toward their very being. The idea that peace will come if only Israel stops building, or retreats from more land, or allows more Arabs to move into the country, has no grounds. The overwhelming evidence shows that the Palestinians simply do not want and will not accept a peace deal with the Jews.
The Jews' realization of the impossibility of negotiating a two-state solution with the Arabs has been washing over them in stages in recent years. While caving in to pressure yet again and again, the recognition that the peace process has in fact wounded the nation—sapped Israel's strength, depleted Israel's land, and exhausted Israel's will to fight and survive—is dawning.
This realization was specifically prophesied in your Bible. The prophecy is recorded in Hosea 5:13: "When … Judah [the biblical name for today's Jewish State of Israel] saw his wound, then went Ephraim to the Assyrian, and [Judah] sent to [Assyrian] king Jareb …." Longtime Trumpet readers know that Gerald Flurry has pointed to Judah's "wound" being the peace process ever since the Oslo talks in 1993.
Hosea's prophecy reveals a moment when Israel sees its deadly wound—it recognizes the folly of the paradoxical "peace" process—and acts in desperation. That moment is getting closer. As we explain in our free booklet Jerusalem in Prophecy, this will result in a devastating outcome for the Jewish state.
The Jews would do well to heed. In the prophetic picture, the Itamar massacre once again serves as an ominous warning of worse to come.
On to Jerusalem
The escalating tensions between the Palestinians and Jews have already been compared to the run-up to Operation Cast Lead two years ago. Israel responded to the rocket attacks in March by firing missiles at launching pads in Gaza.
"No country would be prepared to absorb protracted missile fire on its cities and civilians, and of course the State of Israel is not prepared to," Prime Minister Benjamin Netanyahu explained. "It could be that this matter will entail exchanges of blows, and it may take a certain period of time, but we are very determined to strike at the terrorist elements and deny them the means of attacking our citizens."
Outside of the commonly known support Iran provides Hamas and several other terrorist groups, including some in the West Bank, no publicly available evidence directly links Tehran to the Itamar murders, the Gaza rocket assault, or the Jerusalem bus bombing. Nevertheless, if these provocations had been specifically calculated to bait Israel into retaliating against the Palestinians, they couldn't have been any more effective in doing so. And the fact is, no one stands to benefit more from Israel's response than Iran.
As Stratfor reported on March 23, Israeli retaliation could endanger the Israel-Egypt peace treaty, especially if Israel lashes out at Hamas in Gaza. "When looking at the unrest overall in the region, the one key ingredient that was missing was Israel. Israel is often the single unifying call for many on the Arab streets, and that is certainly something that a lot of Palestinian factions will be paying attention to right now," Stratfor wrote. "Watch for groups like Hamas, Hezbollah and others in the region to escalate attacks in an effort to provoke a military confrontation with Israeli forces, create a crisis for Egypt through the Egyptian Muslim Brotherhood, and threaten Israel on multiple fronts. This is something that could well play to the Iranian agenda and escalate the regional unrest overall."
For over a decade and a half, the Trumpet's editor in chief has warned us to watch for signs of Iran trying to seize Jerusalem. "The most precious jewel of Iran's plan is to conquer Jerusalem," he wrote in February 1995. "This would then galvanize the Islamic world behind Iran!"
Zechariah 14:2 prophesies that half of Jerusalem is going to fall. As our booklet Jerusalem in Prophecy explains, Zechariah is speaking of an impending, partial conquest of the Holy City by Islamic warriors—one that will precede a total conquest of the city by a European force.
As Iran works behind the scenes today to destabilize and dominate Middle Eastern nations in turmoil, realize this is all part of its plan to dismantle the obstacles to its taking Jerusalem.
However, remember also that in the final analysis, after the biblical nation of Judah has been punished, there will come a time when, as Isaiah prophesies, "the adversaries of Judah shall be cut off" (Isaiah 11:13). The Jews' circle of horror will be broken. Their river of tears will at last run dry—when Jerusalem truly becomes a city of peace upon Christ's return.