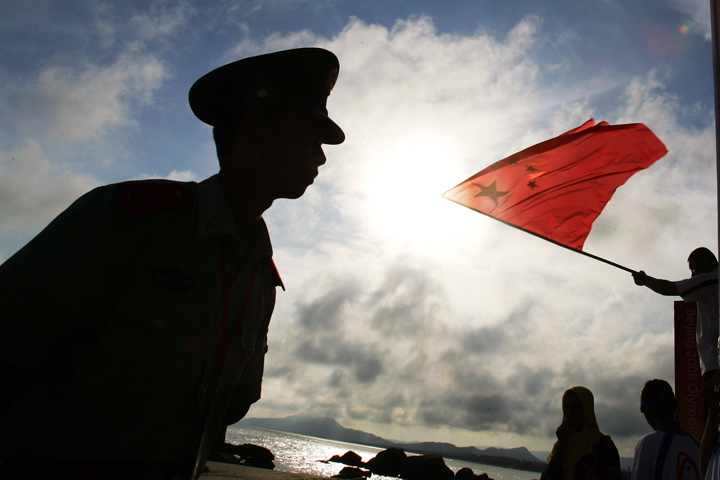 The Chinafication of Asia
Beijing is not satisfied with the status quo and is maneuvering to expand its reach, especially in Asia.
"Anybody who ignores China would have to reexamine his head," said the Philippines Senate President Juan Ponce Enrile last month. And a growing number of Asian policymakers are demonstrating that they agree with Enrile.
Wielding the twin forces of soft-power diplomacy and intimidating military growth, Beijing is rapidly expanding China's reach throughout Asia. Viewed individually, the gains China has made don't appear terribly significant, but, when analyzed together, they paint a sobering picture of a rapidly rising Chinese powerhouse and of a dramatic shift in Asia's balance of power.
China's "String of Pearls"
The Indian Ocean, according to journalist Robert D. Kaplan, is the world's "busiest and most important interstate," and Beijing has been investing no small amount of effort into controlling its waterways. In recent years, China has labored diligently to create what U.S. Col. Christopher Pehrson calls a "String of Pearls" throughout the Indian Ocean.
These "pearls" span from the coasts of mainland China through the Strait of Malacca, across the Indian Ocean and Arabian Sea, and all the way into the littorals of the Persian Gulf. They are strategically-positioned outposts and bases that China maintains to protect its energy lines and to check U.S. power in the region.
Among the noteworthy "pearls" on China's chain are Hainan Island, with its underground nuclear submarine base and military post; Sittwe, Myanmar, where Beijing has an advanced deep-water port granting it access to the Bay of Bengal; Woody Island, where China controls an air base; and Chittagong, Bangladesh, where it runs a naval facility.
China acquired another precious pearl in March 2007, when it signed an agreement with Sri Lanka to develop the $1 billion Hambantota Port, which includes an oil refinery, a container facility, an airport, a bunkering establishment and other installments. To bolster its position on the island, China has provided arms and assistance to the Sri Lankan government to help it defeat indigenous rebel forces.
Gwadar: The "Chinese Gibraltar"
The most lustrous pearl in China's string is its navy base in Gwadar, Pakistan. China has invested heavily in the port since its inception, and the rapidly warming relationship between Pakistan and China gives Beijing great influence over the Pakistani port project. The importance of this sophisticated, deep-water port, at the intersection of empires, cannot be overstated.
The port is 240 miles from the Strait of Hormuz, the most important oil choke point on the globe. And besides giving Beijing key naval capability in the Arabian Sea, the Gwadar port also grants China a crucial transit terminal for oil coming from Africa and the Persian Gulf, which equates to 40 percent of the world's total seaborne traded oil.
Zia Haider of the Stimson Center says the strategic Gwadar hub also provides China with a "listening post" from where it is able to "monitor U.S. naval activity in the Persian Gulf, Indian activity in the Arabian Sea, and future U.S.-Indian maritime cooperation in the Indian Ocean."
With all these strategic advantages, it's easy to see why Beijing has invested four times more into the $1.2 billion project than Pakistan has. Gwadar, which some analysts call the "Chinese Gibraltar," is a profoundly strategic pearl on China's string, and Beijing already has de facto control over it.
Australia's Backyard
In August of 2010, Beijing signed a contract with East Timor detailing plans for China to build a military headquarters for the island nation's fledgling army. The deal closely followed Beijing's sale of two naval patrol boats worth $28 million to East Timor's navy, and a series of Chinese building projects in the country. In recent years, Beijing has also lifted tariffs on almost all Timorese exports to China.
China's overtures to East Timor are paying dividends.
At the ceremony marking the beginning of construction on the new $8 million military headquarters, East Timorese Prime Minister Xanana Gusmão called for closer military ties with China and thanked Beijing "in the name of the fraternal brotherhood that links [the Chinese and East Timorese] peoples."
Dili, which has long relied on Australian aid and defense assistance, has grown tired of the bothersome human rights standards Canberra demands in exchange for its support. In a clear reference to Australia, Gusmão said, "[T]here is nothing that would prevent us from requesting and accepting [further military assistance], nor would it be legitimate for anyone to seek to constrain our options."
Beijing has also steadily poured aid money into Fiji, a move which is rapidly giving China the influence over Suva that the West once held. On August 18, Fiji's military commander and self-appointed prime minister, Commodore Frank Bainimarama, said, "China is the only nation that is very understanding to our reforms. I think we need to forget about … Australia and New Zealand."
In Papua New Guinea, China has invested in mining, and helped fund several major government construction projects.
In Vanuatu, Beijing recently constructed a headquarters facility for the Melanesian Spearhead Group, which also benefits the Solomon Islands.
A Concerning Pattern for Canberra
Were a pin to be stuck into a map at each of these locations, a sobering picture would emerge: The buildup of Chinese presence surrounds the northern half of Australia. Stratfor analyst Rodger Baker recently pointed out the strategic location of the growing Chinese presence, explaining that, by providing fuel resupply options for long-distance operations, it could greatly extend China's naval capabilities. Baker said the real concern for the United States and Australia will be if the locations become stationary bases for Chinese anti-ship missiles.
The move provides a signal that East Timor, Fiji, Papua New Guinea, Vanuatu and the Solomon Islands are shifting away from their traditional patrons, Australia and the U.S., and toward China.
Taiwan
In his 2011 New Year's address, Taiwanese President Ma Ying-jeou outlined Taiwan's future as one that will position it much nearer to China. When Ma came into office in 2008, he made conciliatory overtures toward Beijing, and cross-Strait tensions began to diminish. Ma's most recent remarks show that the relationship is on course to warm drastically.
On January 3, Taiwanese media reported that Taipei has scrapped its plans to deploy its powerful new rocket system on islands near mainland China. Analysts believe Beijing could respond by reducing its battery of Taiwan-aimed missiles.
The following day, China and Taiwan tightened their economic ties by implementing a pivotal phase of the Economic Cooperation Framework Agreement called the "early harvest program." Under the deal, China has cut tariffs on 539 Taiwanese products and Taiwan has reduced duties for 267 Chinese goods. By 2013, all of the duties on those goods will come down to zero.
Vietnam and Thailand
China's expanding Asian influence is not limited to island nations. On November 27, China and Vietnam held a landmark bilateral strategic defense dialogue. The two sides agreed to boost collaboration in the areas of naval and border guard forces, and military science research and training. Beijing and Hanoi also announced plans to establish a hotline between the Defense Ministries of the two nations. Only a little over a month earlier, Vietnam's concerns about China's mushrooming power and belligerency had prodded Hanoi to develop closer ties with the U.S., but the Trumpet predicted that Vietnam's edging toward the U.S. wouldn't last long. "Vietnam and the other nations of Southeast Asia will soon … abandon the sinking U.S. ship, to instead support Beijing's ascendancy … as they recognize the reality of Washington's crumbling power," we wrote (Aug. 12, 2010). The landmark November defense talks show that the eastward shift in Vietnam's alignment is already under way.
Meanwhile, the effects of Thailand's deteriorating democracy are rippling throughout Southeast Asia, eroding Bangkok's relationship with Washington, and nudging Thailand nearer to Beijing.
The Pearl of the Orient
On December 10, in a shocking deviation from tradition, the Philippines joined a China-led boycott against the Nobel Peace Prize ceremony which honored an imprisoned Chinese dissident. Since the move followed sharply on the heels of a major military deal between China and the Philippines, Manila's decision to kowtow to China takes on great significance.
The bulk of the 19 other nations that heeded China's calls to boycott the ceremony were the usual regimes like Iran, Venezuela, Pakistan, Morocco, Afghanistan and Sudan, which share in China's disdain for Western human rights pressure. But the Philippines is supposed to be a champion of democracy and an ally of the West. The Manila Times blasted President Benigno Aquino iii, saying he made a "painful sacrifice" of the Philippines' human rights image in order to please Beijing for security and economic reasons.
But the Philippines Senate President Juan Ponce Enrile defended President Aquino's decision to boycott the ceremony, saying the Philippines can no longer ignore China. "Anybody who ignores China would have to reexamine his head," Enrile said.
His words seem to represent the thoughts of a growing number of policymakers throughout Asia.
China can no longer be ignored.
A Sobering Picture
The separate brushstrokes of China's gains throughout Asia combine to paint a grim picture of a nation whose might is expanding at an alarming speed.
U.S. Adm. Robert Willard said, "It's been rare in history that any country underpinned by the kind of economic power that China possesses has developed its military so rapidly."
Willard went on to explain that he believes that in reaching beyond its regional waters, China aspires to become a "global military (power)."
And the reason for Beijing's colossal expansion in recent years is clear: The Middle Kingdom is in steady pursuit of great-power status, regionally and globally.
A buzzword in Chinese foreign-policy discussions is ruan quanli, meaning "soft power," and, in recent years, Beijing has been building and wielding this force to great effect. Every week, headlines narrate China extending assistance into the developing nations of Asia, and its gestures are paying dividends.
When the global financial crisis struck in 2008, it was not clear to many what the consequences would be. But two years on, it's clear that the jolt has significantly shifted global power away from the U.S. and toward China. The crisis, alongside the Obama administration's unpredictable foreign-policy moves, has spurred the nations of Asia to begin to view China in a different way.
Asian policymakers recognize that Beijing's contributions are not out of benign generosity, but, as U.S. primacy in the region wanes, and as evidence of China's military might multiplies, they see little choice but to align with Beijing.
Historically, nations like Vietnam, the Philippines and East Timor have depended on the U.S. or Australia for military assistance, but as Washington becomes distracted by pressures in the Middle East and elsewhere, Beijing is stepping into the void. These weaker Asian nations are beginning to read the writing on the wall and are positioning themselves for the inevitable demise of U.S. primacy in Asia.
As Enrile of the Philippines said, "Anybody who ignores China would have to reexamine his head."
Its expanding sphere of influence throughout Asia allows China to simultaneously undermine Western power in the region and work toward securing more power and resources for itself. As China's soft-power diplomacy and hard-power buildup continue to congeal the Asian nations into a global power, the influence of Australia and America in the region will steadily wane. In the longer term, Asia's unification points to the approach of the most hope-filled event in history: the return of Jesus Christ, who will usher in an age of peace and prosperity for the nations of Asia and the whole Earth! To understand more, read Russia and China in Prophecy.