Your Family's Most Important Textbook
Reap the rich rewards of regular family Bible study.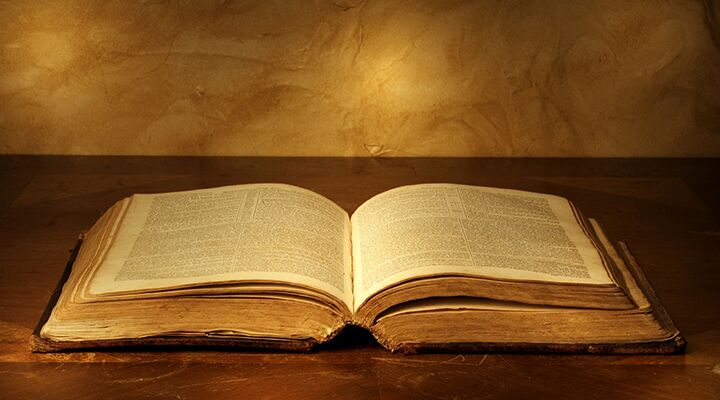 Your Family's Most Important Textbook
Reap the rich rewards of regular family Bible study.
My family has a tradition that we all look forward to each week. On Saturday morning, we make coffee, warm up a couple of pastries, and give each member of the family a bit of each. Then we sit around in the living room and open our family textbook. For 30 minutes to an hour, we study and discuss.
That textbook is the Bible. And this is only the longest and most special of the several times during the week we enjoy such study.
If you are a parent with children living under your roof, then you are responsible for their spiritual education. That responsibility comes with the opportunity to instruct from Scripture.
In the book of Deuteronomy, you can see that Moses felt a similar responsibility to build the families of Israel. In this, his final instruction to God's people just before he died and they entered the Promised Land, Moses repeatedly emphasized parents' duty to pass their spiritual wisdom to their children and grandchildren.
"And these words which I command you today shall be in your heart. You shall teach them diligently to your children, and shall talk of them when you sit in your house, when you walk by the way, when you lie down, and when you rise up" (Deuteronomy 6:6-7, New King James Version). The phrase "teach them diligently" means to repeat intensively, to do something again and again—like sharpening a blade through repetitious grinding or friction. Surely Moses had witnessed a lot of failure among Israel's families. You can sense his urgency: Commit these words to heart—then teach themdiligentlyto your children, and discuss them at every opportunity! This is how to survive as a nation!
Moses did more than command family Bible studies: He emphasized the importance of reinforcing those biblical lessons throughout the day, both at home ("in your house") and away ("by the way"). He expected parents and children to be interacting often, and for the Bible to be a regular topic of discussion. He stressed the need for instructing each night before bedtime ("when you lie down"), and again each morning ("when you rise up").
Moses followed up with a very practical instruction: He advocated writing certain scriptures and principles down and posting them in the house to help internalize them (verse 9; see also Deuteronomy 11:18-20).
Have you ever considered applying these scriptures? Have you ever tried—but never stuck with it?
Life can be a jungle of duties and distractions. We may agree with Moses's statements in principle but then struggle to implement them. We may make an effort but lack the consistency these scriptures demand. The mention of diligence and repetition are aimed directly at countering our natural tendency to allow this duty to slip.
Generation to Generation
Consider the rewards of making family Bible instruction the priority God intends. Moses himself described the rich blessings these studies and discussions would bring, including a better relationship with God, stronger families, and longer and more abundant life for ourselves and our children and grandchildren (Deuteronomy 11:21; 4:9-10; 6:2).
All parents desire a close bond with their children. Quality family Bible study and discussion is a key to achieving that. Parent-to-child and grandparent-to-child spiritual instruction is the glue that binds generation to generation. "One generation shall praise thy works to another, and shall declare thy mighty acts" (Psalm 145:4). This is a powerful antidote to the poisonous influences of the world that aim to tear children away from their parents.
Even more: Obedience to this command welds individual families into a single nation under God. Moses showed that it does nothing less than ensure long-lasting national stability and guarantees a future as a godly nation! Meditate on those promises in conjunction with Proverbs 22:6: "Train up a child in the way he should go: and when he is old, he will not depart from it." Consider the principle, and the incredible promise, in these scriptures. If parents in Israel had diligently followed the command to teach their children, the nation never would have departed from God's way!
Let's learn from this failure and heed the urgent plea from this great God-inspired man and make sure we're rearing our children to know and love the Bible.
How to Go About It
The idea of expounding on the Scriptures for your family may seem daunting. Here are a few simple points that will help you move from agreeing in principle with this biblical command to actually making it a part of your family's regular routine.
First, you yourself must be excited about the Bible. Look again at the passage in Deuteronomy 6. The two verses that precede the main instruction on teaching your children read, "And thou shalt love the Lord thy God with all thine heart, and with all thy soul, and with all thy might. And these words, which I command thee this day, shall be in thine heart" (verses 5-6). You have to love God, and love His Word—to be stirred and moved and excited about your own Bible study. If you struggle with your own studies, then you won't be motivated to teach; naturally, your children will struggle as well.
How much do you know about the Bible? Are you accustomed to searching the Scriptures for answers to the problems you face? Are you comfortable with using Bible helps like concordances, lexicons and alternate translations? Can you read a passage and expound on it? Can you relate Bible verses to real-life situations? These are skills a true Christian must continually develop and refine throughout life (Luke 12:42-43; 2 Timothy 2:15; 3:15-17; read also Hebrews 5:12-14).
As you build excitement in your personal Bible study, your eagerness to pass it on to your children will increase. Cultivate that enthusiasm by acting upon it.
Your aim is to build a regular habit of instructing your children from God's Word and talking about the things of God. Until you are in the habit, it may feel awkward and forced—but keep at it. Over time, it will become easier for you, and your children will grow more receptive and accustomed to it. Have a set time each morning and each evening before bedtime to at least talk about God, His truth and way of life.
At least a few times a week, this time should include reading straight from the Bible. It is certainly fine to read high-quality youth Bible-based books to your children. But your main habit in family Bible study should involve the Bible itself. You may want to go somewhat methodically through a portion of the Bible such as the Proverbs or the Gospels. It would be wise to adapt your study at times according to your family's specific needs at that time. You may want to choose a particular theme each week and give several related studies hitting that topic from various angles—law, history, proverbs, examples, prophecy.
Try to make God real to your children. Talk about His qualities of character. Explain to them what He looks like, and what His throne room is like. Give them a sense of His mightiness. Get into the details of His miracles; read to them about His mighty acts.
Each specific study may only involve a single verse, or perhaps two to three related verses. Read the scripture, then rephrase it in plain terms and explain it, making it very practical. Show how the scripture links to real-life examples. Be creative in getting the concepts across. Make it fun, exciting. Be sure the children understand. Ask them questions; have them think of examples of their own; encourage them to link the principles to their own daily lives. The more practical and understandable this teaching is, the easier it will be to reinforce it in discussion during the day.
Don't go on for too long. Depending on your children's age and attention span, you might go for 5 to 20 minutes. Work to hold their interest and keep it a positive experience. Praise your children as they progress. Don't discourage them about things they forget—heap praise on them for what they remember. Take advantage of the fact that they want to please you. Ensure they have the overall feeling that studying the Bible is enjoyable, and that God's way is great!
What a positive command it is that we share our spiritual riches with our children! Deuteronomy 6:7 and related scriptures embody a way of life. A way pulsating with life, with robust interactions between generations. A way where God's government is firmly in place, with God at the top and every last member of the household experiencing the joy and stability that come as a result.
Family Bible studies require diligent effort—but the blessings they produce are well worth it.