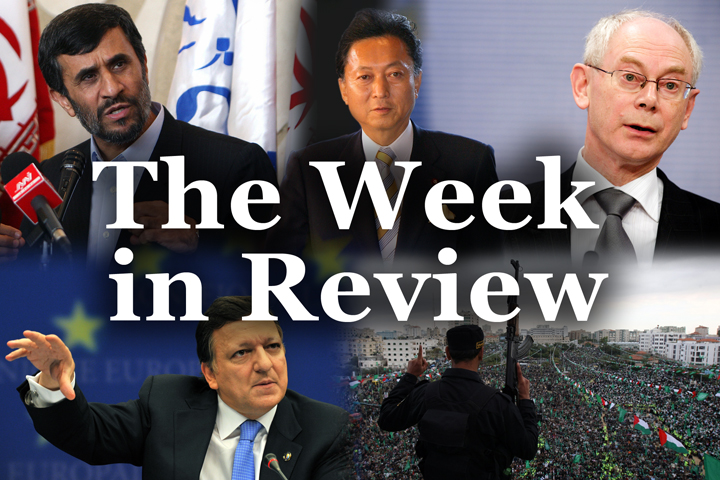 The Week in Review
Iran literally inside Iraq, the "piety" of abetting the Holocaust, and the British "family"—or lack thereof
Middle East
A group of Iranian troops took over an Iraqi oil well in the Fakka oil field, located in a remote region along the Iran-Iraq border, on December 18. The oil field is one of Iraq's largest, with about 1.5 billion barrels of oil in reserves. The Iranian troops subsequently withdrew, but the fallout continues, with division emerging within the Iraqi government as to how to respond. Analysts believe Iran orchestrated the incursion to remind Iraq of its economic and political pull and, in particular, to put pressure on Iraqi Prime Minister Nouri al-Maliki to ally politically with Iran instead of the U.S. But perhaps most of all, it was intended to send a message to the U.S. and Israel. Iran wants to avoid U.S.-led gasoline sanctions—and military action. By seizing the Iraqi oil field, it has signaled how its response to any military attack would "endanger the stability of Iraq and complicate the U.S. timetable for withdrawing from the country" (Stratfor, December 19). More than that, by its preemptive move, Tehran sought to make the point that the timing of any action would not necessarily be up to the U.S. or Israel.
Anti-regime protests have escalated in Iran during the Shiite festival of Muharram, which runs 10 days, finishing December 27. Clashes have erupted, with Basij militiamen and security personnel reportedly using tear gas and beating supporters of senior dissident ayatollahs. Further unrest is expected for Sunday, the final day of Muharram, with opposition protestors planning to hold demonstrations in cities across Iran. If such protests continue, the regime may crack down brutally, even imposing martial law, in order to silence its opposition.
Lebanese Prime Minister Saad Hariri had a three-hour meeting with Syrian President Bashar Assad December 19, an indication of improving relations between the two countries. Hariri's visit to Damascus was the first since 2005, when the Lebanese leader's father, former Lebanese Prime Minister Rafik Hariri, was assassinated. The two leaders reportedly discussed advancing strategic ties between their countries, with Hariri saying that the close relationship between Syria and Lebanon strengthens both countries and reinforces the united Arab stance against Israel. "We want to open new horizons between the two countries," the Lebanese leader said. Prime Minister Hariri, at one time seen as pro-West, has in recent months facilitated Hezbollah's political rise within Lebanon. Hariri decided to cooperate with rather than confront Hezbollah. As the Lebanese government sees declining influence and support coming from the United States, it is shifting its alliance toward Syria and Iran—to the detriment of Israel.
Palestinian terrorists killed Israeli Meir Avshalom Hai, a father of seven, in the West Bank on Thursday. He was gunned down while driving his car near Nablus. An Israeli brigade commander in the area said the military had been removing checkpoints from West Bank roads but would consider putting new ones in place. IsraelNationalNews.com reports that the Al-Aqsa Martyrs' Brigades of Palestinian Authority Chairman Mahmoud Abbas's Fatah faction said Thursday evening that they were the ones who carried out the terror attack.
Europe
Pope Benedict xvi praised the "heroic virtues" of World War ii pope Pius xii, as well as Pope John Paul ii—moving them both a step closer to sainthood—on December 19. The American Gathering of Holocaust Survivors and Their Descendants said the decree was "profoundly insensitive and thoughtless." Pope Pius xii stood by and did nothing while Nazis rounded up Rome's Jews and sent them off to die—yet the Vatican wants to make him a saint. This says something about the Roman Catholic Church. "Surely we can see this as dangerous thinking inside the Vatican," wrote Trumpet editor in chief Gerald Flurry in June 2005. "Such history becomes very prophetic of the Vatican's role in the immediate future. We will pay a deadly price if we don't take heed!" ("The Dark Side of the Pope's Funeral").
Crimes politically or racially motivated by the far right in Germany rose to a record high of over 20,000 in 2008, according to figures released by the Federal Criminal Police Office (bka) last week. "On average, two to three far-right-motivated violent crimes are committed in Germany each day. And there are around three to four anti-Semitic violent crimes each month," said bka president Jörg Ziercke. "There's a real danger to people's lives because far-right attacks tend to be very spontaneous, brutal and violent." He noted that the attacks have become increasingly violent and brazen. Watch the rise in violence in Europe. A small, extreme-right-wing party is not about to take over Germany. But the level of right-wing violence is a barometer of the overall feeling in that country. It suggests that the mainstream parties will also start turning to the right.
Asia
Hundreds of admirers lined up to lay wreaths on Stalin's grave in Moscow's Red Square on Monday to honor the 130th anniversary of his birth. In Russia, Stalin is still a national hero. This is largely because of efforts by the Kremlin to rehabilitate the mass murderer's reputation. A handbook for Russian history teachers instructs them to focus on Stalin's abilities as "an effective manager," and states that he acted "entirely rationally." "The political resurrection of Stalin's legacy has coincided with the rise of Vladimir Putin during the past decade," reports Radio Free Europe. "Many critics say the Kremlin has purposely burnished Stalin's legacy to feed public enthusiasm for a new generation of strong leaders" (December 21). Thirty-five percent of Russians surveyed recently said they believe that Stalin's leadership during World War ii outweighed any "mistakes" he may have made. Fifty-four percent of those surveyed said they have a high opinion of Stalin's leadership qualities, according to state-run polling agency VTsIOM. In the survey, released December 18, only 23 percent said Stalin's personal character traits were below average. According to The Black Book of Communism: Crimes, Terror, Repression, communism in the ussr was responsible for the deaths of 20 million people. Globally, it killed around 100 million. Rewriting this kind of history is profoundly dangerous. For more information on Russia's turn toward a Stalin-type dictatorship, see our November/December 2007 Trumpet article "Embracing Authoritarianism."
South America
Venezuelan President Hugo Chávez was in full socialist form this week, announcing his intention to get into retail, threatening to kick out any carmakers who won't share technology with local businesses, and lambasting an EU member. On December 22, he announced the launch the Socialist Corporation of Markets (Comerso), a new chain of socialized retail stores subsidized by the government. His government has already subsidized groceries through the Mercal supermarket chain; now Comerso will sell "everything from food to cars to clothing from places such as China, Argentina and Bolivia" (Agence France-Presse, December 22). Both the U.S. and Europe are missing from that list. He got more direct on December 24 in his tirade against carmakers. If Toyota, General Motors, Ford and Fiat won't meet his demands, he said, "I invite you to pack up your belongings and leave. I'll bring in the Russians, the Belorusians, the Chinese." Despite his obvious opposition to free trade, he did receive approval from the Brazilian Senate to join free-trade group Mercosur, leaving only Paraguay to approve his country's membership. One has to wonder, though, how long he can follow his socialist agenda before the economy collapses completely. He also seems to be widening his conspiracy theory from the evil empire (his term for the U.S.) to include Europe, specifically the Netherlands. Using the climate conference in Copenhagen as his forum, he absurdly announced that the Dutch Caribbean islands of Aruba, Curacao and Bonaire are being used by the U.S. "Europe should know that the North American empire is filling these islands with weapons, assassins, American intelligence units, and spy planes and warships," he said. Remember that the pope warned Chávez in 2006 to reconsider the direction he was taking his country. In an area that is overwhelmingly Catholic, he should remember that warning if he values his position of power.
Anglo-America
A giant winter storm hit the U.S. Midwest on Thursday, dropping freezing rain and up to 2 feet of snow. From Arizona to Virginia, motorists were killed, power winked out for tens of thousands, and dozens of flights were canceled.
California Gov. Arnold Schwarzenegger plans to ask President Barack Obama to adjust federal requirements on the state's social programs to hopefully save up to $8 billion. The California government feels that one-time federal bailouts or stimulus cash will not fix the problem, and that the state government needs to shrink some of its programs, such as indigent health care, Bloomberg reported one official as saying.
The Washington Post reported December 22 that 40 state jobless programs will go broke within two years—needing $90 billion to keep shelling out benefits—putting on pressure for the governments to increase taxes or shrink benefits.
According to a new report released by the Office for National Statistics, the United Kingdom is trying to render family obsolete. The report found that in the second quarter of 2009, only 21 percent of households consisted of a couple with dependent children, down from 38 percent in 1961. The number of people living alone has jumped from 1.7 million to 7 million in the same time period. The number of people who are getting married has declined steadily, as well, with 2009 having the fewest marriages since 1895.
The children of British families appear to be becoming more addicted to cocaine. The number of children being treated for the addiction rose 50 percent over the past three years, including 14 12-to-14-year-olds and 169 14-to-16-year-olds. The National Treatment Agency said 15 British children 12 or younger were treated for all Class A drug use last year, and a total of 25,000 under-18s needed treatment for drug and alcohol abuse.
The White House continues to try to reach out to Iran. Sen. John Kerry has expressed interest in visiting Tehran in what would be the first visit of a high-ranking U.S. diplomat since Islamist extremists seized the country in 1979. The Obama administration has said it is amenable to the idea.