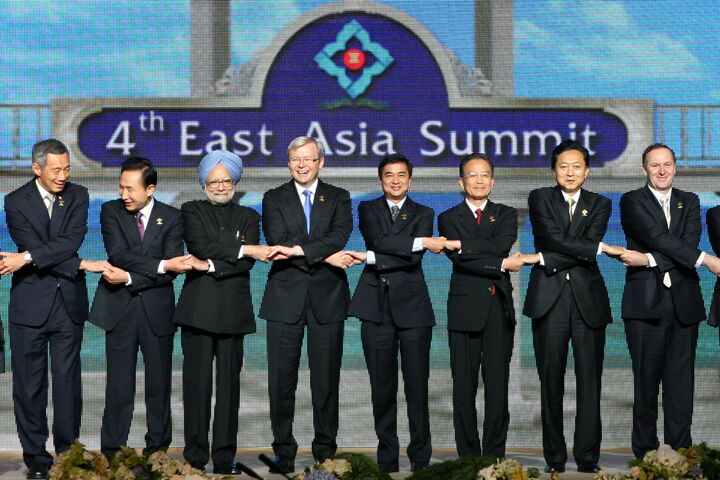 Nations of the East Agree to Unite
Asia made good progress toward creating an Asian trading community at the latest Asian summit.
The world will soon have another EU-style trade bloc, this time in the East. During a summit of 16 Asian nations held in Thailand October 24 to 25, a solid base was created for a future trade bloc among Asian nations that will lead to the creation of an economic and military alliance. Biblical prophecy calls it the "kings of the east."
The foundation of a future alliance was established with the Association of Southeast Asian Nations (asean), an economic community of 10 smaller Asian nations, formed in 1967. Since the late 1990s, its powerful neighbors, China and Japan, along with South Korea, have joined the bloc to create the asean Plus Three initiative. This larger group has been behind the East Asia Summits, which also include India, Australia and New Zealand.
Huge steps toward Asian integration were taken at the latest summit in Thailand, with asean declaring it agrees in principle to creating a free economic zone in Asia. The free-trade area would be called the East Asia Free Trade Area (eafta) and include asean and its neighbors.
At the summit, asean also agreed in principle to go forward with plans to establish a Comprehensive Economic Partnership in East Asia and asked the finance ministers from member nations to submit a draft at the next session on ways to form an East Asian economic bloc that goes beyond asean.
The goal set by asean is economic integration by 2015.
Although asean is the starting point, the real motivators behind integration have always been the major players in the region: China, Japan and India. These three heavyweights hold the real power in the backdoor political dealings that will make this alliance happen.
China and India are already moving toward closer economic cooperation. During the summit, Indian Prime Minister Manmohan Singh and Chinese Premier Wen Jiabao announced they were discussing a free-trade agreement that would break down duty barriers between their countries. They also pledged to improve their relations and work toward solving their longstanding border disputes.
India also signed free-trade agreements with South Korea and Singapore, and signed a trade-in-goods agreement with asean. Prime Minister Singh announced that India is in discussion for similar trade agreements with Japan, Thailand and Malaysia.
According to Prime Minister Singh, who is also in favor of creating a large Asian trade community, these trade agreements "can lead to the creation of a broader Asian economic community." All these agreements are important steps toward creating a powerful trade bloc.
Singh added that there was a need to move forward in this direction and "exhibit the requisite political will" to make it happen. This is where Japan has played a powerful role.
Japan's new prime minister, Yukio Hatoyama, is a strong supporter of the creation of an Asian community. Hatoyama wants something more than just a free-trade zone and has called for a community similar to the European Union. He announced at the United Nations summit one week after coming into office, and once again at the East Asia Summit, that he would work toward this goal.
During the summit he pushed his plan for an East Asian community that could "lead the world."
Hatoyama's more ambitious plan even includes the adoption of a single currency within the community, a move that vividly symbolizes his belief that Japan should strengthen its ties within Asia, rather than with the U.S., to ensure future economic growth.
The plan would shrink U.S. influence in the region and confirm Hayatoma's opinion that "the era of U.S.-led globalism is coming to an end."
Worried about a diminished U.S. presence in Asia, Australia's Prime Minister Kevin Rudd also proposed a plan for an Asia-Pacific community that would include the United States.
Australia, traditionally one of America's closest allies, wants a strong U.S. presence in the East and is concerned, as are other nations in the area, about China's ability to dominate a future community.
"Some countries want the United States to be part of a future regional framework as a counterbalance to China's influence," an unnamed asean diplomat told Agence France-Presse.
However, other nations, like Japan, are just as wary of U.S. influence in an Asian community. They believe that including the U.S. in such a community would contradict the idea of regional bloc for Asia, since geographically it is not an Asian power.
Still, balancing China is a primary concern for the Asian nations considering forming a community, and only a powerful nation could perform that key role. There is, however, an alternative that has not received as much attention in the talks: Russia.
Though Russia has not participated as much in the East Asia Summits, it certainly wants to. It has already applied to join the East Asia Summit and has formed its own initiatives to forge closer links with its Asian neighbors.
Today, a trilateral meeting among Russia, China and India will take place. The meetings of the world's largest nation and the two most populous nations were initiated by the Russians back in 2005. The whole purpose was to create a new axis of powers to counter the U.S., though it was stated in a more politically correct way: to build a multipolar world.
Bordering China and possessing a military with nuclear weapons able to keep China in check, Russia would be an important balancing power for the Asian community. It also has the valuable potential to provide the Asian community with energy resources, which all of these countries lack.
Last week, Russia signed a pipeline deal that would supply China with 85 percent of its natural gas needs. This would make China Russia's biggest gas customer and link the two in a closer alliance. This deal would also give Russia a powerful check on Chinese domination in the region if needed.
Russia, China and India combined would form a powerful bloc in the region and the world. They account for 40 percent of the world's population, about 20 percent of its economy and more than half of its nuclear warheads. With Japan included, which possesses the second greatest navy in the world, such an Asian bloc would certainly be in position to take a leading role in global affairs. Altogether the community would encompass half the world's population!
All the key players in Asia—India, China, Japan and Russia—want closer integration. China may not be as outspoken about it as Japan is, so as not to portray a dominating image, but its actions have proved just as loud as Japan's words.
Earlier this year, China pledged to create a $10 billion fund to develop the infrastructure of China and asean member states. In addition to the new money, a free-trade zone between China and asean is expected to come into effect at the start of 2010.
All this demonstrates China's eagerness for further cooperation and shows how close to fruition an Asian community actually is. Many bilateral trade agreements have been made already.
"We believe that to establish an East Asian community is the future direction of promoting East Asian cooperation," Chinese Assistant Foreign Minister Hu Zhengyue told reporters last week.
Plainly, all the big Asian nations are embracing the trend of closer regional cooperation.
Closer economic integration would secure energy supplies, especially for China, Japan and India, and give Russia a much-needed alternative market for its resources so it isn't so dependent on Europe and the West.
All that is needed is to get the smaller nations on board—and now asean has agreed to the idea and is working toward forming the community. As South Korean President Lee Myung-bak said, "eafta will further enhance relationship among East Asian countries by not only increasing trade and investment but also promoting civil exchanges."
asean and its expanding initiatives will prove to be the launching pad to create the biggest regional trade bloc in man's history. This alliance, prophesied in the Bible (Revelation 16:12), will be powerful enough to challenge any superpower.
Of course, several disputes must be overcome before this happens. The nations will have to compromise on important economic issues that will affect their national interests, and it won't achieve the same kind of political integration the EU has—the Bible refers to "kings" as opposed to "king," as is used in reference to the "king of the north," for example (Daniel 11:40). Whether a single currency is adopted by the Asian community remains to be seen as well.
However, there is an underlying theme that unites the Asian community. It is anti-West sentiment, aimed currently at the U.S., but also Europe.
That has been the motivator behind Russia, China and India meeting since 2005. That is a cornerstone in Japan's calls for an Asian community, and that is what will bind the Asian nations together in a strong alliance.
Asia sees Europe uniting and is responding in like manner to counter Europe's rise. This will eventually lead to a catastrophic showdown also prophesied in your Bible. For more information, read our booklet Russia and China in Prophecy. It will show you where all these trade agreements are leading and the significance for the entire world.