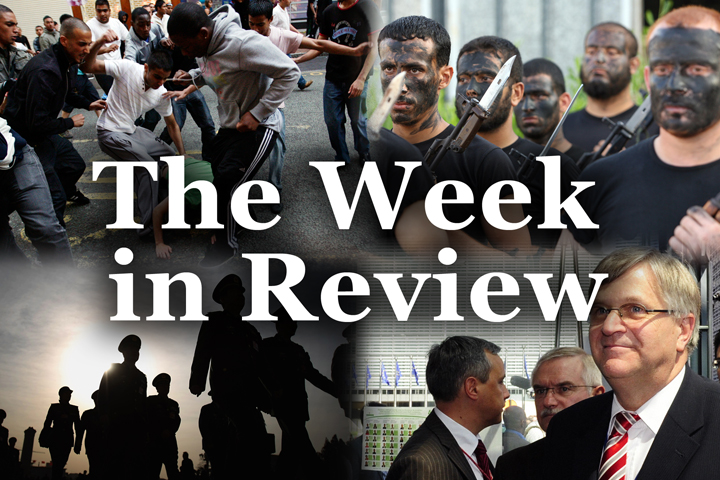 The Week in Review
Hezbollah in Lebanon, Germany in space, and ESL in England.
Middle East
Palestinian political party Fatah's sixth General Assembly approved a resolution August 6 saying Jerusalem is an "integral part of the Palestinian homeland and political entity." The resolution, reports IsraelNationalNews.com, says that Fatah considers Jerusalem a "red line" that no one can cross. It defines Jerusalem as the "eternal capital of Palestine, the Arab world and the Islamic and Christian worlds." The city "is awaiting our sacrifices," Fatah says, pledging to continue to make sacrifices "until Jerusalem returns to the Palestinians void of settlers and settlements." The conference also endorsed the al-Aqsa Martyrs Brigades as Fatah's official armed wing. In a speech, one of the commanders of the Brigades said the chairman of the assembly had "stressed that the endorsement of our group was parallel to the continued brandishing of the olive branch as a symbol for peace." In other words, Fatah wants to make clear that there is absolutely no way it will renounce terrorism as a method to get what it wants. Prof. Barry Rubin calls this the "threat posture," rather than the "peace posture." Watch for tensions between Jews and Palestinians over Jerusalem to increase and culminate in violence, as our booklet Jerusalem in Prophecy details.
As U.S. operations in Iraq wind down, Islamic terrorists previously devoted to violence against U.S. forces are moving into the Gaza Strip. Haaretz reports that dozens of Sunni Muslim terrorists have entered Gaza during the past year. These terrorists are suspected of recent attempts to incite another clash between Israel and Hamas. This situation in Gaza is symptomatic of the West's fundamental problem in its approach to terrorism. As one terror expert said, we are just swatting the mosquitoes instead of draining the swamp. To learn how the war on terrorism will end, read "The Head of the Snake" from the November 2001 Trumpet.
Hezbollah is stronger today than it was during the Second Lebanon War, according to Israeli, United Nations and Hezbollah officials. The Iran-sponsored terrorist organization reportedly has up to 40,000 rockets, and is training fighters to use ground-to-ground missiles that can reach as far as Tel Aviv. Hezbollah's growing firepower is causing Israel to adjust its military maneuvers—its planes now fly higher and its ships stay farther out at sea. Hezbollah is also making gains politically. Last week, Druze leader Walid Jumblatt, head of the Progressive Socialist Party, threatened to quit the majority coalition, which may open the door for Hezbollah to woo the Druze leader. Jumblatt has backed away from his traditional hostility toward Syria. It is most likely that Jumblatt is moving away from Lebanon's pro-Western forces in favor of Iran, Syria and Hezbollah because he senses momentum swinging in the direction of the latter groups as America's influence in the region wanes.
Europe
Germany should launch an unmanned lunar mission, German Economy Ministry State Secretary Peter Hintze said Wednesday. "A German moon landing is possible during the course of the next decade, around 2015," he said in an interview with zdf television. It would cost $2.2 billion, but would help Germany develop important technology, according to Hintze, who is also the government's aerospace coordinator. Space is an important military frontier. Watch for Germany to increases its expertise in carrying out space missions. For more information, see our article "Space Wars!" from the December 2003 Trumpet.
In France, a Muslim woman has been barred from her local pool for wearing a head-to-toe swimsuit dubbed a "burquini." Officials said Wednesday that the suit did not comply with France's strict hygiene rules. This incident shows how sensitive France is becoming to Islam. Watch for such tensions to grow to where Europe launches a major crackdown on Muslim immigrants. For more information, see our Dec. 6, 2007, article "Reliving the Battle of Tours-Poitiers."
Asia
China launched its largest-ever annual tactical military exercise on Tuesday, during which the People's Liberation Army (pla) will transport 50,000 troops thousands of miles and undertake live-fire drills. Among these drills, according to one of the directors of the exercise, will be practice in disrupting an enemy's electronic devices and countermeasures under a complex electromagnetic environment. From the nature of such exercises, it is clear that the pla is practicing for warfare against a high-tech enemy. With 2.3 million troops, China has the largest standing army in the world, and its military might is growing rapidly. The Associated Press reports that "China has announced a 14.9 percent rise in military spending in its 2009 budget, to 480.6 billion yuan (us$70.3 billion)." For more information on where China's military rise is leading, read our free booklet Russia and China in Prophecy.
Over the past two years, in little-reported incidents, Pakistan's nuclear sites have been attacked at least three times by homegrown terrorists, the Times of India reported Tuesday. The incidents were tracked by Shaun Gregory, a professor at Bradford University in the UK. "He points out something that was news to me," said terrorism analyst Peter Bergen, "which is that a series of attacks on Pakistan's nuclear weapons facilities have already happened." This just goes to show that Pakistan's nuclear arsenal is not as secure as one would like to think. Pakistan insists that there is no chance of its nuclear weapons falling into terrorist possession. However, the steps it has taken to safeguard its nuclear weapons were originally designed to protect them from external attacks, and today's Pakistan is more vulnerable to internal attacks.
Latin America/Africa
The president of Costa Rica has contracted swine flu, suspending his mediation efforts in Honduras and shining a new light on the danger posed by the h1n1 pandemic. More than 20 Costa Ricans have died of swine flu.
On August 12, Argentina's defense minister announced an immediate slashing of the military budget by 50 percent. Another 30 percent cut is probable next quarter, meaning the military budget will have been reduced 65 percent in less than six months. Argentina has the distinction of having defaulted on foreign debt to the tune of $92 billion in 2001, so the country's creditworthiness always hangs under a dark cloud. Since President Cristina Fernández de Kirchner has attempted to bolster her popularity by expanding social programs, Argentina has taken out loans with poor interest rates (due to its poor credit). The country was already in serious financial trouble even before the global economic crisis began. Now, severe cutbacks are necessary, and dire as the cuts may sound, they are still too little to really make a difference (the military accounts for only 4.5 percent of Argentina's budget). The government has already taken over pension funds, but those funds are largely gone. There are few avenues left, and memories of 2001 are surely at the forefront of any Argentinian creditor's mind.
The West African nation of Mauritania has suffered its first suicide bombing ever, just three days after its new president, Abdel Aziz, was sworn into office. The local faction of al Qaeda, which likely carried out the attack, has opposed his election since last year. President Aziz took power after a military coup in August 2008, but was not formally installed until August 5.
Anglo-America
In anticipation of an Afghanistan war assessment from Gen. Stanley McChrystal, U.S. Defense Secretary Robert Gates said Thursday he didn't know how long the war there would last and said the "economic and institution building is a decades-long process."
First-time jobless claims are up, the Labor Department reported Thursday. The number of first-time jobless Americans lining up for benefits unexpectedly climbed by 4,000 last week to 558,000. The number of people collecting regular, continuing unemployment benefits now stands at 6.2 million.
Pupils who speak English as a first language are in the minority in 13 out of London's 33 boroughs, according to official figures released Tuesday. Fifty-six percent of children in elementary schools in inner London do not speak English as their first language. Throughout the country, English is not the mother tongue to one in seven elementary-school-aged children.
British police arrested 33 people in Birmingham last Saturday after a clash between Unite Against Fascism and right-wing groups transformed the city into a war zone. Gary Nichols watched the disturbances from his city center flat and said he was unable to go outside for about 2½ hours. He told the bbc: "It started off with a group of white guys who were chanting, 'England, England.' I thought they were just football fans, but then a larger group of black and Asian people turned up and it all kicked off. You had people burning the Union flag. People were being kicked—some of them weren't anything to do with the protests. It all seemed to be very systematic—groups were arriving in cars and getting involved in the violence." Britain's liberal immigration laws and adoration for multiculturalism have made the country ripe for further racial conflict.