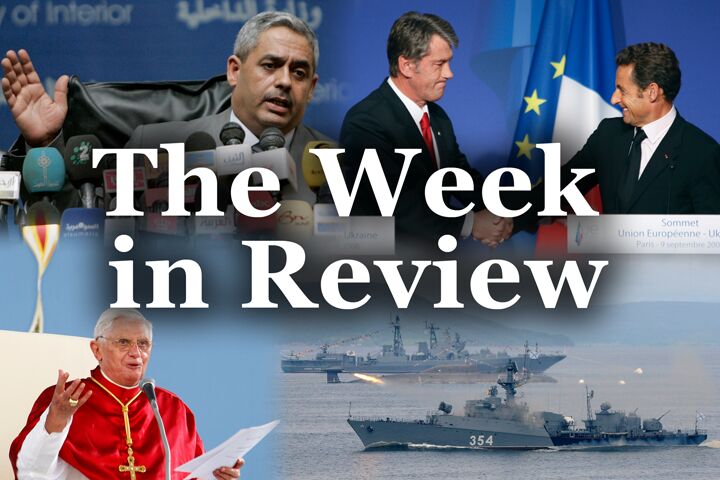 The Week in Review
Iraq slips away, Asia and Europe grapple, Bolivia kicks the U.S. out, the frivolity of American markets, and what we learned—or didn't—from Sept. 11, 2001.
Middle East
Iraqi Defense Minister Abdul-Qader Jassim announced September 10 that Iraqi security forces would soon take over control of the last two Shiite provinces in the Shiite south that remain in the hands of the U.S. military. The handover of Babil and Wasit, reports Stratfor, will mark a key development in the consolidation of the Iraqi Shia's power base. It will mean the Shiites will have complete control of security in the south of the country, and will place Iran's historic enemies—Iraq's Sunnis—far from its borders. Tehran's plans for Iraq, says Stratfor, "for which it has been laying the groundwork for years, seem to be taking shape in the form of the consolidation of Shiite power in the south" (September 11).
The United States and Iran agreed to hand over members of the Iranian opposition group Mojahedin-e-Khalq (mek) to Iraqi authorities, the Saudi daily al Riyadh reported September 3. Approximately 3,360 members of the group are currently being held in a U.S. camp in Iraq. The Shiite-dominated Iraqi Interior Ministry announced September 1 that the mek had six months to leave Camp Ashraf. While Iraq wants this group out of the country, it is Iran that is behind the move to expel the mek from Iraq. Tehran considers the mek—whose goal is to replace Iran's Islamist theocracy with a secular regime—to be a terrorist group. The U.S.'s protection of the group has been a major obstacle in U.S.-Iranian negotiations over Iraq, and America—which has been a longtime ally of the mek—has now caved in to Iran's demands. However, "By essentially selling out the mek," Stratfor reports, "the United States risks sending the wrong message to its current allies" (September 4). The U.S. is increasingly finding itself in such a position—as we have recently seen in its lack of support for Georgia. As America increasingly loses power and prestige on the world stage and its military forces continue to be overstretched, we can expect it to become less and less reliable as an ally.
Europe
This week saw one of the most exciting and widely anticipated events in the history of physics. In the world's most expensive scientific experiment to date, the $8 billion Large Hadron Collider (lhc) at cern in Switzerland was successfully activated, despite the fears of some scientists that the lhc would cause the end of the world. Experiments that run through this machine will either confirm that man is finally starting to make a bit of sense of the physical world in which he lives, or prove that he still has no idea what is going on. Noble motives and the quest for truth aside, the fact that such a monumental event is going on in Europe, not America, shows an important shift. The technologies that invariably result from significant discoveries will now emanate from Europe. The ongoing loss of leadership in the most important fields of science is just one more symptom of a U.S. superpower at the end of its life cycle. Europe is ready to fill the void. For more on Europe's future world status, read our May 26 article "Why You Must Watch Europe."
While on the Mediterranean island of Sardinia on Sunday, Pope Benedict xvi stated that Italy needs a "new generation" of Catholic politicians committed to using their religious beliefs to shepherd their country's future. During his address to some 150,000 people, he urged Italian youth to shun excessive consumerism and instead commit themselves to Catholic values. Both of these comments were made shortly after the pope met with Italian Prime Minister Silvio Berlusconi, a man who has promised to toe the Catholic Church's line in Italian politics. Watch for Pope Benedict to extend his political clout even further in Italy and throughout the rest of Europe. For more information on the pope's role in politics, read our May Trumpet article "The Kingbreaker."
Ukraine is rapidly taking its place as the next major hot spot between the European Union and Russia. European leaders met with Ukrainian officials in Paris on Tuesday. After the meeting, French President Nicolas Sarkozy made his thoughts on the issue clear. "In the eyes of Europe, [the status of Ukraine] is absolutely non-negotiable," he said. The EU also promised to sign an association agreement with Ukraine in around mid-2009. Ukrainian leaders, however, were hoping for an agreement that suggested Ukraine may enter the EU. Despite their polite rhetoric, many in Ukraine are bitterly disappointed. "I feel like we have thrown away our European future," said one of the EUobserver's Ukrainian contacts. Watch for a tussle over Ukraine between Russia and a German-led EU. Ukraine is an important border country for both nations. As the world moves toward war, following Russia's invasion of Georgia, watch for Germany and Russia to use power and negotiation to determine the future of Ukraine.
In its most proactive stance against an American tech company to date, the German government has issued a warning via national tv for its citizenry not to use Google's new Internet browser, Chrome. The warning was delivered through the news program Tagesschau, which announced: "The Federal Office for Information Security warned Internet users of the new browser, Chrome. The application by the company Google should not be used for surfing the Internet, as a spokesperson for the office told the Berliner Zeitung." The European Union is now routinely exerting its authority as a regulator on technology companies. However, previous attempts at regulating foreign companies have been made by an arm of the EU. This time, the objection is coming straight from the German government. Germany is increasingly at the center of the EU. So far, the German government has simply issued a warning far and wide, but warnings from Europe directed at technology companies have typically led to some sort of action.
Asia
Russia plans to dispatch the Russian Navy to the Caribbean Sea before the end of the year, Deutsche Presse Agentur reports. Apparently Moscow plans to use warships and planes in joint exercises with Venezuelan forces—at a place and time liable to increase animosity between Russia and the United States. This will be the first time Russia has held maneuvers in waters patrolled by the U.S. Navy since the fall of the Soviet Union in December 1991. Watch for Washington to lose ground in its existing theaters of military deployment as the U.S. is forced to further extend its already-overstretched defense capability to cope with the pressure being applied to its perimeters by a resurgent Russia.
German Foreign Minister Frank-Walter Steinmeier hailed his country's revived political ties with China on Wednesday as he met in Hamburg with Chinese Vice Premier Zhang Dejiang. During this meeting, Steinmeier stressed the need for maintaining Chinese-German dialogue as a means of establishing a new world order. "We are seeking a new world order," he said. "New political and economic centers of powers are emerging, and China is one of them." Dejiang responded favorably to Steinmeier's remarks. "China is a partner and not a rival," he said. "At this point, the partnership between China and the EU has reached a mature stage …. Current global crises can only be surmounted if we join forces." Germany is working toward strategic alliances with both Russia and China in an attempt to overthrow the current American-dominated world order. Along with Russia, Germany and China will contribute greatly to America's decline by working to isolate Washington militarily, politically and economically—even as competition between them increases.
Latin America, Africa
Several Latin American countries took a firm stance against the United States this week. One quarter of Cubans left their homes as Hurricane Ike swept through, damaging much of the country. Losses are estimated at $3 to $4 billion, a staggering cost for the island. Still, Havana rejected an offer of aid from the United States, perhaps hoping to get a better offer from Russia. Nicaragua recognized the breakaway regions of Abkhazia and South Ossetia, siding with Russia against the U.S. Presumably in response, the U.S. trade secretary canceled a planned visit to Nicaragua. Venezuela has planned war games with Russia in the Caribbean, to be held this year—another slap at the U.S.
Bolivian President Evo Morales has announced he will expel U.S. Ambassador Philip Goldberg for allegedly inciting violent protests. The announcement came just hours after a pipeline explosion that dropped natural gas exports by 10 percent and will cost Bolivia $100 million dollars. "Without fear of the empire," President Morales said, "I declare the U.S. ambassador 'persona non grata.'" Venezuelan President Hugo Chavez expressed his support for the action, as he typically does when any Latin American country opposes the U.S. Then he really went the extra mile to stick it to Washington by giving the U.S. ambassador to Venezuela 72 hours to leave and pulling Venezuela's ambassador from the States. Chavez made these announcements in a televised speech, which came hours after he accused the U.S. of supporting efforts to overthrow him. For more on Latin America's swing away from the U.S., read our September Trumpet article "The Hidden Enemy in America's Backyard."
Morgan Tsvangirai has finally announced a deal to form an inclusive government with President Robert Mugabe in Zimbabwe. No details have been announced, but much of the damage is already done. For more on the crippling effects of political violence in Africa, read our April Trumpet article "The Unseen Danger in Political Violence."
Anglo-America
Markets this week reacted to the news that the United States federal government is stepping in to nationalize mortgage giants Fannie Mae and Freddie Mac. Overall market reaction was positive, as if putting taxpayers on the hook for trillions of dollars marked the end of the credit crisis. Nothing could be further from the truth. The crisis is just getting started. The economy is in such a precarious position that even though the bailout will be disastrous for taxpayers and the economy from a longer-term perspective, the immediate consequences of letting the lenders fail would most likely have been even worse. If Fannie and Freddie had collapsed, America probably would have experienced economic Armageddon on Monday. As Gerald P. O'Driscoll Jr. wrote in the New York Post, "At the moment, they're too big to fail but also too costly to keep."
Bloomberg reported on Friday that Lehman Brothers investment bank is seeking buyers. This time around, the federal government is hesitant to step in and provide money in the same way that it did to sell Bear Stearns bank. Lehman had sought cash from Korea Development Bank, but the deal fell through, resulting in a 70 percent drop in the firm's market value in just three days. The market seems to be deciding whether it will be Lehman, Watchovia, or Washington Mutual that will be next.
Americans marked the seventh anniversary of the September 11 terrorist attack on Thursday with memorial services and speeches. However, the revival of talk about God and religion that immediately followed those horrific moments in 2001 has long since faded, and "God bless America" has again become a mundane—or even controversial—sentiment.