Healing Our Sick Land
We are witnessing record disaster levels. Can anything be done?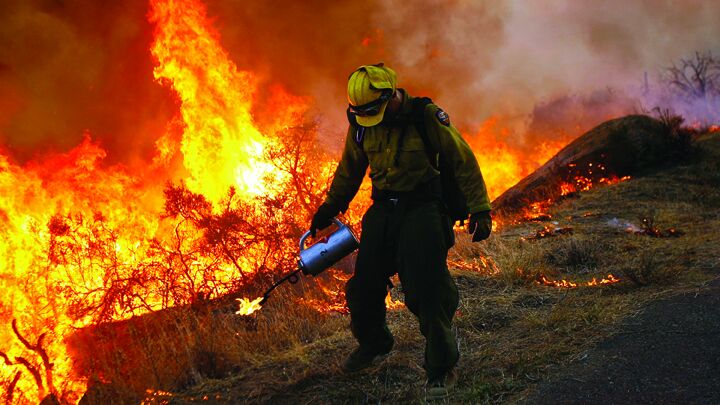 Healing Our Sick Land
We are witnessing record disaster levels. Can anything be done?
Our land is sick. It needs healing.
Earlier this summer, an unprecedented 2,010 wildfires torched a drought-stricken California. At the same time, 5 million acres of prime Midwestern farmland lay drowning in the worst flooding in 15 years.
These were among the 37 major disasters and five emergencies declared in the United States to that point this year.
These catastrophes would be bad enough. But they are piling up on top of a mountain of other crises that cumulatively threaten to change life as we know it.
Once in a Lifetime
Take a look around.
People around the globe are dealing with record-high food prices and low food reserves. Even if you don't live in one of the more than two dozen Third World nations experiencing riots as a result, you are still probably feeling the effects. And what has caused the food crisis? A dizzying mass of once-in-a-lifetime freakish factors: historically high oil prices; the drive for biofuels; the subprime mortgage crisis; runaway monetary inflation; Asia's increasing appetite for high-quality food to feed its growing middle class. All this in addition to historically high levels of crop and livestock disease, natural disasters, and adverse weather conditions around the world.
Considering this assortment of pressures on food costs and reserves, what the world desperately needs this year is bumper crops. That is what makes this year's series of droughts, floods, freezes, heat waves and insect infestations so disastrous. It is simply walloping global food production.
Central Asia was invaded by a devastating swarm of crop-devouring locusts. Australia's wheat is withering in the country's worst drought in recorded history.
And in the U.S., instead of favorable harvest conditions prevailing, the heavens opened and flooded the nation's breadbasket to the point where farmers were inspecting their corn fields by boat.
As a result, corn is more expensive than ever—double what it sold for two years ago. Soybean prices aren't far behind. And when grain costs rise, so does the price of the cattle that feed on it. That affects sticker prices on meat and dairy products, as well as eggs.
For many people, high prices are more than a mere inconvenience. Given today's food shortages, a growing number are facing malnourishment and starvation. U.S. farmers produce 60 percent of the world's corn, a third of its soybeans, a quarter of its wheat and a tenth of its rice. The weather woes are hurting America's ability to even meet normal production levels, let alone make up for food shortages in the rest of the world.
Meanwhile, people in California surely watched the Midwest flooding with a heavy sense of irony. Heat waves and parched conditions there—plus millions of Ponderosa pines killed in a recent bark beetle infestation—created an enormous amount of kindling. On June 22, unusually intense lightning storms sparked fires that consumed more than 1,400 square miles and put half a million people to flight. They could have used some of that overflowing Mississippi River water.
The Weather Is No Accident
If it seems like these kinds of disasters are accelerating in frequency, your instincts are right. According to fema, in the 37 years between 1953 and 1989, there was an average of 23 major disaster declarations in the U.S. per year. In the 18 years that followed, that average more than doubled—to 49.
This year, at the halfway point, was on pace to see 74 major disasters.
What is going on here? Is it all just an accident of nature?
The God of the Bible claims He controls the weather. He says He causes the sun to rise on the evil and on the good, and sends rain on the just and on the unjust. He sends the snow and ice as well as drought and heat.
Before you dismiss any notion that God has a connection to the disasters we're seeing, consider.
If you believe in God, what sort of God is He?
The God who spoke in Leviticus 26:4-5 promises to give rain in due season and weather favorable for abundant crops.
"[Y]our threshing shall reach unto the vintage, and the vintage shall reach unto the sowing time: and ye shall eat your bread to the full, and dwell in your land safely," He says.
Looking at our simultaneously parched and flooded land, shouldn't we be asking, where is this God?
But notice the context. Those promises come with a condition: "If ye walk in my statutes, and keep my commandments, and do them" (verse 3).
Job 38:28 reveals God as the father of rain. He is able to command storm clouds to serve His purposes: "Also by watering he wearieth the thick cloud: he scattereth his bright cloud: And it is turned round about by his counsels: that they may do whatsoever he commandeth them upon the face of the world in the earth. He causeth it to come, whether for correction, or for his land, or for mercy" (Job 37:11-13).
Yes, sometimes God bathes the Earth with gentle rain to show His loving concern and mercy—and other times God uses the weather to correct people!
Do you believe in that God?
America calls itself a Christian nation. But when catastrophe strikes, people tend to have the attitude, These things happen. We just need to rebuild and move on.
There is perhaps no better description of people's view of God's role in these weather disasters than the Apostle Paul's prophecy about people in our day having "a form of godliness, but denying the power thereof" (2 Timothy 3:5).
An Expression of Love
The God of the Bible is not impotent. He has the punitive sword of flood and mildew—and also that of drought (Deuteronomy 28:22; 11:17). Sometimes He uses both at the same time—as we saw this summer in the United States—in order to heighten their corrective power: "… I caused it to rain upon one city, and caused it not to rain upon another city: one piece was rained upon, and the piece whereupon it rained not withered" (Amos 4:7).
Apparently, most people don't believe these scriptures. Many believe in a "God of love" who would never do anything so horrible as those prophecies suggest.
Those who believe this, however, fail to recognize God's judgment and God's correction as expressions of God's love! This demonstrates an utter lack of understanding of the God of the Bible.
In the New Testament, the Apostle Paul wrote, "For whom the Lord loveth he chasteneth, and scourgeth every son whom he receiveth" (Hebrews 12:6). Jesus Christ Himself says, "As many as I love, I rebuke and chasten: be zealous therefore, and repent" (Revelation 3:19). While in the flesh, He flipped over tables in order to drive mercenaries out of His Father's house. He gave stern tongue-lashings to unrepentant people. He rebuked and chastened, He demanded repentance—not because He hated people, but because He loved them.
To the Pharisees—whom He unceremoniously called hypocrites, serpents and vipers—He said, "O Jerusalem, Jerusalem, thou that killest the prophets, and stonest them which are sent unto thee, how often would I have gathered thy children together, even as a hen gathereth her chickens under her wings, and ye would not! Behold, your house is left unto you desolate" (Matthew 23:37-38). Their severe punishment was necessitated by their rebellion against God's messengers, their rejection of God's love.
If we understand the beautiful purpose of God's law, then the application of rebuke and chastening for disobedience makes perfect sense. God always aims it at redirecting our errant steps in order to guide us back onto the path of lawkeeping that results in blessings. Yes, God gets angry—but He remains controlled and never punishes beyond what is deserved. God's anger is not contrary to His love, but a product of it.
Notice how Christ concluded His correction in that passage with hope: "For I say unto you, Ye shall not see me henceforth, till ye shall say, Blessed is he that cometh in the name of the Lord" (verse 39). Yes, once those murderers, brought back to life in a resurrection, humble themselves and accept God's messengers, then they will see Christ again.
How Our Land Will Be Healed
Here is a wonderful promise from God: "If I shut up heaven that there be no rain, or if I command the locusts to devour the land, or if I send pestilence among my people; If my people, which are called by my name, shall humble themselves, and pray, and seek my face, and turn from their wicked ways; then will I hear from heaven, and will forgive their sin, and will heal their land" (2 Chronicles 7:13-14).
Do you believe that God?
Our land is sick. It desperately needs the healing that only God can supply.
But that healing will not occur until the modern descendants of Israel—the peoples of the United States and Britain—humble themselves, and pray, and truly, sincerely seek God's face—and repent of their wickedness!
We cannot expect that to happen in this sin-saturated world. Nevertheless, the Bible prophesies of a time—and it is sooner than you think—when the catastrophes plaguing us today, including the weather, escalate to such an overwhelming scale that these peoples will reach the point where they are willing to repent (e.g. Isaiah 45:22-25).
Still, the God who issued and will yet fulfill that promise is this very moment seeking individuals to work with and prepare in advance for that future harvest. God is always eager to extend mercy and forgiveness to someone who repents, who is willing to turn from sin. He holds out hope for the repentance of every sinner
(2 Peter 3:9). This is the truth of the Bible, in both Old Testament and New.
To study the prophecies of the time when God will hear from heaven and heal the land, order a free copy of Herbert W. Armstrong's inspiring booklet The Wonderful World Tomorrow—What It Will Be Like.