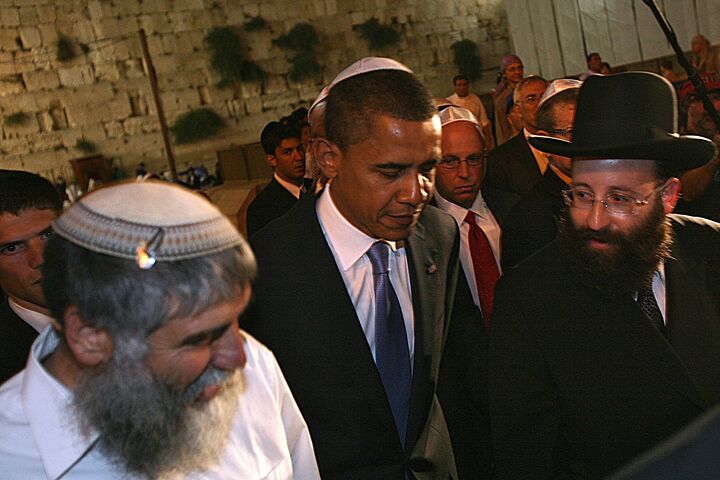 This Week in Jerusalem
Another bulldozer attack and a whirlwind visit by Barack Obama; plus, the Knesset considers lifting constraints on Sabbath-keeping.
JERUSALEM—Two events surrounding the King David Hotel dominated the news from Jerusalem this week. On Tuesday, another Palestinian went on a bulldozing rampage just outside the hotel and, later that same day, U.S. presidential hopeful Barack Obama checked in for his two-night stay in Jerusalem.
With three major attacks this year carried out by East Jerusalem residents, many Israelis are searching for answers regarding security in their capital city. It's hard not to move around the city without looking for a front-loader nearby. Jerusalem Mayor Uri Lupolianski, speaking after the attack, suggested a possible ban on Palestinians working with heavy equipment on the west side of the city. Interior Minister Meir Sheetrit also expressed a similar view.
There have been other worrisome incidents of late. Two weeks ago, a Palestinian gunman seriously injured two Israeli border guards at the Lion's Gate outside the Old City. This week, one of the victims died from his wounds.
So far this year, Israeli security and intelligence services have arrested 71 Arabs in Jerusalem—a figure that is already double the total from last year. And according to Sheetrit, "dozens of terrorists" have entered Jerusalem under family reunification laws, instituted with the encouragement of the high court.
Emotions are running high on both sides. After the earth-mover attack on Tuesday, a lynch mob of yeshiva students, Orthodox Jews, attacked two Arabs, beating them to a pulp. The situation might have taken a turn for the worse had the two East Jerusalem residents not found refuge in the home of a Jewish family.
Amid all this, Obama took his whirlwind tour of Israel. Arriving after speaking at the Temple of Heracles in Jordan, Obama met with President Ehud Olmert, Defense Minister Ehud Barak, Foreign Minister Tzipi Livni, leader of the opposition Benjamin Netanyahu, as well as the head of the Palestinian Authority, Mahmoud Abbas. He reassured the Jewish state that, if elected as president, he will continue to strengthen the special relationship between the United States and Israel. See today's column "Is Obama the Change Israel Can Believe in?" for more on the senator's visit to Israel.
Today's Jerusalem Post has also printed a lengthy interview its editor conducted with Obama on Wednesday night. On Jerusalem, Obama said, "I believe that Jerusalem is the capital of Israel. But I think that how Israel and the Palestinians resolve this issue is a final-status issue. It needs to be left up to the two parties." He has backed way off his June statement at the aipac conference, where he told a group of American Jews that Jerusalem should remain "undivided."
Regarding the Israeli-Palestinian peace process, Caroline Glick made an interesting observation in her column about Obama's position:
As for the Palestinian conflict with Israel, Obama says that he views the peace plan laid out by former President Bill Clinton as a reasonable "starting point" for negotiations between Israel and the Palestinians. The Clinton plan calls for an Israeli withdrawal from some 95 percent of Judea and Samaria, and the division of Jerusalem, with Palestinian sovereignty over the Temple Mount.If that is the "starting point" for negotiations, it is worth considering what the "end point" would be.
Glick also makes some interesting points about how President Bush's administration has been weakened since 2001 and how it may be setting the stage for even more radical policies during a possible Obama administration. It's worth reading in its entirety.
And finally, at a time when you would hope Israel would draw closer to God, the Knesset is reconsidering Israel's position regarding the Sabbath. "The new measure," according to Israel National News, "would allow public transportation to run and permit many recreation and entertainment-oriented businesses to open." To learn more about the Fourth Commandment, see our article "Remember God's Sabbath Day."