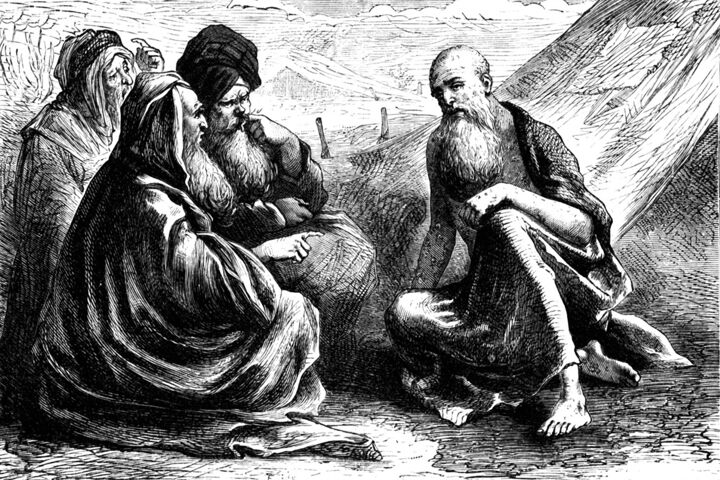 Job: A Story of Hope
Job's suffering can teach us to see the way God sees.
Many skeptics point to the book of Job, seeing in the biblical figure not just another example of random human suffering to which God turned a blind eye, but an example of an all-powerful God tormenting a human who was trying to serve Him. Even though God called Job "perfect and upright" (Job 1:1), He still allowed Satan the devil to decimate Job's life: Raiders stole a great deal of his property, lightning destroyed his sheep and the servants caring for them, and—worst of all—his children were all killed by a whirlwind. When Job withstood all of this tragedy—still praising God—the Eternal allowed Satan to cover him from head to toe with painful boils—an indescribable agony.
Through all of this, Job maintained his righteousness—and told anyone who would listen: "My righteousness I hold fast, and will not let it go: my heart shall not reproach me so long as I live" (Job 27:6).
Job didn't see that he could possibly be wrong. This is why Elihu—the only one of Job's friends God didn't criticize—was angry with Job; he "justified himself rather than God" (Job 32:1-2). Job thought God needed him and completely lost sight of how desperately he needed God.
Was Job righteous? Definitely: He was the most self-righteous man on Earth! In chapter 29, Job uses the words I, me, or mine 52 times in 25 verses; he was completely focused on himself!
Some experts believe that Job built the Great Pyramid—an archaeological achievement that continues to stump architects even today. Job was great by human standards, but the most righteous man on Earth is still just dirt compared to God.
It wasn't a question of repenting of some specific sin: God said that Job was sinless. Eventually, Job realized this and went right to the core of the problem: "I have heard of thee by the hearing of the ear: but now mine eye seeth thee. Wherefore I abhor myself, and repent in dust and ashes" (Job 42:5-6). Job had finally realized—as each of us must—that we have no righteousness apart from God. Even Jesus Christ, who never sinned, said: "I can of mine own self do nothing: as I hear, I judge: and my judgment is just; because I seek not mine own will, but the will of the Father which hath sent me" (John 5:30).
Ask yourself: Have you ever truly repented, not just of what you've done in the past, but of who you are?
In Volume 1 of his Autobiography, Herbert W. Armstrong wrote that each of us has an idol that must be "literally torn out of your mind, even though it hurts more than having all your teeth pulled out and perhaps a jawbone, too! … I was never converted until I was brought to the place where I realized my own nothingness, and God's all-encompassing greatness—until I felt completely whipped, defeated."
Can we go beyond a superficial confessional mentality and realize our own nothingness? Can we realize the astonishing power and glory of the God who created the entire universe? Can we—as Job did—reach the point where we truly see God? Mr. Armstrong wrote that, if we are able to turn our lives over to God that way, "He can take your life, too, and use it in a manner you simply cannot now dream—if you will turn it over to Him without reservation and leave it in His hands!" Will we allow God to shape and mold us into what He wants us to be?
The end of the book of Job talks about the restoration of his wealth and the physical blessings he received upon repentance—but the real story is spiritual. Yes, God allowed Job to suffer horrific pain temporarily—but He also saved Job's life forever! Yes, God allowed Job's children to die, but they will all live again—and Job knew that (Job 14:14). Job will be a member of God's spiritual Family forever!
No matter what type of life we live, everyone dies. The real question is whether we will allow God to develop His character in us so we can be a part of His eternal Kingdom! That is what Job accomplished. That is why God devoted 42 chapters of the Bible to his story—so you could learn the lessons it contains and receive the blessings Job will receive at Jesus Christ's return.
The book of Job is filled with hope!