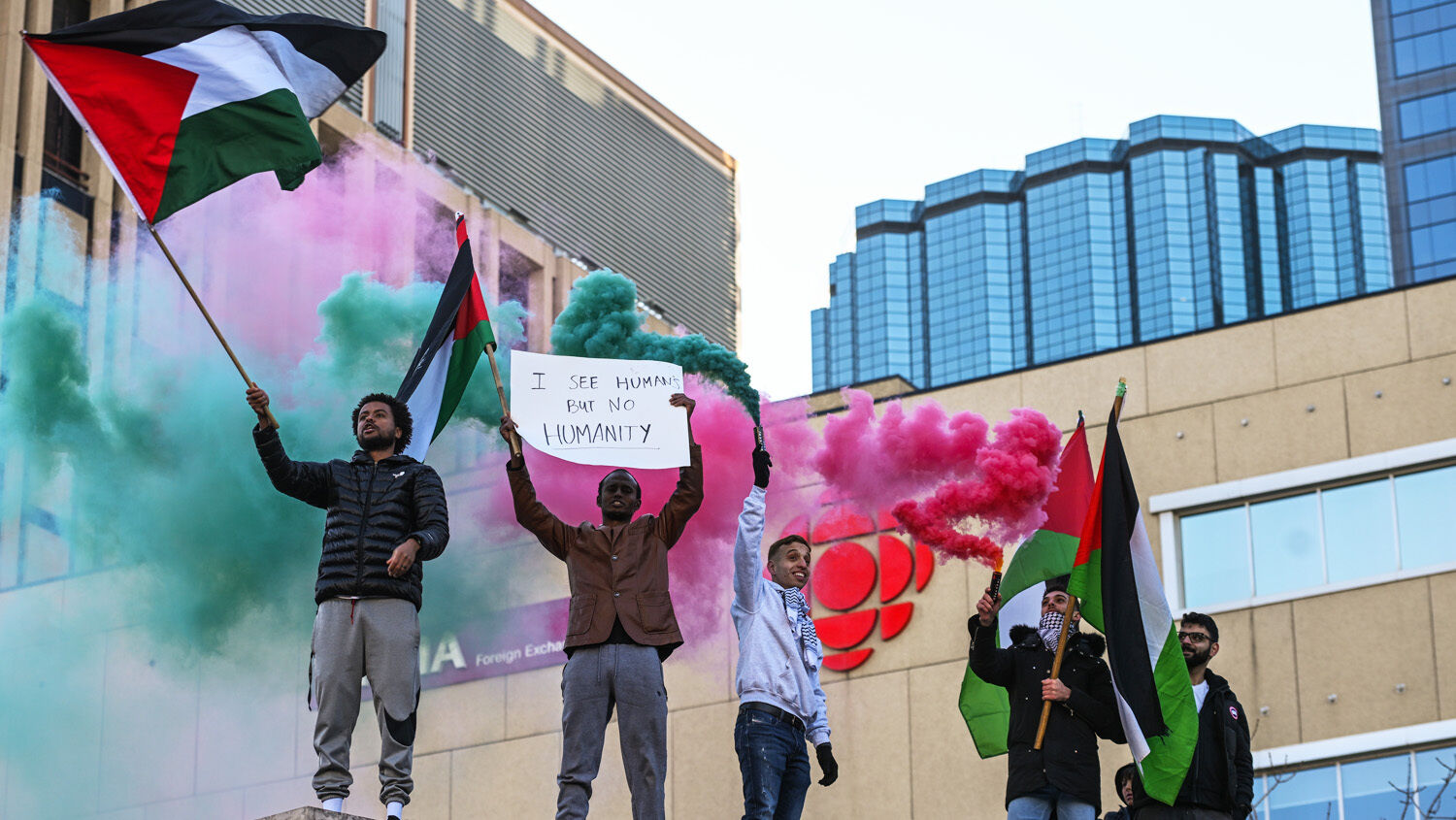 Why Is Canada Supporting Hamas?
The long history of aiding and abetting terrorism
Judging from Canadian Prime Minister Justin Trudeau's response to the war in Israel, you would think Israel beheaded Palestinian children, burned infants to death, kidnapped citizens, and indiscriminately murdered civilians. Judging from the thousands of Canadians taking to the streets in support of Palestine and Hamas, you would think Israel is guilty of genocide. It's as if the 1,400 Jews murdered on October 7 don't matter.
When the attacks occurred, Trudeau posted on X:
Canada strongly condemns the current terrorist attacks against Israel. These acts of violence are completely unacceptable. We stand with Israel and fully support its right to defend itself. Our thoughts are with everyone affected by this. Civilian life must be protected.
Trudeau also condemned protests that supported the "glorification of violence" by Hamas.
The statements sound good, but we need to judge by fruits. The government's actions speak louder than its words.
Since these initial statements in support of Israel, the Trudeau government has ramped up economic support for the Palestinians and spewed pro-Hamas disinformation. Rallies across the country supporting Hamas have not been stopped, sanctioned, or questioned by the media or government.
Why is our government supporting Hamas more than Israel? Why are so many Canadians marching in support of genocidal terrorist acts?
This is exposing Canada's terrorist problem. For decades, Canada has let terrorist organizations flourish within its borders. This has changed the ideology and culture of the country. We are at a terrifying tipping point.
Trudeau's Support of Hamas
One of the Trudeau government's first actions in 2016 was reinstating funding to the United Nations Relief and Works Agency for Palestine Refugees in the Near East (unrwa). Former Prime Minister Stephen Harper cut off all funding in 2010 when it was discovered that unrwa financed terrorist indoctrination.
The National Post reported:
The agency's main focus is a network of 715 schools serving Palestinian refugees, and multiple reports both then and now have found curricula filled with materials referring to Israel as the "Zionist Occupation" and praising suicide bombers as "martyrs."
The curriculum includes math questions about calculating the number of martyrs killed in an attack, teaches about Newton's second law of motion by launching a projectile at "Zionists," and refers to a Palestinian arson attack on a Jewish bus as a "barbecue." Hamas uses these schools to indoctrinate future generations and prepare them to be martyrs for terrorism.
This is not hidden knowledge: Money that goes to unrwa is used by Hamas to fulfill its goals. Despite this, the Trudeau government started the funding at $25 million a year. It pledged $100 million over four years and sent an additional $3 million in June. Even before the current war in Israel, Trudeau was happy to use taxpayer money to fund terrorism.
The G-7 nations issued a joint statement that said, "[T]he terrorist actions of Hamas have no justification, no legitimacy and must be universally condemned." Yet one member's signature was missing from the document: Justin Trudeau's. Was Trudeau not asked to sign, or did he simply not want to sign?
Perhaps the most revealing was Trudeau's rush to condemn Israel for bombing a hospital in Gaza City. He told reporters: "International humanitarian and international law needs to be respected in this and in all cases. There are rules around wars, and it's not acceptable."
Trudeau spread disinformation without fact checking the Gaza Health Ministry's claim. That week, the Canadian government began a YouTube ad campaign warning of the dangers of disinformation.
Even after evidence showed that a Hamas rocket hit a parking lot beside the hospital in Gaza, Trudeau was unwilling to retract his statement. cbc reported:
He said Canada is "taking the necessary time to look carefully at everything" before saying what it believes transpired Tuesday at the Anglican Church-run facility in Gaza City.
There is a clear double standard.
It gets worse. The same week, Trudeau banned public prayer at official November 11 ceremonies, which honor those who died in World War i. Yet he went to a mosque to pray with Muslims because Israel's air strikes have been so traumatizing. Despite the pandering, Trudeau's visit did not go well.
Not to be outdone, New Democrat Party leader Jagmeet Singh said Israel is "planting the seeds of genocide" in Gaza. Singh and Trudeau are in a ruling coalition together. They both support Hamas more than Israel.
A Complicit Safe Haven
Pro-Palestinian protests have popped up in cities across Canada. The epicenter of this movement is Montreal. These pro-Palestinian marches have dwarfed any support for Israel.
The vast majority of these protests have been organized by the Palestinian Youth Movement (pym) which has a chapter in Montreal (that happens to be in Justin Trudeau's riding). According to its official website, pym is "a transnational, independent, grassroots movement of young Palestinians in Palestine and in exile worldwide as a result of the ongoing Zionist colonization and occupation of our homeland. Our belonging to Palestine and our aspirations for justice and liberation motivate us to assume an active role as a young generation in our national struggle for the liberation of our homeland and people."
The group is an extension of Hamas: It recruits, indoctrinates and pushes for the extermination of Israel. Its Instagram account celebrates the martyrs of jihad.
Why does an organization like pym exist in Canada?
This is just one of many terrorist support groups posing as social activist groups or charities in Canada since the 1980s.
Journalist Stewart Bell writes in his book Cold Terror:
In reality, whether its citizens realized it or not, Canada long ago became a source of international terrorism and an operational base for world terror, a country where the planet's deadliest religious, ethnic and political extremist movements had set up shop.
One of the 9/11 hijackers was recruited by the imam of a Montreal mosque. Air India Flight 182 was blown up by a Sikh extremist in British Columbia, Canada. Dozens of Canadians went to the Middle East to help the Islamic State murder and create propaganda. This will only get worse as time goes on.
While we espouse being a nation that loves peace, we allow terrorism to be exported from our own borders. Bell continues:
Although it aims to be a force of peace in the world, in some countries Canada is not seen that way at all. In Sri Lanka, Canada is the country that for years allowed the Tamil Tigers, the world's leading practitioners of suicide bombings, to operate freely and raise money that bankrolled terrorism and a brutal civil war. The same was true of India, which suffered through years of Sikh terrorism originating in Canada. Israel has had to deal with Canadian terrorists, and so have France, Italy, Turkey, Saudi Arabia, Singapore, the Philippines, Indonesia, Egypt and Pakistan, not to mention Canada's closest partner, the United States.
This is what is behind the recent Canadian rift with India. For decades, the Sikh terrorist group Babbar Khalsa (BK) has been a registered charity in Canada. BK works to avenge the death of Sikh martyrs and wants to establish the independent state of Khalistan, meaning "Land of the Pure." It is a religious civil war. Canada has harbored many terrorists, whom the Indian government has eliminated through clandestine methods. Though India is violating Canadian sovereignty, Trudeau is siding with terrorists instead of the Indian government. The Khalistan referenda in Canada have large and bloody implications. Some immigrants bring their loyalties, causes and strifes with them.
Why have Canadian politicians allowed this to happen? "In the logic of political strategy, to take a stand against terrorism was to risk losing the support of interest groups that buy influence by promising to deliver ethnic voting blocks," Bell writes. In 2000, the president of the Tamil Tiger chapter in Montreal helped a Liberal member of Parliament get elected. She attended their event, and he said he would make sure all Sri Lankan votes went to the Liberal Party.
How many members of Parliament have been voted into office with the support of Hamas or Hezbollah? Is this why so many M.P.s vote to send additional money to Gaza or push for a ceasefire? This appears to be the reality of our government.
Collapse of Judeo-Christian Values
Canada's response to Israel's 9/11 is exposing a dangerous sickness in our nation. Many Canadian leaders, educators and citizens are ideologically aligned with the genocidal maniacs of Hamas. We are living through a time of fundamental transformation: Support for Judeo-Christian values has collapsed, and society is embracing the extinction of biblical values.
Bible prophecy predicted this spirit. 2 Kings 14:26-27 say internal forces would conspire to "blot out the name of Israel from under heaven," eliminating everything connected to the Bible and supporting everything that attacks it.
Trumpet editor in chief Gerald Flurry explains this prophecy in America Under Attack:
The modern nations of Israel have forsaken God. They know virtually nothing about the Bible and our adversary, the devil. …

God is not going to allow [Barack] Obama and the radical left to blot out the name of Israel. He will expose this conspiracy so the world can see the truth.
God is exposing this evil in the United States, Canada, Britain and Israel so our people can repent. This transformation has been led by Barack Obama and puppets like Trudeau. We need to recognize the terrible state of our collective morality and realize only God can deliver us. God is exposing this for a reason.
To learn more about this vital truth, read America Under Attack.