Is an Israel-Saudi Arabia Deal on the Horizon?
America is pushing for it. But would it actually help the Jews?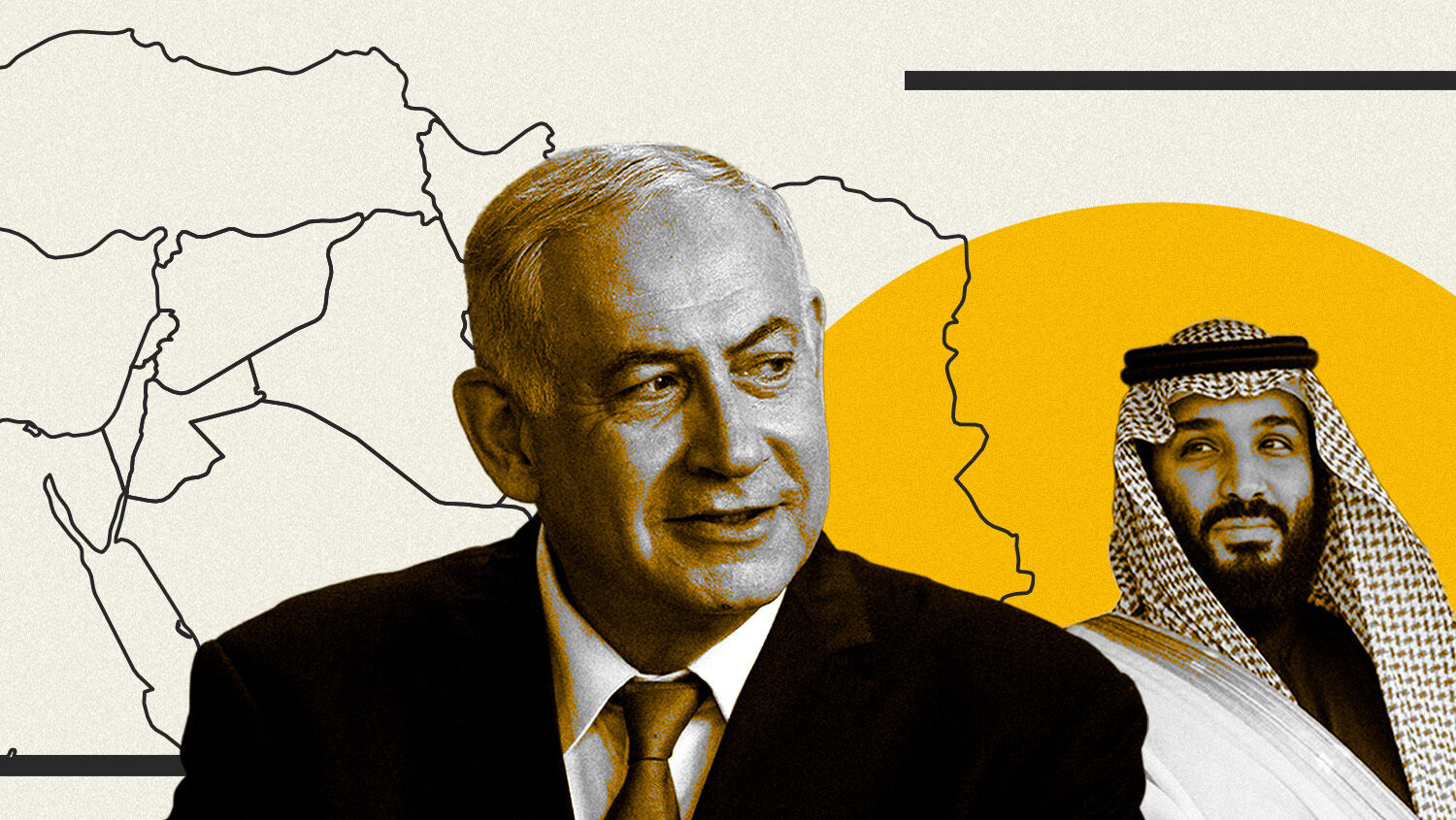 Is an Israel-Saudi Arabia Deal on the Horizon?
America is pushing for it. But would it actually help the Jews?
Since its founding in 1948, the nation of Israel has been in a near constant state of war with its Arab neighbors. But soon, Israel and the unofficial leader of the moderate Arab world may soon accomplish what not that long ago was unthinkable: Israel and Saudi Arabia may soon establish diplomatic relations. Even more surprising is the United States' role in this new development.
On March 9, the Wall Street Journal reported that Israel and Saudi Arabia were in negotiations under American mediation. Israel and the U.S. have since confirmed that talks are ongoing. An August 9 Wall Street Journal article stated the U.S. and the Saudis agreed to a framework for normalization. The U.S. hopes the details can be agreed upon within a year. But what exactly is being negotiated?
Additional 'Abraham Accords'?
In 2020, Israel negotiated treaties with the United Arab Emirates, Bahrain, Sudan and Morocco. Flights from Tel Aviv to most of these countries are now allowed. Israel has exchanged ambassadors with the U.A.E. and Bahrain, and an exchange with Morocco is in the works. Israel wants the Saudis to join these Abraham Accords.
In exchange for normalizing relations with Israel, the Saudis want American defense assistance, including U.S. help in constructing a civilian nuclear program, U.S. defense commitments if Saudi Arabia is attacked by Iran, and access to weapons like missile defense systems. The negotiations are as much for a U.S.-Saudi deal as they are for an Israel-Saudi deal.
In many ways, Israel-Saudi relations are already thriving. Israel and Saudi Arabia have participated in joint military exercises since 2022. Israel is working on a trade project to connect Jordan, Saudi Arabia and the U.A.E. with a highway. A representative from Israel's Foreign Ministry told Al-Monitor that this thoroughfare would operate even if the countries don't officialize relations. And the normalization deals with the U.A.E. and Bahrain would never have happened without Saudi consent. Saudi Crown Prince (and de facto leader) Mohammed Bin Salman is even allowing Israeli flights through Saudi air space to the two smaller countries.
The Palestinian Question
Crown Prince Mohammed has said Saudi Arabia would not recognize Israel without a deal with the Palestinians. But according to Israeli Prime Minister Benjamin Netanyahu, the Palestinian issue is not a major concern to the Saudis. "It's sort of a checkbox," he told Bloomberg. "You have to check it to say you're doing it. Is that what's being said in the corridors? Is that what's being said in discreet negotiations? The answer is a lot less than you think" (August 6).
Saudi Arabia recently appointed its first-ever ambassador to Palestine and non-resident consul general to Jerusalem. But the Saudis can't expect Israel to let a Palestinian state control Jerusalem in exchange for a Saudi Embassy building in Tel Aviv. Many see Saudi Arabia as the unofficial leader of the "moderate Arab bloc." Any deal with Israel without some sort of concession to the Palestinians would destroy this reputation. When Egyptian President Anwar Sadat did that in 1978, he became a pariah in the Muslim world and was eventually assassinated. The Jerusalem consulate could be a face-saving measure, signaling that a deal between Israel and the Saudis is close.
At this juncture, in contrast to Iran and other Islamic states, the Saudis seem less concerned than one may think regarding using the Palestinians as a weapon against Israel. Israel has far more to offer the Saudis than the Palestinians do.
But according to the August 9 Wall Street Journal article, citing "U.S. officials," the Saudis demand concessions to the Palestinians as a prerequisite. This is as Netanyahu claims the Palestinian question is more of a "checkbox" for both sides to tick.
Who is the checkbox for? The answer may be Washington.
The defense relationship Crown Prince Mohammed is asking for necessitates the involvement of the U.S. Congress. No deal can happen without at least two thirds of senators green-lighting it. And the Democratic Party currently controls the Senate.
According to "one top congressional aid" quoted by Haaretz, Prince Mohammed "may not care about the Palestinians and a two-state solution, but Congress certainly does." Democratic Sen. Chris Van Hollen told Haaretz, "We continue to hear from the government of Israel that Mohammed bin Salman doesn't [care] about Palestinian interests, but many of us believe that the long-term sustainable peace can only be secured by addressing the critical Palestinian questions" (August 8).
Iran's Role
Meanwhile, those currently in power in Washington are doing everything they can to empower Iran, to the point of creating an unofficial nuclear deal that almost guarantees Iran will get the bomb. Iran is a radical pariah state fighting to become "king" of the Middle East and Islamic terrorism. The region isn't big enough for both Iranian and Saudi power. And Iran will never compromise its goal of destroying what it calls the "little Satan," the State of Israel.
This is why Israel and Saudi Arabia are suddenly aligning their interests, and why the Saudis are getting desperate for a nuclear program of their own.
The only reason that Crown Prince Mohammed is interested in a nuclear energy program is to be prepared to create a nuclear weapons program in case Iran reaches nuclear breakout. He also requested the Terminal High Altitude Area Defense (thaad) missile defense system, which had been deployed in Saudi Arabia until Joe Biden pulled it out. Israel has always been terrified of Iranian intentions. The Saudis' demands show that they too fear Iran.
Some developments suggest Saudi Arabia is warming up to Iran. They have agreed to reopen diplomatic relations and have even discussed improving defense ties. But the talks with Israel and requests for an alliance with the U.S. show that Saudi Arabia doesn't consider Iran a friend. Saudi outreaches to Iran should be interpreted in the context of one scared state trying to placate an ascendant enemy.
This brings us back to the Palestinians. Iran and the Palestinians are not two separate issues: They are linked. The rule of Palestinian Authority President Mahmoud Abbas is crumbling. Last month, Netanyahu's government voted to stop the PA from falling apart. As Abbas loses his grip on power, Iran is filling the vacuum. Iranian proxy Hamas controls the Gaza Strip. Iran is also gaining control of the West Bank. In April, Iranian Gen. Hossein Salami claimed Iran's "invisible hands" are the lifeline giving West Bank terrorists access to modern weaponry.
The Abraham Accords were meant to help Israel's security. The Israel-Saudi deal in the works does the opposite. The Biden administration is hoping a Saudi embassy in Tel Aviv is enough to convince Netanyahu to loosen his grip on the West Bank. If this goes through, the West Bank will become an Iranian dagger pointed at Israel's heart. This would bring about Israel's destruction faster than nuclear weapons would.
Why Is America Pushing This?
The U.S. government is going out of its way to push for this kind of diplomacy. People struggle to understand. But this is not incompetence. This is an agenda.
As Herbert W. Armstrong proved in The United States and Britain in Prophecy, the American people are in part descendants of the ancient Israelites. This means that the United States a brother nation to the Jewish state of Israel. But spiritual forces are dividing these two brothers.
A prophecy in 2 Kings 14:26-27 reads: "For the Lord saw the affliction of Israel, that it was very bitter: for there was not any shut up, nor any left, nor any helper for Israel. And the Lord said not that he would blot out the name of Israel from under heaven: but he saved them by the hand of Jeroboam the son of Joash."
Trumpet editor in chief Gerald Flurry writes in his booklet The King of the South, "The Bible shows that anciently, God raised up the kingdom of Israel to represent Him. Satan attacked that nation in every way he could. History shows that at one point, an enemy almost completely destroyed it—but God raised up a flawed human king to temporarily save the nation. … It is important to understand the prophetic principle of duality. History is repeating itself today. Just what is the prophetic name of Israel? In our day, the emphasis is on three nations of Israel: America, Britain and the Jewish nation in the Middle East."
Since its Islamic Revolution in 1979, Iran has been an enemy of America and Israel. It is no surprise that Supreme Leader Ayatollah Ali Khamenei would want to "blot out the name of Israel from under heaven." But what about America?
Mr. Flurry continues: "Why in the world would an American president align with these murderers? And why implement a deal that virtually guarantees Iran becomes a nuclear power?
"This prophetic passage in 2 Kings 14 explains. President [Barack] Obama [even today, through the surrogate Biden presidency] shares the goal to 'blot out the name of Israel'!"
Time will tell if an Israel-Saudi deal takes place. But as negotiations continue, you need this spiritual perspective. Watch for the involvement of the United States and Iran. And as you do, know that even if a deal is made, it will not ensure Israel's national security. Instead, Israel is getting one step closer to having its name blotted out.
The Prophet Daniel wrote about a future confrontation between the king of the north and the king of the south. We are now in the time when these two major powers are quickly rising! The king of the south is stirring up trouble even today. It is critical that you know the identity of this prophesied power!