Turkey Leans Away From Russia and Toward Europe
This sudden realignment is creating the conditions for the fulfillment of a mysterious Bible prophecy.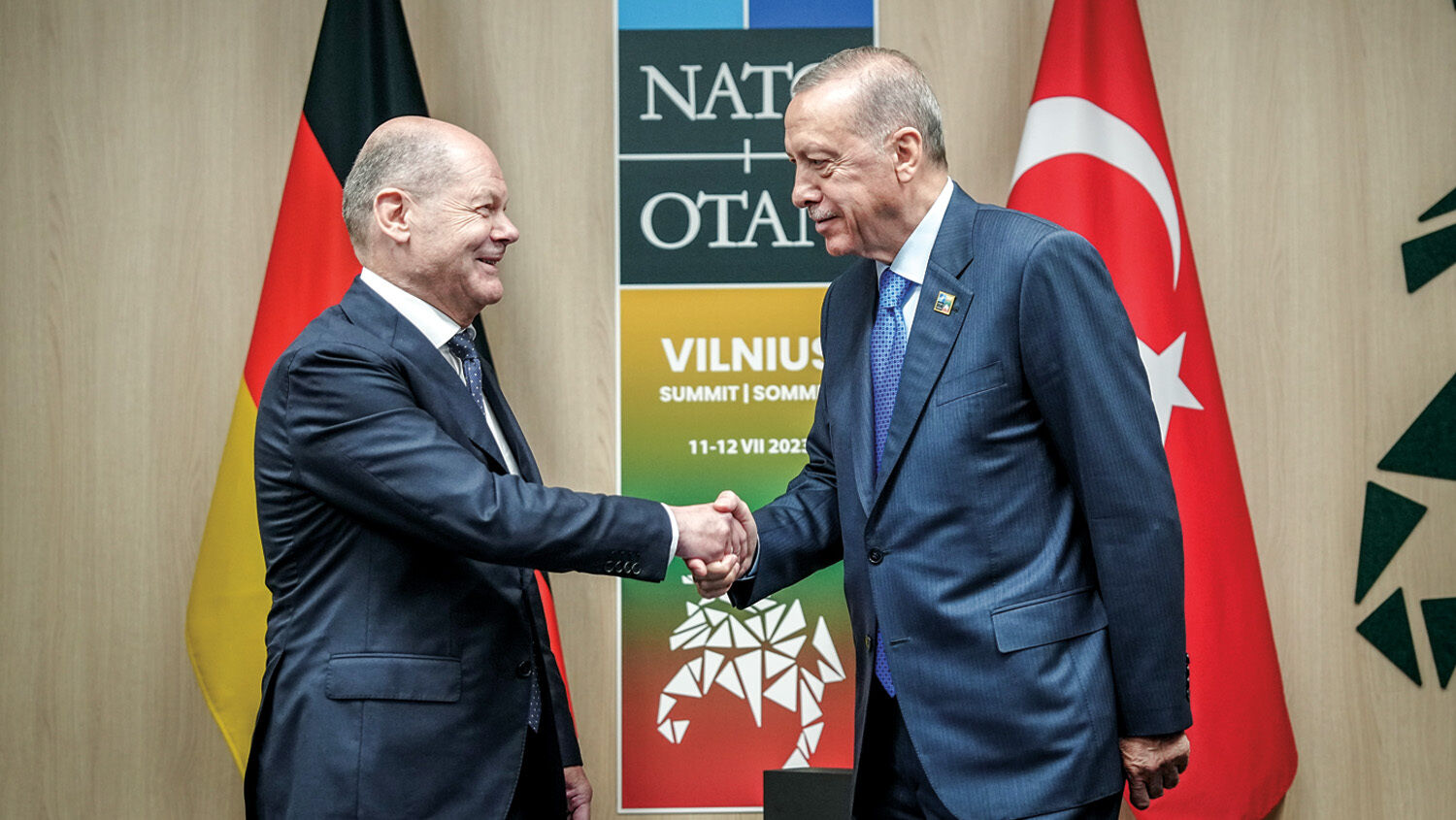 Turkey Leans Away From Russia and Toward Europe
This sudden realignment is creating the conditions for the fulfillment of a mysterious Bible prophecy.
Sobering numbers are emerging about Russian casualties from the war on Ukraine, as well as casualties on the Ukrainian side. And there is another casualty of this war that has recently become clear: The bond between Russian President Vladimir Putin and Turkish President Recep Tayyip Erdoğan.
For the last several years, Erdoğan has closely cooperated with Putin's Russia. This was prompted largely by Erdoğan's anger at the way the Western coalition was operating in the Syrian civil war. It has always been a balancing act, with Erdoğan playing Russia and the West off each other so he can extract maximum concessions from both sides. But for the most part, in recent years Erdoğan has leaned Turkey toward Russia.
This was clear from the way Turkey bought a great deal of weaponry from Russia, including the vaunted S-400 missile system. It was clear from Turkey's ramped up exports to Russia during the war on Ukraine and its ramped up imports of Russian energy, even while the United States and Europe worked to boycott that energy in order to punish Russia. It was clear from the way Turkey's banks served as middlemen for the sanctioned Russians. It was also clear from the diplomatic and political support Erdoğan gave to Putin during the first 16 months of the war. As recently as May, he touted his nation's "special relationship" with Putin. He said, "Russia and Turkey need each other in every field possible," and called Putin his "dear friend."
Another major aspect of Erdoğan's lean toward Russia was blocking Sweden's attempt to join the North Atlantic Treaty Organization, a military alliance of mostly European nations. The Swedes were terrified to see Russia's full-scale war on Ukraine, and in May 2022 that fear prompted them to end decades of neutrality to try to join nato. This was great news for Europe since Sweden has one of the world's top-ranked air forces and a geographic location that allows a great deal of control over the Baltic Sea. Bringing Sweden in would add real might to the nato alliance.
But the rules of nato say every member of the group has to approve any new nation joining. Turkey is a nato member, so Erdoğan blocked Sweden's bid. Turkey had its own reasons, related to some prisoners that Sweden refused to extradite. Nevertheless, Putin sees nato as adversary No. 1. So Turkey's block on Sweden joining and thereby making nato that much stronger was a godsend for Russia.
This was Turkey's general stance for the last several years. To many onlookers, it seemed the nation would remain indefinitely, perhaps even increasingly, aligned with Russia. But the Trumpet has been expecting Turkey to break with Russia and instead band together more closely with Europe. We have expected this because of a key Bible prophecy that says Turkey will be a close German partner in the end time.
And in early July, Erdoğan suddenly began steering Turkey in a starkly different direction.
Turkey's Turnaround
On July 8, Turkey surprised the world by freeing five of Ukraine's most-feared commanders. These were high-ranking officers whom Russia had captured in Mariupol in May 2022. Some were from the Azov national guard that Russia accuses of being Nazis. In September 2022, Russia agreed to release them in a prisoner swap, but Putin didn't want these highly capable commanders back on the battlefield where they had previously done so much damage to Russian forces. So a deal was struck with Turkey acting as a third party, and under the terms, the men had to remain in Turkey until the war's end.
Turkey's sudden decision to return these men to Ukraine while the war is still raging blindsided the Russians. "No one informed us about this," said Kremlin spokesman Dmitry Peskov. "The return of the leaders of the Azovites from Turkey to Ukraine is nothing more than a direct violation of the terms of the existing agreements," he said.
If you realize how much is at stake for Russia and for Putin personally with this war, you realize that such a move by Turkey was a major slap in the face.
At the same time, Erdoğan issued a statement saying he now supports the idea of Ukraine joining nato. It's hard to think of a statement that would be more infuriating to the Russian leadership.
An even bigger bombshell came two days later: Erdoğan attended the nato summit in Vilnius, Lithuania, and met with Swedish Prime Minister Ulf Kristersson and nato Secretary General Jens Stoltenberg. We don't know what specifics were discussed in this meeting. But we know that after it ended, Erdoğan agreed to lift his ban on Sweden's entry into nato.
This was a vital win for Europe and a major black eye for Putin's Russia, especially since Russia's most important land and water transport hub, St. Petersburg, depends on access through the Baltic. Now between Sweden and Denmark, nato could prevent Russian ships from getting in and out of the Baltic and St. Petersburg. Politico summed it up well on July 13: "Sorry Russia, the Baltic Sea is nato's lake now."
Russia's War on Food
In July 2022, an international agreement was reached that let Ukrainian food exports be shipped out of the Black Sea despite the war. Ukraine is nicknamed the "breadbasket of Europe" because of its abundant production of wheat, corn, barley, sunflower oil and other food products. Because of Ukraine's food exports, millions of people around the world, especially in Africa and the Middle East, are able to put food on their tables.
This agreement, called Black Sea Grain Initiative, was a significant deal. It allowed about 36 million tons of food to be shipped out of Ukraine and to nations around the world. As a result of it, global food prices dropped roughly 20 percent.
But Russia said in July that it was withdrawing from the deal, and would start targeting any ship that visited any of Ukraine's Black Sea ports. Just after the announcement, the Russians began a series of missile attacks on Ukraine's grain production, storage and export infrastructure; wheat prices around the world began soaring.
The Russians think if they can disrupt global food supplies and threaten to starve enough people, it will convince the West to drop sanctions against them and they will be better able to fund their war on Ukraine. "All our hope is in the famine," RT editor in chief Margarita Simonyan said shortly after Russia announced its withdrawal from the grain deal. "The famine will start now, and they will lift the sanctions, and be friends with us, because they will realize it is necessary."
United States Ambassador to the United Nations Linda Thomas-Greenfield said: "Russia is simply using the Black Sea as blackmail …. It's holding humanity hostage."
But there is a problem with this diabolical Russian strategy. Turkey controls the Bosporus and the Dardanelles, the two choke points that allow ships into and out of the Black Sea. Turkey also controls the lion's share of the Black Sea coast and has a powerful naval presence there.
Turkey played a key role in brokering the July 2022 grain export deal. And as part of Erdoğan's recent break with Russia, Turkey is now working with Ukraine to allow food exports to continue despite Russian objections. After a July 21 phone call with Erdoğan, Ukrainian President Volodymyr Zelenskyy said the two sides had "coordinated efforts to restore the work of the Black Sea Grain Initiative." Erdoğan's press service, too, said Turkey was working to find ways to safeguard passage through the Black Sea's grain corridor, despite Russian threats.
It is still early days, and the Russians may show the world that their threats to sink grain-carrying ships were not empty. But as of now, it seems that Turkey intends to override Russia's war on global food security.
A Mysterious Prophecy
Many are asking why Erdoğan made this dramatic change, suddenly breaking with Putin's Russia and aligning Turkey far more with Europe. At present, his reasoning has not been disclosed, but it may have involved Turkey's desire to buy F-16 fighters from America, or the West softening its de facto sponsorship of the Kurds, or fears that Russia will lose the war, or worries about Western sanctions being levied on Turkish banks, or some kind of assurances about eventual Turkish EU membership, or some combination of factors.
We may never know the exact details of what prompted Erdoğan's sea change. But we do know that Psalm 83, written some 3,000 years ago, warned us that we should expect modern Turkey to align with a German-led Europe.
This psalm is about a group of nations who will form an alliance in the near future. Verses 6-8 give several names indicating which nations will be in this bloc: "The tabernacles of Edom, and the Ishmaelites; of Moab, and the Hagarenes; Gebal, and Ammon, and Amalek; the Philistines with the inhabitants of Tyre; Assur also is joined with them …."
Here are the modern names of these nations, as explained in our booklet The King of the South: Edom and Amalek—Turkey; Ishmaelites—Saudi Arabia and its Gulf neighbors; Moab and Ammon—Jordan; Hagarenes—Syria; Gebal and Tyre—Lebanon; Philistines—modern Palestinian Arabs. We cannot be entirely confident in the exact accuracy of all these modern designations, but the general idea is crystal clear.
The other power mentioned in the passage cited above is Assur. This is related to Assyria, the term Bible prophecy uses to describe modern-day Germany. (For proof, order our free booklet Germany and the Holy Roman Empire.) So Germany will clearly be a member of this future alliance described in Psalm 83, and in fact will be the main power behind the group. The Bible makes clear that Germany in the end time will lead a unified European military superpower (article, "Russia's War on Ukraine Is Reshaping Europe," page 1). So the mention of Assur in Psalm 83 is about more than just Germany itself. It connotes the whole German-led European bloc.
Most alarming is the Bible's revelation about what exactly this German-led alliance of European and Middle Eastern nations will do after it emerges. Verses 4 and 5 explain: "They have said, Come, and let us cut them off from being a nation; that the name of Israel may be no more in remembrance. For they have consulted together with one consent: they are confederate against thee."
The goal of this massive alliance is to destroy the modern-day nations of Israel. The Bible shows that the name "Israel" describes 12 nations. But this particular passage is directed to only three of them. The little Jewish nation in the Middle East now called Israel is one; America and Britain are the other two. (Order your free copy of The United States and Britain in Prophecy for a thorough explanation.)
Right now, America, Britain and the Jewish nation are partnered with Germany and its European allies. But the Bible makes clear in this Psalm 83 passage (and numerous other scriptures) that this partnership will end in disaster for those three. Germany and other enemies of America, Britain and the Jewish nation aim to utterly destroy them.
That is Holocaust-level hatred and destruction. And this time around, it will go beyond the Jews, extending also to the Americans and British. That is what this prophecy in Psalm 83 is all about. It shows us that Turkey will continue to edge more and more into the German camp, as will the other Middle Eastern countries mentioned above. And when they are aligned with Europe, under the sway of a German strongman, they will war to ensure that "the name of Israel may be no more in remembrance."
If you understand your Bible, you should see special significance in Erdoğan's Turkey breaking with Putin's Russia and aligning with Europe. It shows that an era of unprecedented global war and suffering is rapidly approaching (Matthew 24:21).
But there is also deep hope tied into all this because God makes clear that He will not allow the Germans, Turks and others to accomplish their diabolical goal. Yes, there will be war, and the U.S., UK and Israel will be punished severely—more so than at any time in their history. But the Bible makes plain that before they are wiped out, the Creator will intervene and end the violence. He will usher in an age of peace for the peoples of Turkey, Russia, Germany, America, Britain, Israel and the whole world!