Russia's War on Ukraine Is Reshaping Europe
One of the Bible's most dramatic prophecies is unfolding before our eyes.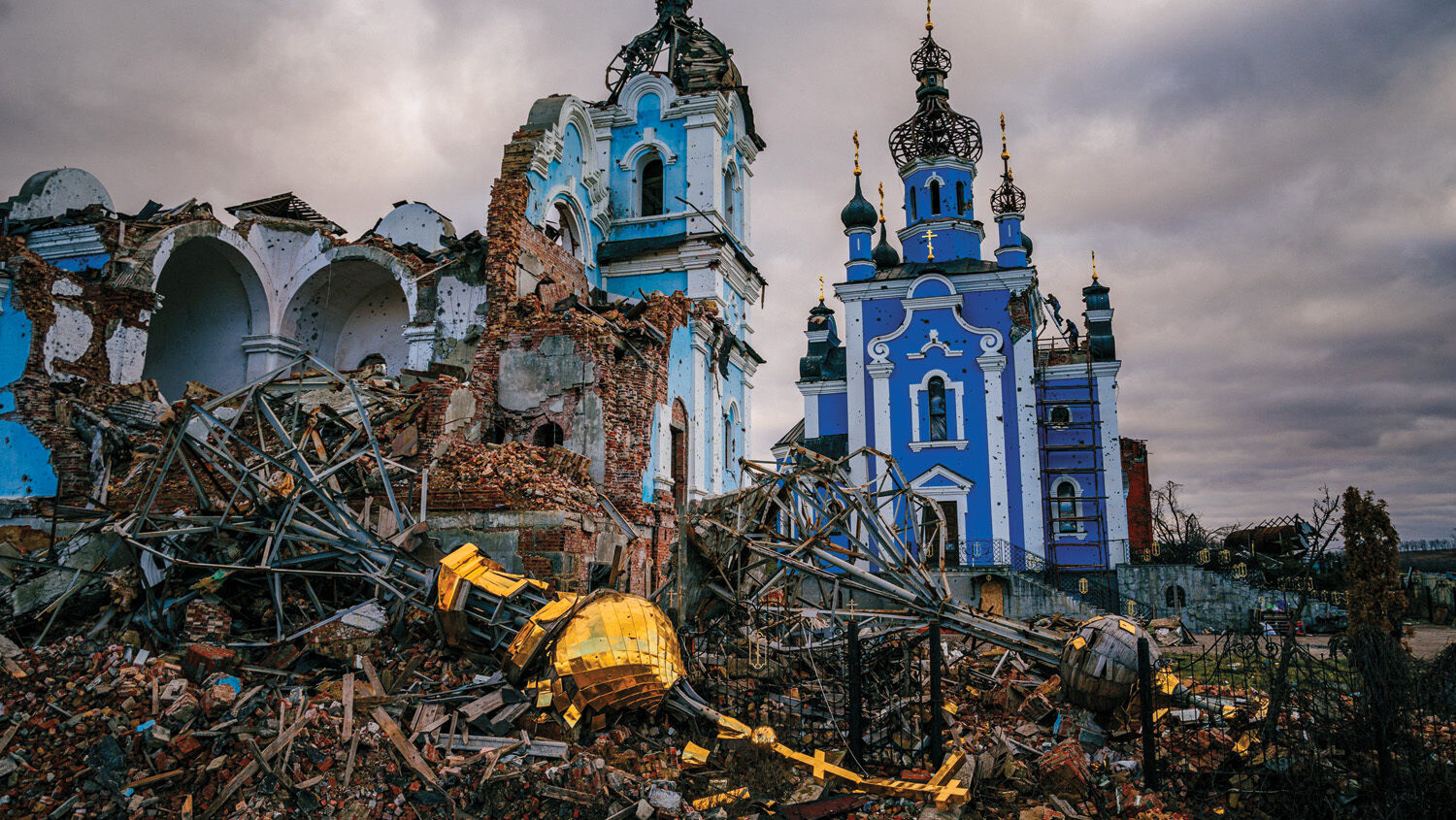 Russia's War on Ukraine Is Reshaping Europe
One of the Bible's most dramatic prophecies is unfolding before our eyes.
For the last year and a half, Vladimir Putin's Russia has been brutalizing Ukraine in an effort to bring part or all of the nation under Moscow's control.
Putin has been leading a Russian attack on Ukraine since 2014 when he took the Crimean Peninsula and infiltrated eastern areas. In February 2022, he expanded what had been a simmering conflict into a full-scale war.
The violence his forces have unleashed since then has shocked the world. Most of all, it has shocked the people of Europe, on whose doorstep it is taking place.
The amount of fear that Russia's attack has generated among Europeans is deeply significant prophetically.
More Military Might
"The threat perception in Germany changed overnight," German Army Lt. Col. Daniel Andrä said last year, shortly after the full-scale war began. "We felt safe, in the middle of the Continent, surrounded by friends. Now we have a full spectrum war in Europe and we are concerned, especially since we don't know how far the escalation spiral will turn."
As a result of this altered "threat perception," military spending in Germany and other Central and West European nations reached $345 billion in 2022. That's 30 percent higher than it was a decade ago! In real terms, this amount is even higher than what they spent in 1989, the final year of the Cold War.
Germany is among the main nations pushing this spending surge. Last year, Chancellor Olaf Scholz announced that the country was at a Zeitenwende, a "turning point," in military power. "It is clear that we must invest much more in the security of our country in order to protect our freedom and our democracy," Scholz said. He promised an extra-budgetary $105 billion. It changed its policy on armed drones and committed to buying new warplanes capable of dropping nuclear bombs. It also boosted its budgetary defense spending to some $58 billion, making Germany the world's seventh-largest military spender.
When Colonel Andrä heard the news of all these changes for his nation's military, he was shocked. "I didn't believe what I was hearing," he said. "All of this would have been unthinkable only four weeks ago. It was historic."
The Zeitenwende was a "turning point," but less than hoped. The extra $105 billion was watered down. Scholz said this money would come in addition to raising Germany's defense spending to the nato minimum of 2 percent. Instead, even with money from the extra fund, Germany's military spending is expected to fall short again this year.
But many Germans are clamoring for more. A March poll found that 62 percent of Germans want defense spending to go beyond that $105 billion commitment.
The same type of turning point is happening in other European nations, in some cases to an even greater extreme. In 2022, Poland increased military spending by 11 percent, Sweden by 12 percent, Lithuania by 27 percent and Finland by a stunning 36 percent. These are immense increases that policymakers would have called outrageous before Russia sent all those tanks and troops across Ukraine's border. Now many think that even these greatly expanded budgets are still not enough.
Europe's fear can also be seen in countries rushing to reintroduce conscription. Most canceled the military draft after the Cold War. But Lithuania reintroduced it in 2015, after Russia invaded Ukraine the first time. In Latvia, conscription will return starting next January. Sweden reactivated its draft in 2017 and began plans to expand it this year. Debates on this are underway in Romania, the Netherlands, France and Germany.
Dr. Diego Lopes da Silva, a senior analyst with the Stockholm International Peace Research Institute's military expenditure and weapons production program, said 2022 would be only the start of Europe's return to militarism. "The invasion of Ukraine had an immediate impact on military spending decisions in central and western Europe," he said. This "included multiyear plans to boost spending from several governments. … As a result, we can reasonably expect military expenditure in central and western Europe to keep rising in the years ahead."
Poland has announced that it wants to boost its defense spending to 4 percent of its economy—double the nato minimum—by the end of the year. By that time it wants to have finished doubling the size of its armed forces to 300,000, giving it the largest land force in the European Union. It has signed deals to buy 1,000 tanks and 600 pieces of artillery from South Korea. Though these are older, cheaper vehicles, Poland has also agreed to buy 250 upgraded m1a2 Abrams tanks from the United States, as well as 116 m1a1 versions.
A dramatic military revival takes time. But Poland and other European nations are in the midst of one right now.
Unifying Militaries
Besides building up their national militaries, European leaders are also further combining these militaries with each other.
Over the last decade, partly due to fears of Russia, the Netherlands has merged all three of its combat brigades into the German armed forces. Now, 50,000 Royal Netherlands Army troops are subordinate to German command.
Shortly after the Crimean annexation, the Baltic nation of Lithuania opened its borders for 780 German troops and about 800 troops from the North Atlantic Treaty Organization to be stationed there. But now the Lithuanians are saying even that is not enough! In June, plans were announced to permanently station a new brigade of 4,000 German soldiers within its borders. The last time German soldiers had a base in Lithuania was when they were occupying the nation during World War ii! To see the Germans back there again—this time at Lithuania's invitation—is a huge development.
Finland and Sweden are ending decades of neutrality to join nato, a military alliance of mainly European nations with the United States and Canada. And now that all the Scandinavian countries are part of nato, they have signed a joint declaration of intent to create a joint Nordic air force.
Meanwhile, the leaders of Switzerland and Austria have announced plans to cast off their traditional neutrality to join Sky Shield, which is a plan to link missile interception systems across 19 EU countries and create a united European air defense zone. This initiative is led by Germany.
Meanwhile, the Czech Republic's elite Fourth Rapid Deployment Brigade has been subordinated to Germany's 10th Armored Division. Romania has directed its 81st Mechanized Brigade to work closely with Germany's Rapid Response Forces Division.
Notice the nation that is growing more militarily powerful from these various agreements: Germany! This is not by coincidence or accident.
In recent years, the Germans have opened up 24 Bundeswehr training facilities to soldiers from other EU countries. German troops staff 55 training centers across Europe. Since the Germans have been laying this groundwork for a long time, it should not surprise us that smaller European nations are now rallying behind Germany and finding ways to lend it their own firepower.
The result is that Germany is commanding an increasingly large, increasingly powerful European army. This is all happening quickly! And it is largely because these countries are terrified of Russian aggression and don't want to be left to face it alone.
Many East European countries endured decades of brutal occupation by the Russians. These countries were annihilated during World War ii. They know from recent history what the Russians can and will do—and it fills them with a fear that is hard for us in the United States to even imagine.
The Far Right Rising
At the same time that Europe is expanding and integrating its militaries, the European people are also voting more and more for far-right leaders. In Germany, the hard-right Alternative für Deutschland (AfD) is surging in power. Italy's government under Giorgia Meloni is more right wing than any since the reign of Benito Mussolini. Far-right leaders and parties are also gaining power in Austria, Finland, France, Poland, Spain and Sweden.
The popularity of the right wing is partly a backlash against "wokism," migration and other aspects of multiculturalism. These parties generally stand for the opposite: the promotion of Europe's traditional "Christian" heritage and values.
This far-right surge is also partly because of Russia's aggression. When you see your neighbor being pummeled by a nuclear-armed military powerhouse, and it seems that violence could spill over into your nation, you do not want some naive, peacenik government in charge! As the people of Europe see international law and democracy failing, they increasingly crave strong leaders.
How This Is Fulfilling Prophecy
The Trumpet and our forerunner magazine, the Plain Truth, have been prophesying for around 80 years that Eastern Europe would become a crucial part of a new European superpower—a resurrection of the Holy Roman Empire that has risen up so many times in Europe.
This prophecy is directly related to Russia's war on Ukraine! The terror that is gripping so many Europeans because of Russia's brutal invasion is going to cause 10 leaders in Europe to unite their nations or groups of nations dramatically—and in exact accordance with the Bible's prophecies about that European empire!
I have written on several occasions about Ezekiel 38:2, which discusses the "prince of Rosh" (New King James Version) and the havoc he will wreak in this modern era. The way this prophecy is now coming to pass is impacting Europeans far more than any other people in the world.
That scripture describes this prince as the head of Gog, Meshech and Tubal—all prophetic names for Russia—along with Magog, which is an Asian area that includes China. Who could the man be who is ruler over all of Russia, and who also is positioned to lead China and other Asian nations? This is describing Vladimir Putin. He is the "prince of Rosh" whom God inspired Ezekiel to write about 2,500 years ago! (Order your free copy of my booklet that examines these scriptures in detail, The Prophesied 'Prince of Russia.')
The "prince of Rosh" is a stunningly mighty man, and he is having a powerful effect on Europe. The reaction inside Europe to this Russian war is something you need to keep a close eye on: It is sculpting the future composition of the Holy Roman Empire! It is causing European leaders to take urgent action to tie this Holy Roman Empire together one last time—just as we have warned they would for many years.
No Trust in the United States
Eastern Europe's history gives the people in those nations plenty of reason to fear. They suffered horrendously under evil men like Adolf Hitler and Joseph Stalin. And they have often been abandoned by the West. Britain and France shamefully betrayed Czechoslovakia in the lead-up to World War ii, effectively turning the country over to Hitler. The situation with Poland was similar, as they let Hitler and Stalin carve the nation up between themselves.
After the peoples of Eastern Europe gained their freedom from the Soviet Union, they put their trust mostly in America. Many of them rushed to join nato. When they saw Putin's Russia start charging down the warpath, they hoped America would stand up boldly to stop Putin's expansionism. But when Russia invaded Georgia in 2008 and took a fifth of its land, President George W. Bush did nothing. Again in 2014 after Russia annexed Ukraine's Crimea, the U.S. under President Barack Obama yawned.
These nations see that America's will is broken!
Since Putin expanded the conflict into a full-scale war last year, the United States has done more to help. But in many ways, the Biden administration was pressed by European nations, especially the Baltic countries, to give Ukraine aid. Besides this, the Europeans were blindsided and terrified by the way the Biden administration retreated chaotically from Afghanistan in 2021, showing the whole world that America is erratic and unreliable. And the Europeans well know that the U.S. gets a new government every four or eight years and that there are no guarantees about how a given administration will face Russia.
European leaders understand that they can't depend on America. French President Emmanuel Macron said so plainly in April, demanding that the EU break free of America and develop its own "strategic autonomy." Macron knows, however, that a Europe with "autonomy" from America would be a Europe dominated by Germany. In January, he had acknowledged as much, saying, "Germany and France … must become pioneers to relaunch Europe." He even put "Germany" first in the list ahead of France! Has this man forgotten how brutal Germany's attempts to dominate France and other parts of Europe were in the Franco-Prussian War and World Wars i and ii?
East European nations such as Lithuania are also ignoring Germany's bloody history and instead encouraging Germany to lead Europe. "We want a strong Germany," Gen. Mindaugas Steponavičius, Lithuania's chief of the defense staff, said last year. Laurynas Kasčiūnas, chairman of Lithuania's National Security and Defense Committee, said, "The German military is great; we're so grateful to have them here."
When Germans occupied Lithuania during World War ii, they killed more than 90 percent of the nation's Jews—over 130,000 people—and thousands of other individuals. But then the Russian-led Soviet Union drove the Germans out and turned Lithuania into a stifled Soviet republic, which it remained until the collapse of the Soviet Union.
It is incredible that the people in nations such as Lithuania are now calling for Germany to have more military power and more leadership and control over Europe. They know the history of German militarism well. They suffered horrendously under it! Despite knowing that recent history intimately, these peoples want a stronger Germany!
Why? Because they fear Vladimir Putin and Russia even more than Germany.
Lithuanians and others feel they have to choose between two evils. This gives you some idea of how much Europe fears Russia—and Eastern Europe fears Russia even more.
Europe's fear of Putin's Russia next door will help shape and form the Holy Roman Empire rather suddenly.
Europe's fear of Russia is intensifying because it knows America lacks the will to protect it as it did in the past. America has a broken will, and Europe and the world know it! That too was prophesied to happen (Leviticus 26:19).
A Pivotal Prophecy
The late educator Herbert W. Armstrong prophesied for decades that a strong European power would rise up composed of nations from Eastern and Western Europe. He said this while the Iron Curtain cut Europe in two and the Soviet Union seemed invincible. How did he know?
For the answer, we have to look at a pivotal prophecy in Daniel 2. This chapter records God giving King Nebuchadnezzar a vision of an enormous statue representing the powerful Gentile empires that would rule the world from Nebuchadnezzar's time 2,500 years ago up to the still-future return of Jesus Christ. The image's head of gold was Nebuchadnezzar and his world-ruling empire. Following him came the Medo-Persian Empire, signified by the chest and arms of silver. Then came the belly of brass, which was Alexander the Great and the Greco-Macedonian Empire. Finally emerged the mighty Roman Empire, symbolized by legs of iron.
History reveals the significance of the two legs, as the Roman Empire was divided, with its western capital in Rome and its eastern capital in Constantinople (today's Istanbul, Turkey). But the symbolism gets even more specific.
The Roman Empire fell in a.d. 476. But the Bible says this prophecy is for the "latter days" (Daniel 2:28), meaning our modern age. Other prophecies—especially in Daniel 7 and Revelation 13 and 17—reveal in detail what was to become of that empire: Ten successive governments would grow out of it, and the last seven of these 10 would be united with a great false church. In this way the Roman Empire, symbolized by those two legs, would survive right up to the end time.
You can track the fulfillment of this prophecy through history. The centuries since have witnessed several leaders like Charlemagne, Otto the Great, Napoleon and Hitler who, time after time, resurrected the Roman Empire from the ruins! Starting with Justinian's restoration of this empire in a.d. 554, there have been six resurrections of what is called the Holy Roman Empire—the union of church and state. That leaves one more to occur before the return of Jesus Christ.
You can see by what is happening in Europe today that the final resurrection is now coming together very quickly.
Ten-Nation Superpower Prophesied
Notice: Though the Roman Empire is symbolized in Daniel 2 by legs of solid iron, verse 41 says the feet and toes are made of "iron and clay." The 10 toes are the final resurrection of the Holy Roman Empire—the one now forming. These 10 toes represent 10 kings that will rule in this modern era in the seventh and final resurrection of the Holy Roman Empire. These 10 are also described in Revelation 17:12.
Following the symbolism about the image, Daniel shows that those 10 toes are divided, probably with exactly five on the eastern leg and five on the western. This suggests that five of the kings that will band together to form this European superpower will come from Western Europe, and five from Eastern Europe.
In 1981, Mr. Armstrong wrote: "When this Holy Roman Empire does happen, it will happen suddenly. So quickly it will take your breath! And the whole world will gasp in awe and wonder when they see the things that are prophesied. For example, 10 nations in Europe—probably five of them in Western Europe and five in Eastern Europe—reviving, resurrecting, the so-called Holy Roman Empire of the Middle Ages." Mr. Armstrong prophesied of this for well over 50 years.
In April 1952, long before the Soviet Union collapsed, the Good News magazine, with Mr. Armstrong as its editor in chief, wrote, "Russia may give East Germany back to the Germans and will be forced to relinquish her control over Hungary, Czechoslovakia and parts of Austria to complete the 10-nation union."
Then in a booklet published first in 1955, Mr. Armstrong wrote, "Some of the Balkan nations are going to tear away from behind the Iron Curtain. … Russia probably will lose still more of her Eastern European satellites." He said essentially the same thing again in 1956 and several other times. We compile all these statements in our booklet He Was Right (request your free copy).
These prophecies that Russia would lose its grip on these East European nations have now been fulfilled! The eastern leg and parts of the western leg of that empire are well into development.
Fulfilled prophecy is the great proof of God's existence. And there is such a stunning amount of prophecy being fulfilled right now that mankind is without excuse!
Europe's Putin
Another landmark prophecy that Russia's war on Ukraine will bring into fulfillment is the rise of a strongman in Europe. This is what will bind Europe's many peoples and nations together with the power and unity of purpose necessary for facing Russia.
Daniel 8:23 tells us that "in the latter time," we should expect "a king of fierce countenance" to arise in Europe. "And his power shall be mighty, but not by his own power: and he shall destroy wonderfully, and shall prosper, and practise, and shall destroy the mighty and the holy people" (verse 24).
Europe's intensifying fear of Russia will play a key role in hastening the fulfillment of this prophecy! The people see democracy and international law failing, so they want a Putin-type figure of their own. He will be the head "king" over Europe's 10 kings, pictured by the 10 toes.
Besides that strongman, the Catholic Church will also play a major role in uniting all these disparate European countries.
So much of what the Creator God prophesied through Mr. Armstrong has already been fulfilled. Now we must watch for the final part of these prophecies to occur! "Ten kings" will arise! The 27 nations currently comprising the European Union are going to be pared down to 10. These are going to be led by an iron-fisted leader and unified by the Roman Catholic Church. At that point, they will be a global power greater than Russia or the United States!
The European Union today already has considerable power, and that is especially true of Germany. The Germans already lead Europe and call many of the shots economically and politically. And soon a German despot will be calling the shots militarily for 10 kings.
The world today is on the cusp of great conflict. Most Americans may not recognize this, but more and more Europeans do. They see an urgent need to be able to stand up to Russia. And since they question America's reliability, they will join together and integrate all their military might.
The increasing urgency to protect themselves will cause European leaders to pare down the number of countries in their union and to throw their power behind a "king of fierce countenance"! That mighty man will then use the power of Europe to confront Vladimir Putin and some Asian nations such as China that ally with Putin (Ezekiel 38; Revelation 16:12).
Russia's war on Ukraine is catalyzing the rise of a mighty power! Putin doesn't understand that since he doesn't know the Bible's prophecies. But he will soon know it. And the colossal clash between these two powers will bring more suffering on the world than it has ever experienced.
What Happens in the End
These prophecies may seem discouraging, but the Bible assures us that they have a positive conclusion. Daniel 8:25 says that the European strongman will "stand up against the Prince of princes." This mortal man will try to fight against Christ Himself! The result is that "he shall be broken without hand." The Messiah will return to Earth at the height of the violence and confront that man and end these cataclysmic wars. The 10-nation military superpower will be utterly crushed.
After describing all the kingdoms that have ruled the world from Nebuchadnezzar's time to the future European superpower, Daniel 2 then shows the image being shattered by a stone from heaven. It is blown away like dust in the wind, and the stone from heaven grows into a mountain filling the whole Earth (verses 34-35). Daniel explains the meaning of all this with this deeply inspiring statement: "And in the days of these kings shall the God of heaven set up a kingdom, which shall never be destroyed: and the kingdom shall not be left to other people, but it shall break in pieces and consume all these kingdoms, and it shall stand for ever" (verse 44). That is describing the end of the Daniel 2 image and all of humanity's ignorant, ineffective, violent, repressive human governments. God will smash man's rule forever!
Is this a dark message? It does detail a great deal of suffering that will soon afflict the world—the greatest suffering ever in history. But it is all directly connected to the coming of Jesus Christ, when all suffering ends, and God ushers in an age of peace, accomplishment and joyous living for the world! That is the most hope-filled and radiant message you could ever hear!