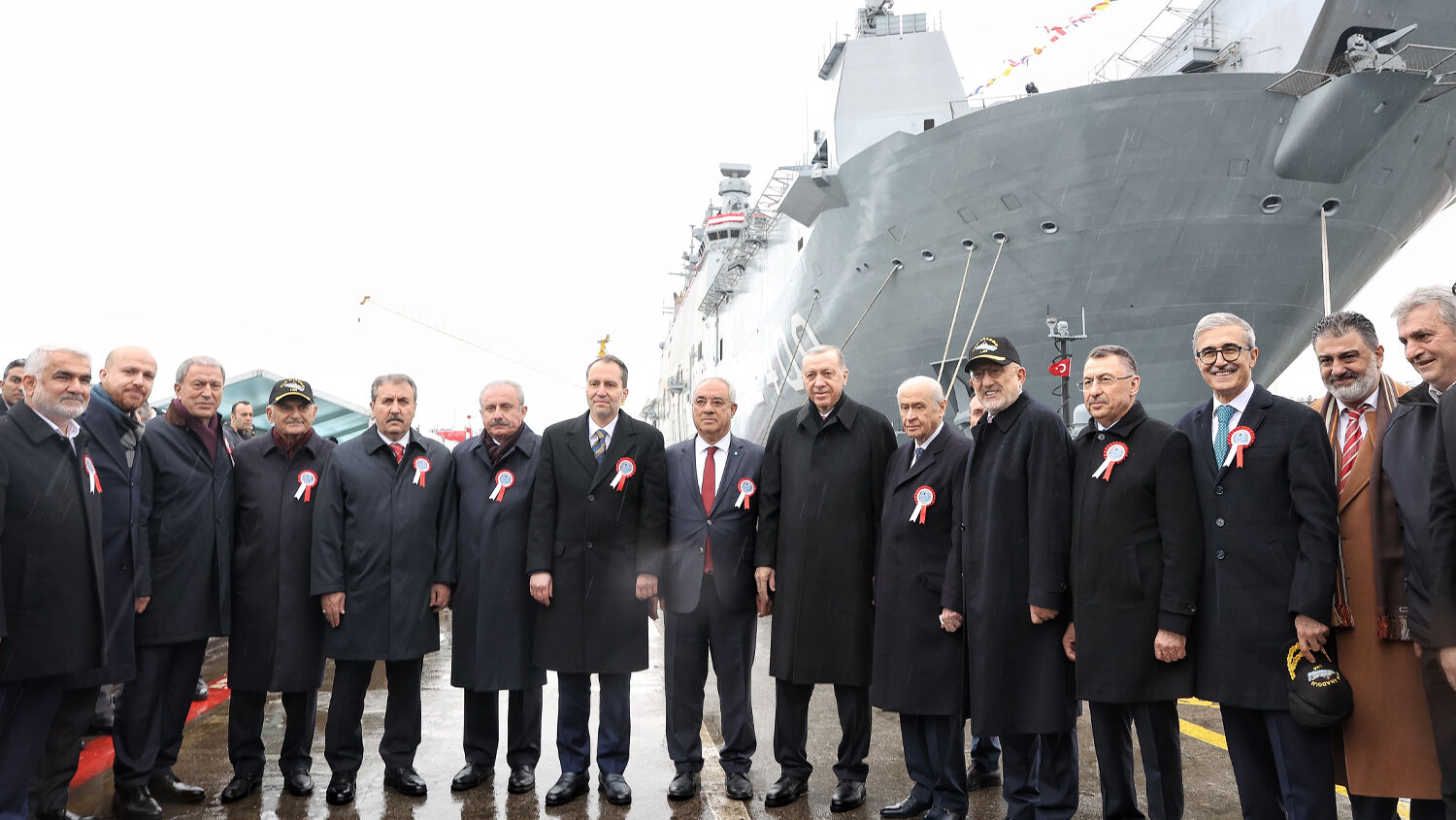 Turkey Unveils Amphibious Assault Ship
On Monday, Turkey revealed its largest warship, the tcg Anadolu, designed to launch and land both drones and heavy-lift helicopters. Turkish President Recep Tayyip Erdoğan said Monday at a ceremony in Istanbul's Tuzla district that he sees the warship as a demonstration of Turkey's power in the region.
Turkey has one of the largest armed forces within the North Atlantic Treaty Organization, but it has its own military ambitions. Its military rise needs to be closely observed.
This vessel will allow us to conduct military and humanitarian operations in every corner of the world, when needed. We see this vessel as a symbol that will consolidate Turkey's regional leadership position.
—Recep Tayyip Erdoğan
Turkey's military rise is aided by close cooperation with Europe. The amphibious assault ship was built by a Turkish-Spanish consortium, based on the Spanish light aircraft carrier Juan Carlos i.
Originally, tcg Anadolu was meant to deploy the United States stealth fighter jet F-35 B-model. But the U.S. denied Turkey's request due to its closeness to Russia and its purchase of Russian S-400 missile defense systems.
In addition to helicopters and the Hürjet light attack aircraft, Turkey plans to deploy Bayraktar TB3 and Kizilelma unmanned combat drones from the ship.
Turkey is a leader in drone warfare. This too is partly due to its close cooperation with Europe. In "Missiles and Sensors: German Technology for the Turkish Drone War," Matthias Monroy, editor of the German civil rights journal Bürgerrechte & Polizei, detailed how Turkey's bestselling armed drone is equipped with cameras from German company Hensoldt, as confirmed by a spokesperson. The German Ministry of Defense holds shares in Hensoldt and considers the company essential to Germany's security policy.
Turkey is also one of Germany's largest recipients of arms exports. In 2019, more than a third of Germany's total weapons exports went to Turkey. In World War i, the Ottoman Empire and German Reich fought side by side. Such history is not easily forgotten and has shaped relations to this day.
Turkey is a also of great strategic importance. It borders Iran, Iraq, Syria, Armenia, Georgia and nations of the European Union. It has access to the Black Sea and the Mediterranean. Turkey is also involved in the civil war in Syria.
The Bible reveals that Europe's partnership with Turkey will be a deciding factor in major geopolitical events of the future.
Trumpet editor in chief Gerald Flurry explained in "A Mysterious Prophecy" that Psalm 83 reveals that Turkey (Edom), Saudi Arabia (Ishmaelites), Syria (Hagarenes) and Germany (Assur) will make up this alliance. In history, these nations have never formed such an alliance, which means it is prophecy that has yet to be fulfilled—and that's exactly what we see on the international stage.
Read "A Mysterious Prophecy" to learn where these events will specifically lead.