Killing in the Name of God
How can the "very religious" be so violent?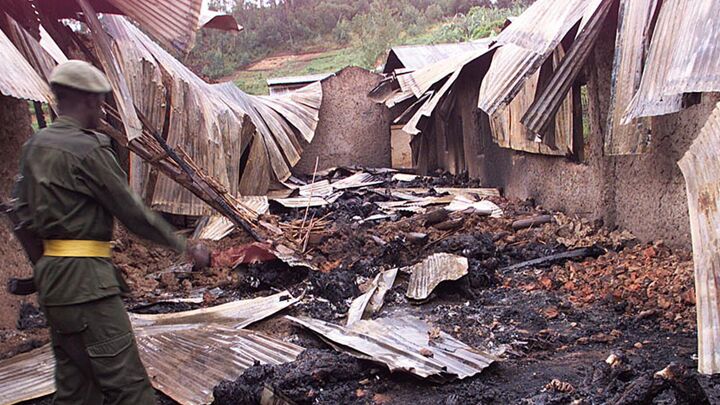 Killing in the Name of God
How can the "very religious" be so violent?
In the beautiful green hills of southwestern Uganda, Africa, just south of the equator, is a once peaceful little village named Kanungu. In that sleepy spot and surrounding villages, at least 924 members of a doomsday religious cult, the Movement for the Restoration of the Ten Commandments of God, were brutally and systematically murdered. Many died in a horrific gasoline-fueled fire on March 17 which burned about 530 followers and their children beyond recognition behind their nailed-shut church doors.
The still-rising body count in Uganda is believed to be the largest mass murder in history—excluding acts of genocide—surpassing South America's 1978 Jonestown, Guyana, mass murder/suicide which claimed 913 lives.
International arrest warrants have now been issued for six Ugandan cult leaders suspected of committing the carnage, including Credonia Mwerinde, the cult's "programmer" and the real power behind the movement, who claimed to be in contact with the Virgin Mary through visions.
The murders apparently began after the world did not end on December 31, 1999, as the leaders predicted, and their disgruntled followers started demanding the return of their possessions and money they had surrendered upon joining the cult. As Uganda's vice president put it, the leaders were "diabolic, malevolent criminals masquerading as holy and religious people."
Any sensible, sane person must ask, how can a group claim to be religious and then commit horrifying crimes while supposedly acting "in the name of God"?
Yet, we should not be surprised. Killing one another "in the name of God" is nothing new to the marred and scarred history of mankind. The religious Crusades and Inquisition of the Middle Ages, as well as the World War II Nazi bloodfest of the Jewish Holocaust, now silently attest to the intolerance and brutality engendered by religious hatred and hatred of religion.
One would suppose that being "very religious" instead of atheistic would decrease the slaughter rate. However, just the opposite is true. Man's inhumanity to man has been increased by human religion! History bears out that many times religion has been the cause of war and mass death, not the solution that it should be!
Part of the reason for this contradiction is that mankind has never been able to differentiate between "true believers" and the mentally-ill "messiahs" who have tainted religious history since the beginning. Mankind has followed leaders who were not following the true God! If it were otherwise, millions upon millions of people would not have been annihilated in the name of God.
Instead of mankind being made into the image of God as God intended (Gen. 1:26), mankind has created "god" in its own image. That is because the human race has lost the true knowledge of the supreme authority who lovingly created the brotherhood of mankind.
Mankind has been completely misled by its irrational religious bias instituted on the faulty foundation of emotion rather than knowledge. Humanly devised religions based upon hatred of others are absolutely ignorant of true religion and so deceived that reason will not prevail—nor will deluded zealots be hindered from their carnage.
It has been this way since the first coming of Jesus Christ, whom God allowed to be violently butchered by envious men filled with religious hatred. It has been so since Cain slew Abel as a result of religious hatred in the very first murder of another human being. It has been so since the first man and woman chosegodless self-deception by producing their own educational systems, their own governments and religions.
All of this murder in the name of religion has been, and will be, motivated by Satan the devil, who is the lying, murderous god of this world (Gen. 3:1-7; John 8:44; II Cor. 4:4).
The biblical prophecies of Revelation 13, 15, 16 and 17, along with chapter 7 of the book of Daniel, describe an end-time politico-economic "beast" which will be guided by a great false church professing to be Christian. That universal church, appropriating the name of Christ but actually built upon the foundation of Satan's Babylonian Mystery Religion (Rev. 17:5-6), will be "drunken with the blood of the saints, and with the blood of the martyrs of Jesus."
The Apostle John was inspired to write in Revelation about the immediate future of today's world when a "religious" government will murder some of God's true people after they are accused of religious heresy. They will be killed "in the name of God" because "the time cometh, that whosoever killeth you [God's people] will think that he doeth God service" (John 16:2).
Satan is presently working this society into a frenzy of religious hatred and hatred of religion. He knows he has only a short time left and he is full of blood-drenched wrath! (Rev. 12:12). Violence toward religions and by religions are the sure signs of satanic religion wearing a thinly veiled guise of false piety and self-righteousness. Satan's religions are filled with hatred, malice and violence toward mankind because that is the nature of Satan (Ezek. 28:16).
In contrast, God's true Church obeys the Ten Commandments, and His "very elect" love mankind as themselves and will someday teach them God's true ways of selfless love and peace (I John 5:3; Matt. 22:36-40). We must look to the "fruits" to see if a church is of God or of Satan. You can be certain that if violence toward mankind is done or advocated by a church, it is not the true Church of God!