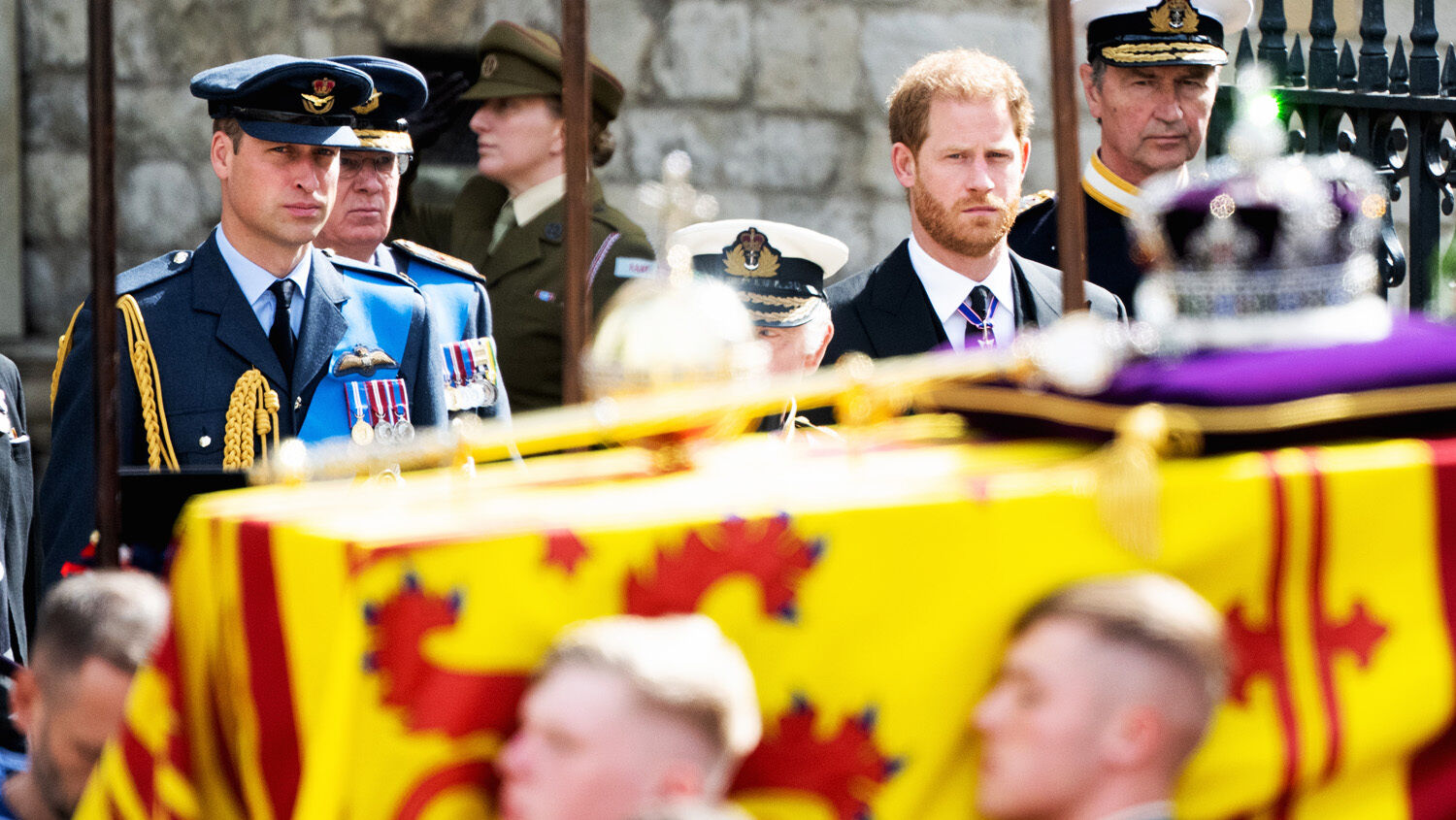 The Queen's Funeral Shows the Power of the Throne
The inspiring message in 4 billion people being transfixed by Britain's Queen
Most of the world tuned in to the biggest live tv event in history, today. The final figures are not quite in, but over 4 billion are expected to have watched the funeral of Queen Elizabeth ii.
From Washington to Westphalia, flags flew at half-mast in her honor. Westminster Abbey hosted one of the largest gatherings of world leaders in history, with over 500 foreign heads of state, monarchs and dignitaries from 175 countries in attendance.
Queen Elizabeth moved people in a powerful way. The line to file past her coffin as she lay in state reached its maximum allotted length of 10 miles. Some people waited more than 24 hours in line just to have a minute to pay their last respects. People of all ages, races and backgrounds stood in line so they could have a moment to bow, curtsy or salute before the Queen's coffin before walking away, many with tears in their eyes.
How could the Queen move people around the world so powerfully?
One of Britain's top journalists, Melanie Phillips, noted that to understand this, you need to be able to connect Britain's throne with the Bible.
"Citizens of republics often find it hard to appreciate the benefits of a constitutional monarchy," she wrote on Friday. "Few also appreciate that the British monarchy is patterned on ancient Israel. It's why the monarch is anointed; it's why words uttered by 'Zadok the Priest,' taken from the first book of Kings, have been sung at every English coronation since 973 c.e. Some British monarchs in the past have even purportedly traced their line back to King David."
She is right. As Herbert W. Armstrong proved in his book The United States and Britain in Prophecy, the royal family is descended from King David.
You cannot understand the royal throne of Britain without discussing some of the many scriptures about it in the Bible.
The Queen was a part of God's covenant with David because she sat on David's throne. God gave her the honor, and with it came a heavy responsibility.
Here is God's promise to King David: "And when thy days be fulfilled, and thou shalt sleep with thy fathers, I will set up thy seed after thee, which shall proceed out of thy bowels, and I will establish his kingdom. He shall build an house for my name, and I will stablish the throne of his kingdom for ever" (2 Samuel 7:12-13). God told David that his son Solomon would build His house, the temple, and that David's throne would be established forever.
This is a universe-shaking truth! God said He would establish David's throne forever! That is one of the most important promises that God makes in the Bible.
The world and many British people wonder why Britain clings to its throne. The amazing answer to that question is that Jesus Christ has kept the British throne alive.
The solutions to Britain's problems can be found within the knowledge of the true ancestry of the British throne. God established David's throne. The rich traditions surrounding that throne point to a significance greater than most people realize today.
Queen Elizabeth's great-great-grandmother Queen Victoria probably knew that. But most journalists and scholars don't seem to have much interest in proving if that throne even exists—or the supreme magnitude of its importance! And it's not all that difficult to prove.
That throne contains the only hope in this terrifyingly dangerous world! That same throne has a very direct connection to the promise of Jesus Christ returning and bringing peace to the whole world.
It's time for mankind to wake up and see our magnificent future. "He shall be great, and shall be called the Son of the Highest: and the Lord God shall give unto him the throne of his father David: And he shall reign over the house of Jacob for ever; and of his kingdom there shall be no end" (Luke 1:32-33). Jesus Christ is not going to return and sit on a nonexistent throne! He is going to rule from David's throne—the same throne Queen Elizabeth sat on.
That throne lasted so long in England because of God's covenant with David. The king spoke of this covenant just before he died. "Now these are the last words of David: The oracle of David, the son of Jesse, the oracle of the man who was raised on high, the anointed of the God of Jacob, the sweet psalmist of Israel …. Yea, does not my house stand so with God? For he has made with me an everlasting covenant, ordered in all things and secure. For will he not cause to prosper all my help and my desire?" (2 Samuel 23:1, 5; Revised Standard Version). God made an everlasting covenant with David. The throne of David will never cease, even throughout eternity! (Isaiah 9:6-7). Anybody who sits on that throne today is a part of that special throne covenant made with King David whether they know it or not. Or whether they like it or not.
They also have a serious responsibility whether they realize it or not.
It is this fact that gave the Queen's throne such exceptional power.
Melanie Phillips noted the power this throne had to unify: "At the coronation—which will take place next year—Charles will be anointed," she wrote. "The oath that he takes is not to the people but to God. That's why his duty to serve the people is unbreakable. And that's why the monarch is a unifying force, and melds the people into a united nation. The royal family helps forge the country into a kind of national family."
As she pointed out, David's throne in Israel held that same power. "The genius of the monarchy invented by King David was that it brought together, as one governable nation, otherwise disparate and potentially warring tribes" (ibid).
The reason for its power is that it was not "invented by David." This throne is how God unifies people.
David brought the warring tribes of Israel together under that throne. In more recent generations it was that throne that brought the warring kingdoms of Scotland and England together, united under one monarchy. As Mr. Armstrong wrote in The United States and Britain in Prophecy, "Soon Britain's empire spread around the world, until the sun never set upon her possessions. Canada, Australia, South Africa were given dominion status—made free and independent nations, ruling themselves independent of England—a company, or commonwealth, of nations joined together, not by legal government, but solely by the throne of David!" (emphasis his).
The Bible tells us that the Messiah will unite the whole world behind that throne: "Behold, the days come, saith the Lord, that I will perform that good thing which I have promised unto the house of Israel and to the house of Judah. In those days, and at that time, will I cause the Branch of righteousness to grow up unto David; and he shall execute judgment and righteousness in the land" (Jeremiah 33:14-15). The "land" is referring to the whole Earth! The Messiah is about to come and sit on David's throne and rule the Earth!
Judah and Israel are about to be reunited under that throne (verse 16). In fact, this world is about to become spiritual Israel, united by the throne of David. All mankind will be looking to that one throne, the "key of David" throne. The key of David unites everyone who has ever lived—if they choose life.
The funeral today gave us a glimpse of the power of this kind of throne. Look at the admiration and respect for that institution from millions upon millions of people. What kind of message could be taught from that throne? What kind of power does that have to really change people's lives—if wielded by someone righteous?
When you see 4 billion people all watching one throne, you could say that is a prophecy of the way Jesus Christ will unite the world!
God has given us a tangible throne on Earth so we can better understand the depth of God's hope and our potential. He gives a physical, practical sign, showing how He will bring peace and unity to the world.
God gave the rulers on that throne a clear warning in the Bible about how they would be corrected if they sinned. But even that warning contains an incredible hope. "I will be his father, and he shall be my son. If he commit iniquity, I will chasten him with the rod of men, and with the stripes of the children of men" (2 Samuel 7:14). If the rulers on that throne sin, God said He would chasten them with the stripes of men. Often that means God would cause them to be defeated in significant military battles or wars.
But that warning also tells us that God wanted to make the ruler His son (or daughter), and He would be his (or her) Father. The Hebrew word for "name" in verse 13 could also be translated family. The covenant was made so that this throne would be a part of God's Family! It's a God Family throne.
God is bringing in human beings and inviting them into His Family. He is going to use that throne to build Himself a family of sons and daughters. You have the potential to be born into God's own Family—to become a son of God, which means becoming sons and daughters of God! The Bible is full of scriptural proof to confirm this (Philippians 3:21; 1 John 3:1-3; Revelation 1:12-16; Psalm 17:15; 2 Peter 1:4).
Men were created not after the animal kind, but after the God kind (Genesis 1:25-26). That means man has the potential to become created sons and daughters of God! None of this makes sense unless human beings are willing to see their own mind-splitting potential!
We must realize that the history and prophecy concerning David's throne is the essence of Christ's gospel message, with a weighty emphasis on the God Family royalty.
God says that the government of the throne that Queen Elizabeth once sat on will expand forever: "Of the increase of his government and peace there shall be no end, upon the throne of David, and upon his kingdom, to order it, and to establish it with judgment and with justice from henceforth even for ever" (Isaiah 9:7).
That throne will eventually unite the whole universe! This is the key of David message. What a vision!
The physical reality of that throne is enough to capture the imagination and attention of 4 billion people. If only they would contemplate this spiritual reality!
You can read about what God has done with that throne in recent years, and more specifically how He truly will unite the whole world with it, in my free book The New Throne of David.
What a future mankind has because of that throne of David!