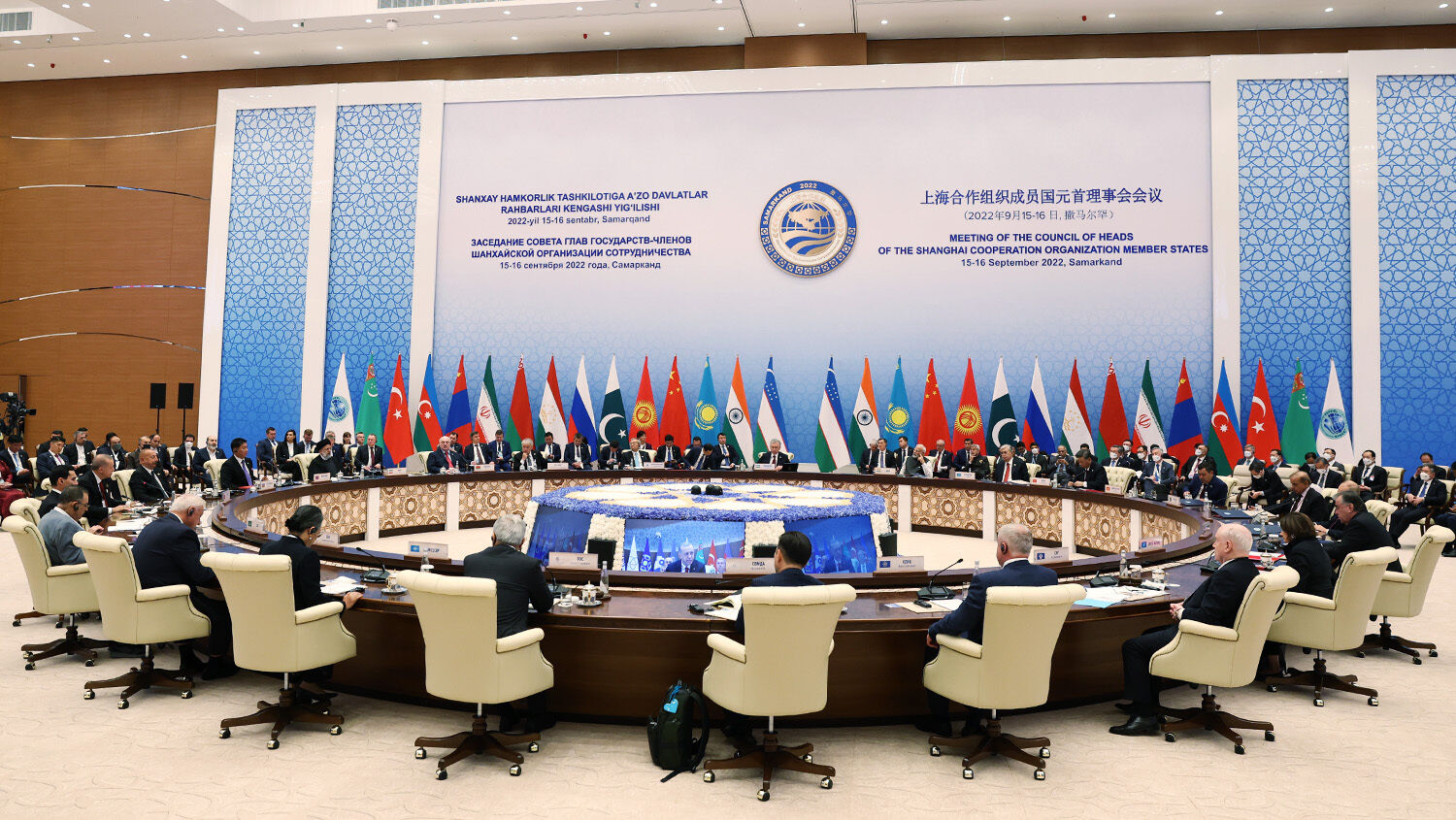 Shanghai Cooperation Organization Plans Closer Coordination
sco
nations are meeting to work out the kinks in their relationships.
For the first time since the covid-19 outbreak, member nations of the Shanghai Cooperation Organization (sco) met to discuss the organization's current state and goals between September 15 and 16. The eight member nations, four observer states and six "dialogue partners" were represented at the summit in Uzbekistan, including Chinese General Secretary Xi Jinping who hadn't left China since the beginning of 2020 and Russian President Vladimir Putin. Many of the member nations used the summit as an opportunity to hold further bilateral talks, strengthening and solidifying their relations.
The main focus for this year's sco summit was the crisis in Afghanistan and whether or not the organization would accept member applications from Belarus and Iran.
"It is our moral obligation to extend a helping hand [to Afghanistan]," stated sco Chairman and Uzbek leader Shavkat Mirziyoyev. "[T]o offer them effective ways of overcoming the yearslong crisis by promoting socioeconomic growth in the country and its integration into regional and global development processes." The sco sees the withdrawal of the United States as an opportunity to shape Afghanistan's new administration and draw the nation into the China-Russia orbit. This is part of efforts to try to prove to the world that the sco is "becoming an integral element of modern global political and economic world order."
The decision to accept membership applications from Iran and Belarus hinged on whether it would benefit the sco's global standing, and both signed memorandums on September 15 to become full-time members. Iranian President Ebrahim Raisi stated, "In the first step of developing the neighborhood policy, we were able to strengthen mutual political trust in the region, and in the second step, we are pursuing the effective role of the Islamic Republic of Iran and its active presence in the region." Although it may take time for Iran to assume full membership responsibilities, Putin stated, "We are doing everything to make Iran a full member of the sco."
Iran had applied for membership in 2008; however, U.S. sanctions against it made the sco hesitant to consider its application. Now that Russia is also under U.S. sanctions and has been a long-standing member of the sco, that argument carries less weight. Putin met with Raisi during a visit to Uzbekistan and claimed, "On the bilateral level, cooperation is developing positively."
Putin also held sideline meetings with Xi and Indian Prime Minster Narendra Modi. During both, he said Russia aims to address the worry each nation has over the war in Ukraine. He said he wanted to guarantee "global and regional stability," and he promised that Russia would "do everything to stop [the conflict] as soon as possible."
Along with Russia, China, India and Uzbekistan, the sco also includes Kazakhstan, Kyrgyzstan, Pakistan and Tajikistan. Many analysts believe that between Xi and Putin, China is the more stable and dominant power. As Russia suffers setbacks in Ukraine and is bombarded by economic sanctions, they claim that Russia is increasingly becoming the "junior partner of a resurgent Communist China."
However, your Bible prophesies that Russia will soon emerge as the dominant power and will lead China and a colossal Asian power bloc. Revelation 16:12 calls this future multinational Asian axis "the kings of the east." Revelation 9:16 says it will field an army of 200 million men—many times larger than any force ever before assembled. Ezekiel 38:2 provides details about the group's leadership, saying it will be headed by the "prince of Rosh, Meshech, and Tubal" (New King James Version). These are ancient names indicating Russia and the Russian cities of Moscow and Tobolsk. Trumpet editor in chief Gerald Flurry writes in The Prophesied 'Prince of Russia' that this "prince" could only be one man: Vladimir Putin.
"His track record, his nationality and his ideology show that he is fulfilling a linchpin Bible prophecy," Mr. Flurry writes. "The time frame of his rule also shows that nobody else could be fulfilling the Ezekiel 38 and 39 prophecy."
Ezekiel 38 goes on to list names for several Asian nations that will join in the Russia-led bloc, including what the King James Version renders as Ethiopia and Libya in verse 5. A better translation there would be "Cush" and "Phut," which refer partly to the peoples of modern India and possibly Pakistan. Mr. Flurry also writes that the "giant swath of land" that the "prince" is over indicates that he "will probably conquer more nations of the former Soviet Union." We see several of these nations already unifying under Russian and Chinese power within the framework of the sco.
China and Russia are the giants driving the amalgamation of Eastern countries, and the sco may prove to be one of the main vehicles they use to further that aim. For a more in-depth study on Russia's role in the end time, request a free copy of The Prophesied 'Prince of Russia.'