Excavation Underway in Jerusalem
The new Armstrong Institute of Biblical Archaeology gets to work.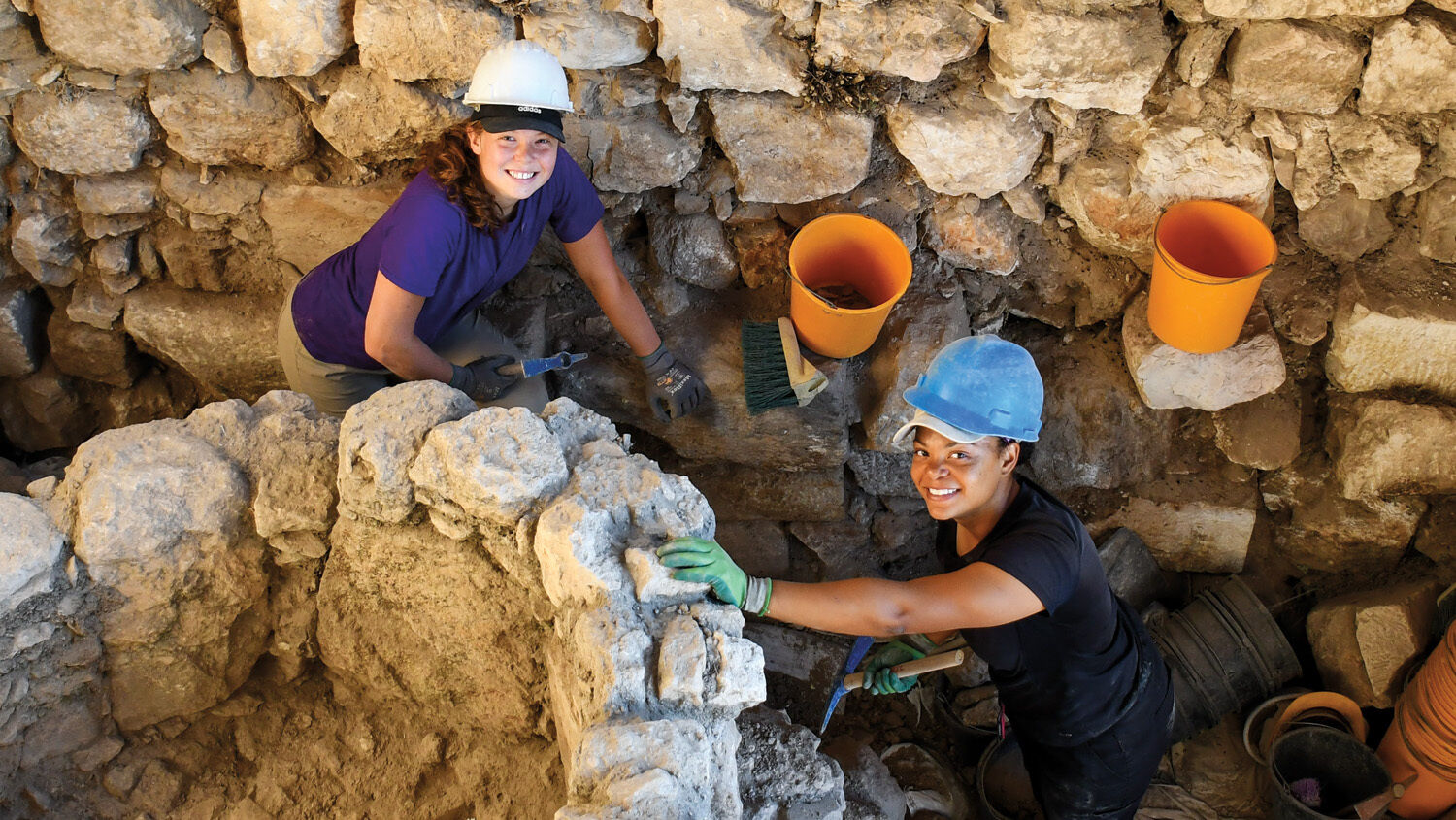 Excavation Underway in Jerusalem
The new Armstrong Institute of Biblical Archaeology gets to work.
Jerusalem is where archaeology uncovers the empires of past centuries and millenniums and brings biblical history, and even prophecy, to life. The publisher of the Trumpet is again participating in scientific excavations in this spectacular and storied city.
In January, Trumpet editor in chief Gerald Flurry established the Armstrong Institute of Biblical Archaeology as a nonprofit academic and educational institution headquartered in Jerusalem. Its main goal is to share and promote Israel's biblical archaeology and history.
The institute hosts an engaging new website, ArmstrongInstitute.org, offering articles, videos, visuals and podcasts of Israel's biblical archaeology. It also publishes Let the Stones Speak, a bimonthly print magazine focused on biblical archaeology and history.
In July, aiba signed a three-year lease on a beautiful building: a three-story, Arab-style villa originally constructed in 1926. The institute's new home is in Rehavia, one of Jerusalem's preeminent neighborhoods, a short stroll from the residences of both Israel's president and prime minister. Following seven weeks of renovations, the Armstrong Institute staff moved into the new building at the end of August. It provides residential and office space, an area for small archaeological exhibits, and room for the combined libraries of archaeologists Dr. Eilat Mazar and her grandfather, Prof. Benjamin Mazar. The institute acquired these libraries following Eilat's death in May 2021. The collection of approximately 4,000 books (plus another 4,000 archaeology- and history-related books we acquired from Hebrew University) represents a wealth of crucial historical and scientific knowledge revolving around the most historic and important city on Earth. The library will be opened to the public upon request.
The latest excavation commenced on July 12. aiba staff and Herbert W. Armstrong College students excavated on the Ophel in Jerusalem, further exposing a Second Temple structure that was partially uncovered in 2018.
The Ophel is one of the most important places in Israel, both historically and archaeologically. This area lies north of and adjacent to the City of David, the capital of Israel's most famous king. It was on the Ophel that King Solomon constructed his impressive palace, a massive royal armory (see 1 Kings 7), a series of fortification walls and gatehouses, and most notably, the temple.
The Ophel was the seat of government and religion for the kingdom of Israel and then the kingdom of Judah for roughly 400 years, from the middle of the 10th century b.c. to the fall of Jerusalem in 585 b.c. The area remained crucial throughout the Second Temple period, from around 445 b.c. until Jerusalem again fell in a.d. 70.
Though this is aiba's first official excavation, it is actually our eighth. Students from Herbert W. Armstrong College have conducted archaeological excavations with the late Jerusalem archaeologist Dr. Eilat Mazar through the Armstrong International Cultural Foundation since 2006, and most of these have occurred on the Ophel. Together we uncovered some incredible finds, including large fortification walls built by King Solomon, the bullae of King Hezekiah and Isaiah the prophet, a large cache of a.d. 70 Jewish Rebellion coins and the stunning gold Menorah Medallion.
After a four-year break, we were excited to return to the Ophel. Though we miss Dr. Mazar greatly, we are now privileged to work under the direction of one of her good friends and colleagues, Prof. Uzi Leibner. Professor Leibner is the head of the Hebrew University Institute of Archaeology and specializes in Greek, Roman and Byzantine periods. He is also an outstanding teacher. On the dig, he routinely educates our diggers on what they are uncovering and readily shares his thoughts on new finds.
We are also digging alongside our good friend, archaeologist Amir Cohen-Klonymous, who served as area supervisor over the beautiful Second Temple Herodian steps. The other area supervisor is aiba researcher and writer Christopher Eames, who is overseeing the excavation of the subterranean tunnel network. aiba supplies all the funding, most of the labor and, with Professor Leibner, much of the organization and planning.
2022 has already been a busy year for aiba, and there is much work still to do. Mr. Flurry and the aiba team have more ambitious projects planned. If you are interested in uncovering the incredible, moving biblical history of Jerusalem, visit ArmstrongInstitute.org.
AIBA Objectives
To promote the Bible as a credible and essential historical resource in the practice of archaeology in Israel
To feature and continue the archaeological work of Dr. Eilat Mazar and her grandfather, Prof. Benjamin Mazar
To analyze and explain archaeological excavations and discoveries past and present in the context of the Bible
To challenge the unwarranted and unsupported criticisms leveled against the use of the Bible in archaeology in Israel
To encourage archaeologists to consider and employ Bible history in the practice of archaeology