Is Your Coffee Spying on You?
The dangers of a society where everything is watching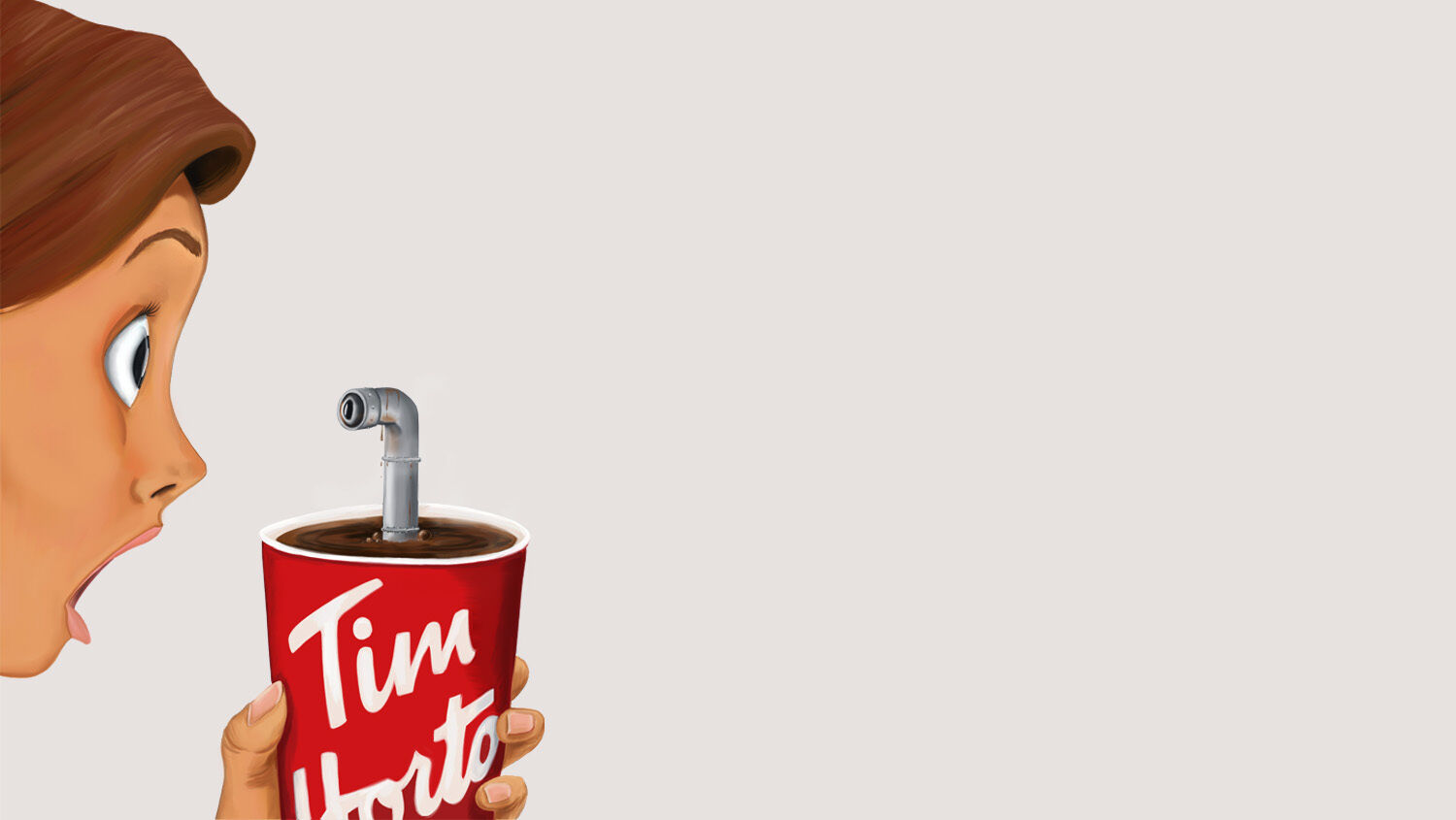 Is Your Coffee Spying on You?
The dangers of a society where everything is watching
In Canada, Tim Hortons is everywhere. With 4,300 branches, it is roughly three times more numerous than McDonald's. Eighty percent of Canadians stop by at least once a month.
And Tim Hortons is watching.
Six million Canadians, out of an adult population of 31 million, use the Tim Hortons app to order their drinks. One of those was the Financial Post's James McLeod, who noticed the app tracking his location and filed a freedom of information request to learn more. "From my home to my office to a Blue Jays game at Rogers Centre, even all the way to Morocco, where I traveled on vacation last June, the company's app silently logged my coordinates and relayed them back to its corporate servers," wrote McLeod. Based on this data, Tim Hortons figured out where McLeod lived.
If you care about privacy, then it's clear what you have to do: Make your own coffee.
But even that might not be enough. Christopher Balding of New Kite Data Labs discovered Chinese-made smart coffee machines sending data back to Beijing. The Kalerm machines gathered information about who used them, where they lived, and, if they were used commercially, payment data.
It's easy to dismiss such "scandals." So what? you may think. The Chinese Communist Party knows how I like my coffee.
But this is about far more than coffee. It's an example of how common and even mundane high-tech surveillance has become.
For Sale: You
The combination of smartphones and smart homes means an unprecedented amount of private data is now out in the open. Often, your location information is available for purchase by the highest bidder.
Many of the buyers want the ability to market their product to exactly the right consumer, at the right time and place, to maximize their chances of getting a sale. This has become so common and automated we're desensitized to it. It's why, when you search for shoes on Amazon, ads for exactly that size and type of shoe follow you around the Internet for weeks afterward.
Now it's happening offline too. Download the app of a store or mall, and you'll probably be offered some exclusive deals. The app may also log where in the store you spent the most time and which items you probably looked at. Now the products you looked at offline will stalk you around the Web too.
This data is combined and sold—maybe for marketing, maybe for worse. It's hard to imagine an innocent use for a list of data from rape victims or victims of domestic abuse. But it's all available: $79 gets you the personal details of 1,000 raped women.
Some of the top customers of this type of data are governments. In the United States, the Internal Revenue Service, Department of Homeland Security and other federal agencies buy data from companies like X-Mode and Venntel. X-Mode compiles data from over 100 different apps. Democratic Sen. Ron Wyden accused the government of using "its credit card to get around the Constitution and purchase sensitive information without a warrant." Government lawyers claim that because consumers voluntarily give their data to these apps, the government can ignore constitutional restrictions on government prying.
In Canada, it's not just coffee shops using this data. In December 2021, the Public Health Agency of Canada admitted to tracking 33 million cell phones during the pandemic. They contracted with BlueDot to track how closely Canadians obeyed lockdown restrictions, tracking when people left their homes, how far they traveled, and for how long.
Perhaps the most concerning example relates to the Jan. 6, 2021, protests at the U.S. Capitol. The Federal Bureau of Investigation used data from Google to track those who attended and then issued over 10,000 warrants. Here the administration is punishing those who attended a protest it didn't like, and using smartphone data to do so.
Who's Listening at Home
These practices are moving into the home. Like smartphone data, smart home data is also up for sale. "Continuous customer engagement and delivering superior customer experience gets a whole lot easier when you know what's happening in your customer's life at any given point in time," boasts one data broker.
What kind of data could this include? "What consumers do first thing in the morning, how they interact with your device, where they like to spend the weekend, and so on," states the website. "It can be used to understand your consumer behavior better."
Security on smart devices is notoriously bad, so it may not just be data brokers watching you. Take smart tvs with a built-in camera. The fbi's Portland field office warned, "Beyond the risk that your tv manufacturer and app developers may be listening and watching you, that television can also be a gateway for hackers to come into your home."
Intelligence agencies are among those worming their way into these devices. WikiLeaks published details of a tool called Weeping Angel, developed by the Central Intelligence Agency and MI5, that turned Samsung smart tvs into undercover moles. It gave these agencies access to the microphone, the Wi-Fi credentials and browser history.
Manufacturers of smart speakers and home camera devices generally give data to the government when served with a warrant. Some manufacturers are very opaque about their relationship with the government, so it's hard to know how much they hand over. But at least these relationships are restricted by warrants—though as the January 6 protests show, this legal caveat can also be abused.
Overseas, it is easy to imagine worse outcomes. Scotland recently extended "hate speech" laws into the home. Certain sentiments are forbidden by law even in a private setting. How long before someone is prosecuted for comments overheard by their smart speaker?
Ties to China are even more concerning. Kalerm's coffee machines are not the only smart devices made by companies tied to the Chinese Communist Party. "China is really collecting data on really just anything and everything," Christopher Balding said. "As a manufacturing hub of the world, they can put this capability in all kinds of devices that go out all over the world" (Washington Post, June 14).
Microphones are appearing in more and more devices. It's not just the smart speaker from Amazon. It's also the smart vacuum cleaner or kettle from some little-known Chinese brand.
One of the biggest players in the smart home market is Tuya; over 5,000 brands include Tuya's devices in their products. They sell over 1,000 different types of smart devices and have sold well over 100 million products. Like all Chinese companies, they're required to turn over any data China's government demands. Tuya could "siphon the masses of data—including classified government data—created and shared on its networks, and make it available to the Chinese government," wrote the Hill. "Tuya may well be funneling the information picked up on home security cameras and connected health devices—just to name two examples—back to Beijing" (July 30, 2021).
Last year, tech security company Dark Cubed picked 10 smart devices sold in the U.S. Every single one "had a business connection to China and every product was observed communicating with infrastructure in China, without our permission," it wrote.
Sleepwalking Into Surveillance
In June, China gave us an alarming example of what this technology makes possible.
Some Chinese banks were running out of cash and began blocking some depositors from withdrawing money. Angry depositors planned a protest in the province of Henan. Their plan failed.
China requires a covid passport to travel. Those planning to protest suddenly saw their health codes turn red, locking them in place. Others who planned to travel to Henan but not to protest were unaffected. The government knew who was likely to protest and locked them in place electronically. "They are putting digital handcuffs on us," complained one failed protester. Another said, "I can't do anything; I can't go anywhere. You're treated as though you're a criminal."
The U.S. government is already arresting those who attended a protest it disliked. It's not hard to imagine it taking similar action.
Yet in general, we're remarkably unconcerned about all this surveillance. Or rather, many are concerned but not enough to do anything about it. We're not keen on businesses tracking us and selling our data, but not enough to change our behavior or force those businesses to change. Smart tech is just too convenient.
But this technology is giving governments around the world unprecedented reach into our lives. And that gives them unprecedented power.
"Government tyranny is routine in human history," writes Gerald Flurry in his new book America Under Attack. "Let's not be naive and think something like that could never happen here. Our forefathers weren't stupid. They wanted to guarantee Americans' freedom. They knew that God is a God of freedom; He wants us to be free. That is a gift from God, and they understood that!"
The spread of this technology and its use by the government happened largely while Barack Obama was president. Since then, key institutions like the cia and fbi have remained under the control of the radical left. During Obama's tenure, Robert Morley wrote in the Trumpet, "Perhaps many or even most of the people being targeted by agents at the [National Security Agency] and other law enforcement agencies are actually threats to the U.S. But the larger problem is that these agencies are expanding rapidly under an administration that actually disdains the law that it is sworn to uphold!" (May-June 2014).
The Bible describes this time as being one of "very bitter" affliction for the modern nations of Israel: Britain and America. There "was not any shut up, nor any left, nor any helper for Israel" (2 Kings 14:26).
If the government is in your home and in your pocket, it is difficult to maintain a free society. And the dangers from abuse by governments at home or abroad are enormous.
The radical left is working to transform America from a constitutional republic, and they are using the power provided by such surveillance as a weapon. As America Under Attack shows, the Bible warns that God Himself will have to save America from this kind of tyranny.
But the Bible also warns that unless we change, America will go right back into tyranny—this time imposed from abroad. Absent America's commitment to freedom, other countries are rising up. They are prophesied to impose their rule by force and could easily take advantage of this kind of technology.
Yet as Mr. Flurry wrote, God is a God of freedom. All this is part of His plan to bring freedom to the world—freedom from tyranny, and freedom from the painful addictions and sins that hold this world in thrall.