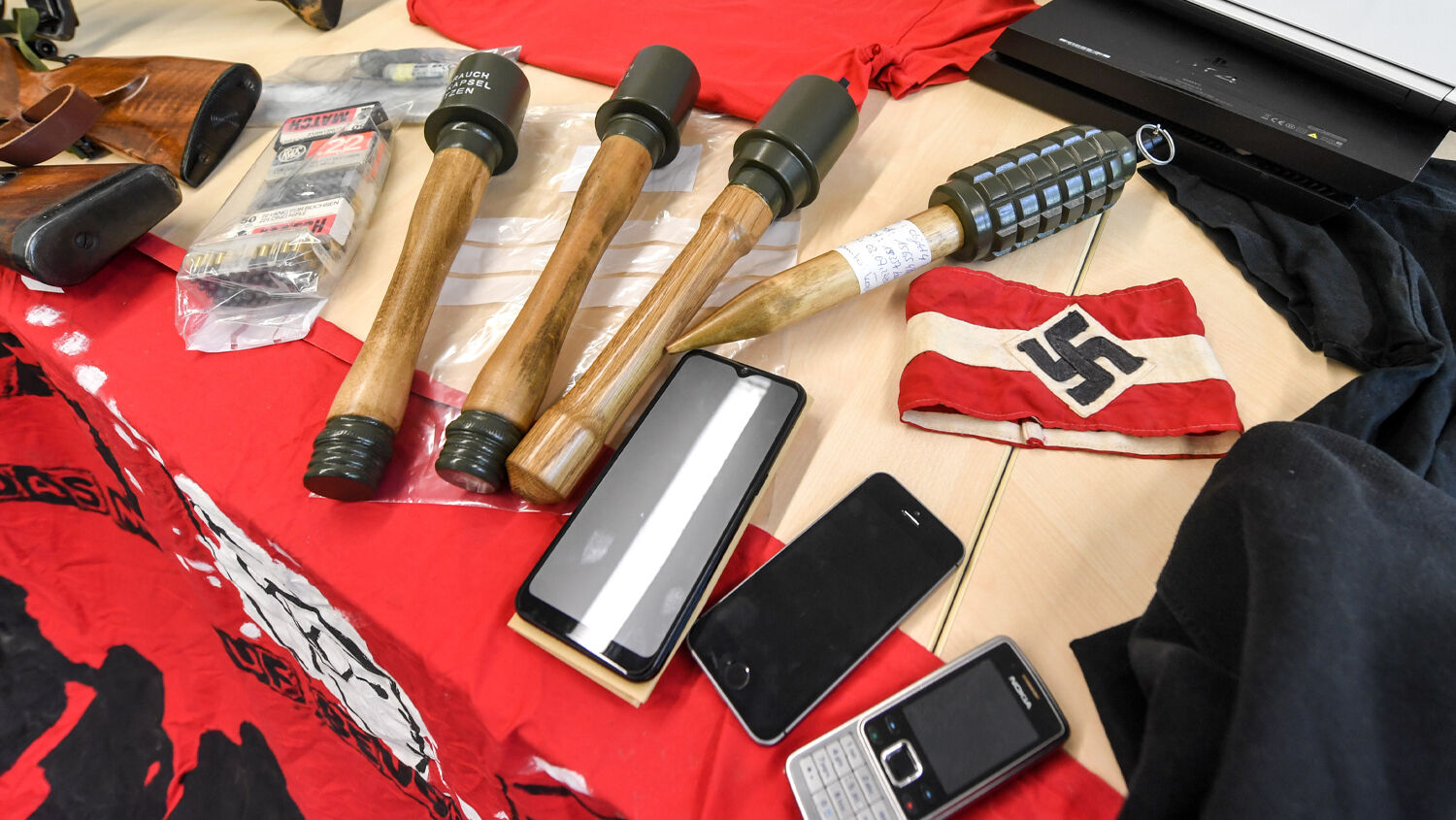 A Rising Number of Neo-Nazis Underground in Germany
Violent extremists are only a small part of the problem Germany is facing.
The number of criminal right-wing extremists roaming free in Germany is increasing. As of Sept. 30, 2021, Germany's Federal Criminal Police Office registered 596 right-wing extremists, up from 266 in 2011. Arrest warrants have been issued, but the criminals can't be prosecuted because they have gone underground.
Ten years ago, the so-called National Socialist Underground (nsu) was exposed to the public eye. The nsu was a neo-Nazi terrorist group that committed 10 murders between 2000 and 2007. They killed people, robbed banks, and threatened individuals for years without being detected by investigators. While officials say the nsu has ended, the underground nature of right-wing extremism hasn't.
In Bavaria, the police are searching for 128 right-wing extremists. In Germany's most populous state, North Rhine-Westphalia, they are searching for 98 individuals; in Berlin, 56; in Saxony, 47; in Thuringia, 42; in Lower Saxony, 30; in Hesse, 21. Süddeutsche Zeitung pointed out that in the past three years, the number of those who have committed a violent crime has more than tripled, with 23 in 2019, 30 in 2020, and 87 in 2021—all of them are hiding from prosecution.
Germany's Interior Ministry reported in 2021 that the number of politically motivated crimes increased significantly by more than 23 percent to 55,048 offenses, the highest level since record keeping began in 2001. Politically motivated acts of violence also increased by 16 percent to 3,889 offenses. In 41 percent of the cases, the motivation is said to be right-wing extremism. Anti-Semitic crimes reached a high of 3,027, a 29 percent increase.
While left-wing and Islamic extremism are also present, the number of right-wing extremists is most concerning in regards to Germany's history.
A new report published in May indicates that the number of extremists who are federal and state security authorities is higher than assumed. Over a period of three years, 327 employees have been identified with extremist views; 860 cases have been investigated upon suspicion. That is about nine times as many cases as in the first management report. Employees in security agencies pose a particular threat. "They have special knowledge, access to sensitive data and, under certain circumstances, weapons," Interior Minister Nancy Faeser explained.
Extremism researcher Hajo Funke told Welt am Sonntag, "The development described in the current situation report is politically highly dangerous. We now see that moss-like, i.e. underground and barely recognizable, networks have emerged between employees in the security agencies and the right-wing extremist milieu." Funke claims that not enough has been done to counter this and that the investigation is only the beginning and only part of the solution. But a thorough investigation faces much resistance. Rainer Wendt, chairman of the German Police Union, for example, rejects the "singling out" of a single occupational group, such as the police.
But the stakes for Germany are higher than most people think. If Germany doesn't overcome its Nazi past, it is set to repeat it. Even though most Germans don't realize it, a plan is underway to transform Germany into a tyrannical and warmongering nation again.
In The Nazis Go Underground, Curt Riess documented in 1944 the Nazis' plans to go underground. The plans are much more sophisticated than most realize. Even before Germany surrendered, some Nazis went underground to escape occupying forces. Some even joined the resistance against Adolf Hitler to sell their case. After the war, they were allowed to continue the operation. The underground Nazis kept Germany's World War ii ambition alive.
In Germany and the Holy Roman Empire, Trumpet editor in chief Gerald Flurry highlights how this underground movement has impacted Germany's security apparatus. In "Rising From the German Underground," he highlighted the industrialists' role in it. These warnings are informed by Bible prophecy and backed by history and current affairs. "The beast that thou sawest was, and is not; and shall ascend out of the bottomless pit, and go into perdition: and they that dwell on the earth shall wonder … when they behold the beast that was, and is not, and yet is" (Revelation 17:8).
"The word translated 'bottomless pit,' or abyss, in verse 8 actually means underground," Mr. Flurry explains in Germany and the Holy Roman Empire. "That's where the Nazis have been since before the end of World War ii." This underground movement was able to deceive the whole world about its existence and is about to lead many ill-informed Germans into another world war. People may dismiss the occasional report about extremists in Germany, but Germany's geological ambitions are shaped by this underground movement. To understand more, read "Rising From the German Underground."