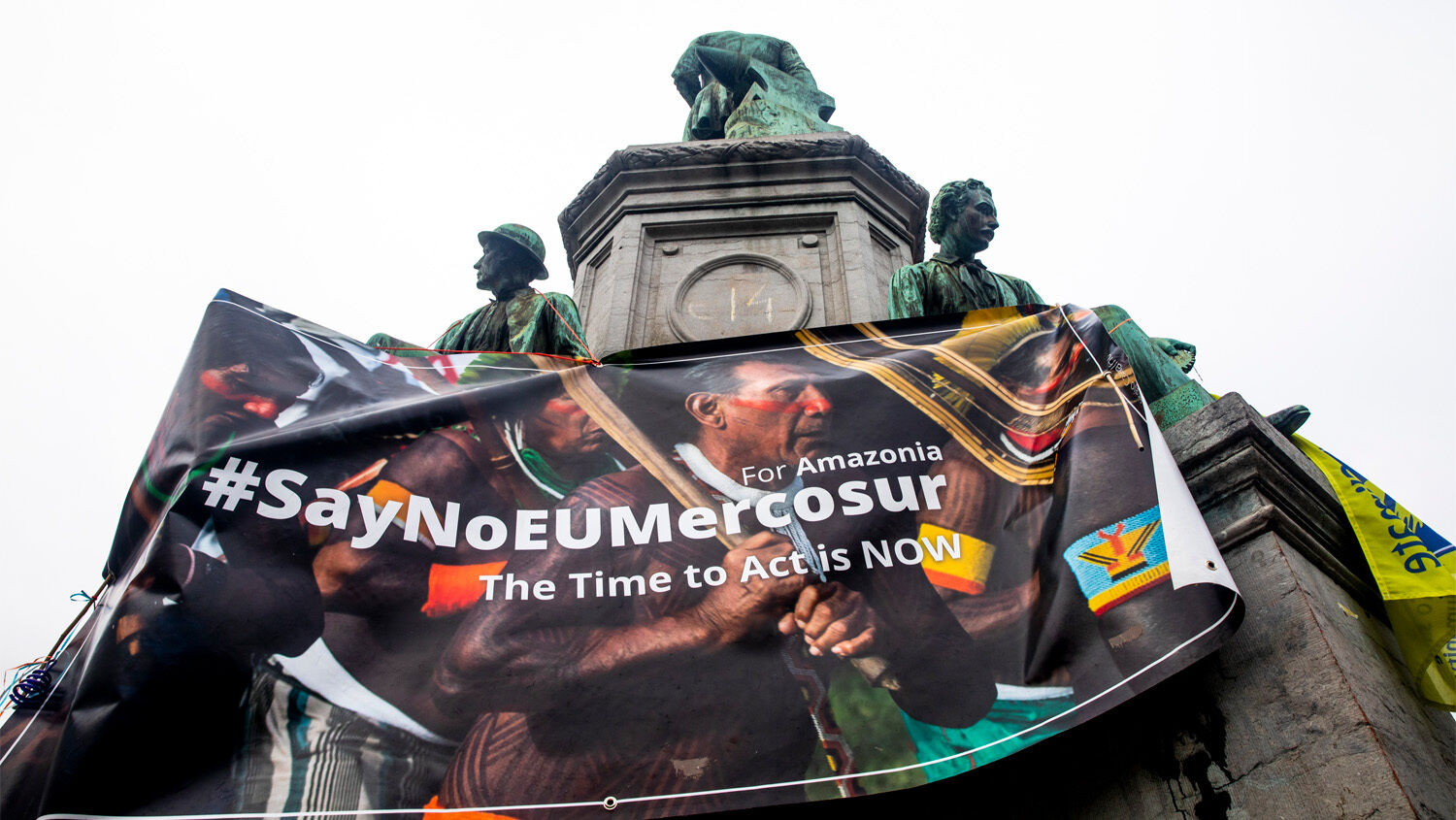 Could the War in Ukraine Bring Europe and Latin America Closer?
Decades of negotiations may come to an end.
For decades, the European Union and an alliance of Latin American countries have worked to increase their ties, without a significant breakthrough. But Russia's war in Ukraine could change the dynamics. The German think tank dgap wrote on April 19: "The economic consequences of the war in Ukraine can be the starting point for closer and broader economic relations between the EU and Latin America."
The EU's new "strategic compass," which was approved in late March, included a section on drawing closer to Latin America, saying, "We must deepen our partnership with Latin America, building on the specific security and defense dialogue with Colombia and Chile."
In 2019, the Latin American trade bloc mercosur and the EU announced the first draft for the long-negotiated free-trade agreement. The agreement is set to create the largest free-trade area in the world, covering 780 million people, with an annual economic output of more than $20 trillion. Brazil, Argentina, Uruguay and Paraguay are at the core of mercosur.
Although the agreement negotiations came to a standstill, the recent crisis could add the necessary pressure to resume them. dgap noted:
This is an opportunity to give new impetus to the stalled mercosur-EU agreement. In some areas such as wheat or natural gas, mercosur countries could compensate—only to a limited extent and in the medium term—for the loss of supplies from Russia and Ukraine. …

The signing of the EU-mercosur agreement would be a clear signal from both sides to expand their cooperation and stabilize the international economic order. …

The EU should not just "talk" about Latin America as a strategic partner. In the context of the current threat to Europe, the EU should also "make" Latin America a strategic partner.
Despite the many obstacles this agreement has faced, the Trumpet continues to predict that a deal will be struck. In 2019, Trumpet editor in chief Gerald Flurry wrote:
The EU has wanted to make this deal for years, but it has encountered various obstacles. Now it appears an EU-mercosur trade bloc will finally become reality; officials believe it will happen this year. It would be the world's largest trade bloc.

We have been prophesying for over 60 years that this deal will happen. This forecast is based on biblical prophecy. And it will have repercussions we need to think about carefully. It is destined to lead to some very dark days for America, if we don't heed prophecy and realize what God has to say about it.
In "America Is Being Besieged Economically," Mr. Flurry highlighted dire prophecies of America's coming fall in Leviticus 26 and Deuteronomy 28. A deal between the EU and mercosur could lead to the fulfillment of these prophecies. Latin America typically places high tariffs on imported goods. If those tariffs are lifted for the EU and remain for the United States, it would mark a big win for German industry.
America's fall is prophesied to be sudden. Deuteronomy 28:52 reads: "And he shall besiege thee in all thy gates, until thy high and fenced walls come down, wherein thou trustedst, throughout all thy land: and he shall besiege thee in all thy gates throughout all thy land, which the Lord thy God hath given thee." As the late Herbert W. Armstrong explains in The United States and Britain in Prophecy, this is a prophecy for our day.
The Bible indicates that Germany is methodically planning to besiege America economically, leading to its sudden collapse. America is already in great financial trouble and dependent on Russian fertilizer and the German-owned agricultural company Monsanto. What's more, Asia and the Middle East are growing increasingly hostile toward the U.S. All these factors indicate that the U.S.'s fall is imminent.
These developments are troubling. We are facing the fall of the greatest force of stability in recent decades. The United States of America has failed to obey God and instead has chosen the ways of this world, which lead to destruction. The good news is, God is about to intervene and enforce His laws of prosperity and peace.
For greater detail regarding these prophecies, request a free copy of The United States and Britain in Prophecy, by Herbert W. Armstrong.