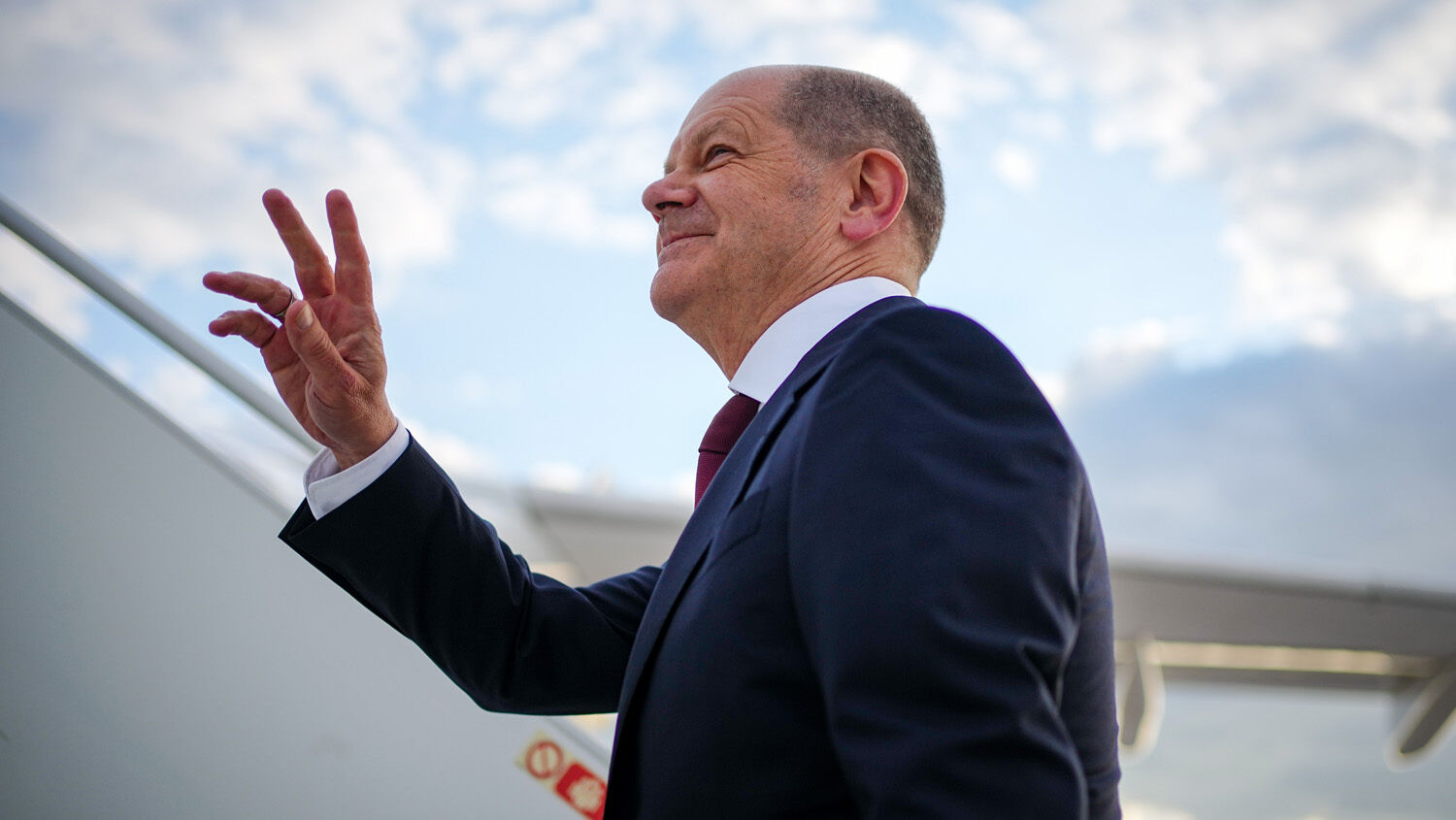 Will Germany's Chancellor Be Ousted?
German Chancellor Olaf Scholz appears arrogant and unwilling to change course despite opposition.
In response to criticism regarding his leadership throughout the Ukraine crisis, German Chancellor Olaf Scholz said: "I don't do what you want; I lead" (Trumpet translation throughout). Yet two thirds of Germans consider Scholz's leadership as weak, according to a study published by Spiegel Online on April 19. His decision to delay and deny weapons to Ukraine is in complete opposition to popular demand. Members of his coalition and opposition believe that if Scholz doesn't change his stance, he may have to go. Just a few months into Germany's new coalition government, Germany appears leaderless.
"Chancellor Olaf Scholz remains true to his style: Tactical caution, saying nothing concrete, and doesn't risk any trouble," Spiegel Online wrote on April 21. "This method has reached its end in the war. … He seemed annoyed by the stupid war, which constantly causes him trouble and spoils his time in the chancellor's office, which he supposedly has been waiting for since he was 13." Europe is in utter disbelief: The German chancellor appears completely unwilling to lead. On top of being weak, Scholz is arrogant. He doesn't listen to criticism, he ridicules opposing views, he is unwilling to compromise, and he is unwilling to cooperate with others.
We at the Trumpet have noted that Scholz's coalition is fragile. Before it was sworn in, we wrote: "Germany's next government might be on the brink of driving itself off a cliff. Or it could simply stall. Either way, its future does not look rosy" (Nov. 29, 2021). But Germany's leadership crisis is progressing faster than most expected—due, in part, to Russia's atrocities.
Both Scholz and the governing Social Democrats are extremely close to Russia. This relationship is considered a reason for their weakness. At an opportune time, his coalition partners, the Greens and Free Democrats, and the opposition party, the Christians Democrats, could band together to oust Scholz. "We … have the problem that we have a chancellor who does not lead sufficiently," Green Party politician Anton Hofreiter told Welt on April 19.
"Never before has Germany been so isolated and apathetic in an international crisis," said Hendrik Wüst, state premier of North Rhine-Westphalia.
Spiegel International summarized the criticism from European neighbors and from Germans themselves in "Discontent Grows in Berlin Over Chancellor's Ukraine Response." It wrote on April 19: "The most drastic words so far have come from former Lithuanian President Vytautas Landsbergis. On Wednesday, he sent a letter to Scholz and [German President Frank-Walter] Steinmeier in which he gave both of them a direct share of the blame for Putin's criminal war. 'Every single day when you pay for Russian oil and gas, you pay for Putin's tanks to rampage through Ukrainian land, you pay him to kill, maim and destroy,' he wrote." But Scholz appears to have little concern about this.
Raphaël Glucksmann, a journalist and politician from the left-wing ecologist French party Place Publique and son of the late philosopher André Glucksmann, wrote on Twitter, "Chancellor Scholz just reiterated it: We can't count on Berlin to defend European principles and strategic interests." Scholz's position on the energy embargo and arms supply shows that the "change we all hoped for has not happened," he said. "This war puts an end to German leadership in Europe." Welt published his comments on April 21.
The Spectator wrote: "Olaf Scholz has been caught red-handed misrepresenting facts about weapons deliveries to Ukraine. Behind the scenes, he is busy frustrating efforts to help the country, while pretending to be outraged about Vladimir Putin's aggression. Double games work until they don't. His policies are now being exposed by the media."
Germany's opposition leader, Friedrich Merz, is taking advantage of Scholz's weakness, trying to split the coalition. He's appealing to Scholz's partners to abandon the chancellor and support someone who will stand up more forcibly for Ukraine.
If Scholz is ousted, Merz may even work to be inaugurated as Germany's new chancellor, returning Christian Democrats to power.
But in the current crisis, few would want to be in Scholz's shoes: Amid all the criticism, he is facing strong pressure from Germany's industry and military.
German Deputy Inspector Maj. Gen. Markus Laubenthal ridiculed calls to send armed vehicles to Ukraine. He claimed Germany doesn't have enough and needs to be able to fulfill its own obligations to the North Atlantic Treaty Organization. Leaders in Germany's chemistry industry support Scholz's decision to embargo Russia's gas, claiming they depend on it for their factories that have been designed specifically for those gas supplies. Even Pope Francis refused to call Russia an aggressor in this war when he delivered his annual Easter message.
These pressures and Scholz's general closeness to Russia explain his lack of support for Ukraine. Scholz may thus appear to be a useful tool for some. Whatever the case may be, the rest of Europe looks in vain to Germany, hoping for leadership where there is none.
In "Europe Is About to Be Hijacked," Trumpet editor in chief Gerald Flurry wrote in our November-December 2021 issue:
Europeans are facing great crises, including economic instability, terrorism and illegal immigration, rising threats from Asia. In times of crisis, people are less concerned about democratic norms. They need strong leadership. That has to come from Germany, which dominates and even domineers Europe today. It is the powerhouse.

In the end, 10 kings will give their military might to one man, and will form a superpower that will shock the world! We believe there will be one supreme king over 10 kings. (There is a slight possibility that there could be just 10 kings total and that the leadership would come out of Germany.) But whether this prophesied ruler will hold a position in Germany or not, he will rule Germany and the rest of this European conglomerate.
I encourage you to read Mr. Flurry's article; it becomes more relevant with each passing day. Since this article was published, the crises in Europe have escalated and calls for a European army have grown stronger. At the same time, Germany's leadership vacuum has been exposed. Both of these crises have been prophesied to occur simultaneously. Revelation 17:12-13 read: "And the ten horns which thou sawest are ten kings, which have received no kingdom as yet; but receive power as kings one hour with the beast. These have one mind, and shall give their power and strength unto the beast."
As Mr. Flurry explains and the context of the chapter shows, this prophecy is for our time—right before the return of Jesus Christ (verse 14). The prophecy reveals that European leaders will give their military power to an overarching leader in a time of great crisis. We will soon see how this prophecy is fulfilled.