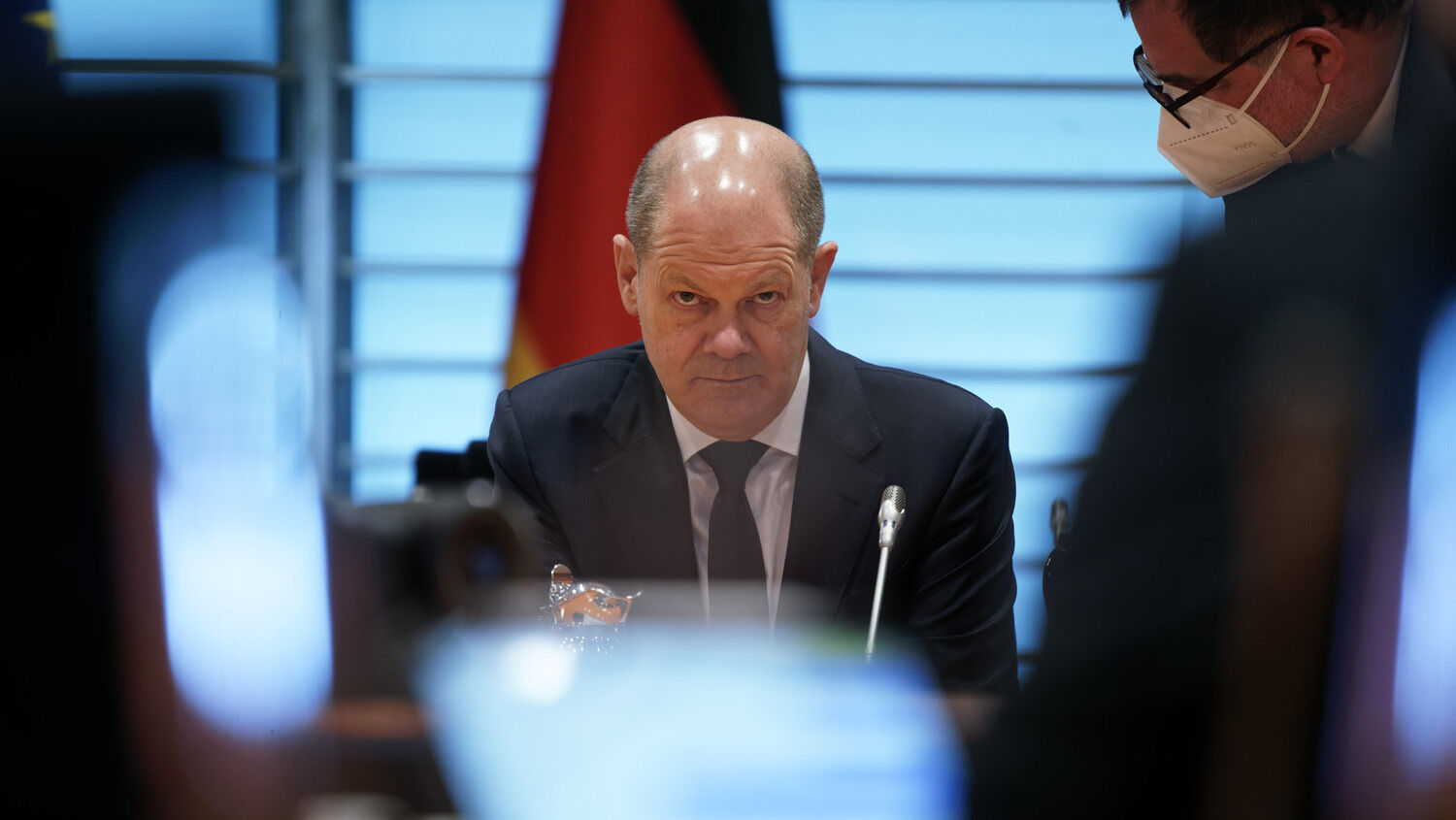 Germany and Russia Are 'Pulling Together'
It is becoming increasingly clear who Germany is really standing in solidarity with.
On February 27, German Chancellor Olaf Scholz announced that Germany would support Ukraine. Before that announcement, Germany refused to send defense weapons to Ukraine and even blocked other countries from sending weapons. Yet despite the February 27 announcement, Germany's attitude toward Ukraine and Russia hasn't really changed.
Germany is coming under increased pressure as more and more devastating pictures emerge from Ukraine. European Union members and the German population expect drastic changes in Germany's relations with Russia. "Olaf Scholz's change of course on February 27 was driven by fear—not courage," Welt's foreign policy editorial head Klaus Geiger wrote in "The German Government Is Now Partly to Blame for the Massacres in Butcha and Mariupol." "Ukraine was lied to, and behind the scenes, the closeness to Russia remained. This was another reason why the Butscha massacre was possible."
Early on, Germany played a key role in blocking the EU from sanctioning Russian energy and Russian banks. On April 4, Polish Prime Minister Mateusz Morawiecki said that "it's Germany that is the main roadblock on sanctions." Germany's betrayal of Ukraine was clear from the day Russia invaded.
Ukrainian Ambassador to Germany Andrij Melnyk said that following Russia's invasion German Finance Minister Christian Lindner told him with "such a polite smile" that the Ukrainians' defeat had long since been sealed. "You have only a few hours left," he said and added that supplying weapons or excluding Russia from swift was pointless. Lindner believed that a Russia-occupied Ukraine with a puppet government would be imminent. "That was the worst conversation in my life," Melnyk said.
While German Defense Minister Christine Lambrecht said that Germany is "the second-largest supplier of weapons" to Ukraine, Jeffrey Rathke, president of the American Institute for Contemporary German Studies, disagrees. He tweeted on March 28: "Hard to find comparative data, but U.S. provides over $1bn, UK $130m, Estonia $250m, Australia $50m. Media reports suggest [Germany] at $42m." And Germany has often blocked Estonia from delivering weapons. While the numbers may not be completely accurate, it is shocking to consider Estonia providing more weapons to Ukraine than the largest economy in Europe. After all, Germany is one of the largest weapons exporters in the world.
Germany's words don't match its actions. "For weeks, the [German] defense minister ignored offers from industry for weapons to Ukraine. In response to parliamentary and journalistic pressure, the ministry said that Kyiv would be offered weapons after all. Now new questions are being raised," Germany's Welt noted on April 1 (Trumpet translation throughout).
On April 6, Welt wrote in "What the Ukrainians Need, Scholz Decides Himself": "Why is Germany not supplying Ukraine with infantry fighting vehicles? Chancellor Scholz presents several explanations in the Bundestag …. At the same time, he presents Germany's merits in an almost heroic way. He is sticking by his controversial defense minister."
Scholz noted that it was necessary to "protect ourselves against accusations that we supply things that have no military use." When taking questions from members of Parliament, Scholz explained that the German government bases its decision on what it believes Ukraine can use or has the trained personnel to use. By claiming Ukraine is requesting weapons systems that it cannot even use, "the chancellor evaluates what Ukraine needs," Welt noted.
The war in Ukraine is entering a different phase, which requires different defensive weapons—but Germany is only willing to provide the weapons Ukraine no longer needs. "In Ukraine, people are increasingly despairing of the German Defense Ministry's reaction, which is as slow as it is erratic," Welt noted.
Another scandal was exposed by Bild. According to Bild's research, the German government did not respond to a request from the Czech Republic to be allowed to sell Ukraine 50-year-old Soviet infantry fighting vehicles from stocks of the National People's Army. (The armed vehicles used to belong to Germany and thus required German permission to be resold.) Only after pressure and a crisis phone call between the Ukrainian defense minister and Lambrecht was the sale approved—three full weeks after the request was made.
Another recent example shows how the supposed support for Ukraine appears to be more of a support for Russia. In March, German President Frank-Walter Steinmeier organized a concert with the Berlin Philharmonic Orchestra and Ukrainian and Russian musicians. The chief conductor of the Berlin Philharmonic is the Russian Kirill Petrenko. The concert was advertised as a sign of solidarity with Ukraine. Yet Ukrainian Ambassador Melnyk rejected the invitation; to him, it appeared to give the wrong message. "Only Russian and no Ukrainian soloists—an affront. I'm sorry but I will not attend," Melnyk explained.
This is quite symbolic of German-Russian relations. It often seems as if Berlin politics are directed by Russian interests. Faz.net noted on March 28:
As recently as February 2021, Steinmeier had promoted Nord Stream 2 as one of the last "bridges" to Russia, citing its "checkered history with Russia." He recalled the Soviet victims of the German war and said, "That doesn't justify any wrongdoing in Russian politics today, but we must not lose sight of the bigger picture."

To Andrij Melnyk, this sounded as if the suffering of Ukrainians and Belarussians was beside the point. He was so outraged that a few months later he turned down the German president's invitation to an exhibition on Soviet prisoners of war at the German-Russian Museum in Karlshorst. Even when Steinmeier invited him to a solidarity concert for Ukraine over the weekend, Melnyk indignantly declined, citing the Russian soloists. As long as Russian bombs were falling, the Ukrainians had "no desire for great Russian culture."
Melnyk said, "For Steinmeier, the relationship with Russia was and remains something sacred."
German journalist Jan Fleischhauer shared a photo on Twitter showing Steinmeier and Russian Foreign Minister Sergei Lavrov on Twitter on March 27. "This photo is really interesting," he wrote. "It shows a familiarity and closeness that only happens when you think you are pulling together. I can understand if the Ukrainian ambassador @MelnykAndrij feels little desire to appear at concerts in the Office of the Federal President."
Only after the pictures of Russian atrocities were revealed over the weekend did Steinmeier feel compelled to apologize for his part in leading Germany into close ties with Russia.
Yet more and more evidence proves that Russia and Germany are indeed "pulling together."
In the November-December 2008 Trumpet issue, editor in chief Gerald Flurry wrote: "[D]id you know that Germany and Russia have probably already dealt with their most urgent differences? … I believe that Germany's leaders may have already agreed to a deal with Russia, a modern Hitler-Stalin pact where Germany and Russia divide countries and assets between themselves. This agreement would allow each to turn its sights on other targets. Any such deal that may have been struck between Germany and Russia is a precursor to war!"
German and Russian cooperation has been exposed on the international stage. Russia's atrocities are reminiscent of those in World War ii. Yet almost no one believes Germany is pursuing its own malicious strategy.
The Bible, however, warns of Germany's deceit. Everyone knows German history, but few know the Bible's prophecies about this nation. Mr. Flurry explains in Nahum—An End-Time Prophecy for Germany:
"Woe to the bloody city! it is all full of lies and robbery; the prey departeth not" (Nahum 3:1). The Companion Bible translates "bloody city" as "city of great bloodshed." The International Critical Commentary translates the expression as "bloody throughout." A "bloody city"—a bloody nation—has risen again. Its biggest blood-fest is yet ahead. But then God will make it a bloody nation in reverse. This time it will be on the receiving end!

Historians know the Assyrians have a bloody history. And modern historians know Germany has had an unparalleled history of causing bloody wars. What most historians don't know is that the Assyrians and the Germans are the same people. However, this fact is easy to understand — if you know secular history, Bible history and Bible prophecy. But even secular history alone should give you that understanding!

"[T]he prey departeth not"—there is a continual history of preying on other nations! The nations of Israel need to be warned about Germany's military strategy. Germany is "full of lies and robbery"—or, it could read, "deceit and murder." It is full of deceit! It doesn't just have a little deceit—it is full of it!
While everyone today looks puzzled at Germany and hopes that the country will experience a great turnaround in its relations with Russia, the Bible warns of deceit. Although the Bible does speak of a coming nationwide repentance, many Bible prophecies show that another world war will precede this outcome.
Request a free copy of Nahum—An End-Time Prophecy for Germany.