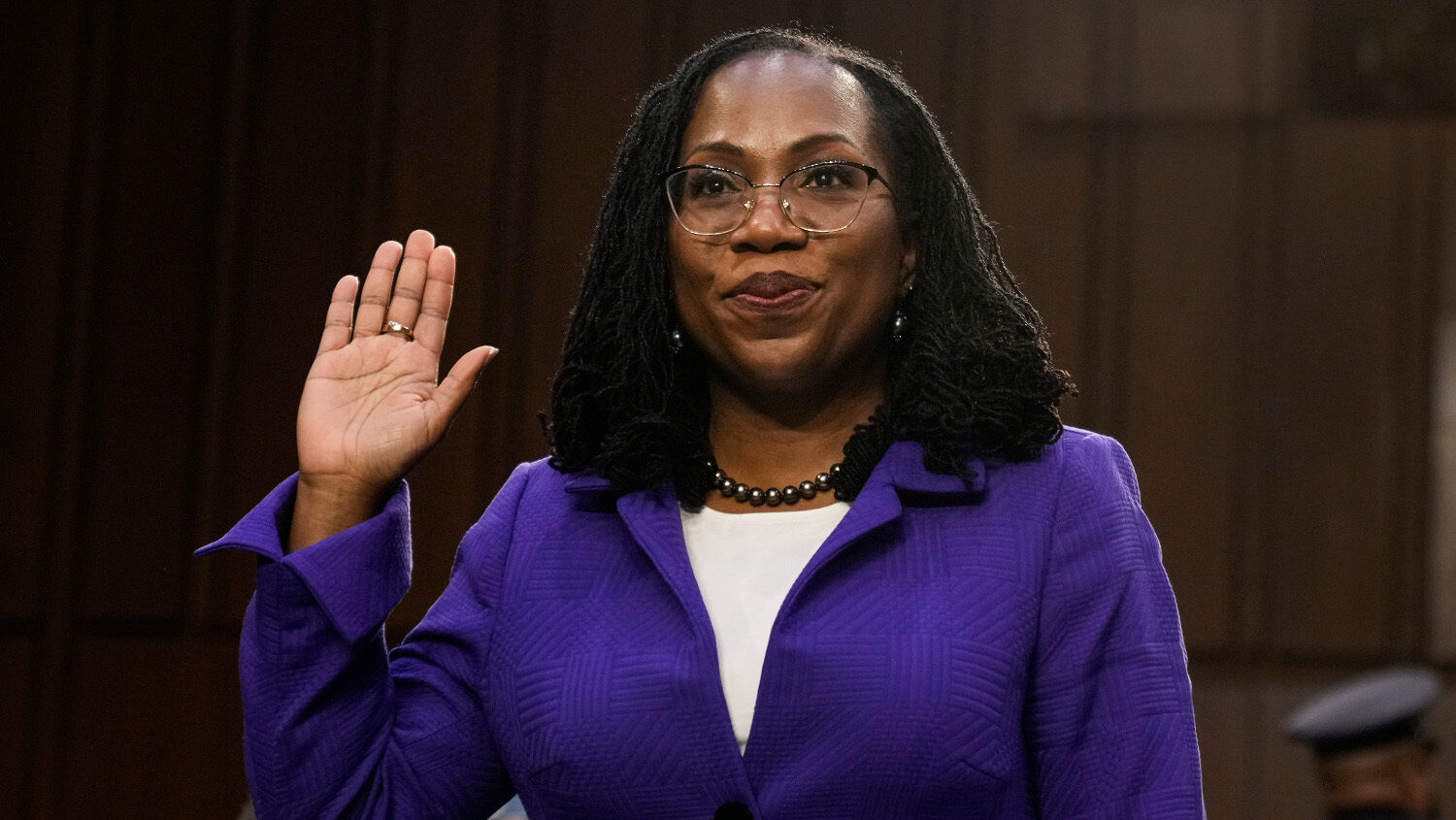 Joe Biden Nominates Abortion Extremist to Supreme Court
America's culture wars are about to get worse.
Pro-abortion demonstrators gathered outside the Supreme Court on March 21 demanding that the United States Senate confirm Judge Ketanji Brown Jackson to the Supreme Court. And they just might get their wish. After Joe Biden nominated Jackson to be the first black woman to sit on the Supreme Court, she garnered more public support than any Supreme Court nominee in almost two decades. Yet just because she is popular does not mean she is not radical. In fact, the Database of Ideology, Money in Politics and Elections tells us she is likely to be the most radical justice on the bench—to the left of Elena Kagan and even Sonia Sotomayor.
The nation got a glimpse of Jackson's radicalism during her confirmation hearings. After telling senators she would "support and defend the Constitution," she went on to defend abortion, critical race theory and her past history doling out very light sentences to those guilty of child pornography and other similar crimes.
Her pro-abortion stance will no doubt bring her into conflict with Justice Amy Coney Barrett and others who believe the Roe v. Wade court case that made abortion a federal right in 1973 should be overturned. A decision on the Dobbs v. Jackson Women's Health Organization case over the constitutionality of a Mississippi state law that bans abortion operations after the first 15 weeks of pregnancy is expected by the end of this year. Jackson's justiceship could be even more contentious than the outgoing Justice Stephen Breyer's presence.
Jackson has prioritized expanding abortion rights throughout her career. During her clerkship for Justice Breyer, she worked on Stenberg v. Carhart, which struck down a Nebraska law banning partial-birth abortion, in which "a fetus is partly extracted from the birth canal, feet first, and the brain is then suctioned out."
Granted, Jackson's confirmation will not greatly change the ideological composition of the Supreme Court as she would only be replacing her mentor, Stephen Breyer. Yet she is likely to be even more outspoken on contentious issues than the soft-spoken Breyer. The ideological divide in America's Supreme Court mirrors the ideological divide in American society, so contentious court rulings carry the potential for rioting and violence.
New Hampshire Sen. Cynthia Shaheen endorsed such violence last year, saying, "I think if you want to see a revolution, go ahead, outlaw Roe v. Wade and see what the response is … particularly young people."
The radical left is trying to spread abortion and other sins throughout America by using the Supreme Court to pass legislation that duly elected lawmakers will not pass. In some cases, this surreptitious activity has led to violence, which the radical left wants. They are trying to tear down the biblical values America was built on.
"It seems the radical left has virtually taken over the entire Democratic Party today, with few exceptions, Trumpet editor in chief Gerald Flurry wrote four years ago in "The Kavanaugh Hearings Reveal America's Lawless Spirit." "And they are pushing for conflict! They are cheering the groundswell of discontent and resistance. Even the mainstream press will not denounce such gross behavior. They eagerly publicize it. They won't call a rowdy, angry mob what it is—they consider it lawful, democratic protest. Politicians are encouraging provocative, divisive conduct. They view it as justifiable cries for justice, and proof of the president's unpopularity and illegitimacy. They are playing to these mobs and stirring them up!"
The demonstrations for Jackson have been nowhere near as fierce as the demonstrations against Kavanaugh, but both sets of demonstrations were motivated by the same desire to keep abortion legal. When controversial court decisions on this subject are made in the future, expect the "rowdy, angry mob" to get even more belligerent.
The book of Ezekiel foretells the destruction of America and Britain. "They have blown the trumpet, even to make all ready; but none goeth to the battle: for my wrath is upon all the multitude thereof. The sword is without, and the pestilence and the famine within: he that is in the field shall die with the sword; and he that is in the city, famine and pestilence shall devour him" (Ezekiel 7:14-15).
In his book Ezekiel—The End-Time Prophet, Mr. Flurry notes that the word pestilence in verse 15 means destruction or death and specifically refers to a plague of violence in America's cities. This passage is about city dwellers being killed in a wave of crime and domestic violence, and about country dwellers surviving long enough to experience a foreign invasion. The cause of this pestilence is the type of sin the Supreme Court and other institutions are pushing on the nation!