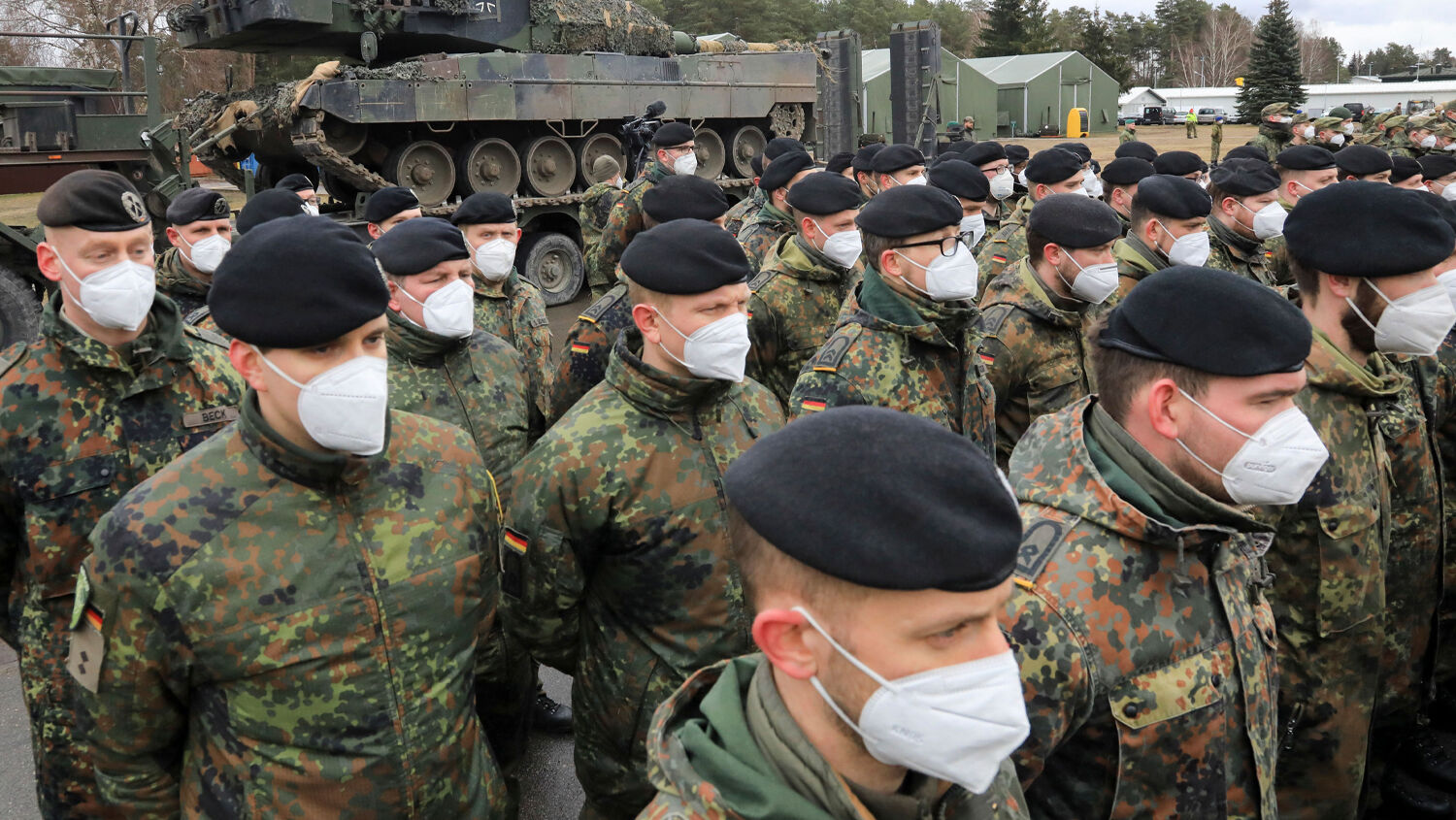 Europe Looks to Germany for Protection
A few examples show Europe's new solidarity and trust in Germany.
When Russia started its full-scale invasion of Ukraine, East European nations not only demanded more military support some even got it immediately. Within nato, Germany has the capability of rapid troop deployment. As a result, German Eurofighters circled over Romania and Poland, and additional German troops were stationed in Lithuania. Although Germany currently boxes way below its military potential, the small contributions show what European military solidarity could look like in the future.
Some 80 years ago, many East European nations were more scared of Germany than of Russia. The fact that their mindset today has changed dramatically gives us insight into the military empire Europe is able to build.
Poland became the first official victim of World War ii when Germany and Russia divided its territory between each other. To this day, Poland demands German reparations, but when Russia invaded Ukraine, the German Air Force secured Polish airspace.
The German Air Force announced via Twitter, under the hashtag #StrongerTogether, that as part of the nato partnership, Polish airspace is "secured." "The next target (of Russia) could be the Baltic states, Poland, Finland or other countries on the eastern flank," said Polish Prime Minister Mateusz Morawiecki. For this reason, Poland specifically asked for the stationing of additional nato troops and even the doubling of the European Union's defense spending. Germany's Der Spiegel reported on the development.
With the hashtag #NotDuringOurWatch, the German Navy tweeted: "Meeting of Baltic navies at 6th #BalticCommandersConference in Gdynia, Poland: As a clear sign of commitment, participating navies signed Terms of Reference, declared their willingness to further deepen cooperation and tighten their bonds."
Fearing Russian President Vladimir Putin, Poland is more than happy to have its former archenemy send troops to secure its borders.
Germany showed similar support for Romania by sending three German Eurofighters. Romania has been part of nato since 2004 and borders Ukraine directly in the north.
Germany also sent close to 400 additional soldiers to Lithuania that arrived on and around February 14 along with around 100 howitzer cannons and military vehicles. "It's a strong signal that Germany is willing and capable of reinforcing the battlegroup immediately as needed," said Lt. Col. Daniel Andrae, the German commander of nato troops in Lithuania. Lithuania borders Russia as well as Belarus.
For five years, Germany has been leading the deployment of a multinational nato unit in Lithuania. Germany currently provides about 900 of the 1,600 soldiers there. The additional troops are said to serve as artillery soldiers, reconnaissance specialists, medics and nuclear and biological warfare specialists.
During a March 3 visit to Lithuania, German President Frank-Walter Steinmeier assured the nato countries in Eastern Europe of Germany's unrestricted support, n-tv.de reported. "Alliance solidarity applies without ifs and buts," Steinmeier said at the multinational nato base in Rukla, Lithuania. "My trip is an expression of solidarity and assistance."
Lithuanian President Gitanas Nauseda welcomed Germany's "historic decision" to urgently militarize and noted that Russia's invasion of Ukraine is "an attack on the whole of Europe. We must not allow Putin to redraw the world map with bloody hands. This is the fight for the survival of Europe."
Europe's military cooperation is made possible by Germany's leading role in nato and the EU's agreement on military cooperation, called Permanent Structured Cooperation (pesco). When pesco was first formed, we noted that, due to its complexity, "not many have reported on it. But this is hugely significant. These are the boring details that need to be worked out for EU nations to fight together, to form an EU military. In the words of one former Marine Corps general, Amateurs talk about tactics, but professionals study logistics. Europe is starting to get to the nuts and bolts—the details that will enable it to fight together effectively—on things like how to deploy quickly, how to evacuate and treat wounded members of joint forces, how the different command structures can work together."
With the escalation in Europe, we will likely see a revolution in how Europe works together militarily in the future.
The European Council on Foreign Relations noted on March 2 that pesco and the Coordinated Annual Review on Defense "contained some projects relevant to the defense of eastern member states, particularly the pesco project on military mobility. However, the EU's military contribution to the security of these states has largely been indirect and marginal." Europeans shied away from defense policies that "might duplicate or undermine nato, eastern member states have tended to focus on constraining the Union's defense activities rather than looking for ways in which EU initiatives could provide security in Eastern Europe."
"In future, the EU should contribute significantly more to the development of the kind of European defense capabilities that are needed for defense and deterrence vis-à-vis Russia," ecfr.eu noted. The article concluded by saying: "There is still a prospect that the U.S. will one day step back from its key role in European security. But Europeans are finally taking serious steps to become more prepared for that day. From the perspective of its eastern member states, the EU can only become a credible security actor if it gets serious about tackling the Russian threat."
The late Herbert W. Armstrong warned in August 1978: "The Europeans are far more disturbed about their safety in relying on United States military power to protect them than Americans realize! … Europeans want their own united military power! They know that a political union of Europe would produce a third major world power, as strong as either the U.S. or the ussr—possibly stronger!"
Mr. Armstrong based his prediction of this coming military union on passages such as Daniel 2 and 7 and Revelation 13 and 17. The Bible also reveals that Germany would lead this military conglomerate, not just in a defensive way but also to plunge this world into a devastating war.
Our Trends article on this topic notes: "In Isaiah 10:5-7, God says that He has raised up Germany—end time Assyria—to 'destroy and cut off nations not a few.' Habakkuk talks about the same time period, calling the end-time European power 'Chaldeans'—this time referring to the religious nature of this power. He describes them as a 'bitter and hasty nation, which shall march through the breadth of the land, to possess the dwelling places that are not theirs.'"
Step by step, we are seeing European nations putting their trust in Germany. Step by step, we are seeing Bible prophecy fulfilled!
For more information, read "Why the Trumpet Watches Europe's Push toward a Unified Military."