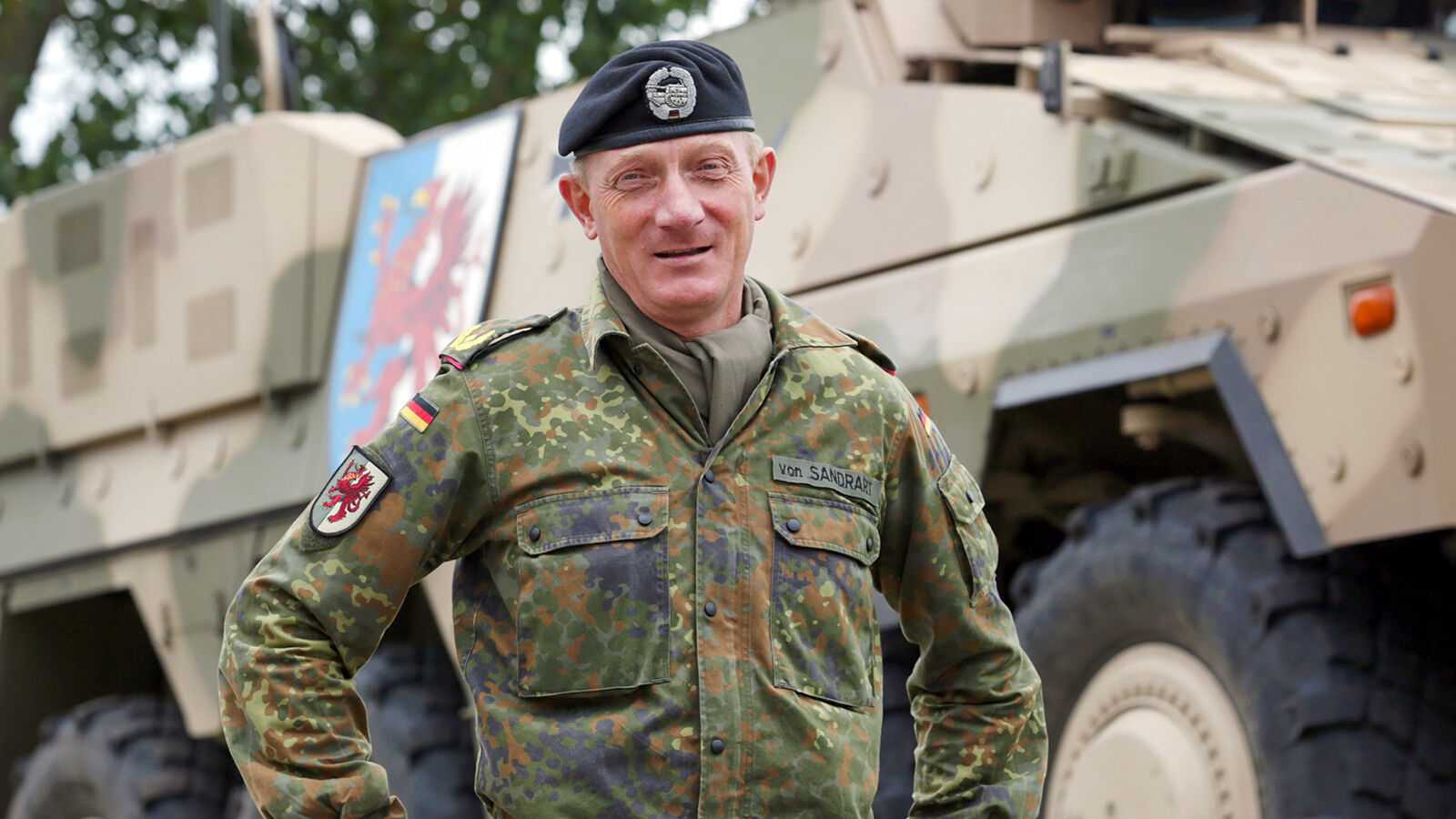 German Lieutenant General Takes Key Position in NATO
As Russia increases its pressure on the military alliance, Germany's influence in
nato
is growing.
Another German takes a key leadership position in the North Atlantic Treaty Organization. On November 19, German Lt. Gen. Jürgen-Joachim von Sandrart became commander of nato's northeastern flank, the German Press Agency reported. The flank oversees Estonia, Hungary, Latvia, Lithuania, Poland and Slovakia. The region is increasingly threatened by Russia's advances.
Since 2018, von Sandrart led the 1st Armored Division in Oldenburg, Germany, and served in foreign missions in the Balkans and Afghanistan. In his new position, von Sandrart is replacing Polish Lt. Gen. Sławomir Wojciechowski, who served on the northeastern flank since 2018.
The alliance has recently been tested at its border with Belarus, as migrants, backed by the Belarussian armed forces, threatened to illegally cross. "The eastern nato states are facing an increasingly aggressive [Russian President Vladimir] Putin regime and his vassal [Belarussian President Alexander] Lukashenko in the region," Bild.de commented on von Sandrart's appointment. "Just a week ago, Russian and Belarussian forces held a joint military exercise near the Polish border near Grodno. According to the Belarussian Defense Ministry, the exercise was a reaction to the 'increase in military activity' near the border" (Trumpet translation throughout).
"The people on nato's eastern flank, in the three Baltic states and in Poland, rightly expect the defense alliance to which their countries belong to be ready and able to protect them against any threat," von Sandrart told Bild.de.
In conversation with the German Press Agency, von Sandrart said: "We cannot close our eyes to the worsening situation. We are already indirectly affected because the Polish forces under our command are of course supporting the forces on the border with Belarus through the Polish national operational command."
"Here [in Poland] you can touch the threat in daily life. It's different in Germany, of course. We can be thankful that it is like that," von Sandrart continued. "But now it's a matter of us taking this threat away from the people who live here and making them feel that they're not alone, but that the nato and European community is ready to face this threat together."
In Szczecin, a powerful nato headquarters has grown up, "which has the region under control as an operational area and has brought along and created all the prerequisites that can actually be deterred credibly," von Sandrart said. The task is to be immediately available "in basic operations, without delay in crisis and, if necessary, in conflict." In other words, Germany is ready to lead nato to war.
This year's nato exercise "Steadfast Defender 2021" in Ulm, Germany, in May, practiced rapid troop movement on the Continent and large-scale maritime deployment. While visiting the exercises, German Defense Minister Annegret Kramp-Karrenbauer pledged, "Germany is ready for more responsibility—as a strong European pillar of nato." And Germany is gaining more responsibility.
On May 8, German Brig. Gen. Jared Sembritzki became the fourth multinational chief of staff for the United States Army—Europe. Additionally, Germany is trusted with various other leadership responsibilities in nato. Germany has used nato to expand its officer corps. Europeans have become accustomed to Germany's leadership.
When the U.S. withdraws, everyone will naturally look to Germany. What will that mean for the world?
Late Trumpet writer Ron Fraser warned in 2010 of "The Creeping Europeanization of NATO." This trend has certainly continued, but people don't see the danger. Yet that has not always been the case. nato's first secretary general, Lord Hastings Ismay, described alliances goals, saying: "Keep the Russians out, the Americans in, and the Germans down."
This didn't align with Germany's ambitions, however. Late German Defense Minister Franz Josef Strauss wrote in 1965 in The Grand Design: A European Solution to German Reunification:
The European nato countries are justified in reading into the text of the Atlantic treaty an obligation to seek ways and means in the future of making their defense possible from within Europe itself, just as America is able to defend herself. An unsuitably and inadequately armed Europe is of no benefit to America.
The U.S. has lost the will to use its power. But it is witnessing the rise of Russia and willingly allowing Germany to take on more responsibility.
Now a German-led Europe wants to deploy troops independent from the U.S. and nato. "There will be missions where nato or the United Nations will not be present but where Europe should be," EU Commission President Ursula von der Leyen said. "You can have the most advanced forces in the world, but if you're never prepared to use them, what are they? That is what has held us back until now. It's not just a shortfall of capacity; it's the lack of political will."
We've been warning for decades where such ambitions are going to lead.
"What does Germany do when it gets a strong military?" Trumpet editor in chief Gerald Flurry asked in 2014. "Do you dare read its history and see? Once that military is in place, it will be put to use! This world doesn't comprehend that because it doesn't understand history and Bible prophecy. We just have to look at the truth to understand what we're dealing with. Everything is moving at lightning speed."
"When Germany is militarily strong, dealing with that nation is like dealing with a cluster of thorns," Mr. Flurry writes in his booklet on Nahum. "'For while they be folden together as thorns, and while they are drunken as drunkards, they shall be devoured as stubble fully dry' (Nahum 1:10). Their foreign policy is sharp and piercing. They are very difficult to reason with. Often they rip and tear by cunning, crafty and devious affairs with other nations."
For years, we have warned of Germany's influence. I encourage you to request a free copy of Nahum—An End-Time Prophecy for Germany, by Mr. Flurry, to learn where these events are leading. There is great hope for Germany and the whole world, but our nations have to first learn to obey God.