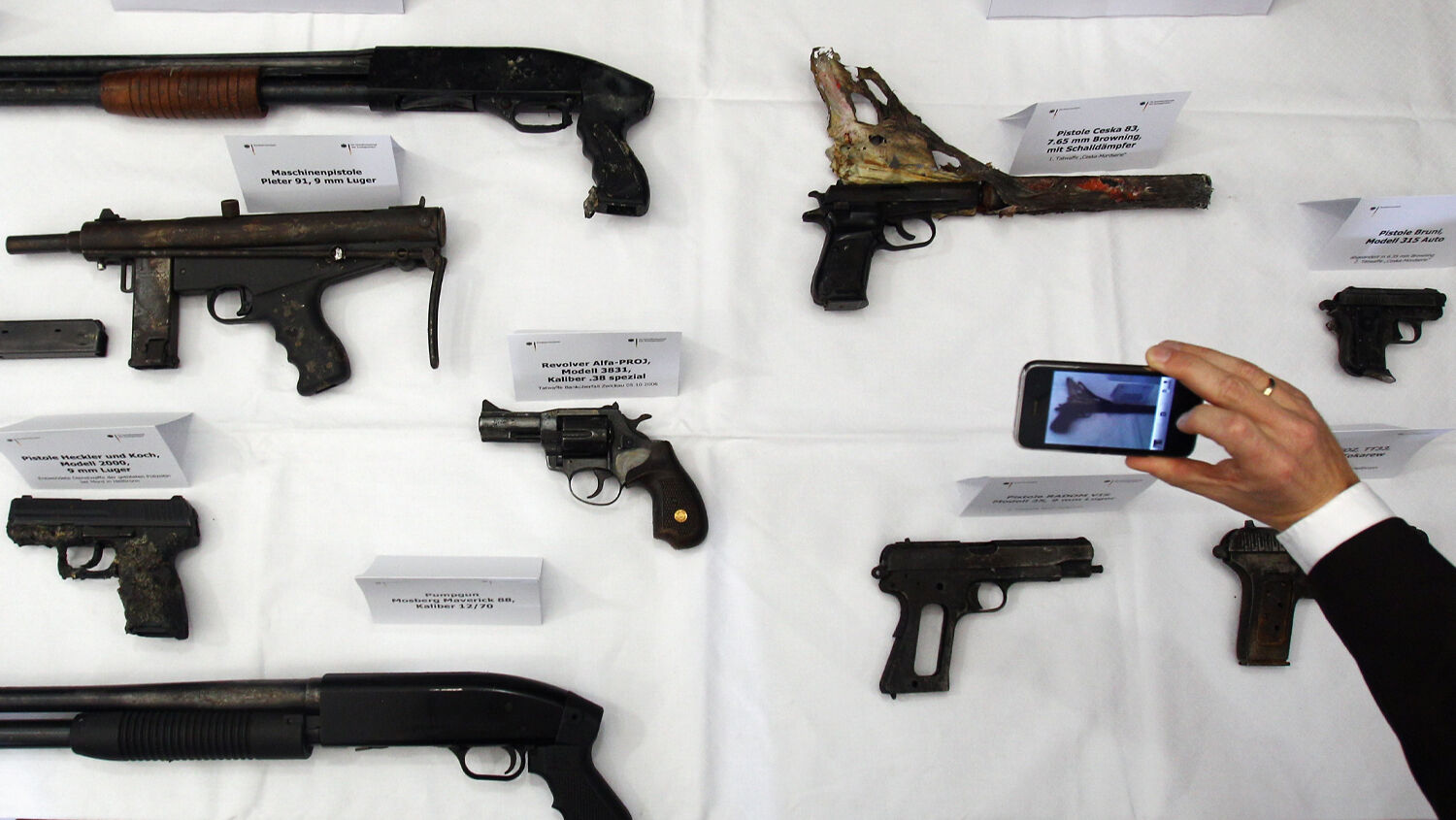 10 Years On—the Nazi Underground Is Thriving More Than Ever
Ten years ago today, the National Socialist Underground was exposed. The nsu officially refers to a neo-Nazi terrorist group that committed 10 murders between 2000 and 2007. They killed people, robbed banks, and threatened people for years without being detected by investigators. Yet as Germany's n-TV wrote, "Ten years later, questions remain unanswered, and new right-wing extremist acts are more likely than ever."
The Nazi Underground is becoming deadlier, yet authorities are declining to call a spade a spade. Is this a coincidence?
Three members of the nsu killed nine and wounded several more before they were arrested in 2011. Additionally, they intimidated opponents while investigators looked the other way. This went on for years. Deutsche Welle noted on today's anniversary: "[S]uch an existence over a long period of time was only possible because the three had plenty of supporters and sympathizers across Germany. Four of them were prosecuted as accomplices and given sentences of varying lengths. Yet this circumstance alone disproves—in a grotesque manner—the prosecution's untenable default theory of the 'nsu trio.'"
Here is one example of an investigative error. The nsu is allegedly responsible for a nail bomb attack that injured 22 people in a Turkish neighborhood in Cologne in June 2004. But investigators initially attributed the murder attempt to the local Turkish gambling mafia. "Years passed before authorities shifted their suspicion to the right-wing extremists," Deutsche Welle reported. Was this merely an unfortunate mistake?
In 2006, the nsu killed Halit Yozgat, a 21-year-old German citizen of Turkish descent, at his family's cafe. The police blamed the shootings on Turkish gangs before the nsu guilt was exposed. Then German intelligence officer Andreas Temme was present at the café during the killing but refused to testify. Israel's Ynetnews noted that just seconds after the killing, Temme placed his payment on the counter next to three drops of blood. "Later, Temme will testify that he did not hear the shots fired by an unknown assailant with a Česká manufactured pistol with a silencer—and he did not see Yozgat's body, either, which was sprawled behind the counter near the entrance," wrote Ynetnews.
Yavuz Narin, a lawyer of Turkish descent, told Ynetnews, "The government, security agencies, the Interior Ministry and, unfortunately, even the chancellor's office, are trying to prevent a full investigation on the matter." Why?
German authorities have been accused of limiting the investigation to a small circle of people rather than investigating the apparent network. This failure has caused them to overlook many recent crimes.
In the very same region the nsu committed murders in the 2000s, murders are being committed to this day. Police officers in the region have been found using the signature "nsu 2.0" to sign off e-mails. Yet the investigators don't seem to see a connection. How can that be? Germany's investigators don't have a problem; the evidence shows they are the problem.
The Nazi Underground is not a group of a few individuals. It is a network of right-wing extremist civilians, police and military officers, secret servants, authorities and government officials.
Heike Kleffner, managing director at the Association of Counseling Centers for Victims of Right-Wing, Racist and Anti-Semitic Violence, refers in the Frankfurter Rundschau to more than a dozen people who died in right-wing terrorist, racist, anti-Semitic attacks and "right-wing embassy acts" in the past 24 months.
Referencing the killing of Yozgat, Deutsche Welle noted: "In 2019, cdu [Christian Democratic Union] politician Walter Lübcke was killed with a gunshot to the head just a few kilometers away. Lübke had been actively engaged in helping refugees in Germany. The external circumstances of the murder resembled to a frightening degree the methods used by the nsu. … And likewise, in Hesse, a right-wing extremist murdered eight men and a woman in Hanau city center in 2020."
One may see it as another coincidence that Deutsche Welle dares to name, but there are even more obvious cases of the Nazi Underground being alive and thriving.
On Dec. 1, 2020, police officers in Hesse, Mecklenburg-Western Pomerania and North Rhine-Westphalia raided the homes of 13 Sturmbrigade members, aiming to seize the group's assets and right-wing extremist propaganda. Hesse state, home of the financial hub of Frankfurt, has been a particular hotspot of right-wing activity among German authorities. Frankfurt's Special Task Force (sek) was disbanded earlier this year due to right-wing extremism. Threatening e-mails were sent from one of the officers' computers to several people, including a prominent lawyer with a migrant background. The messages were signed "nsu 2.0."
North-Rhine Westphalia's police circle has similar troubles. "Right-Extremist Police Officers: An Official Made the Hitler Salute While Standing on Two Company Cars," declared a Dec. 2, 2020, headline on Welt. Could such a police officer be trusted to lead investigations into the far-right spectrum? "The police behaved like neo-Nazis in their bowling club," Welt noted. They also shared memes showing the swastika, a refugee in a gas chamber, and a black man being shot. This was just after 29 police officers working in Essen, North-Rhine Westphalia, were suspended in September 2020 for participating in far-right online chat groups.
There is a reason why the nsu scandal has never been exposed.
In 2021, the coalition government in Hesse blocked the opening of domestic intelligence files relating to nsu crimes. N-TV noted that the Federal Criminal Police Office had found more than 100 contacts of the nsu trio. However, they are only investigating nine cases of suspected nsu supporters. In a Bundestag inquiry, members of parliament accused the prosecutor in charge, Herbert Diemer, of not having investigated evidence in order to protect domestic secret service agents and informants who may have had prior knowledge of crimes. In some cases, suspects were warned before the "unannounced" house raid was conducted. In numerous other cases Germany's domestic intelligence service, the BfV, shredded files relating to informants involved with the nsu.
In 2012, while commemorating the victims of the nsu in Berlin, German Chancellor Angela Merkel said: "We will do everything to solve these murders and uncover those who aided and abetted and those pulling the strings, and ensure that all perpetrators are brought to justice."
Orders to investigate have certainly been given. But the investigators have covered the crimes.
In the meantime, the murders continue. Right-wing extremists have collected lists of opponents and send them threats. In 2020, 33,300 right-wing extremists were identified by police; 13,300 are considered "violent." The number of suspected right-wing extremists is also rising throughout the Bundeswehr's ranks. It rose from 363 in 2019 to 477 in 2020, according to the Bundestag's defense commissioner, Eva Högl, who cited the Military Counterintelligence Service (mad). The report also showed that the number of so-called "Reich citizens" nearly doubled, from 16 in 2019 to 31 in 2020. Even the mad, responsible for monitoring extremism inside the armed forces, is accused of failing to do its job. Christof Gramm, who led the agency since 2015, resigned last year following a series of neo-Nazi scandals.
The list of right-wing extremist acts and the attempts to cover them up are numerous. (For more information, read "The Nazi Underground—Revealed" in the August 2019 Trumpet issue.)
Every investigation could make a chilling novel. But the reality is that Germany's future is on the line. All these events took place during the modest rule of Chancellor Merkel. This deadly underground is waiting to jump on the scene when Germany receives its new führer.
In light of the Nazi Underground waiting to emerge, consider this warning from Herbert W. Armstrong on May 9, 1945:
We don't understand German thoroughness. From the very start of World War ii, they have considered the possibility of losing this second round, as they did the first—and they have carefully, methodically planned, in such eventuality, the third round—World War iii! Hitler has lost. This round of war, in Europe, is over. And the Nazis have now gone underground. In France and Norway they learned how effectively an organized underground can hamper occupation and control of a country. Paris was liberated by the French underground—and Allied armies. Now a Nazi underground is methodically planned. They plan to come back and to win on the third try.
What Mr. Armstrong warned about was later proved to be accurate. In 1996, the United States declassified a document written in 1944 that reported a meeting attended by the leaders of Germany's elite industries. These firms had been told to "prepare themselves to finance the Nazi Party, which would be forced to go underground." (Trumpet editor in chief Gerald Flurry discusses this document and America's failure to act on this knowledge in his booklet Germany's Conquest of the Balkans.)
But it wasn't just the armed industries that went underground. Germany's postwar military, police force and secret service were infested by Nazis who went underground. Our booklet Germany and the Holy Roman Empire explains this history in detail.
Today, a few people are being killed because the world ignored Mr. Armstrong's Bible-based warnings. But it is about to get much worse. The Nazi Underground is about to explode on the world scene! Revelation 17:8 warns, "The beast that thou sawest was, and is not; and shall ascend out of the bottomless pit, and go into perdition: and they that dwell on the earth shall wonder … when they behold the beast that was, and is not, and yet is."
"The word translated 'bottomless pit,' or abyss, in verse 8 actually means underground. That's where the Nazis have been since before the end of World War ii," Mr. Flurry explains in Germany and the Holy Roman Empire.
God sent Mr. Armstrong to warn the world of Nazi Germany and the resurrection of this empire because a nuclear holocaust is about to set this world on fire. Jesus Christ Himself warned that conditions would become so bad that no man would be saved alive unless God intervened (Matthew 24:22).
But God also prophesied that one man would proclaim the good news of God's coming Kingdom to put an end to the world's horrifying problems (verse 14). This man was Herbert W. Armstrong. The Trumpet, under the leadership of Gerald Flurry, continues this same warning message today (Revelation 10:11).
We are about to see the resurrection of the Holy Roman Empire in Europe once again. "And there are seven kings: five are fallen, and one is, and the other is not yet come; and when he cometh, he must continue a short space" (Revelations 17:10). In his booklet Prophesy Again, Mr. Flurry writes:
Notice! This prophecy is dated. There are seven kings here, but five are fallen, and one is, and the other is not yet come. It's almost as if God freezes time there—during the time of this sixth king out of seven.

This prophecy implies that God is going to bring His man on the scene during the time of the sixth of the seven heads of the Holy Roman Empire. It also implies that the seventh head would not come while the end-time Elijah was on the scene. Mr. Armstrong was here when "one is, and the other is not yet come." This prophecy refers to a specific period of time when God sends His end-time type of Elijah to explain what is happening.
If you want to understand how Mr. Armstrong was able to forecast the news headlines of today, request your free copy of Prophesy Again. This booklet will not only help you understand the biblical prophecies that foretell Germany's rise, it will also show you what great hope there is in God's warning work.