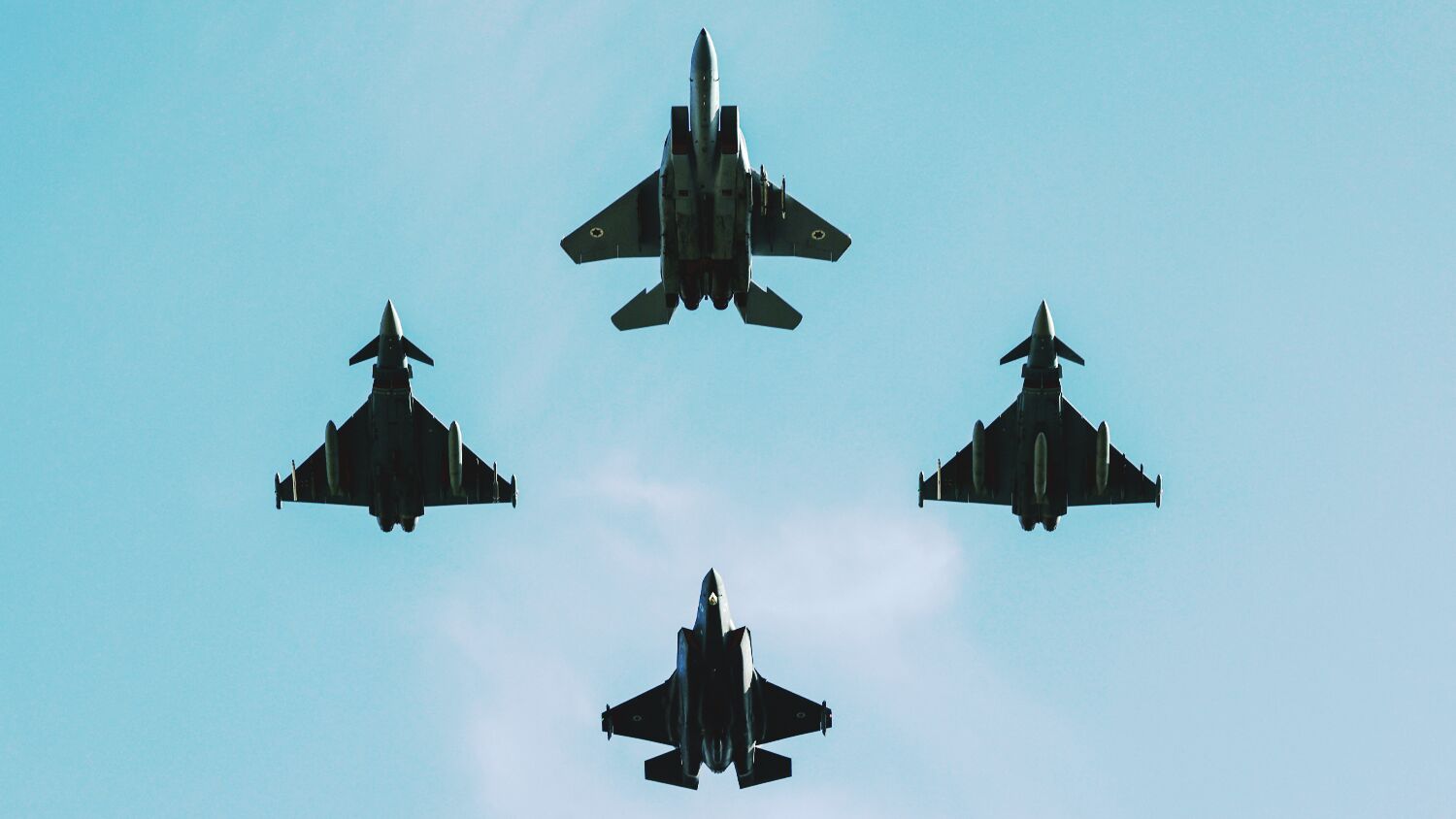 German Air Force Flies Over Promised Land
Are strong German-Israeli relations a sign of good things to come?
"Blue Flag 2021" is the largest, most advanced aerial exercise held in Israel so far. The two-week exercise began on October 17 and will last until October 28. The exercises are being held at the Uvda Air Force Base with participants of seven additional air forces from around the world. Joining the Israeli hosts were the air forces of the United States, India, Great Britain, France, Greece and Italy. The eight nations contributed a total of 70 aircraft and 1,000 soldiers. Germany contributed six Eurofighters and around 160 soldiers. Germany's Bundeswehr website proudly headlined "The Air Force Travels to the Promised Land" (Trumpet translation throughout).
The Israeli army said the joint exercises express a strong bond between the air forces and their countries, as well as a commitment to future cooperation. Before the exercises, the air force chiefs of Germany and Israel visited the Yad Vashem Holocaust memorial together. "The winds of history are strongly felt throughout Israel's capital," said Israeli Maj. Gen. Amikam Norkin via a radio broadcast from his jet as German and Israeli jets flew side by side.
"With its open airspace and topography, which lies below sea level for long stretches, Israel offers the best training conditions for our pilots. In addition to some 60 fighter aircraft, the 'Eagle Star' will also be visible in the skies above the Negev Desert. This special-foiled Eurofighter represents the special, friendly relationship between the German and Israeli air forces," Bundeswehr.de noted.
Germany's Eurofighter, with the merged imprint of the German and Israeli flag, stands symbolic for the two nations' close cooperation. "I'm glad for the opportunity to be here; it's incredible to see the cooperation between the countries. It is extremely exciting and motivating that all of our hard work is significant not only for training purposes, but also for strengthening our relationship with our allies," said Cpl. Yael Shamir.
German and Israeli relations have deepened significantly in recent years. Last year, Israeli pilots trained for the first time in German airspace. The exercise followed German pilots training in Israel in November 2017 and November 2019 during the biennial multinational "Blue Flag" military exercises.
When Germany first participated in "Blue Flag" in 2017, Deutschlandfunk asked Israel's base commander at Uvda what the term Luftwaffe meant to him. "Every cooperation with Germany and Israel is very emotional," he answered. "And this is also true for this project. I was there as the six fighter jets rolled into our hangars. We can't eliminate the past. But we are looking forward. And the relationship of our aircrafts is based on trust." Israel trusts Germany not only with joint exercises but also with much broader military cooperation.
On Nov. 11, 2020, Germany delivered the first Sa'ar 6 corvette to Israel. The Sa'ar 6 is one of the most advanced fighting ships in the world. An Israeli company in turn helped improve Germany's Type 214 submarine, which is believed to be one of the world's stealthiest.
At the request of the German Federal Office of Bundeswehr Equipment, Information Technology and In-Service Support, Israel's Rafael and France's Atos have teamed up to create a so-called glass battlefield. "Germany has shown interest in using drone swarms controlled by AI [artificial intelligence] to support combat vehicles and future battle tanks," c4isrnet noted on Dec. 13, 2019. Since March 2010, Germany has operated Israel's Heron 1 drone in Afghanistan.
Israel is surrounded by enemies in the Middle East and fears Iran's aggression and the never-ending threat of terrorism. In this fight, Israel needs partners and believes it has found one in Germany, a nation that has in recent history caused the greatest destruction to its people. Under Chancellor Angela Merkel, Germany was a partner Israel believed it could trust.
These military exercises offer Israel hope that its growing bond with Germany will bring safety. For many Israelis, it must have been particularly moving when all the soldiers from the participating nations ceased their exercises as the Jewish nation entered into the Sabbath at sunset Friday evening. Germany's Luftwaffe even tweeted, "Just before sunset here in Israel we close the shelter and wish everyone a nice weekend!#TGIF #ShabbatShalom." For the very day that Jews have been persecuted for millenniums, they now receive respect.
The Sabbath is a reminder to Israel of a special covenant it made with God to obey and trust Him. But today, it puts its trust in other nations. Trumpet editor in chief Gerald Flurry writes in Jerusalem in Prophecy, "It seems the Israelis can trust their worst enemy, but they can't trust God to protect them! And God is their only source of help."
As Iran becomes bolder and continues to threaten Israel's existence, the Bible prophesies that Israel will soon see Germany as its only source of hope. "Israel will become 'lovers' with the Germans," writes Mr. Flurry. "This move will lead to their destruction. It is not the Arabs who will destroy them. The friendship between Germany and Israel will lead to one of the biggest double crosses in the history of man!"
The Bible reveals that this blind trust will lead to a German "peacekeeping force" marching into Jerusalem. "And at the time of the end shall the king of the south push at him: and the king of the north shall come against him like a whirlwind, with chariots, and with horsemen, and with many ships; and he shall enter into the countries, and shall overflow and pass over. He shall enter also into the glorious land, and many countries shall be overthrown: … And he shall plant the tabernacles of his palace between the seas in the glorious holy mountain; yet he shall come to his end, and none shall help him" (Daniel 11:40-41, 45).
The king of the south in this prophecy refers to Iran and its radical allies who will be attacked by a German-led Europe, or the king of the north. (For a clear explanation, read our free booklet The King of the South.)
This "peacekeeping" force shouldn't be a source of hope for Israel. Both history and Bible prophecy thunder an alarming warning. Europe not only threatened and slaughtered the Jewish people in the last world war, but has also persecuted them for centuries. Catholic Europe has repeatedly sought to violently conquer Jerusalem. This time it will enter peaceably, but not to protect the Jews. A great betrayal is looming.
Like Antiochus Epiphanes anciently, a modern leader is prophesied to rise in Europe today. He will take the kingdom by flatteries (verse 21) and once again seek to destroy all Jewish people and the nations of modern Israel—primarily the United States and Britain (Psalm 83). The Bible prophesies of a deadly double cross, and we see the stage being set right now!
But even in this there is great hope. In a message to the Hebrews, Paul wrote about a coming "rest." Mr. Flurry explains in his booklet on Hebrews:
"Let us therefore fear, lest, a promise being left us of entering into his rest, any of you should seem to come short of it" (Hebrews 4:1). We need to fear God. That is the beginning of wisdom and knowledge, and a fountain of life; it leads to riches and honor! (Psalm 111:10; Proverbs 1:7; 14:27; 22:4). Every year, God's people attend the Feast of Tabernacles, a seven-day period picturing the "rest" of the Millennium. At the Feast, we live the World Tomorrow way of life. The theme of the Feast is to learn to fear God (e.g. Deuteronomy 14:23). This does not mean we go around trembling—instead we rejoice! If we fear God, we don't have to fear anything else. God will always take care of us.

In Hebrews 4:1, "rest" is explicitly talking about the Kingdom of God. But then Paul links it with the rest that God commands each week on the seventh-day Sabbath when "God did rest the seventh day from all his works" (verse 4). "There remaineth therefore a rest to the people of God" (verse 9). "Rest" in this verse is from the Greek sabbatismos; it means the keeping of the Sabbath.
Zechariah 14:16 reads: "And it shall come to pass, that every one that is left of all the nations which came against Jerusalem shall even go up from year to year to worship the King, the Lord of hosts, and to keep the feast of tabernacles." Events we see taking place right now are leading to the return of Jesus Christ, who will give this world peace! A time is coming when the whole world will learn to fear God and worship Him on His Sabbath day! Today, the Jewish people and the whole world fail to worship God as He commanded. For this reason, we are about to see great suffering, but we should never forget the great hope that lays beyond!
To learn about the coming prophesied calamity and the hope that you need to have, request your free copy of Jerusalem in Prophecy, by Gerald Flurry.