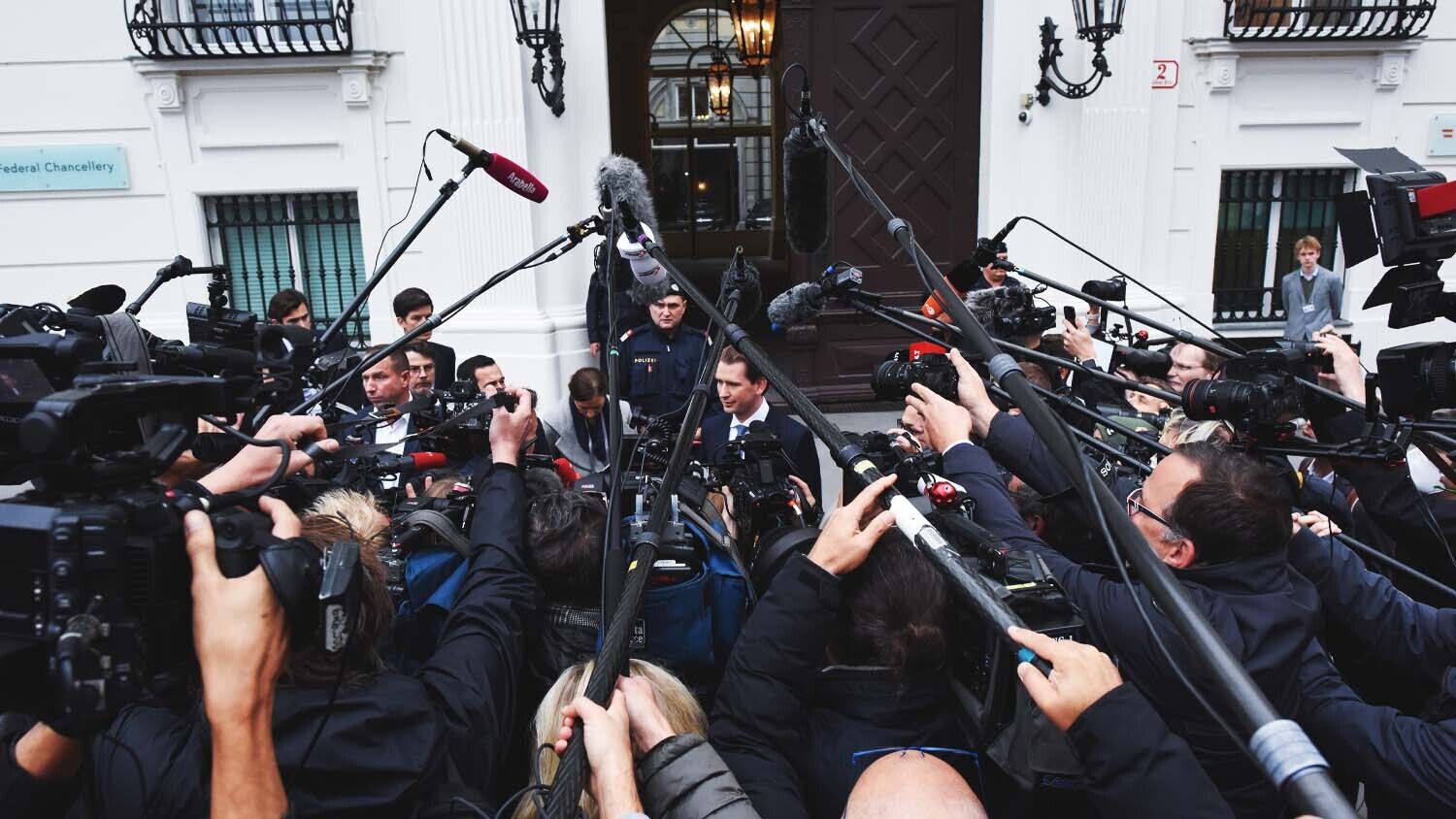 Crises Sweep Away Europe's Leaders—Temporarily
Democracy, parliaments, coalitions—the enemies of Europe's rising strongmen
Two European governments entered political uncertainty over the weekend. In Austria, Chancellor Sebastian Kurz announced his resignation until corruption charges are cleared. In the Czech Republic, Prime Minister Andrej Babiš's party lost its majority in the Saturday election. Babiš could lose his power as a conglomerate of smaller parties seeks to unite against him. These crises came as Germany's leadership dispute is still not settled.
On October 11, Kurz's foreign minister, Alexander Schallenberg, was sworn in as Austria's new chancellor and is expected to lead the continuation of the current coalition. Schallenberg swore that he would work "very closely" with Kurz and said that the accusations against Kurz were "false" in his view.
This is not the first time Kurz has had to withdraw from the chancellery. In May 2019, he cancelled his coalition with Austria's Freedom Party (fpö) due to the so-called "Ibiza affair" and hoped to continue ruling Austria with a minority government before the Austrian parliament voted him out of office. An ally of Kurz was put in office as an interim chancellor; Kurz was then reelected.
This time around, however, Kurz himself is being accused of bribery, manipulating polls at state expense, funneling money to pro-Kurz media outlets, corruption and fraud. Prosecutors believe a taxpayer-funded newspaper published skewed poll results in favor of Kurz. Chat protocols have revealed exchanges between the newspaper and Kurz's party that reference the chancellor's support for the dealings. In an interview last week, Kurz tried to diminish the charges and put the blame on those under him, but his coalition partner, the Greens, didn't believe him and sought to vote him out of office. To prevent this, Kurz withdrew from the chancellorship. In the meantime, Kurz remains leader of Austria's People Party, the övp, and became the party's parliamentary group leader on October 12.
Kurz has long been accused of seeking to suppress the looming allegations by getting the media and judiciary in line. But after police raided his party's offices, as part of a bribery probe, Kurz seems to have lost this battle—for now. Some analysts are reporting that his absence will only be temporary. "Kurz is not really stepping down; he is stepping back," said political consultant Thomas Hofer. "Make no mistake, he remains in charge of the party, and Schallenberg is one of his closest allies. He will be thinking about a comeback."
Austria's influential Kronen-Zeitung newspaper headlined "Kurz Shortly Gone," implying that he will return to the chancellery.
Sebastian Fischer wrote for Spiegel Online:
This is probably nothing more than preparation for a comeback at the next best opportunity; the next regular National Council election will take place in 2024. For Schallenberg, who has served Kurz as foreign minister and has always been loyal to him, the fate of the interim chancellor would be booked.

It's not unusual in some countries for one person to keep the other's seat warm. Do you remember Dmitri Medvedev? He was Russian president between 2008 and 2012 because Vladimir Putin had to pause due to a requirement in the constitution before he could run again.

Are Kurz and Schallenberg now recasting the duo of Putin and Medvedev?

The Greens prophylactically assured that Kurz would not return during the current legislative period, and that "in any case, the goal" was to govern with Schallenberg until 2024. But perhaps there will be new elections sooner—and if the proceedings against Kurz are dropped, he will probably start with a dignified victim narrative.
Kurz may return to power sooner than later. His track record indicates he will not rest until power is firmly back in his hands. Kurz is already considered to be a shadow chancellor, though he vehemently denies it.
In the Czech Republic another strongman of Europe, Prime Minister Andrej Babiš, maintained a good relationship with Kurz and shared many of his visions. Yet Babiš could be losing his power.
Babiš's party, ano, only received 27.2 percent of the vote at Saturday's legislative elections. A coalition of opposition groups could form a majority in parliament. But the formation of a new government could be delayed. The Wall Street Journal summarized the flow of events: "On Sunday, Mr. Babiš met with his close ally, Czech President Milos Zeman, who has the power to delay, but not block, the opposition from creating a government. Shortly after their meeting, the 77-year-old president was hospitalized in an intensive care unit for treatment of a chronic issue, the director of the medical facility told reporters."
How the political crisis will end remains to be seen, but it can be expected that Babiš will fight to retain and potentially even extend his power. During the 2015 migrant crisis, Babiš rose to be the Czech strongman. In 2017, he resigned as finance minister due to suspected tax fraud. But after that, he won the election for prime minister in a landslide victory. As the second-richest man in the Czech Republic, Babiš rose from owning a conglomerate of 230 firms, including an Internet news portal, major newspapers, radio stations and television channels, to becoming the most powerful man in the national government.
Seeing the political struggle strongmen like Babiš and Kurz face is causing some to question democracy. Political deadlocks only arise when action is required. Corrupt leaders have contributed to Europe's current crises. But the spirit of liberal forces seeking to do all in their power to gain control—even if it means allying with the opposite political spectrum—is also contributing to the current situation.
In Germany, Armin Laschet, chancellor candidate of the Christian Democratic Union, has led his party to a historic election defeat. The Social Democrats have won the most votes and now seek an alliance with the pro-business Free Democrats and the environmentalist Greens. Though the parties are separated by different ideologies, the desire for power seems to be driving them together. Their willingness to fight for more power may cause the death of democracy itself.
The Bible prophesies this outcome in vivid detail: Ten authoritarian leaders are prophesied to rise in Europe today (Daniel 2; Revelation 17).
In the March 1963 issue of the Plain Truth, the late Herbert W. Armstrong prophesied: "There will not, then, be 'the six' as at present in the Common Market. But 10 dictators, receiving power 'as Kings'—yet not being kings in the sense of inheriting thrones as continuous dynasties—will give their military and economic power to this coming strongman political leader, called the beast in prophecy. You will read of what is soon coming—already starting to emerge—in the 17th chapter of Revelation, starting with verse 8."
"And the ten horns which thou sawest are ten kings, which have received no kingdom as yet; but receive power as kings one hour with the beast. These have one mind, and shall give their power and strength unto the beast" (Revelation 17:12, 13). We are seeing the rise of these leaders in Europe. Although their exact identity remains yet to be revealed, it is clear that their rise will abolish democracy. And we can expect the Czech Republic and Austria to be part of this 10-nation combine. "Will Poland free itself from Soviet domination and join with Yugoslavia, Romania and possibly Czechoslovakia [modern-day Czech Republic and Slovakia]—and with Germany, Italy, France, Spain, Portugal and Austria—in a resurrected medieval 'Holy Roman Empire' to dominate Europe and equal the ussr and the U.S.A. in world power?" Mr. Armstrong asked in a 1980 letter to co-workers.
Many of Mr. Armstrong's Bible-based prophecies have already come to pass. Eastern Europe today is freed from Communist rule. The need for a united European superpower is becoming increasingly evident. As we watch world events it is important to understand how Bible prophecies are hastening to fulfillment. It is critical to understand what prophecies have already been fulfilled and which still have to come to pass. To understand both of these subjects, request a free copy of He Was Right and Who or What Is the Prophetic Beast? by Herbert W. Armstrong.