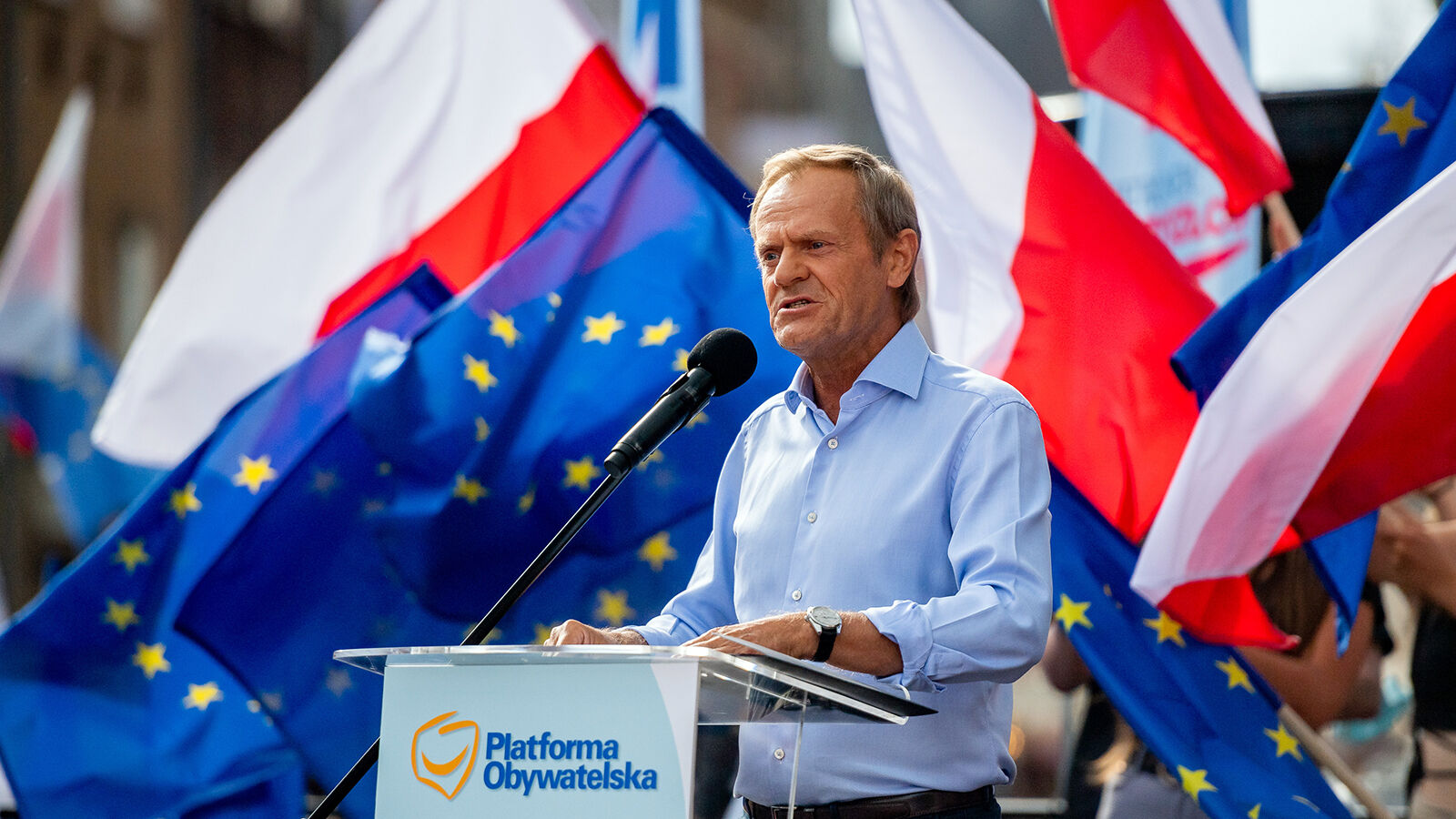 Will Poland and Hungary Lead the Way in Breaking Up the European Union?
Europe's core nations are increasingly looking to their heritage. What causes friction today will cause temporary unity tomorrow.
Former European Union Council President and Polish opposition leader Donald Tusk believes that Poland's exit from the European Union cannot be ruled out. Poland could leave the EU "faster than" anyone is expecting if the current campaign of the national-conservative ruling party (PiS) fails, Tusk told tvn24 on September 10.
Days prior to Tusk's statement, a high-ranking PiS representative questioned Poland's cooperation with the EU. "We need to think about how much further, how much more we can cooperate so that we all stay in the EU, and so that this EU is acceptable to us," faction leader Ryszard Terlecki said at an economic forum in Karpacz, Poland. A government spokesman later clarified that Poland's exit from the EU was not planned.
But tension between EU leadership and East European countries continues to intensify. On August 8, the EU Commission applied for the European Court of Justice to financially sanction Poland. Hungarian Prime Minister Viktor Orbán, however, signed a government resolution declaring support for Poland, stating that the Commission's move "violated numerous elements of a member country's sovereignty."
Rumors of a Hungarian exit from the European Union are also circulating. Hungary's unofficial government paper, Magyar Nemzet, broke the story. This is the first time since Orbán took office that, according to Deutsche Welle, "Hungary's exit from the EU is being openly broached by the government's most important news outlet."
But even as these nations disagree and are plagued by disunity, it is increasingly clear that they agree on one thing: support for the Catholic Church. Poland's and Hungary's politics are strongly influenced by the Roman Catholic Church. Orbán claims to fight for a "Christian Europe." Czech Prime Minister Andrej Babiš and his anti-establishment party, ano, are leading the Czech Republic in a similar direction. Austria, under Catholic Chancellor Sebastian Kurz, is accused of following Orbán's example. Germany could soon have a staunch Catholic chancellor with Armin Laschet. Catholic French President Emmanuel Macron has openly declared war against radical Islamism in France and shows more and more support for the Catholic Church.
Many believe that this issue will further divide Europe. But in some ways it is already uniting some European nations to stand more closely together. This trend is worth watching. The Trumpet believes that this will unite a group of core European nations. In "America Is Being Besieged Economically," Trumpet editor in chief Gerald Flurry wrote: "The current politically and religiously disunified EU will have to become a politically, militarily and religiously unified Holy Roman Empire. Latin America is already quite united in its religion; the Holy Roman Empire will have to become united in its religion as well. And the only way to remove the division is by reducing that union to 10 nations. It is prophesied to happen (Revelation 17)."
Mr. Flurry was referring to an end-time prophecy that 10 European nations will unite under the umbrella of the Roman Catholic Church. Revelation 17:1 talks symbolically of a woman riding a beast—representing a church controlling an empire (request a free copy of Who or What Is the Prophetic Beast?). "And the ten horns which thou sawest are ten kings, which have received no kingdom as yet; but receive power as kings one hour with the beast. These have one mind, and shall give their power and strength unto the beast" (verse 12). These 10 nations will be controlled by the Catholic Church and united under one overarching government.
Right now, Poland and Hungary seem to be the outsiders of the EU, but they are prophesied to soon be part of its inner core, along with Germany, France, Italy, Austria and others who will embrace their Catholic heritage one last time. Even in recent history the Catholic Church has played a crucial role in shaping European politics. Mr. Flurry noted in Germany's Conquest of the Balkans:
Many Serbian leaders believe the driving force behind the independence of Croatia and Slovenia was the Roman Catholic Church! This is only a small part of a rising Holy Roman Empire. Germany and the Vatican were willing to offend the whole world to recognize two little Roman Catholic republics! These events show anybody willing to take note that something dreadful is stirring in Germany and the Vatican.
Europe's core nations are reviving their historic heritage and reuniting under the rule of the Catholic Church. This will have dramatic consequences for our world. For more information, read Mr. Flurry's article "America Is Being Besieged Economically."