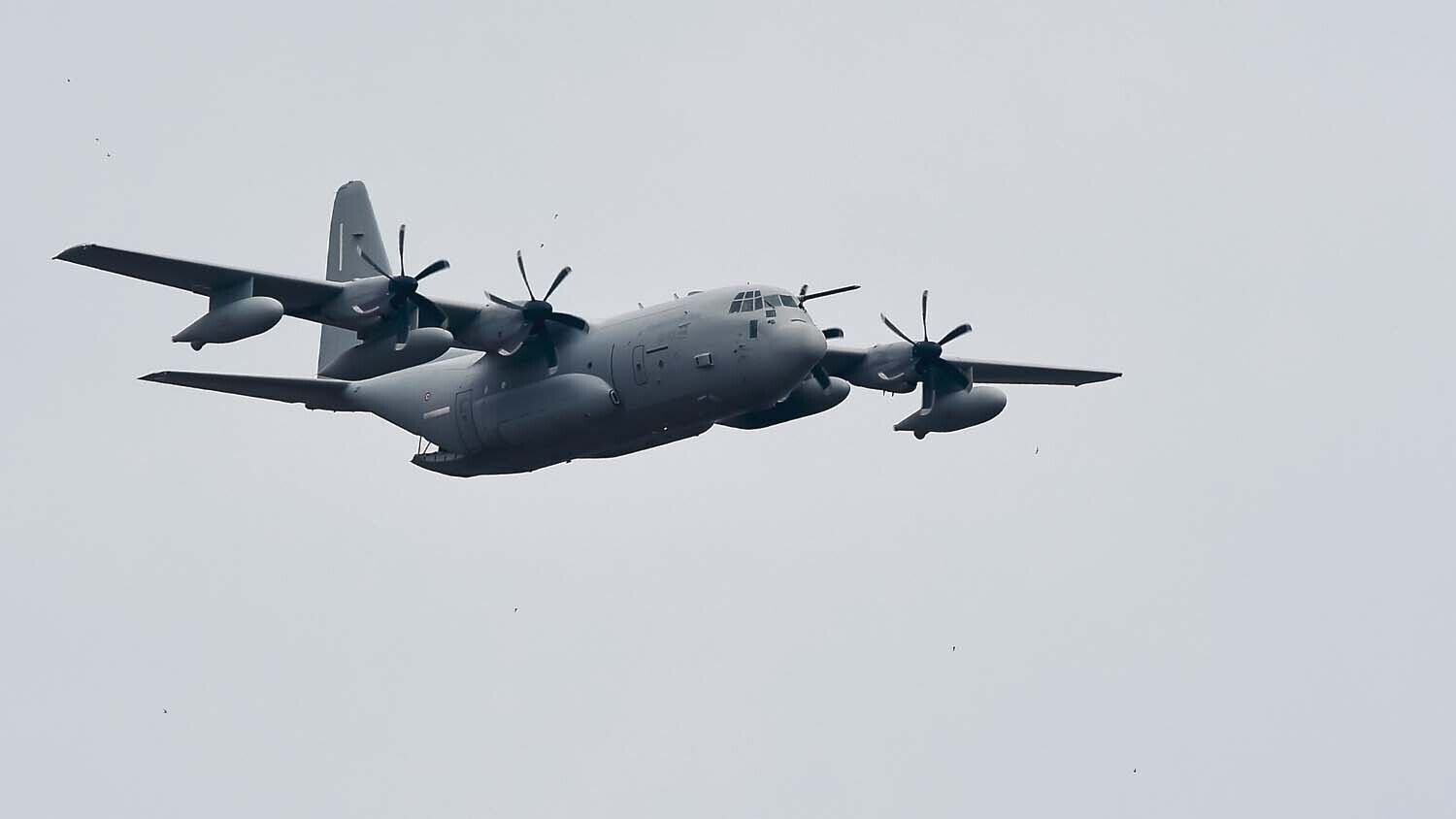 A Milestone in European Defense: Franco-German Air Transport Squadron Takes Flight
The squadron is a 'concrete, important step forward for the Europe of defense.'
The debacle in Afghanistan has made European powers more determined than ever to be able to act independently of the United States. The trouble is, to currently move troops around the world, Europe needs a lift from the U.S. The North Atlantic Treaty Organization created the Strategic Airlift Interim Solution in 2001 and the Strategic Airlift Capability in 2008. This gives European nato members access to and, ultimately, dependency on U.S. Air Force airlifts.
Europe is not capable of executing military missions without the U.S.
However, Germany and France are joining forces to remedy Europe's deficiency. On September 1, the first Franco-German airlift squadron entered service at the French air base in Evreux. A total of 260 German and French soldiers cooperated to fly 10 Hercules transport aircraft, according to French Defense Minister Florence Parly, who called the project a milestone in building European defense capabilities.
German and French officials praised the development. Military airlifts are crucial for the European Union to be independent. "EU military ambitions will also be dependent on adequate strategic airlift, and this remains a notable capability gap," Yvonni-Stefania Efstathiou, program coordinator and research analyst for Defense and Military Analysis, noted in 2019.
Clément Beaune, secretary of state for European affairs in the French government, noted that the squadron is a "concrete, important step forward for the Europe of defense."
"Cooperation between the two nations takes on a new dimension," German Defense Minister Annegret Kramp-Karrenbauer said. Germany will receive its first Super Hercules transport aircraft next February. Until then, Bundeswehr soldiers will join four French aircraft in the first binational Hercules unit in Europe. The full target strength of 10 aircraft and 300 soldiers from both countries will be reached in 2024.
"Unlike the Franco-German Brigade, founded in 1989, which cannot operate as a mixed unit due to German restrictions on rules of engagement, the Transport Squadron aims for complete integration," faz.net reported on September 1. "German mechanics can maintain a French aircraft, which then takes off for deployment with a binational team. A joint training and education center is also under construction."
Germany and France intend to invest $130 million in new infrastructure for the transport aircraft unit. Since 2013, Europe has been filling its storehouses with A400Ms, which some claim to be the world's most technologically advanced military transport aircraft. "The fulfillment of A400M orders will not only help European nations become a global contingency enabler but will allow them to act and operate on their own for strictly European operations," the Joint Air Power Competence Centre Journal wrote in 2014.
Yet the European A400M transport aircraft is often not suitable for crisis operations in areas with short runways. For this reason, Germany's Defense Ministry decided to order six Lockheed Super Hercules transport aircraft.
"France sees the transport air squadron as part of an effort to achieve greater strategic autonomy for Europe," faz.net wrote.
Kramp-Karrenbauer previously rejected that goal quite vehemently. In an article for Politico published last November, she wrote: "Illusions of European strategic autonomy must come to an end: Europeans will not be able to replace America's crucial role as a security provider."
But the recent disaster in Afghanistan is changing things.
"Afghanistan is a bitter end; it is a heavy defeat," Kramp-Karrenbauer said on September 2. The EU must therefore "become more independent, be able to act more autonomously," she demanded. "Our credibility depends on this ability." But she also said: "It's very important that we don't do this as an alternative to nato and the Americans."
At a meeting of European defense ministers in Kranj, Slovenia, Kramp-Karrenbauer called for "coalitions of the willing," or groups of EU states willing to pool their military forces.
We at the Trumpet, and our predecessor the Plain Truth, have been watching this trend for many years. The late Herbert W. Armstrong, editor in chief of the Plain Truth, wrote in 1980: "You may be sure the West European leaders are conferring hurriedly and secretly about how and how soon they may unite and provide a united European military force so they can defend themselves!" (Plain Truth, April 1980).
This bold, Bible-based prediction is coming to pass.
The book of Daniel contains prophecy for the end time. Trumpet editor in chief Gerald Flurry explains in Daniel Unlocks Revelation that this book has many prophecies for modern Europe.
Notice what is written in Daniel 8: "And in the latter time of their kingdom, when the transgressors are come to the full, a king of fierce countenance, and understanding dark sentences, shall stand up. And his power shall be mighty, but not by his own power: and he shall destroy wonderfully, and shall prosper, and practise, and shall destroy the mighty and the holy people. And through his policy also he shall cause craft to prosper in his hand; and he shall magnify himself in his heart, and by peace shall destroy many: he shall also stand up against the Prince of princes; but he shall be broken without hand" (verses 23-24). A European leader is prophesied to inflict great suffering on this Earth.
In Revelation 9, the Apostle John even describes some of the weaponry that will be used. We noted in 2011 that John used "the symbolic term of locusts to describe the terrifying war machines that would be invented by scientists and used by the military in this final world conflict! Notice that these symbolic locusts, or grasshoppers, are driven by men and are able to fly (verses 7, 9). They will make a tremendous noise and are protected by armored plating."
Europe is gearing up for war. Soon swarms of drones, fighter jets and transport aircraft will carry out Europe's military ambitions. Europe is hastily preparing for the prophesied wars that are sure to come.
While conflicts and suffering are about to increase, there is hope in God's Word. To learn about this incredible hope, read Mr. Flurry's free booklet Daniel Unlocks Revelation.