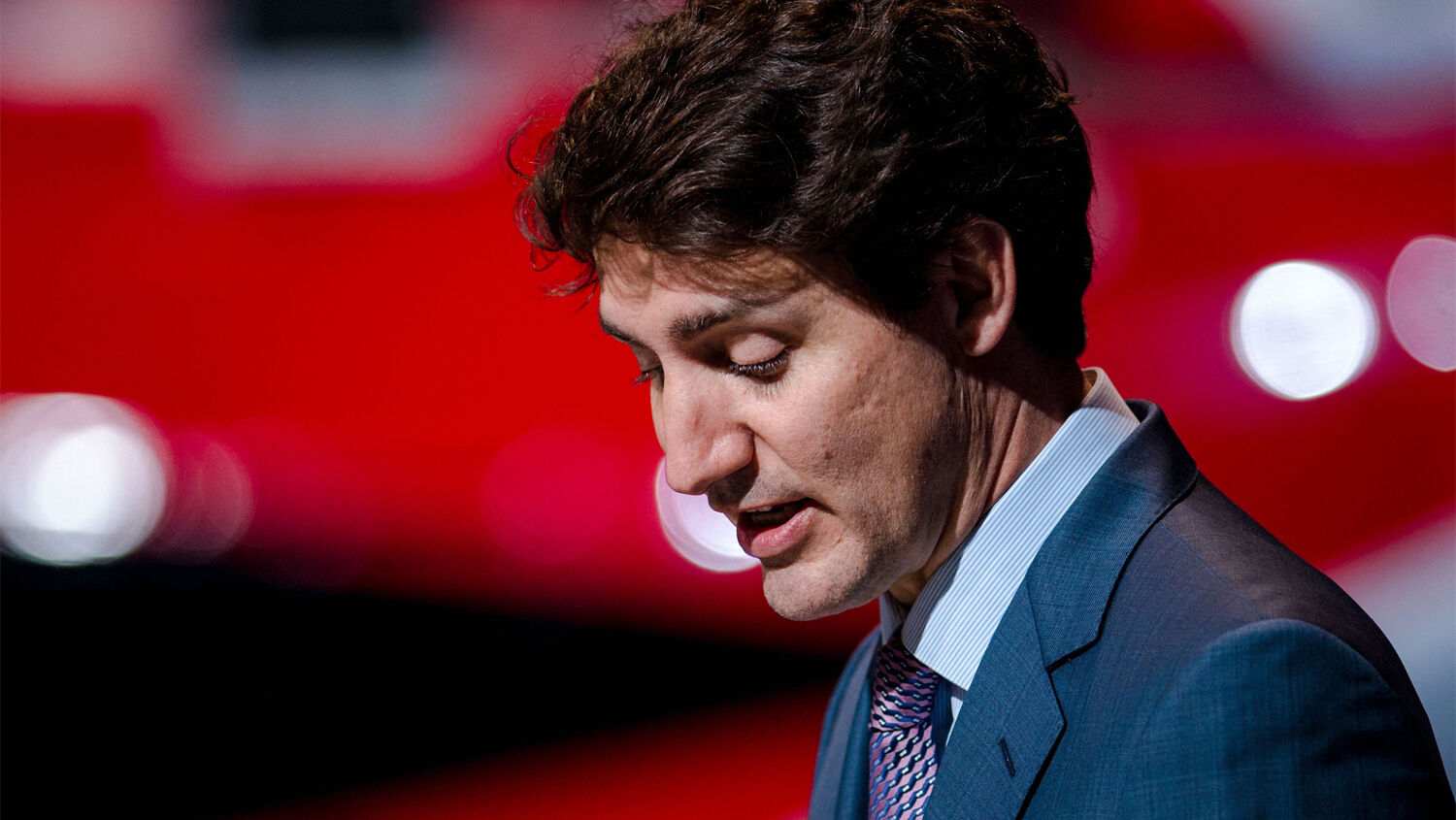 Big Tech and Canadian Media Preparing for Election Steal
Trudeau is recruiting allies and crafting a narrative.
With the Canadian election only 20 days away, Prime Minister Justin Trudeau's Liberal party is tanking in the polls and the Conservative party, led by Erin O'Toole, is surging forward with momentum.
Trudeau has faced several large groups of protesters on campaign stops, with one event being completely canceled due to "safety concerns." The protesters hurled insults and expletives, shouting angrily about their rights being taken away. Trudeau is in the third week of the campaign, and the Liberal party has yet to even release its election platform.
In the meantime, Trudeau's government has stranded at least 1,250 Canadians in Afghanistan, ending the withdrawal days before the deadline, telling those left behind to "shelter in place." Trudeau's minister for Gender Equality, Maryam Monsef, addressed the terrorists in Afghanistan as "our brothers, the Taliban."
With all these disasters and gaffes, the Liberals seem to have a bizarre strategy to win a majority Parliament: They are beginning to claim "underdog" status. Trudeau seems confident they will win no matter what. And while he declines in the polls, the media and Big Tech are increasing censorship and fourth-wave fears.
Facebook Canada announced several initiatives to help fight "misinformation" during the Canadian election. cbc News reported:
Canadians will see less political content in their Facebook feeds than they did in past elections, and the social media giant will not hesitate to take down posts that promote misinformation about subjects such as the election or covid-19, says the company's head of public policy for Canada. …

For example, posts that claim that covid-19 vaccines kill or seriously harm people will be removed, as will claims that wearing masks doesn't prevent the spread of covid-19.
This means political candidates are completely neutered from any discussion or questioning of vaccine policies or mask mandates. cbc continued:
It's all part of Facebook's Canadian Election Integrity Initiative being made public later today. The initiative consists of a seven-pillar plan that ranges from working with Elections Canada to provide accurate information about voting to combating any attempts by foreign actors to disrupt or influence the election.
Facebook, a United States company, is working with Elections Canada to ensure there is no foreign interference in the election, even though it is a foreign company. The main thrust of the initiative is to frame any questioning of voter fraud or election results as foreign interference. Facebook is not the only Big Tech company increasing censorship, as cbc reported:
Cam Gordon, spokesman for Twitter, said the company will be monitoring four main categories of posts during the election—misleading information about how to participate in the election, suppression and intimidation, misleading information about outcomes, and false or misleading affiliation.
Google and YouTube have committed to the same kind of misinformation monitoring. Following the controversy in the 2020 U.S. elections, the Big Tech companies seem to be attempting to get ahead of the curve and blot out dissent before it occurs. Facebook is testing a new algorithm that will allow users to control how many political posts and ads are seen. Aengus Bridgman, researcher with McGill University, said live testing this during an election "has huge misuse potential."
Twitter labeled a tweet by Deputy Prime Minister Chrystia Freeland as "manipulated media" after she posted an edited video of Conservative leader Erin O'Toole. While this has been seen as a "warning shot" by some, it actually attracted more attention to the Liberal message than would have without the label.
A 2018 Pew research report found that 42 percent of Canadians are likely to use social media as their source of news. This gives social media a great deal of influence over the reporting of election news and results.
To ensure fairness and objectivity, Facebook has nominated an official fact-checker for the Canadian election: cbc. Big Tech chose the only state-funded news company run by bureaucrats in the Trudeau government to fact check all Facebook posts. Any complaints about posts being removed for misinformation can be e-mailed to cbc.
It also appears that media objectivity is being removed through government subsidies. The Canadian Press, another election fact-checker, received a $1.7 million subsidiary and is requesting more. It is unclear if more media agencies received money from the Trudeau government to stay afloat during the pandemic economy.
The Canadian media has increased reporting on covid-19 cases and the fourth wave, which is increasing pressure on people to vote by mail. An Ipsos poll revealed that 16 percent have decided to vote by mail, with 21 percent undecided on how to vote. More provinces are creating covid passports, which is building the fourth-wave narrative for the election. This pressure will only continue as election day nears.
While Big Tech and the media have been pledging to stop foreign interference, Chinese diplomat to Canada Cong Peiwu urged Canadians not to vote for anyone "hyping up issues related to China or smearing China." These comments came soon after the Trudeau government granted a Chinese state-owned company the rights to a lucrative federal shipbuilding contract.
There was also a closed-door truce called between Trudeau and Ontario Premier Doug Ford, who is a Conservative. The two leaders agreed not to attack each other during the campaign. The National Post has reported that the truce "has extended to Ford ordering his Progressive Conservative ministers to avoid being seen with O'Toole altogether." Ontario is one of the key battleground provinces. Why would a Conservative premier make a deal with a Liberal prime minister to undermine his own party?
The radical left in Canada is following the same methods as the "most inclusive and extensive voter fraud organization in history" that was created in the United States: pressure to vote by mail because of the pandemic, Big Tech censoring anything questioning voter integrity, the media assuring that everything is perfect, and radical-left alliances in key battleground areas. All the ingredients for fraud are in use.
We wrote in "The Biggest Threat to American Democracy":
One of the biggest threats to free and fair elections in the United States is media bias and censorship. For eight years, behavioral psychologist Dr. Robert Epstein, a liberal, has warned that Google can easily determine the outcome of elections by adjusting its search algorithms to favor one political party over another. … "Google's search algorithm can easily shift the voting preferences of undecided voters by 20 percent or more—up to 80 percent in some demographic groups—with virtually no one knowing they are being manipulated," Epstein wrote in a 2015 editorial, "How Google Could Rig the 2016 Election."
Facebook, Google and Twitter are all evidently preparing to do the same in Canada. Trudeau is crafting his underdog, pandemic narrative and recruiting allies to pull off the steal. But controlling the media is key because it is the means to stay in power. As Trumpet editor in chief Gerald Flurry wrote in "Why I Still Believe Donald Trump Is Coming Back": "[L]ook at how the left is now using its power in the media, technology companies and social media to silence anyone who disagrees with them! They are clamping down on free speech in a shocking way!"
If there is voter fraud in Canada on September 20, there will be the same authoritarian crackdown by the media and Big Tech afterward. Continue to watch the Trumpet for updates on the upcoming Canadian election.
To understand how this massive voter fraud plays into Bible prophecy, please read Mr. Flurry's article "What Will Happen After Trump Regains Power."