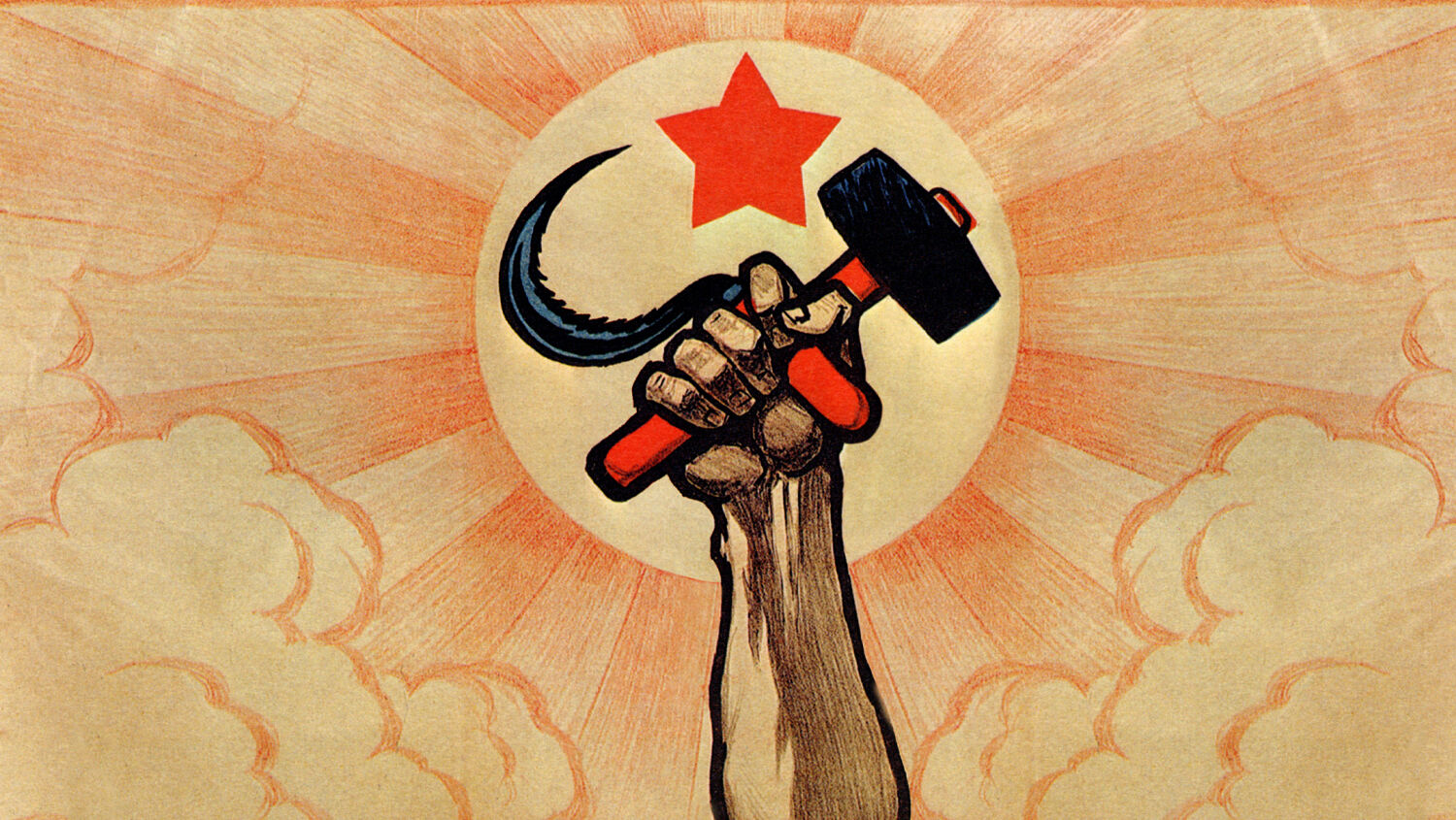 Black Lives Matter Praises Communism
The largest protest movement in U.S. history has been hijacked!
In a historic display of anger and frustration, thousands of demonstrators took to the streets in cities and towns across Cuba on July 11, calling for an end to the island's Communist dictatorship. Republican politicians in the United States took this opportunity to condemn communism and send messages of solidarity to the Cuban people. Yet prominent Democrats have been slow to respond to protests against the Communist Party of Cuba. Five days after the protest started, Joe Biden was pressured into denouncing communism as a "universally failed system," but more radical Democrats faulted the U.S. embargo against Cuba for the unrest and criticized Biden for upholding it.
After the protests began, Sen. Bernie Sanders called for the U.S. to lift its embargo, saying it has "only hurt, not helped, the Cuban people." Rep. Alexandria Ocasio-Cortez echoed her mentor's comments, saying, "The embargo is absurdly cruel and, like too many other U.S. policies targeting Latin Americans, the cruelty is the point. I outright reject the Biden administration's defense of the embargo. It is never acceptable for us to use cruelty as a point of leverage against everyday people."
Both Sanders and Ocasio-Cortez are self-described democratic socialists and supporters of the Black Lives Matter movement, so their support for the Communist Party of Cuba is not unexpected. The Democratic Socialists of America's international committee declared its solidarity with the Cuban government on July 11, and the Black Lives Matter Global Network Foundation issued a statement just days later praising the Communist regime and condemning the U.S. for opposing it.
"Black Lives Matter condemns the U.S. federal government's inhumane treatment of Cubans, and urges it to immediately lift the economic embargo," the group wrote in an official statement posted to Instagram. "This cruel and inhuman policy, instituted with the explicit intention of destabilizing the country and undermining Cubans right to choose their own government, is at the heart of Cuba's current crisis. … Cuba has historically demonstrated solidarity with oppressed peoples of African descent, from protecting black revolutionaries like Assata Shakur through granting her asylum, to supporting black liberation struggles in Angola, Mozambique, Guinea Bissau, and South Africa."
Shakur was a member of both the Black Panther Party and the Black Liberation Army. After killing a New Jersey state trooper in 1973, she fled to Communist Cuba and received political asylum from Fidel Castro. Despite the fact that she is on the Federal Bureau of Investigation's Most Wanted List, Shakur still receives asylum in Cuba today. So Black Lives Matter is praising Cuba for harboring a domestic terrorist and for supporting Communist revolutionaries in various African nations.
This is not the first time Black Lives Matter has publicly declared its support for the Communist dictatorship established by Fidel Castro. In 2016, the group published a eulogy for the recently deceased Castro, saying "We are feeling many things as we awaken to a world without Fidel Castro. There is an overwhelming sense of loss, complicated by fear and anxiety. Although no leader is without their flaws, we must push back against the rhetoric of the right and come to the defense of El Comandante. … From Fidel, we know that revolution is sparked by an idea, by radical imaginings, which sometimes take root first among just a few dozen people coming together in the mountains. It can be a tattered group of meager resources, like in Sierra Maestra in 1956 or St. Elmo Village in 2013."
The Sierra Maestra mountains were where Fidel and Raúl Castro, along with Che Guevara, took refuge in 1956 after returning to Cuba from exile in Mexico. It was from this base that Castro and his followers launched the revolution that ended in the Communist takeover of Cuba. This editorial is comparing Castro's Communist insurgents to the would-be revolutionaries who met in Patrisse Cullors's house in St. Elmo Village, California, to found Black Lives Matter in 2013.
Nikole Hannah-Jones, the founder of the debunked "1619 Project," is also a supporter of the equalizing power of socialism. In an interview with Vox, she said, "If you want to see the most equal, multiracial, it's not a democracy, but the most equal multiracial country in our hemisphere, it would be Cuba. … Cuba has the least inequality between black and white people of any place in the hemisphere."
Black Cubans are at the forefront of the demonstrations against communism, exposing the lie that the Democratic Socialists of America and Black Lives Matter are about protecting black people. People like Black Lives Matter co-founder Patrisse Cullors and her colleagues are "trained Marxists" who see parallels between their movement and the rise of Castro in Cuba. They are tearing down America's constitutional system of government and replacing it with communism.
While Black Lives Matter may masquerade as a human rights group, its 13 guiding principles espouse globalism, collectivism, socialism and the destruction of "the Western-prescribed nuclear family structure." The Movement for Black Lives, the name for the 50 organizations representing the ideology of Black Lives Matter, released a policy statement in 2016 unabashedly calling for collective ownership of resources, banks and businesses; a highly progressive income tax; a guaranteed minimum income; and other planks from Karl Marx's Communist Manifesto.
A poll released by Civis Analytics suggests that up to 26 million Americans participated in protests over the death of George Floyd, suggesting that Black Lives Matter may be the largest protest movement in U.S. history. This movement is being hijacked by Communist revolutionaries—people need to sit up and take note of what is happening to their country.
Marx wrote in Communist Manifesto that communism "abolishes all religion and all morality." In his poem "The Fiddler," he expressed a tremendous thirst for destruction: "Till heart's bewitched, till senses reel: With Satan, I have struck my deal. He chalks the signs, beats time for me, I play the death march fast and free."
Like other 19th-century socialists, Marx employed Satan as a symbol of workers' revolt against divine authority. Biographer Robert Payne wrote that Marx "had the devil's view of the world and the devil's malignity. Sometimes he seemed to know that he was accomplishing works of evil."
Marx's son-in-law, Edward Aveling, was a self-described Satanist, as were his radical anarchist colleagues Mikhail Bakunin, William Godwin and Pierre-Joseph Proudhon.
It is not as common today for socialists to identify as Satanists, but the late Saul Alinsky dedicated his book Rules of Radicals to "the first radical known to man who rebelled against the establishment and did it so effectively that he at least won his own kingdom—Lucifer." And the most influential socialist in America today, Barack Obama, was a teacher of Alinsky's principles at the University of Chicago. He also wrote a chapter for the book After Alinsky: Community Organizing in Illinois.
Like Satan, Marxism promises a utopian society where everyone is equal to God in authority, but it delivers only the worst form of tyranny where the strong rule those weaker than themselves—without mercy and unrestrained by any law. It should come as no surprise that the ideology laid out in the Communist Manifesto has directly caused the brutal murders of more than 100 million people.
"Even those who see there is a real problem in America today don't recognize its full extent," wrote Trumpet editor in chief Gerald Flurry in his article "The Real Agenda Behind Black Lives Matter." "There is an evil spiritual force that seeks to destroy America. That spirit is working in these young people to fulfill that goal. A great evil spirit is leading these young people to destruction and leading them to accelerate this nation's death! People are surrendering to this hateful, evil thinking. It is terribly racist—but it is even worse: It is aligned with a satanic will. That is what is truly happening here!"
Marx and Alinsky thought that the devil was only a symbol they could use to rally people against religion, morality, and the biblical concepts of private property (1 Kings 4:25; Micah 4:4; Zechariah 3:10), but the Bible reveals that the devil is a literal spirit being trying to destroy the United States of America. For proof of this sobering statement, please read America Under Attack, by Gerald Flurry, and Mystery of the Ages, by Herbert W. Armstrong. These books will help you recognize the dangerous direction our nation is heading and understand God's plan to ultimately save America and all humanity!