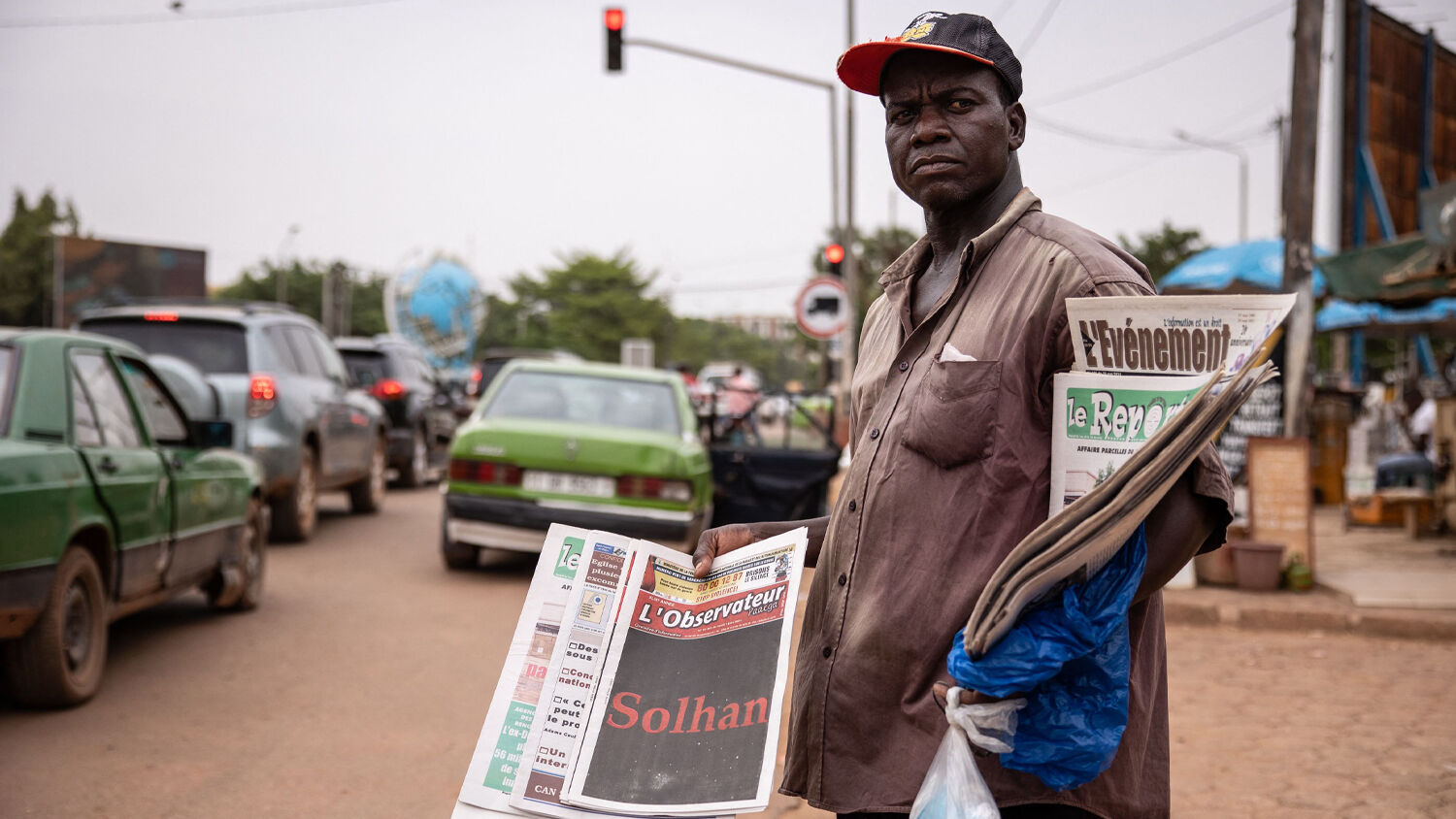 Amid North Africa Bloodbath, Germany May Gain More Influence
Despite turbulent relations, Europe will not abandon the Sahel.
Jihadists attacked a village in Burkina Faso on June 5, killing 160 people and injuring scores more. This most recent bloodbath was one of the country's deadliest raids by terrorists and has received international attention. It comes after another coup in Mali and France's decision to end its mission there. Disagreement is intensifying over how to handle the crisis, and Europe's Sahel policy may be headed for a reset. In the end, however, Germany and Europe will emerge more involved in this key region, not less.
Jihadist gunmen stormed the village of Solhan on the morning of Saturday, June 5. Located in North Africa's Sahel region, a vast expanse of mainly desert terrain, the village is also situated near the border with Niger, an area known to harbor radical Islamic terrorists. Of the 160 villagers killed, seven were children, according to the United Nations. The terrorists also burned houses and the village market.
The border region where the village is situated has been a hotbed of terrorist activity for years. To the east of Burkina Faso is Niger, and to the north is Mali. All these countries have large expanses of desert where jihadists have installed themselves, out of reach of European forces limited by restrictive rules of engagement. Despite France's Operation Barkhane, the counterterrorism mission in the Sahel that was launched in August 2014 after the Malian civil war, attacks against civilians and European forces continue.
Even as Burkina Faso experiences its deadliest attack in years, Europe is in conflict over how to respond. It appears that this disagreement is mostly due to Germany.
The German Institute for International and Security Affairs, a prominent think tank, recently criticized France's handling of the Sahel missions, calling it a "dead end" and saying Europe's forces are "in a losing position." It said that Berlin at first "left the lead to Paris," but now "[i]t is no longer enough to show solidarity with France."
This could mean that Germany is pressuring France to let Germany lead Europe's military response in the region.
Mali has had two coups within the past year, launched by Col. Assimi Goïta, a military officer trained by the United States. This makes three Malian coups since the 2012 civil war, in which France became heavily involved.
In response to the latest coup, France first announced that it would cease cooperation with Malian soldiers but its troops would continue to defend strategic areas, only not alongside their Malian counterparts. But on June 10, French President Emmanuel Macron stated his intention to end Operation Barhkane.
France has remained vague about how the mission will be replaced, stating only that it intends to join a broader coalition with allies such as the U.S. and other European nations. It has not specified if or when its 5,100 troops will be withdrawn.
It remains unlikely, however, that Europe will abandon the Sahel. For many years, France has had a strong relationship with the leaders of Burkina Faso, Mali and Niger, as well as Chad and the Ivory Coast. All of these nations still speak French. It is highly unlikely that this is the end of France's presence in Africa. What is more likely is that the operation will continue in some form, possibly under German leadership, or at least under its strong influence.
Even if Europe hesitates and pulls support from Sahel leaders for several months, it will only be a matter of time before the region's conflicts become impossible to ignore. Terrorist groups will not remain isolated in the desert. Radical Islamic jihad poses a growing threat to Europe. Sooner or later, Europe will be forced to act.
Stronger German and European presence in North Africa is a topic the Trumpet has covered often over the years. Though France has been the most visible military contributor, stronger German leadership in this region would be more significant still.
In its description of the most important military and political forces that are to rise in today's world, the Bible identifies two that will confront each other over the issue of radical Islam. Our free booklet The King of the South identifies them. It proves that radical Islam led by Iran is this "king of the south" and that it will soon "push" at "the king of the north," a unified Europe led by Germany. Much of this "push" right now has to do with radical Islamic terrorism, whether in Europe or threatening its interests abroad.
This prophecy is found in Daniel 11:40, which states: "And at the time of the end shall the king of the south push at him: and the king of the north shall come against him like a whirlwind, with chariots, and with horsemen, and with many ships; and he shall enter into the countries, and shall overflow and pass over."
Trumpet editor in chief Gerald Flurry explains the meaning of this verse in Part 2 of our booklet Germany's Secret Strategy to Destroy Iran. He states that the word in Daniel 11:40 for "whirlwind" signifies a strategy by which a German-led Europe will conquer Iran. "How, exactly, has the king of the north surrounded the king of the south?" he asks. "Its troops haven't encircled Tehran. It doesn't have bases and aircraft carriers dotting Iran's borders. But it has made some very intelligent, very strategic deployments and deals that give it a presence all the way around Iran's sphere of influence."
North Africa is a strategic location for Europe, as shown by Germany's presence there during World War ii. Now, in preparation for the next war, Germany and its European allies are placing themselves around Iran and its proxy militias.
He continues: "This scripture describes a time when Germany's Catholic empire will wage all-out war, throwing everything it has at radical Islam—and dominating it like a violent flood pouring in!
"Here is the question we need to focus on: How could Germany do this so easily, so effectively and so quickly? Berlin will not be able to overwhelm Iran in the near future unless it is working on a special strategy right now."
Germany's strategy to conquer Iran and radical Islam is a secret to most people. It should not remain a secret because it will have heavy consequences for the entire world. To understand how events in North Africa fit into this vital prophecy, read Germany's Secret Strategy to Destroy Iran, by Gerald Flurry.