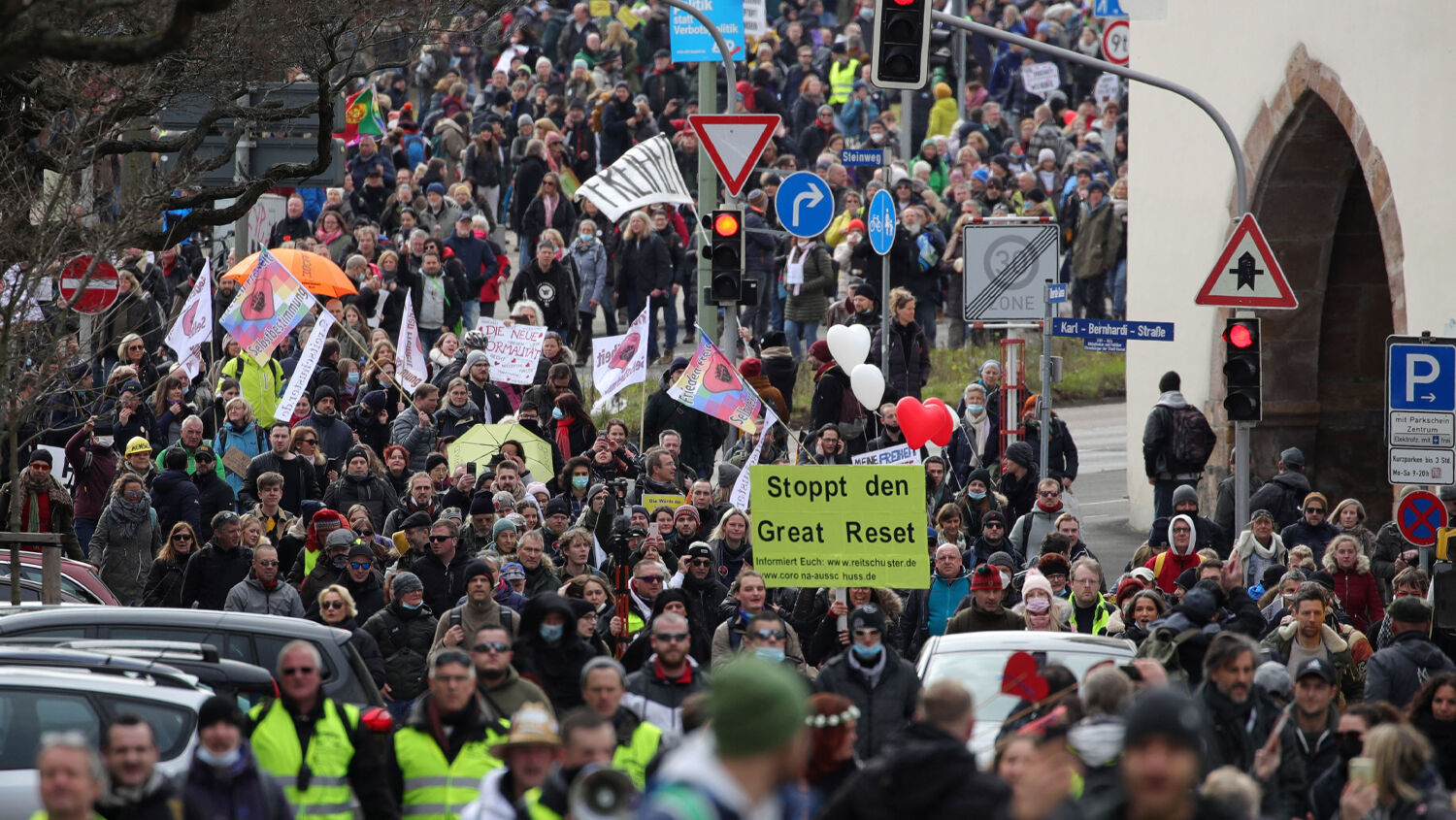 In Dictatorial Fashion, Germany Suppresses Coronavirus 'Deniers'
If you disagree with the government's coronavirus response, you can now be put under surveillance in Germany.
"Our basic democratic order, as well as state institutions such as parliaments and governing bodies, have faced multiple attacks since the beginning of the measures to contain the covid-19 pandemic," the Federal Office for the Protection of the Constitution announced on April 28. For this reason, Germany's domestic secret service has put the Querdenker, or "Lateral Thinkers," movement under nationwide surveillance for their demonstrations against the coronavirus prevention measures.
No matter your views on the effectiveness of the lockdowns, the way Germany is treating dissenting voices is most concerning.
The German government says the Lateral Thinkers movement is responsible for causing an "anti-democratic and/or security-endangering delegitimization of the state," according to Spiegel Online's information.
In mid-April, German Interior Minister Horst Seehofer said that "the tendency among us, also in the Office for the Protection of the Constitution, is more in the direction of declaring this scene an object of observation."
"Surveillance can also involve intelligence means, such as observing meetings or intercepting e-mails," Spiegel Online wrote. "The bank accounts of coronavirus deniers and financial flows between conspiracy supporters can also be screened." The nationwide observance includes other groups beyond just Lateral Thinkers—any deniers or conspiracy supporters.
Such surveillance has been used on far-left and right-wing extremists, as well as Islamists who pose a terrorist threat. But this movement doesn't quite fit into any of the previously established categories. The movement drew support from all kinds of different backgrounds.
Because the Querdenker movement has been criticized by millions of citizens who support the lockdowns, we shouldn't expect too much backlash against the government's surveillance. Yet this is an alarming development, as it appears anyone who "delegitimizes the state" can be put under surveillance. This would mean that government critics of all sorts need to be extremely careful in the future.
Germany's response to the coronavirus and its dictatorial tendencies need to be closely watched. In "Coronavirus and the Holy Roman Empire," Trumpet editor in chief Gerald Flurry wrote: "One of the most important effects of the global panic over covid-19 has been almost overlooked. Europe's response to the pandemic is accelerating the fulfillment of one of the most crucial end-time prophecies of your Bible!"
The Bible reveals that Europe's leaders will only become more dictatorial. Revelation 17 prophesies that we are about to see the rise of 10 kings, or authoritarian leaders. "And the ten horns which thou sawest are ten kings, which have received no kingdom as yet; but receive power as kings one hour with the beast. These have one mind, and shall give their power and strength unto the beast" (verses 12-13).
What we currently see happening in Germany is preparing the way for these dictatorships to form! "The Bible says 10 kings will rise in Europe in this end time, led by one overarching strongman. These kings will form the Holy Roman Empire," Mr. Flurry wrote in that article. "The coronavirus pandemic is helping usher in these 10 kings!"
Continue watching Europe as its democracies move closer and closer to becoming dictatorships. For more on how Europe is changing, read Mr. Flurry's article "Coronavirus and the Holy Roman Empire."