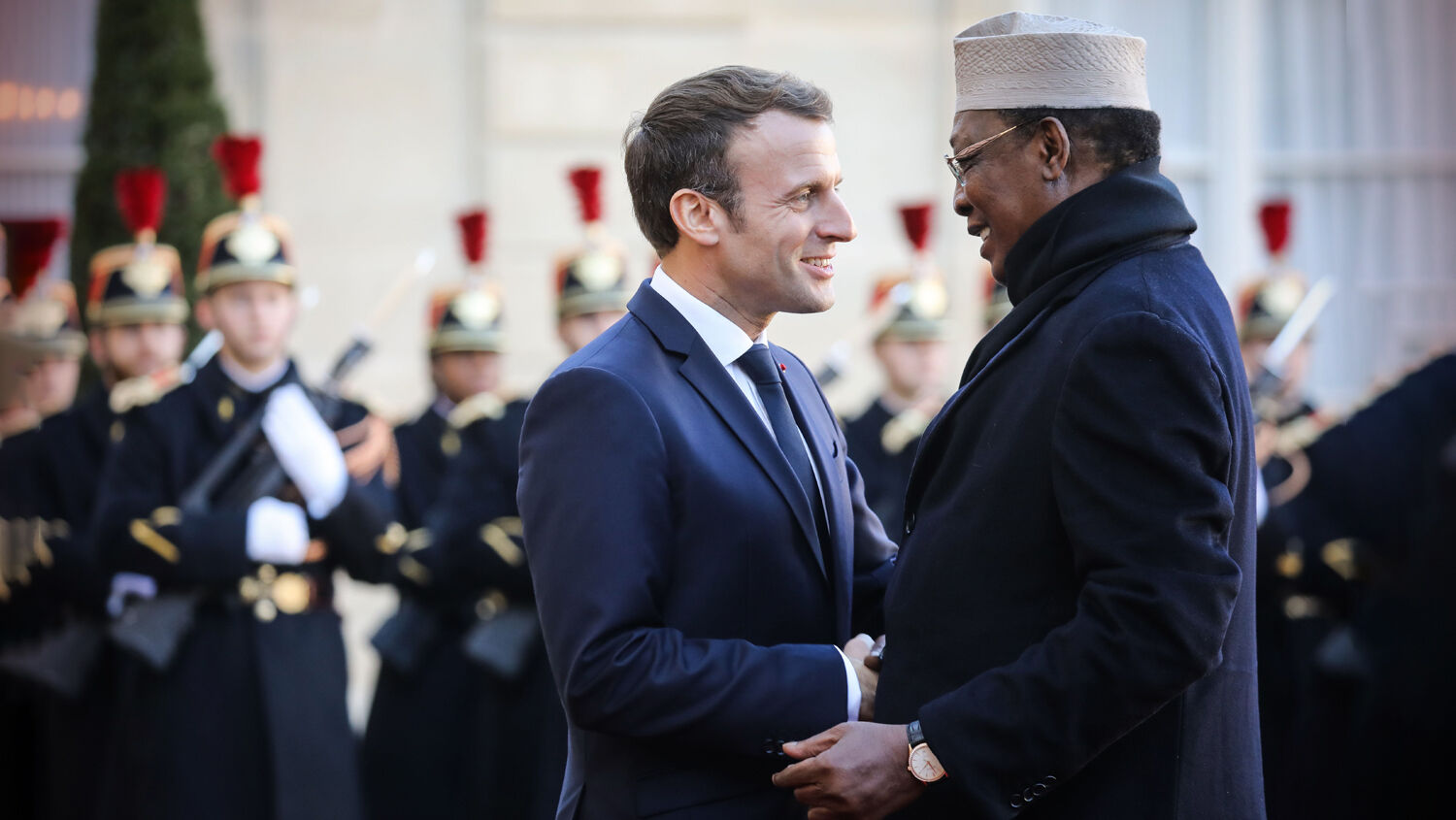 France's Favorite Dictator Is Dead
Will the death of Chad's president draw France even more into Africa?
Chadian President Idriss Déby died from injuries sustained while visiting frontline troops, the Chadian military announced on April 20. The announcement was made hours after Déby was announced victor of his sixth presidential election, which was to extend his 30-plus years as Chad's autocrat.
The circumstances surrounding his death—and even when exactly he died—are murky. The military won't release what kind of wounds Déby succumbed to. The best many determine is that he died sometime the previous weekend. There is some talk that it was an inside job or coup and the military is trying to cover its tracks. We can't know for sure.
Déby, a former rebel commander against the Chadian government, seized power in a 1990 coup d'état. Chad has only been independent since 1960; half of the country's history as an independent nation has been under Déby. Under his regime, Chad was one of Africa's poorest countries. But it wasn't because of a lack of resources. Chad has the 10th-largest oil reserves in Africa. But Déby's government siphoned most of that off to fund the Chadian military. Its armed forces are considered one of the best in Africa.
Déby was a dictator, but he was also an enemy of radical Islam—which is why the West backed him. Under Déby, Chad's military fought effectively against the infamous terror groups al-Qaeda and Boko Haram.
Chad is located in the middle of Africa. Its north reaches into the Sahara Desert, while the south is subtropical savanna. It can be considered a bridge between the North African and sub-Saharan worlds. This is one of the reasons the military has received Western support; it can act as a counterforce to both Arab terror groups and sub-Saharan militias.
France, Chad's former colonial ruler, especially supported Déby's rule. France has a 5,000-strong counterterrorism force in the Sahel region of Africa called Operation Barkhane. Its headquarters is in Chad. Several times in recent years, the French led air strikes against Chadian rebels. Without French support, Déby might have been ousted years ago.
France's relationship with Déby was so warm that French President Emmanuel Macron flew into N'Djamena, Chad's capital, for Déby's funeral. At the funeral, Macron affirmed France's opposition to the Chadian rebels. "France will not let anybody question or threaten, today or tomorrow, Chad's stability and territorial integrity," he said. He even called Déby "a loyal friend." Politico described Chad as "France's unsinkable aircraft carrier and a military heavyweight in the region."
Now that Déby is dead, Chad's future is uncertain.
Upon Déby's death, the military took over and began ruling Chad as a junta. Mahamat Déby, Idriss's 37-year-old son, was named interim head of state while former Prime Minister Albert Pahimi Padacke was named interim head of government. The junta pledges to step down after 18 months.
Chad's main rebel group, the Front for Change and Concord in Chad, is taking advantage of Déby's death. They're already planning to launch an offensive.
Chad's armed forces has been involved in conflicts in Libya, Sudan, Nigeria, Mali, Burkina Faso and the Central African Republic. They are a very important military ally for France in the region. With Chad's strongman gone, France may feel the need to support the fledgling regime even more.
Aside from its base of operations in Chad, Operation Barkhane also operates in Mali, Burkina Faso, Mauritania and Niger. Paris has also been cooperating with Mozambique lately, on the other side of Africa.
The French troops are in Africa for peacekeeping purposes against radical Islam. Throughout Africa, radical Islamist movements are flourishing. Many of the countries jihadist groups are entrenching themselves in are former French colonies. Many also have large fossil fuel reserves. France could be sucked into sending more and more troops into Africa to combat radical Islam.
The decolonization of Africa in the mid-to-late 20th century was extremely hasty. Many countries in Africa, like Chad, ended up relying on their former European rulers to keep their countries together in the face of bad economies and dangerous militias. The situation in Chad is reflective of that. And the Trumpet has for years been watching for Europe to increase its presence in Africa even more.
Longtime readers will be familiar with the Trumpet's focus of a clash between Europe and radical Islam. We base our analysis on a biblical prophecy found in Daniel 11, which says: "And at the time of the end shall the king of the south push at him: and the king of the north shall come against him like a whirlwind, with chariots, and with horsemen, and with many ships; and he shall enter into the countries, and shall overflow and pass over. … He shall stretch forth his hand also upon the countries: and the land of Egypt shall not escape. But he shall have power over the treasures of gold and of silver, and over all the precious things of Egypt: and the Libyans and the Ethiopians shall be at his steps" (verses 40, 42-43).
Trumpet editor in chief Gerald Flurry identifies "the king of the south" as radical Islam, led by Iran, in his booklet The King of the South (request your free copy). The Bible states that the king of the south will get control of several large African nations: Egypt, Libya and Ethiopia.
Mr. Flurry identifies "the king of the north" as a united Europe. This united Europe will be led by Germany, but France will play an important role, as well. The prophecy specifically states that the king of the north will attack the king of the south—and its allies—"like a whirlwind."
Here is what Mr. Flurry writes in his free booklet Germany's Secret Strategy to Destroy Iran:
This isn't simply a straight-on assault. It's a storm that whirls around and around, invading the land and flooding into it!

The king of the north couldn't come like a whirlwind unless it surrounds Iran and its allies. That is being meticulously planned right now! Germany is busy preparing to execute a whirlwind strategy to rush upon and overflow Iran.
For Europe to surround countries like Egypt, Libya and Ethiopia, it would need a heavy presence in other African countries. Not only does Chad border Libya, but the Front for Change and Concord rebels are based in Libya and receive sponsorship from rogue Libyan commander Khalifa Haftar. Even with Déby gone, a country like Chad seems like the perfect partner. Especially when you factor in Chad's relatively powerful military.
To learn more, request your free copy of Germany's Secret Strategy to Destroy Iran.