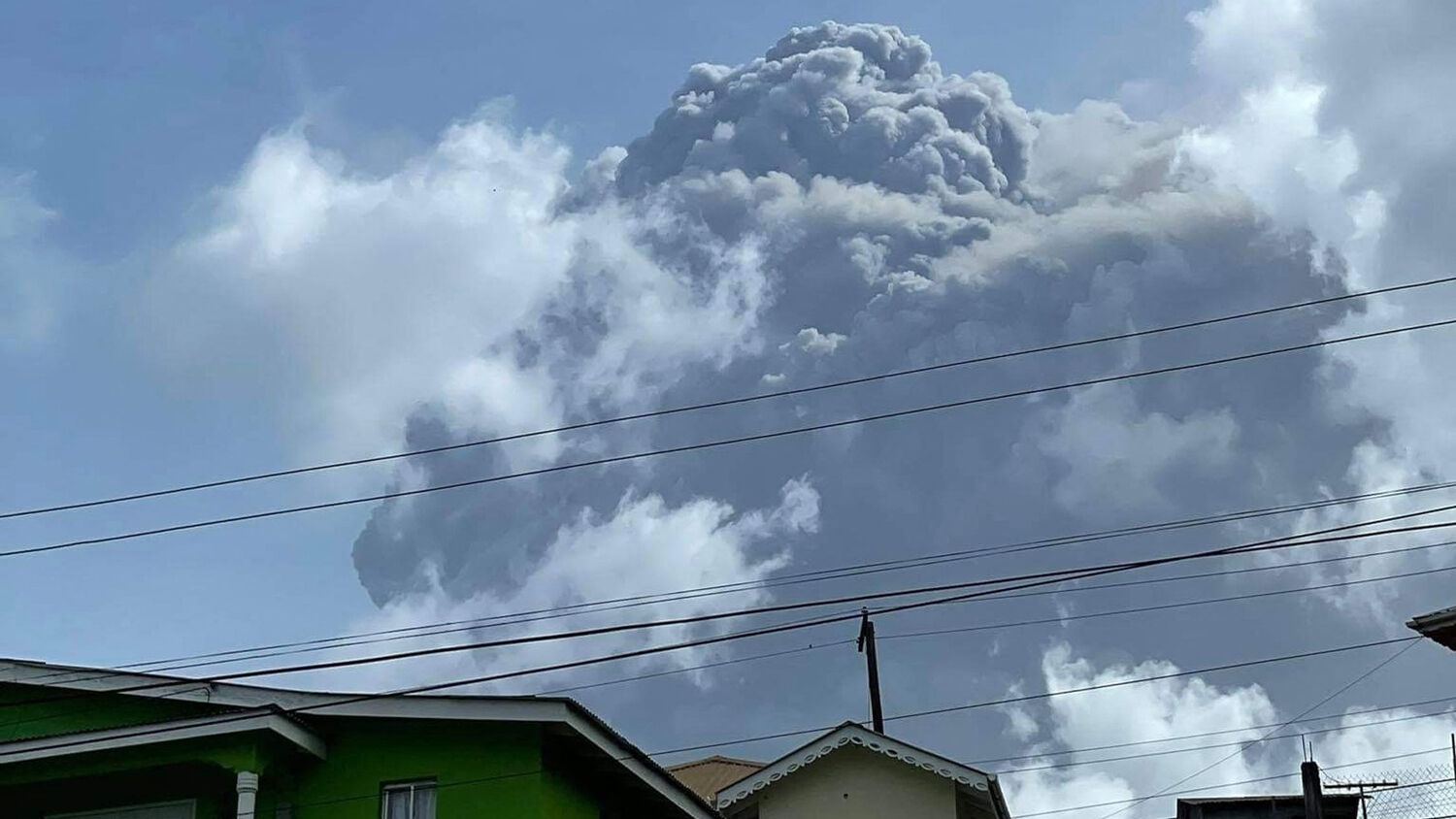 A Double Volcanic Eruption in the Caribbean
A volcano blows its top in St. Vincent and the Grenadines.
St. Vincent and the Grenadines, an island country in the eastern Caribbean, suffered a double volcanic eruption the weekend of April 9-11. The volcano La Soufrière formed a lava dome (a bulge at the volcano's summit, indicative of activity inside) in December. It didn't explode until this month.
On the morning of April 9, the volcano ejected an ash plume that reached 20,000 feet into the air. Two more explosions and ash ejections occurred later that day. Several thousand people were forced to evacuate. Many neighboring islands, such as Antigua and Barbuda, Barbados, Grenada and St. Lucia, hosted evacuees.
Winds caught the plume and sent it drifting eastward. The ash plume was blown thousands of miles east into the Atlantic Ocean, making it to the easterly island of Barbados and well beyond.
St. Vincent and the Grenadines' National Emergency Management Organization (nemo) stated: "La Soufrière Volcano erupted the second Friday in April (Friday, April 13) in 1979. Four days shy of its anniversary it has again erupted on the second Friday in April in 2021."
The island suffered another eruption two days later on April 11. While smaller than the first explosion, it was still monumental. The Vincentian authorities are expecting more volcanic activity, including further eruptions, "for days and possibly weeks."
Thankfully, there are so far no recorded deaths from the eruptions. But the eruptions blanketed the island with ash. Early on, there was enough ash to block out the sun over 110 miles away.
The damage done by La Soufrière could have been far more catastrophic. But it has still hurt Vincentian society. Reliefweb estimates that between 16,000 and 20,000 people were affected. This is from an island population of roughly 100,000 people. The eruption left the majority of the country without power. Flights were canceled.
The disaster couldn't have come at a worse time for St. Vincent and the Grenadines. The country is dealing with the economic crisis brought on by the global covid-19 panic. Tourism is a major component of the economy. Because of the travel bans countries around the world have implemented, the tourists haven't been coming. Countries like the United Kingdom are lifting their travel bans for countries with high vaccination rates. Saint Vincentian Prime Minister Ralph Gonsalves called getting on the UK travel green list "a very serious matter about lives and livelihoods."
The economy is so shaky that Gonsalves said—before the eruptions—the government soon won't have enough money to pay its employees' salaries: "I say this with all honesty, the way things are going … in one or two months … the government may not have the $30 million every month to pay civil servants and to pay the nis [National Insurance Services] contributions to civil servants, those who are pensionable to pay the nis contributions for current, and to pay salaries and wages."
What is the Vincentian government supposed to do now that it has to clean up from the eruptions? Even if the travel bans are removed, will wealthy tourists really want to spend their vacation lounging on a beach smothered in volcanic ash?
The eruptions in St. Vincent and the Grenadines are only the latest of volcanic eruptions so far in 2021. In March, Sicily's Mount Etna erupted. While Mount Etna had plenty of smoldering, unlike the explosion of gas and ash in St. Vincent, it had a lot more lava.
More volcanic activity was occurring in Iceland's Reykjanes peninsula, near Reykjavik. While no communities seem to be in danger, a group of tourists had to be evacuated when a new volcanic fissure formed away from the main eruption. The volcano hasn't erupted in about 800 years.
None of these volcanic eruptions have resulted in mass loss of life, thankfully. But natural disasters—volcanic and otherwise—are increasing in frequency. And many of these disasters are deadly.
Here are some of the natural disaster headlines from this year, as reported by the Guardian:
"Death Toll in Indonesia and Timor-Leste From Catastrophic Floods Rises to 157"
"Fire and Flood: 'Whole Areas of Australia Will Be Uninsurable'"
"Alabama Tornadoes Kill Five as Homes Are Destroyed and Thousands Lose Power"
Natural disasters are increasing in frequency and intensity.
The most common explanation "experts" will give is fossil fuel consumption and man-made climate change. A common talking point when disaster strikes is that "Earth is sending us a message." One has to wonder how a changing climate causes volcanoes to erupt. Considering that volcanoes themselves release greenhouse gasses into the atmosphere, "Earth" must be extremely hypocritical.
But perhaps it would be too hasty to assume that there isn't any deeper meaning to all the disasters we read about in the news. Perhaps there is a message in them. Perhaps that message warrants a response from us. Perhaps events like the St. Vincent eruption are, indeed, meant as a wake-up call.
Please request our free booklet Why 'Natural' Disasters? to learn more.