Viktor Orbán Has Destroyed Hungary's Free Press
A free and independent media in Hungary is going extinct.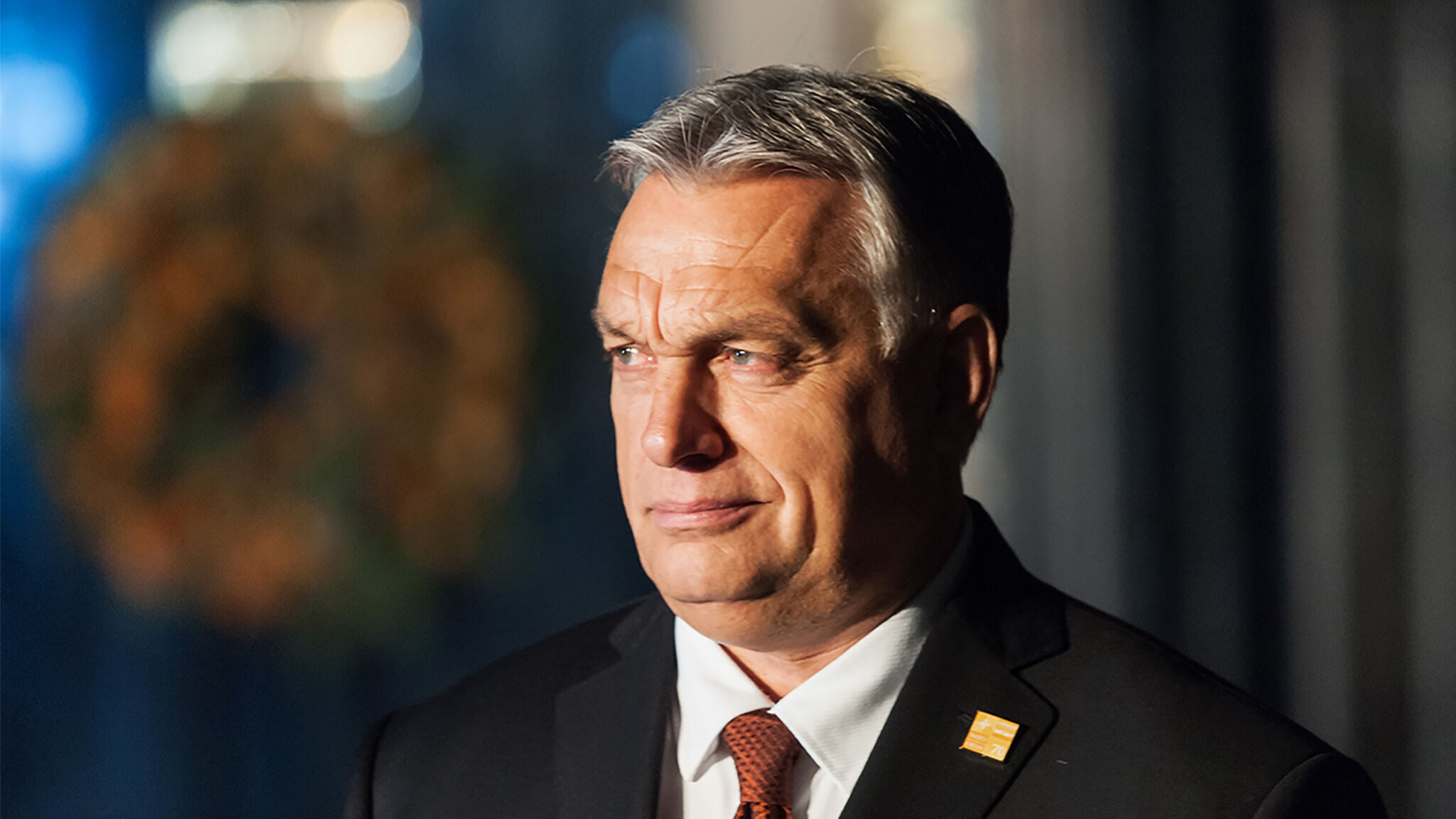 Viktor Orbán Has Destroyed Hungary's Free Press
A free and independent media in Hungary is going extinct.
Imagine living in an affluent Western liberal democracy. Your country held a revolution to oust an iron-fisted dictatorship to make way for democracy and capitalism, for freedom of speech, freedom of association, freedom of the press. You integrated yourself into organizations like the European Union and North Atlantic Treaty Organization.
Then your democratically elected government revolts against democratic ideals. Slowly but steadily the freedoms you fought for are taken from you. More and more media sources become government controlled or run by close friends of your country's leader. Dissenting voices are silenced. Those who listen to them have a target on their back.
This scenario is playing out right now in Hungary.
Radio's Last Stand
As of this month, Hungary no longer has any independent radio broadcasters. Klubrádió, a private radio station that has been on the airwaves for almost 20 years in Budapest, had its broadcasting license expire on February 14.
Hungary's ruling Fidesz party brands Klubrádió a "liberal-leftist" propaganda station. Klubrádió's deputy editor in chief Mihály Hardy told the Trumpet, that his station "is mostly a middle-of-the-way, or 'normal,' public service radio covering a lot of issues untouched by the government-controlled radios." These include issues like the European refugee crisis, discrimination against Hungary's Roma (gypsy) population, and Hungary's role in the Holocaust.
Klubrádió used to be financially secure, but that all changed in 2010. That year, "all advertising revenues from state-owned companies and ministries … suddenly dried out," wrote Hardy.
Manipulating advertising revenue is a common tactic the government uses against dissident media. Hardy continued: "The Orbán government uses its economic power and funds to finance pro-government media through advertising, and also intimidates private companies (by threatening them with tax audits, competition office investigations, consumer protection processes, etc) from advertising in 'opposition' media."
This forced Klubrádió to rely primarily on donations from 2011 on. And its listeners have donated generously to keep the station afloat. The last decade, Klubrádió received 1.5 billion Hungarian forints (us$5.1 million) in donations.
The station used to broadcast nationwide. However, the Hungarian government had been systematically stripping its frequencies throughout the country. This left it able to broadcast only within the metropolitan Budapest area. Hardy states they have a regular weekly audience of roughly 300,000 people, out of a potential 3.5 million in the Budapest area.
Klubrádió represents the last of Hungary's major broadcasters independent of government control. Hardy states the state-controlled Media Council took Klubrádió to court eight times attempting to silence the station. Each time, Klubrádió won the suits.
But the government only needed to wait until its radio license expired. Now, Klubrádió can only broadcast over the Internet.
It's not just the fate of a single radio station at stake here. According to Hardy, "Klubrádió is the last radio station in a shrinking independent media portfolio being around 5 percent in Hungary, with 95 percent belonging to state-run or pro-government private investors' circles."
The 'Enemy of the Country'
Newspapers are also suffering. And the longer Orbán is in power, the harder they are being hit. In 2016, the largest left-wing newspaper in the country at the time, Népszabadság (Liberty of the People), closed down due to reported profit losses. The paper was critical of Orbán's right-wing agenda, and it is widely suspected that he had a hand in its closure. The newspaper's owner reportedly met with Orbán months before the closure to discuss the sale of the paper. Népszabadság closed suddenly and without warning mere weeks after it published several embarrassing exposés of figures in Fidesz.
But it's not just left-wing papers being trampled underfoot. Magyar Nemzet (Hungarian Nation) used to be Hungary's largest conservative newspaper. But despite being conservative, the paper's oligarch owner, Lajos Simicska, had a falling out with Orbán years ago. So, the paper had an anti-government viewpoint—until it was mysteriously shut down after parliamentary elections in 2018.
After the elections, Simicska "probably realized that, for him, it was over," Csaba Lukács, a former leading journalist in Magyar Nemzet, told the Trumpet. "And now I can say that it was probably [a secret] agreement, because we could see that he was not punished. He still is one of the richest people in Hungary. He gave back Orbán all his companies, and probably that was the price for him to survive."
Lukács now serves as the managing editor of Magyar Hang (Hungarian Voice), a weekly newspaper established by former employees of Magyar Nemzet. The paper has grown to be the second-largest weekly in the country. But Magyar Hang still faces immense pressure from the government. Lukács continued:
We could not get any advertising. In the Hungarian advertising market, the government has an extremely big role, unfortunately. Seventy percent of all marketing is made by government-owned companies. And they don't spend any penny at Magyar Hang. Also, the private companies are not brave enough to [see] what will happen if they will spend some money on us. I am not 100 percent sure that they will be punished, but they don't want to try. …

[W]e are [also] not receiving any response from government officials. If we send questions to the ministries or to the government, or to the military … they won't answer any of our questions. … They try to even intimidate those independent actors of media, of politics, or even the experts. Even the experts don't want to [answer] our questions, because they're afraid that they will be punished if their name will appear in our newspaper.
The general public knows that Fidesz has it in for Magyar Hang. Many people would subscribe to the newspaper but are afraid of putting their name on a subscription list. "They're afraid to send us money via bank transfer," said Lukács. "They want to remain anonymous because they think that they could be punished or they could be mentioned [as] supporting the 'enemy.' … If you are living in a small village, and you are a subscriber of [Magyar Hang] and the mayor knows it, [and] you need some help from the local authorities, they will say no."
Fidesz likes to brand Magyar Hang a "liberal enemy of the country" and a front for the operations of influential philanthropist George Soros. "We consider ourselves a conservative but critical [of the government] newspaper," said Lukács. "But [the government is] not accepting that we are conservative. You cannot be conservative if you are not supporting Fidesz. … You have to be a voter of Fidez … to be considered as 100 percent human."
Echoes of World War II
Hungary, straddling Eastern and Western Europe, had a unique history in the 20th century. Its leader during most of World War ii, Miklós Horthy, was an ally of Adolf Hitler and participated in the campaigns on the Eastern Front. He was later replaced by the Arrow Cross, the Hungarian Nazi party, who brought the Holocaust to Hungary. After the war, the Soviet Union occupied Hungary and established a Communist party that ruled until 1989.
We asked Lukács if freedom of press could ever reach a state as it did during the fascist and Communist regimes in Hungary. He answered: "They are trying to reach [the level of the fascists and the Communists]. A couple of years ago, they had 20 percent of the media. Now, they control 80 percent. And they're aiming for 100 percent, I'm sure. So they will never stop. They want to have total control."
This doesn't bode well for Hungarians nor for Europe in general.
Currently, only one national television station and only one national daily newspaper is independent of the government. The Central European Press and Media Foundation (cepmf), a foundation run by Orbán loyalists, controls more than 500 media groups in the country.
Why does Viktor Orbán want to control the media this way? Why is he so bent on having complete control over the press and access to information?
First Hungary, Then Europe
Trumpet editor in chief Gerald Flurry wrote last year in his article "Coronavirus and the Holy Roman Empire": "European leaders are increasingly behaving like dictators and assuming dictatorial power. The people of Europe are being conditioned to accept more tyrannical leadership." He was referring to Viktor Orbán in that passage.
There has been some outcry from the European Union regarding Hungary's media muzzling. But beyond making some statements, Brussels has done little to prompt Budapest to change its direction.
"Hungary's prime minister has abolished democracy," Spiegel Online warned April 3, 2020. "If the EU does not act, authoritarianism will spread in Europe" (emphasis added). Mr. Flurry wrote, "But the EU did not act to punish Orbán—it did nothing. And what Spiegel warned of is exactly what the Bible says will happen: Authoritarianism will spread in Europe!"
For decades, the Trumpet and our predecessor magazine, the Plain Truth, have been watching Europe to return to the paths it trod during World War ii. Plain Truth editor in chief Herbert W. Armstrong proclaimed just after World War ii that European fascism would return. Back then, Germany lay in rubble and many of its East European allies, like Hungary, were under Soviet occupation.
He based his predictions on prophetic passages in the Bible. Daniel 7 and Revelation 13 speak of a "beast" (identified as the Roman Empire in Daniel 7:23) that will "devour the whole earth, and shall tread it down, and break it in pieces." It has unmatchable warrior prowess (Revelation 13:4). It has a dangerous police state apparatus that goes after those who disagree with its policies (verses 7, 15). It has propaganda that causes people to worship it (verses 14-15).
Mr. Armstrong wrote the following in 1980, years before the fall of communism in Eastern Europe: "It now looks entirely feasible that Yugoslavia may be included in this revived Roman Empire. Also the pope's native Poland and Romania, and possibly Hungary. Add Austria, Germany, Italy, Spain, Portugal and France. There will be a union of 10 nations in the general area of the medieval Roman Empire in the new united Europe."
When Mr. Armstrong wrote this, the European Union didn't yet exist, and half of Europe was still under Russia's bear paw. Communism has since fallen, and Eastern Europe has joined Western Europe in the EU. Europe now has a common currency, a common border, a common border police and coast guard, a common parliament, a common foreign representative, a common trade policy and more
"Is the acceptance of Orbán's dictatorship in the EU a sign that the time has come for Europe's 10 kings to emerge?" Mr. Flurry asked. "It is almost certain that Hungary will be part of the coming 10-nation European superpower."
Watch Hungary. And watch Europe as a whole. Viktor Orbán may seem like an anomaly in an otherwise democratic Europe. But politicians all over the Continent are watching what he's doing and even starting to imitate him. And this transformation, once complete, will affect every person on the planet.
To learn more, please read Mr. Flurry's article "Coronavirus and the Holy Roman Empire." Also request a free copy of The Holy Roman Empire in Prophecy to learn more about what Europe's history means for its future—and for you today.
The Holy Roman Empire has made pivotal and defining contributions to Western civilization—but its many reincarnations have also come with painful and catastrophic consequences. European leaders aim to unite the fractured continent of Europe by reviving the legacy of this extraordinary church-state combine. One of the great lessons of this empire is that it always comes back. There is always another resurrection. The Holy Roman Empire is not just a relic of history. It is about to play a central role in world events. Coming to understand about the nature and character of this powerful institution tells you as much about the future as it does about the past.